I was given something of value from my friend Rachel Kirsch, independent representative for Lilla Rose. All opinions expressed are completely my own!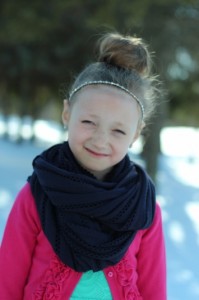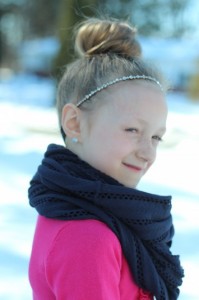 Hey everyone! Let's talk hair accessories!
My friend Rachel is an independent rep for Lilla Rose, a hair accessories company that has really cute stuff. I love that their products are so versatile. They have so many different options for sizes and colors… my brain just about exploded trying to pick out the accessories I wanted to try!
Have you heard of Lilla Rose?
Check out Rachel's site here: Comfortable Beautiful Hair

The Hair Band that Natalie's wearing above is in Sparkling Silver
One benefit is that the products we own, can be used on my long/fine hair, my 4 year old's short/fine hair, and my 8 year old's thick/wavy hair.
These Hair Bands are awesome because they stay in place way better than any other head band or hair wrap we've tried. AND they don't hurt your head like most head bands! My kids don't complain that they're getting a headache, because they're completely adjustable.
If a 4 year old can wear one and make it through the whole morning without it coming off, you know it's good!
Here, Olivia is modeling a Hair Band in Lovely Pearls, while Natalie is wearing a Small Flexi Clip in Copper Rose to dress up her bun. The Flexi Clip is their number one seller and is great as an alternative to the elastic hair band, since the Flexi is waaay better for your hair and helps to minimize hair breakage.
Rachel really wanted me to try out these Antique Style You-Pins. They are sooo pretty. I spend a lot of my days in gym clothes and sweatpants, so I had to wait for a day to dress up a little and try these out. I scoped out the line of Cinderella inspired apparel at Kohls the other day and fell in love with pastels all over again. This blue top isn't from the Cinderella line, but it reminded me of Cinderella and I wanted to create a hairstyle that would use the You Pins and showcase how elegant they are.
The You-Pins are actually super sturdy and could hold up your hair using just two of them. You could hold a sock bun in place or something similar. I wanted to go for a messy dutch braid style and the You-Pins held everything really snug.
NOW….
ENTER TO WIN A SET OF ANTIQUE STYLE YOU-PINS FOR YOURSELF!!!