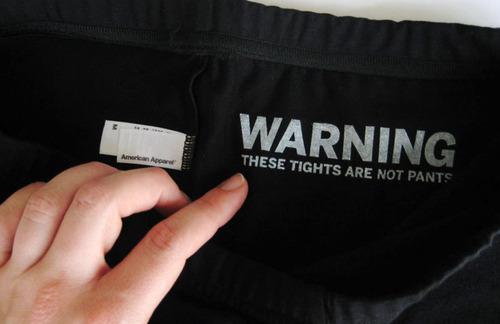 My prayer is that Christian girls will step up their game.
Be a trend setter! Don't follow the crowd!
Don't buy into the cultural standard of modesty.
Don't buy into a restrictive, legalistic view of modesty.
Be fashionable. Be creative.
Be beautiful and reflect Christ… the ultimate Creator!
Women should adorn themselves in respectable apparel,
with modesty and self-control -1Tim 2:9
So why am I writing this?
Because I want to teach my daughter the delicate balance of freedom and humility. I want her to be confident in who she is, not insecure, not pressured to dress provocatively to get attention from men. For her to know that she is beautiful and unique. God created her to live a wild and wonderful life, that lovingly lays aside opinions and rights when it is necessary to promote peace and care for the needs of others.
Because I want my son to respect women and value them for their personalities, humor, talents, and friendship. I want him to learn to overt his gaze rather than gawk, to look a women in the eyes rather than stare at her chest, to guard the purity of his sisters rather than exploit it or take advantage of them.
Because we are raising daughters in an over-sexualized world where child abuse, human trafficking and sexual assault is much more prevalent than we like to believe. Talking about good boundaries and modesty with our daughters will give them a better grasp on appropriate behavior, situations to stay out of, and how to talk with us when they feel something is wrong or someone has made them feel uncomfortable.
Rules without reason can quickly sound legalistic
First things first: God's Word is my ultimate authority. There is much said on finding a balance between Christian liberties (freedom) and love for brothers and sisters in Christ that may take offense with certain things we do. Do you have a loving and humble heart that is sensitive to the weaknesses of others? Or is your motivation to do what you want, because it is your right and you find nothing wrong with it? Are you angered at the thought of someone telling you what to do, or are you willing to lay aside your right to something (even if it is perfectly acceptable) because you know it will promote peace and unity?
Everything is permissible"—but not everything is beneficial.
"Everything is permissible"—but not everything is constructive.
Nobody should seek his own good, but the good of others.
-1 Cor. 10:23-24
 What do your clothes say about you? I am very conscious of the fact that my outfit is saying something. Every time I leave the house I have put thought into what I'm wearing and it conveys something to the world around me. What is it saying? Is it saying "I don't care what I look like" or maybe "I care too much" or maybe even "Please look at me, do you think I'm pretty?"
It could be saying "I'm cheap" when in reality, every girl should be shouting "I am valuable!"
Do you not know that your body is a temple of the Holy Spirit, who is in you, whom you have received from God? You are not your own; you were bought at a price. Therefore honor God with your body. -1 Cor. 10:19-20

 
Modesty is Very Subjective
There are a lot of factors that go into determining what is considered modest. A huge role in this is culture. In some countries and religions, it is greatly offensive for a women to even show her ankles. Many conservative Christian organizations today, still believe women should only wear long dresses and skirts. So how do you decide? How do you know what rules to follow? Who do you listen to?
What it comes down to is a place in the heart that desires moderation.
What Paul was addressing in the early church (1 Tim. 2) was the issue of women dressing to draw attention to themselves rather than to God. There was a problem, women were using over the top adornments, accessories and daring outfits that were a distraction to everyone around them. Even secular TV stars and self proclaimed fashion police will tell you there are some outfits that are just over-the-top or totally inappropriate for certain events. If we've learned anything from What NOT to Wear, it's how tacky an ill fitting or tight pair of pants can look and how out of place a plunging neckline would be at a funeral. Use discretion!
Girls, it's not your fault if men look at you lustfully
Men are responsible for what they look at and how they think. But, you've got to realize there are things you wear that make it super difficult for a guy that is trying to keep his thoughts pure.
I have several friends that were former alcoholics. I love them, so I choose to give up "my right" to drink in front of them. I have no problem with shorts and tank tops. But when I did missions work in Mexico, I chose to lay aside my rights and wore long skirts to respect the people at the church we partnered with. I love sweat pants, but when I worked in an office, I was required to dress business casual. I like distressed jeans and facial piercings. But, I know that my grandparents (who I love) would be uncomfortable because of the culture they grew up in, so I may opt for a dress and clear nose ring when I'm visiting with them.
There are plenty of areas in life where we are willing to set aside our own preferences and rights to accommodate someone we love.
Do you see the difference? When our actions are motivated by love, rather than rules?
Do nothing out of selfish ambition or vain conceit, but in humility consider others better than yourselves. Each of you should look not only to your own interests, but also to the interests of others. -Philippians 2:3-4

So whether you eat or drink or whatever you do, do it all for the glory of God. Do not cause anyone to stumble, whether Jews, Greeks or the church of God — even as I try to please everybody in every way. For I am not seeking my own good but the good of many, so that they may be saved. – 1 Cor. 10:31-33
Modesty is not popular
The amount of clothing needed to reach social acceptability is not much.
The standards are set by Madonna, Katy Perry, Lady Gaga and Miley Cyrus.
I'm talking to a very small crowd out there that actually has a problem dressing too modestly… but I am sorry if you are one of them!
I have heard modesty referred to as a "burdensome demand" based on the argument that it can be oppressive to a women's sexuality. Yes, I believe an over-emphases on the wrong things and a wrong motivation can be oppressive. However, I'm not talking here about a denial of all things feminine, beautiful (sexy even), a call to cover yourself from head to toe at all times, or to carry the sole responsibility of a man's purity based on how you are dressed. I'm not saying to turn the switch off and shove all feelings of sexuality so far down that you a hard time turning it back on at the appropriate time. On the contrary, I love fashion! Just as I love beauty and creativity in many areas of life, I love buying clothes, changing my hair style, painting my nails, accessorizing and looking good.
Say it with me, people:

B A L A N C E
M O D E R A T I O N
My heart goes out to those of you that grew up in a conservative circle, where modesty was ruled by legalism
Somewhere along the line, you were told sexuality was bad (and dirty), or that it was your fault you were raped, because "you must have been asking for it" or because "men will treat you based on how you are dressed." Maybe you grew up with the understanding that if someone found you attractive, that was bad and it was your fault. Maybe you missed the real reason behind a complicated list of rules, so it all just seemed stupid and pointless. Maybe you were taught to cover yourself physically and hide behind your clothing, which has resulted in years of hiding emotionally. Again, my heart goes out to you. Someone mislead you or you misunderstood.
But if you've now completely turned your back on modesty in search of sexual liberation and rebelled or written it off as irrelevant: There is a better way!
These Are
NOT

the RULES:

I don't claim to make the rules (in fact, there are no actual "rules"), but I will share some tips. In an attempt to help my sisters out, here is my take on modesty and a summary of the kinds of things I try to take into consideration when choosing an outfit:
Bend forward and stand up straight: Does it show an uncomfortable amount of cleavage in front or too much booty in back? Are my underwear visible? Layer a cardigan on top or a tank underneath. If a skirt is too short, wear leggings underneath. Use a slip if the skirt is too see-through.
Some people use their hand to judge how low a shirt should be. If you're having a hard time discerning, simply place your hand at the base of your neck, palm against your chest with fingers together. Your shirt usually shouldn't be lower than your pinky finger. Hey, some people like black and white guidelines like this! 
Bend from side to side: Does it too easily move around and expose skin? If so, wear a longer tank top underneath.
How short is too short? I generally want my shorts to come below my fingertips, skirts and dresses to fall no shorter than mid thigh – longer for church or when I am going to be standing in front of people/elevated above anyone or moving around a lot.
Is my bra or bra strap visible? If so, secure with pins, wear a tank top, etc.
How tight is too tight for my particular body type? My weight has fluctuated a lot of the years. Curvy girls, I hear ya. The magazines say flaunt your stuff, be proud of your curves! Hey, I'm all for confidence in who you are, and loving the body God has given you, but there is no excuse for showing off an enormous amount of cleavage or wearing pants that look like they've been spray painted onto your body.
What area is this shirt or pants attracting attention to? Is it way too bootylishous or boobalishous? When in doubt, add a layer that covers things a little more.
Are you still with me?
Remember: These are tips, NOT RULES!
Don't miss the point.
Take a deep breath… now let's continue.
Leggings and jeggings are a step up from tights. I LOVE LOVE LOVE leggings and live in them every day, but I don't want anyone seeing the dimples on my thighs, crevices in my butt or camel toe in front. I only wear tunic length shirts or layers that cover everything appropriately.
Bathing Suits: I only wear one pieces, tankinies or swim dresses that cover my whole mid section. My biggest hang-up is the coverage on top. Yes, it is a pain finding a modest baiting suit! Check out Lands End or Rey Swimwear for some good options. Use a cute cover-up when not in the water.
Strapless tops, spaghetti straps and halters. Yes, I do own these and I know where it is appropriate to wear them. Let me tell you, it's usually not at church or the work place. For everyday activities, it comes down to the fit, look, style and coverage of each of these. Some strapless tops are super trashy looking, while others do a good really job of covering things and hanging loose. I use discretion!
Do you know how to behave like a modest lady?
Years ago, every young girl was taught manners and how to properly conduct herself in public. Some even had lessons or went to finishing school to learn to act as a lady.
It doesn't just come naturally.
We have to learn how to stand with good posture,
how to sit in a skirt and cross our ankles properly.
We must learn not to bend or lean over in front of a man while wearing a dress or low cut shirt. This is something that is very often overlooked now a days.
My grandma always said "little girls should where dresses, how else will they learn how to sit like a lady?" This is true. My daughter has embarrassed me on more than one occasion, as she sits in the front row at church and raises her legs up in the air so the whole band on stage can see her underwear. She has no idea that this is wrong, she's a kid. Kids squirm and wiggle. She has to be taught!In the same way, teenagers wearing leggings should not be laying on the floor practicing their stretches and splits or raising their legs over their heads in front of a group of onlooking boys. Unfortunately, this has happened at youth group, in the basement of our church. Did their mothers really never mention that was not proper behavior for a lady? I want to give most of them the benefit of the doubt, though I am sure at least one in the group knows 100% what she is doing to those guys. This kind of behavior is not just immodest, it is tacky and un-ladylike.
Ask a friend!
Let your husband or friends (that also value modesty!!) know it is ok to be honest with you. No one wants to be in that position, and very rarely will someone have the nerve to address you to your face when you're pushing the line.
Your husband may not have even looked at you before heading out the door, and he may be afraid for his life to speak up even if he did notice something! Self image is such a sensitive thing, and your friends just want to build you up, so they may need a little prodding to give you the cold hard truth.
Encourage Inner Beauty Over Materialism
Girls are feeling the pressure to act and look a certain way at a younger and younger age (remember the controversial push-up bathing suit abercrombie was marketing to 12 year olds?).
10 year olds are now considered "tweens" because that's about the age they start feeling pressure to dress exactly like their teenage role model. Sadly, their role models include older sisters that dress provocatively, and a hand full of Disney stars that have traded their squeaky clean image for the bad-girl life.
Be cautious of what shows you allow your daughter to watch at a young age (is the plot too intense, too mature, do the characters idolize materialism, etc).
Talk about manners, how all little girls should act, what is appropriate to talk about, what areas they should cover up with clothing and what areas no one else should see.
We are raising daughters in an over-sexualized generation where child abuse, human trafficking and sexual assault is much more prevalent than we like to believe. Talking about good boundaries and modesty with our daughters will give them a better grasp on what is appropriate or not appropriate adult interaction and touch.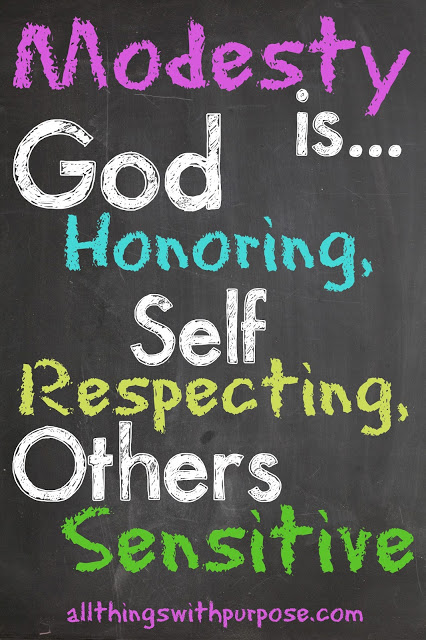 The companies creating clothing for the masses…
are not concerned with modesty
You have to be on the defense. But, it is possible to dress attractively in trendy clothes from popular stores, by being a little creative in how you wear things!
Yes, you have to be extra creative at times,when striving to dress modestly. Most of the time, you wont be able to just take a cute outfit off the rack and wear it as-is. I alter a lot of my clothing, by doing a simple stitch job in the shoulders to pull the neckline a little higher. You may have to layer a lot of outfits with tank tops, cardigans or shrugs. You will probably have to say no to a lot of things that could be really cute.
Let's say it again:
B A L A N C E
M O D E R A T I O N
Remember, modesty is subjective and takes a lot of sensitivity to others into consideration. It takes wisdom and discernment to know where to draw your line. Maybe you've come from a conservative background and think I am way too relaxed in my definition of modesty… maybe you think I am being way to restrictive and judgmental.
Please know that my heart and purpose behind writing this is to
get women thinking and being intentional in how they dress.
I am sorry if you are offended, I've received plenty of messages from people who share your opinion. This is my heart and my conviction, but I am not perfect. I hope you have read these words with enough grace to accept them as words from my heart. Thanks for reading!
Lord, give me the wisdom and discernment necessary to make choices that will honor You! ~Sarah
For modest fashion inspiration, check out my pinboards! Fashions and Fads (a little bit of everything) Fit and Flare (my favorite style of dress)