This post contains affiliate links – all opinions expressed are my own.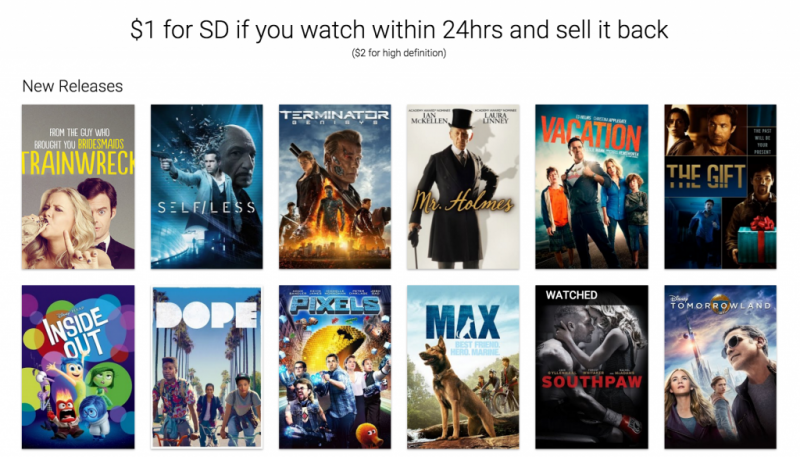 I am super excited to tell you about VidAngel!
I just learned about this company a few weeks ago,
but now that I have tried it for myself…
I can honestly say, it's legit, ya'll.

People have been trying to perfect the movie filtering system for years. Maybe you've heard or TV Guardian or ClearPlay. Several different types of devices can be found on the market today. There are boxes you hook up to your TV or DVD players that detect foul language. There was a company years ago that actually sold edited DVD's that you could rent and send back like NetFlix does/did. That company was shut down for copyright infringement.


I know, because as a family with young children and a husband that is a youth pastor, we have tried them all!
We've tried them all, and we've never been as excited about a company the way we are with VidAngel.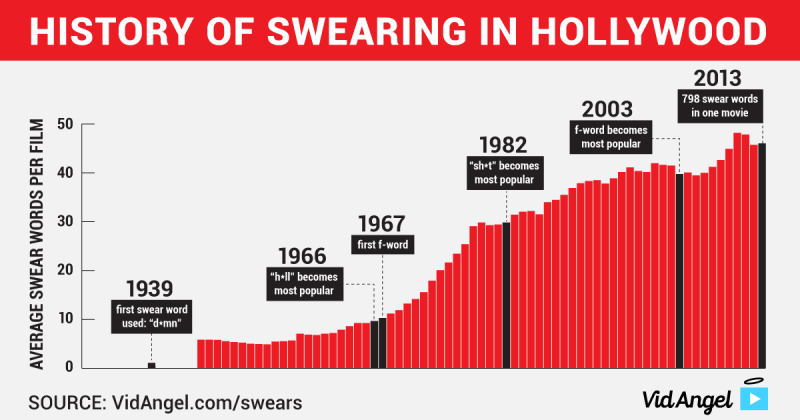 We love pop culture and keeping up with the latest movies. We love being in on the films that everyone is talking about… but so many of them are just filled with crap.
So often we find ourselves saying "wow, this movie is so good… too bad it has ____ in it" or "this movie was sooo good, but because it has ___ in it, we could never recommend it to anyone or watch it with ____"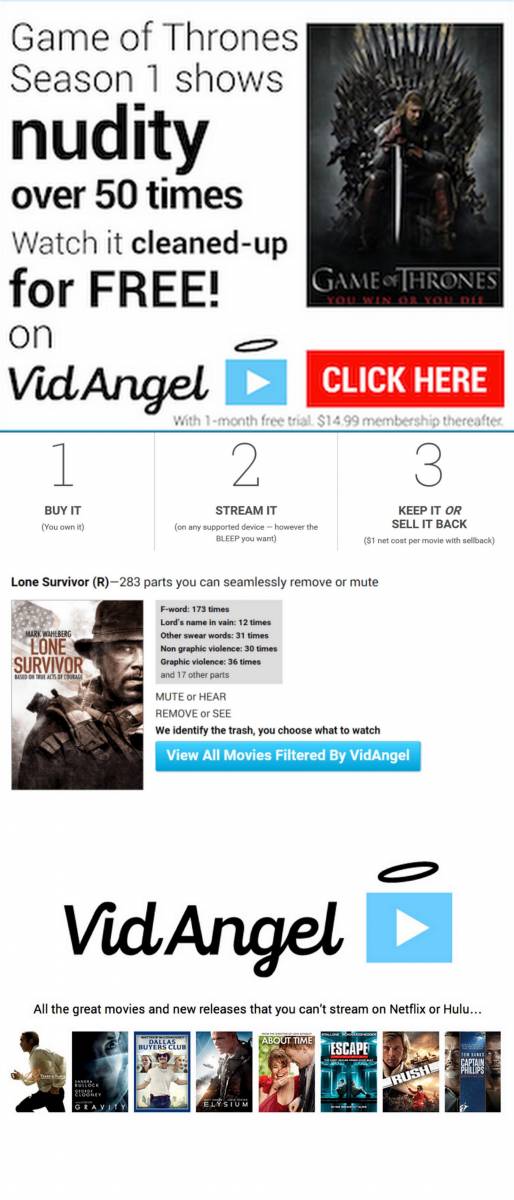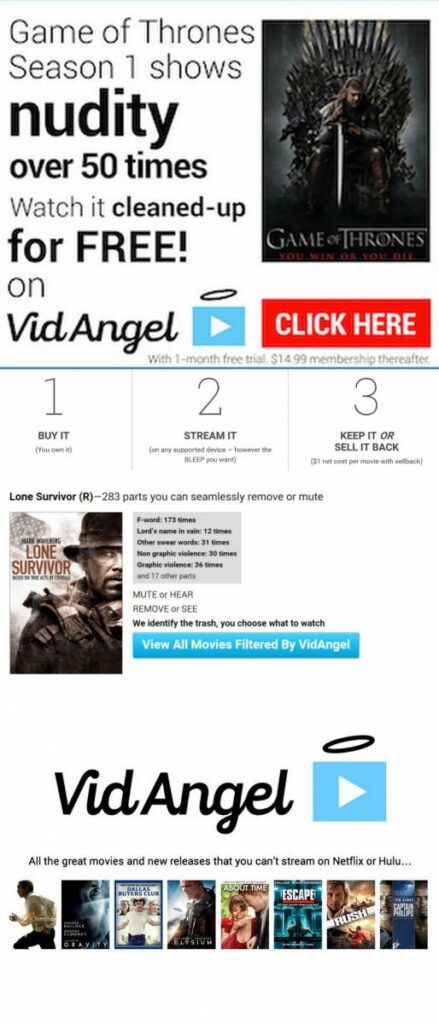 What I love about VidAngel:
Even if you don't use the filters or choose to filter out anything – it's honestly the CHEAPEST way to stream movies that aren't on HULU or Netflix.
We can use an app on our Roku which we have on every TV in our house. You could also get the app on a smart TV, use your mobile device, computer or iPad.
We've been buying/renting more and more movies through MGO on our Roku, which is similar to buying or renting through Apple TV, Amazon Prime or Vudu. Streaming videos that you can watch on multiple devices and rent or buy and re-watch is taking over buying physical DVD's or renting from a store. We hardly EVER rent or buy physical copies anymore, so for us, VidAngel is just a cheaper, better way of doing it!
The filtering options are so specific!! YOU have the power to choose EXACTLY what you want to included or not included. YOU pick each word, innuendo, scene or reference to leave out. I love that VidAngel says they are pro freedom of speech, not censorship. What they are providing is not censorship, it is up to every individual to decide for their own family what they want to see and not see. It is not up to the government, it is up to you.
The selection of movies and TV shows they have is great! So many movies and TV shows you can't get on Netflix and Hulu.
The fact that you can now watch Game of Thrones without the nudity.
Did I mention you can watch The Phantom Menace without Jar Jar???!!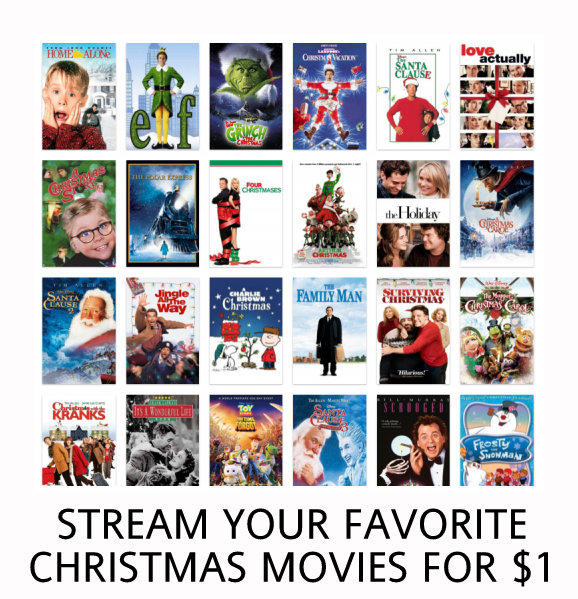 How it works:
Sign-in and/or create an account. You can even sign-in using your Facebook account.
Set up your default filters – these will be automatically applied to all movies. You can then set individual filters for each individual movie if you want – it is up to you!
Buy a movie for $20 with automatic sell-back.
Watch the movie.
Automatically sell it back to VidAngel for $19 or $18 for HD so the movie ends up costing you $1 for standard def or $2 for HD.
You're then left with credits to use towards another movie!

The cheapest way to catch up on all 6 of the Star Wars films!!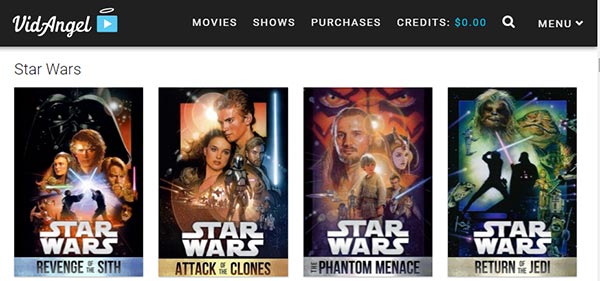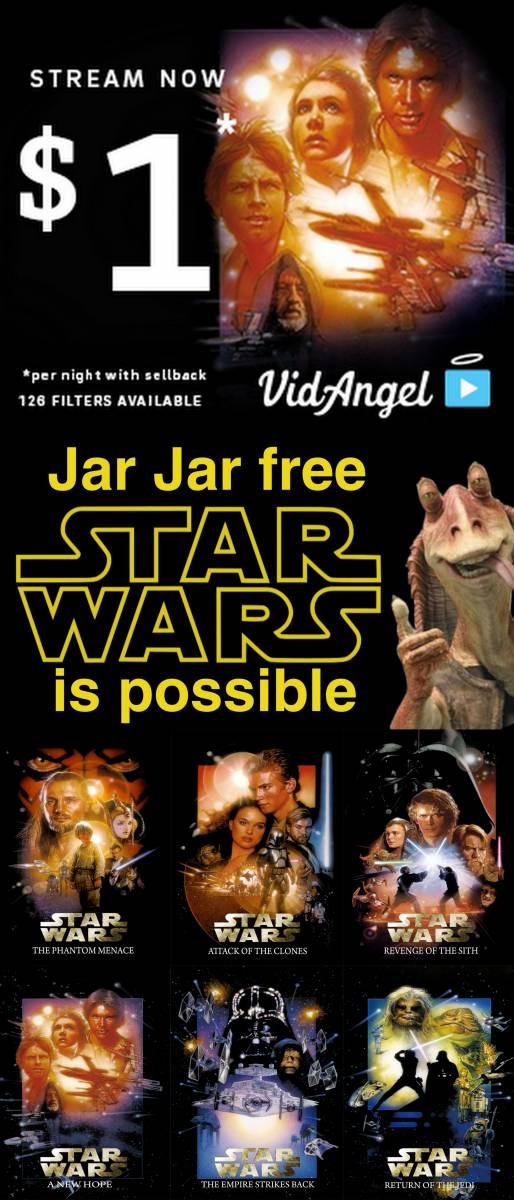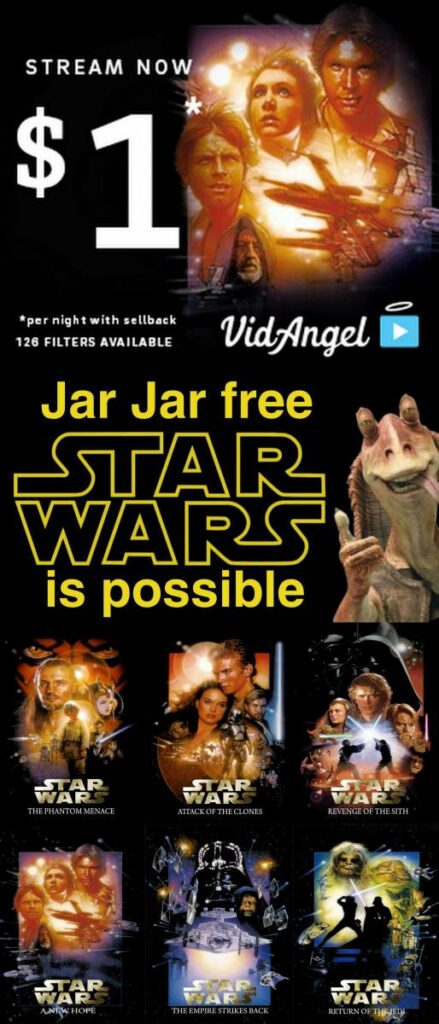 Did I mention you can actually FILTER OUT JAR JAR?
What??!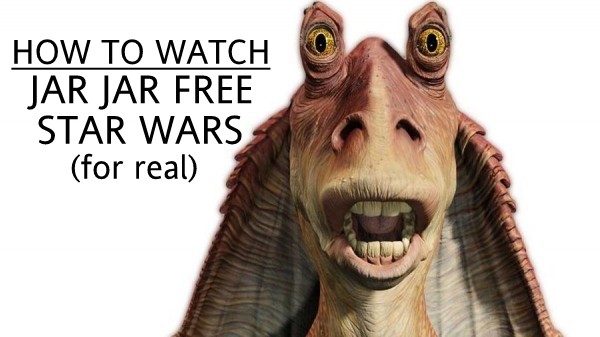 How to watch Star Wars without Jar Jar Binks:
In your settings, towards the bottom click on REMOVE Jar Jar!
Enjoy The Phantom Menace, Jar Jar free!
TIP!! We started watching The Phantom Menace before turning on the Jar Jar filter. Once you start watching a movie, you cannot adjust the settings at a default level and have it apply. You have to go into the individual movie's settings to apply filters. We learned this the hard way and had to endure several minutes of Jar Jar before realizing we did it wrong. Don't make the same mistake. Set up your filters before watching!
So are you convinced??
Ready to try it for yourself? Sign up here!