Updated for the 2022 Christmas season at Walt Disney World! All the free things you can do in and around the Walt Disney World Resort in Orlando, FL.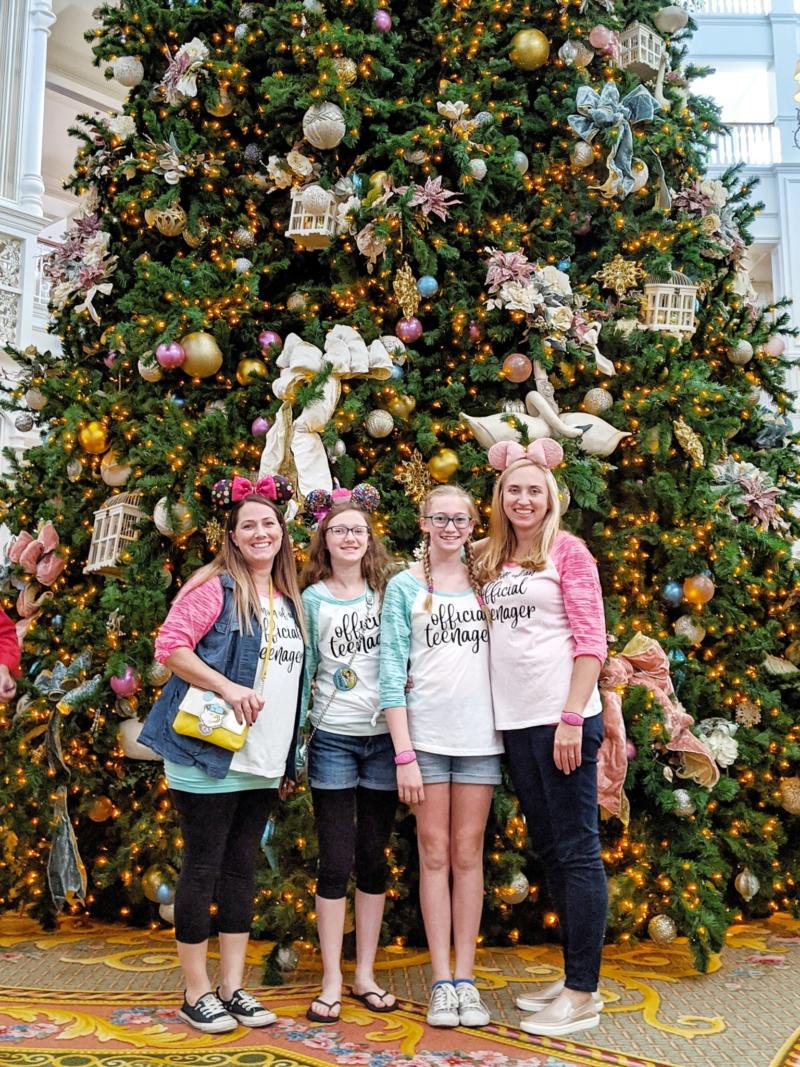 Free Christmas Things to do at Disney World
While planning a girls trip to Walt Disney World during the Christmas season, I started creating a little list of things to do incase we had extra time. We already had park tickets in hand and planned on attending Mickey's Very Merry Christmas Party. I soon realized how many other fun things there are to do in and around Disney World during the Christmas season! Here are all the free Christmas things to do at Walt Disney World while you're there for your visit during the holidays.
You Might Also Like: Everything You Can do for Free at Disney World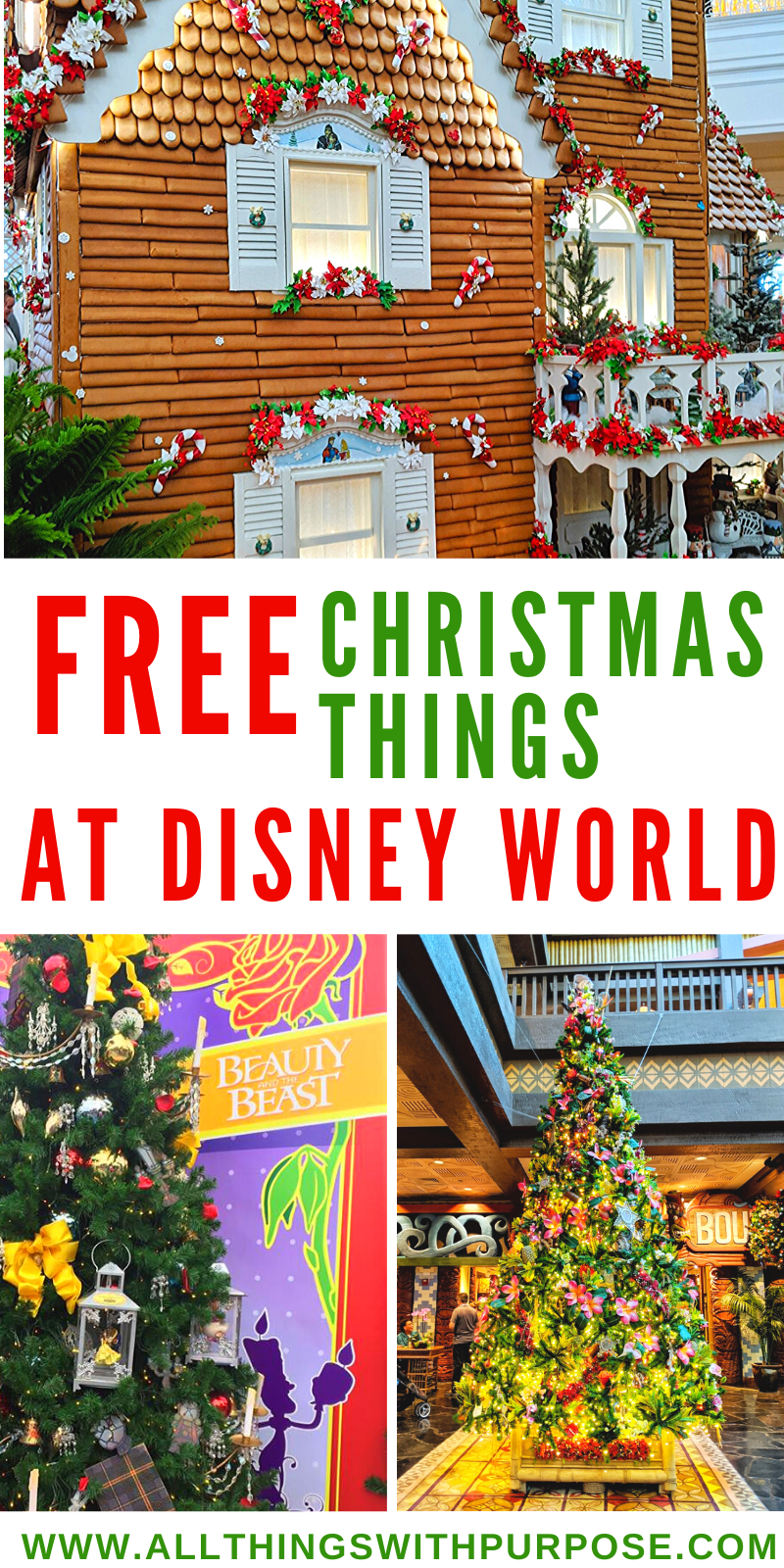 Resort Decorations
If you've ever experienced resort hopping at Disney World, you know how fun it is to check out all the different themes and detail that Disney puts into their hotels. Have you been back to see all your favorite resorts decorated for Christmas? As soon as the holiday season hits (usually November 1st), each resort transforms into it's own Christmas themed wonderland. Sticking with the individual style of each resort, the Christmas decorations are all so unique!
INSIDER TIP for 2022: Unless you have a valid resort reservation, you may not be allowed to park and enter freely. I recommend having an advanced dining reservation. Sometimes they will allow you entrance with a mobile dining reservation, but not always. Use the My Disney Experience app to schedule a dining reservation or place a mobile order for a dessert or snack. When you arrive at the guard house, you will be asked for an ID and to see your reservation or mobile order number. Once you have parked and entered the resort, Disney transportation is free to hop on and visit other resorts. Travel via a Disney bus, boat, Skyliner or monorail. If parking at the resort is not available, you can park for free at Disney Springs and take a Disney bus over to the resort, or pay to park at the Transportation and Ticket Center and walk/ride over.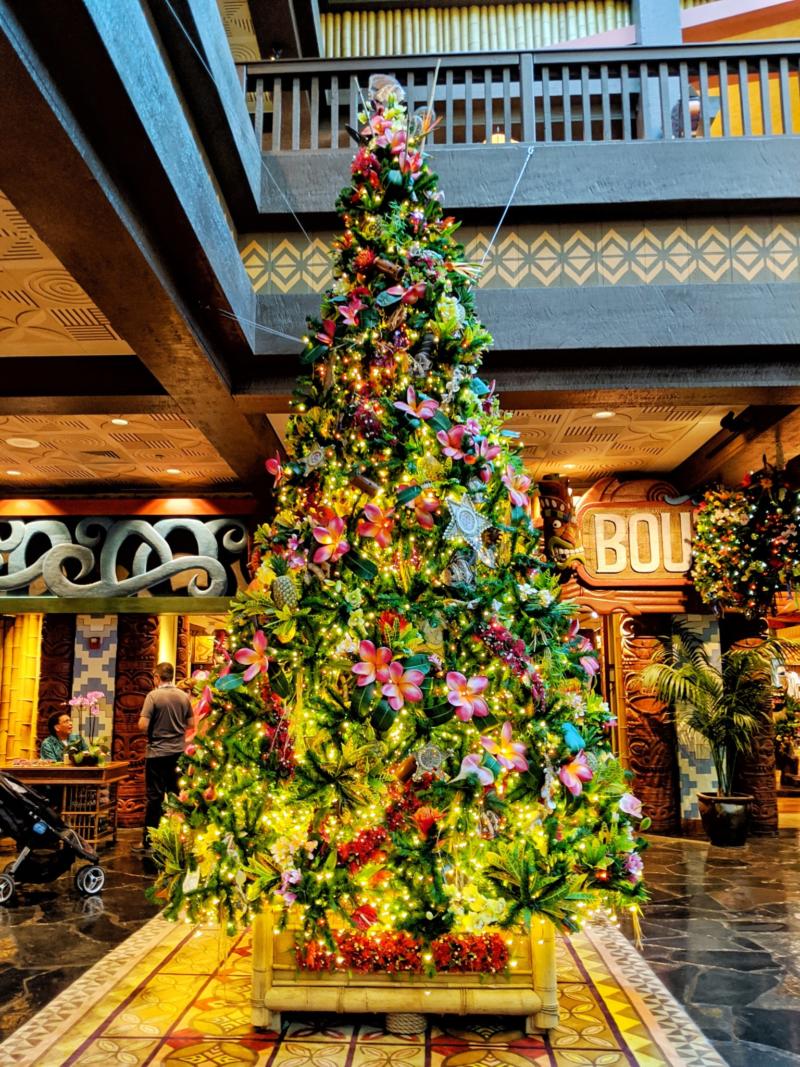 The Polynesian Resort
One of my favorite stops along the Magic Kingdom monorail route is the Polynesian Resort. It's one of my favorite themed resorts any day, but add in the beautiful Christmas decorations and it goes to a whole new level! Seeing their island inspired tree made me wish I had decorated my own tree with plumeria. The Polynesian is a great place to grab a bite to eat, schedule a character meal or enjoy some Dole whip! There are two stores inside the resort that offer a great selection of Disney merchandise.
INSIDER TIP: Sometimes an advanced mobile order will grant you access to the Poly parking lot, though at peak season this has been known to be a no-go. Try placing a mobile order for Captain Cooks before pulling into the parking lot, you will need to show this to the attendant. Eat outside on the patio and walk down to the beach for Magic Kingdom fireworks and the floating water pageant most nights! If parking is full and outside guest parking is not allowed, you will need to park at Disney Springs or the Transportation and Ticket Center before making your way to the resorts.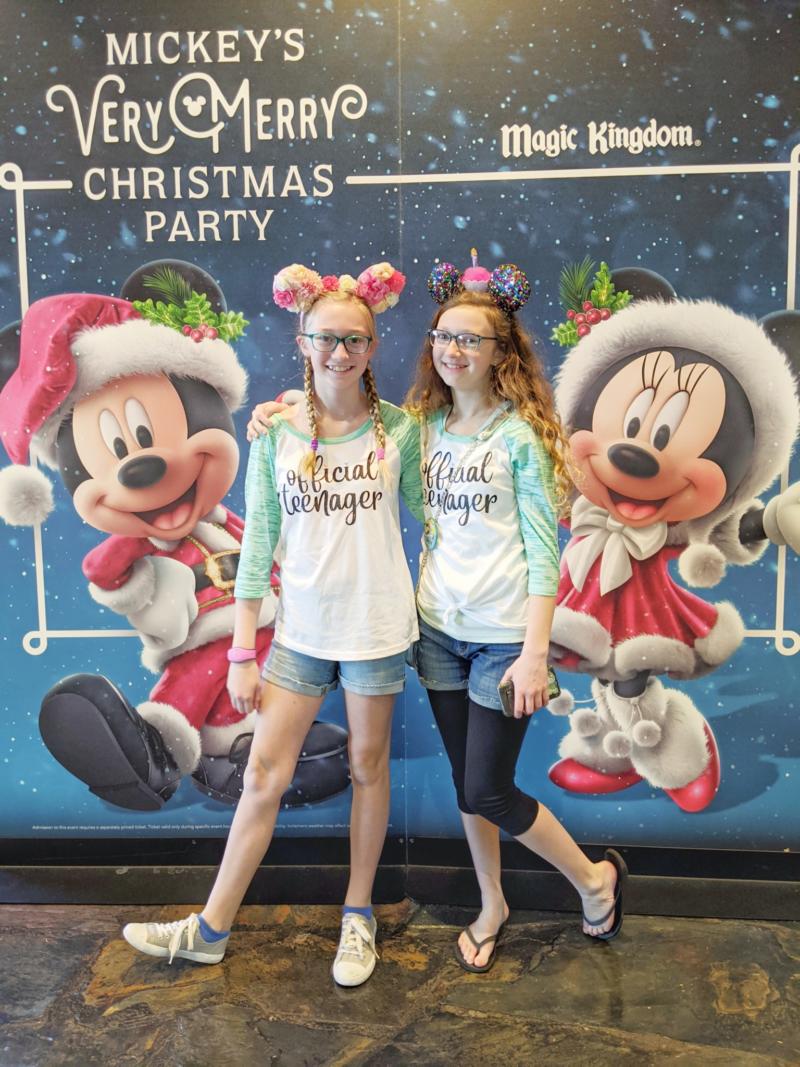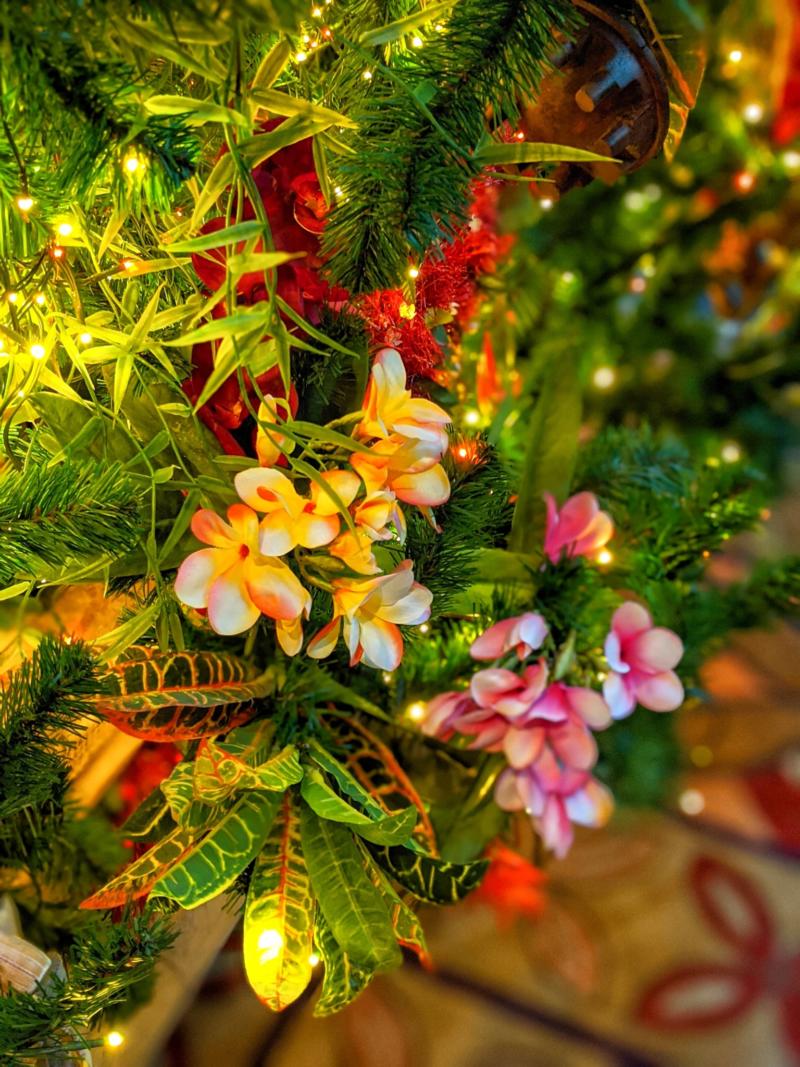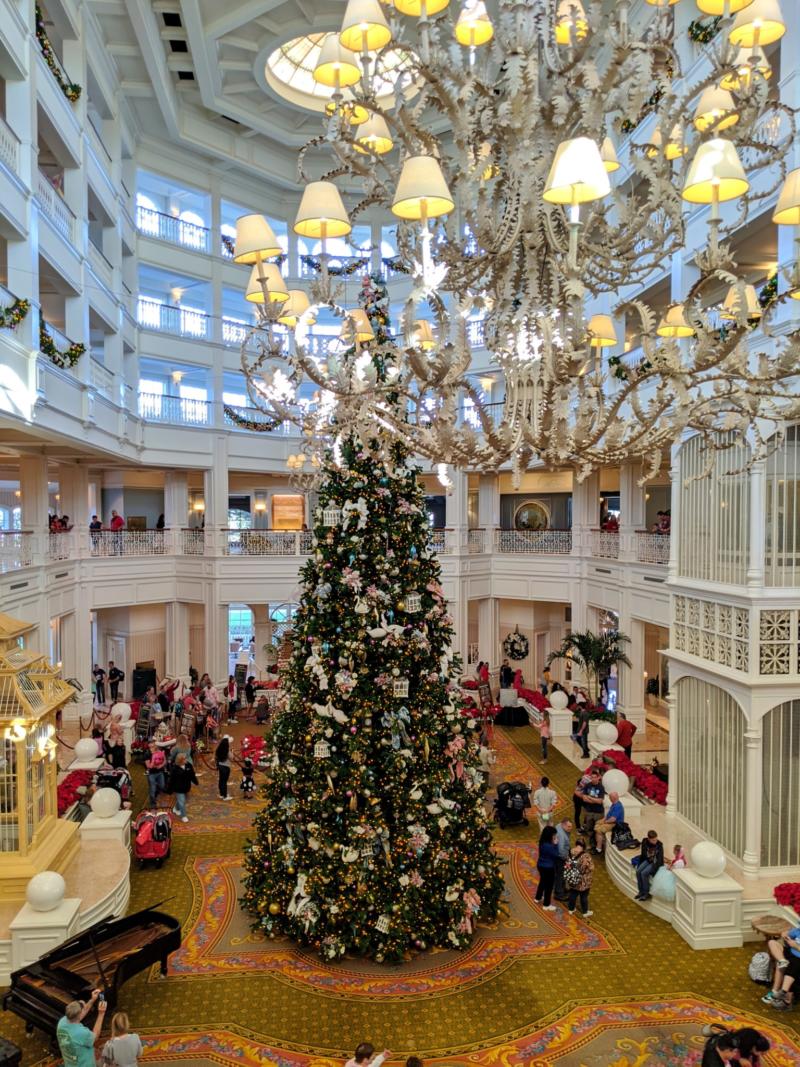 Grand Floridian Resort
The Grand Floridian Resort and Spa is my next favorite resort along the monorail route. The Floridian was built to resemble Victorian era beach resorts along Florida's East coast during the late 19th century. Design inspiration was also taken from Mount Washington Resort in New Hampshire and Hotel del Coronado in California, with red gabled roofs and white walls. From the 5 story lobby and stained glass domes, marble floors with Disney character inlays, this hotel is a truly opulent experience.
Christmas at the Grand Floridian is an event you have to experience for yourself. From the grand Christmas tree covered in flowers, to the life-size gingerbread house and live Christmas music playing in the foyer. Make a stop here and take some pictures, order a holiday drink, or have lunch at one of the cafes.
INSIDER TIP: The restaurants here are on the pricier side, with many of them being unique character and themed experiences. If you want to splurge, they are well worth it. If you're looking for a cheaper alternative, try the Gasparilla Island Grill or breakfast at the Grand Floridian Cafe, which tends to be the cheapest meal of the day.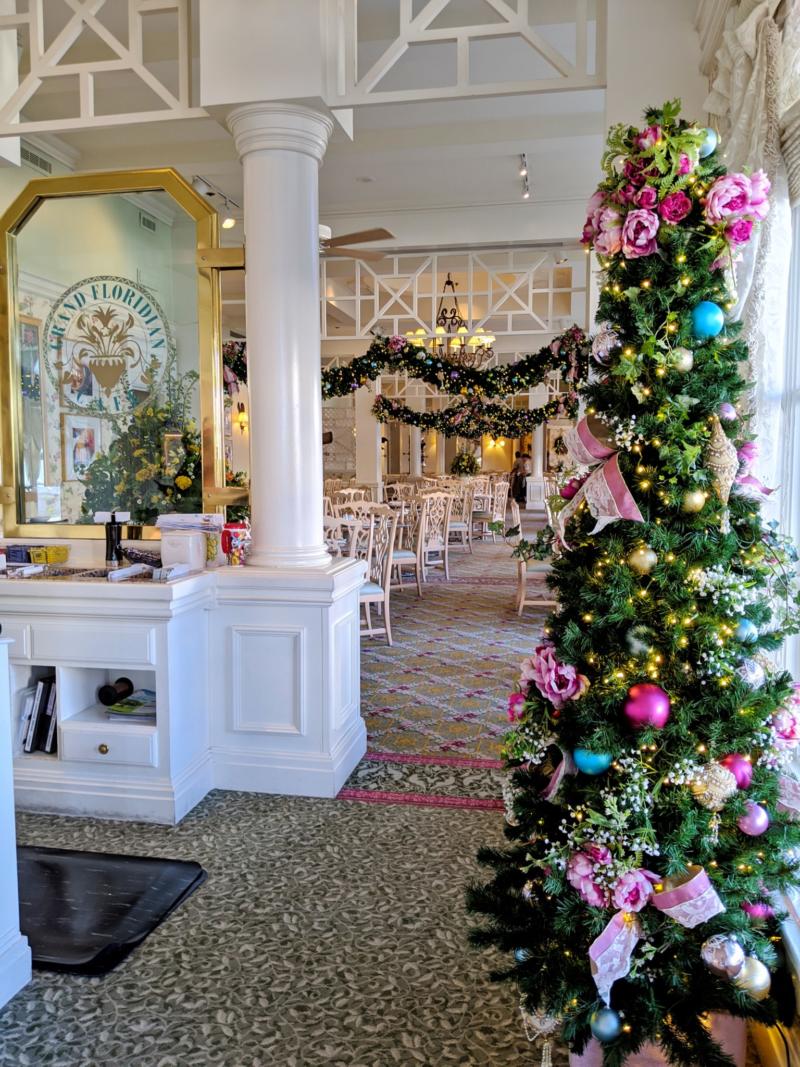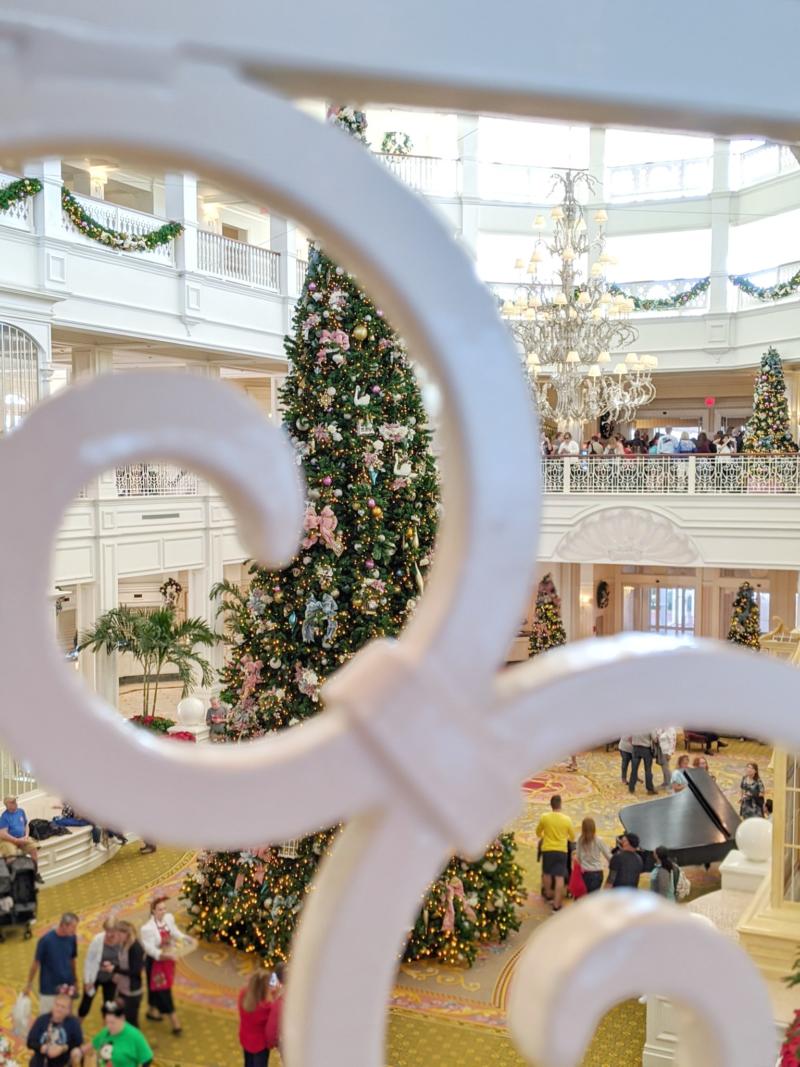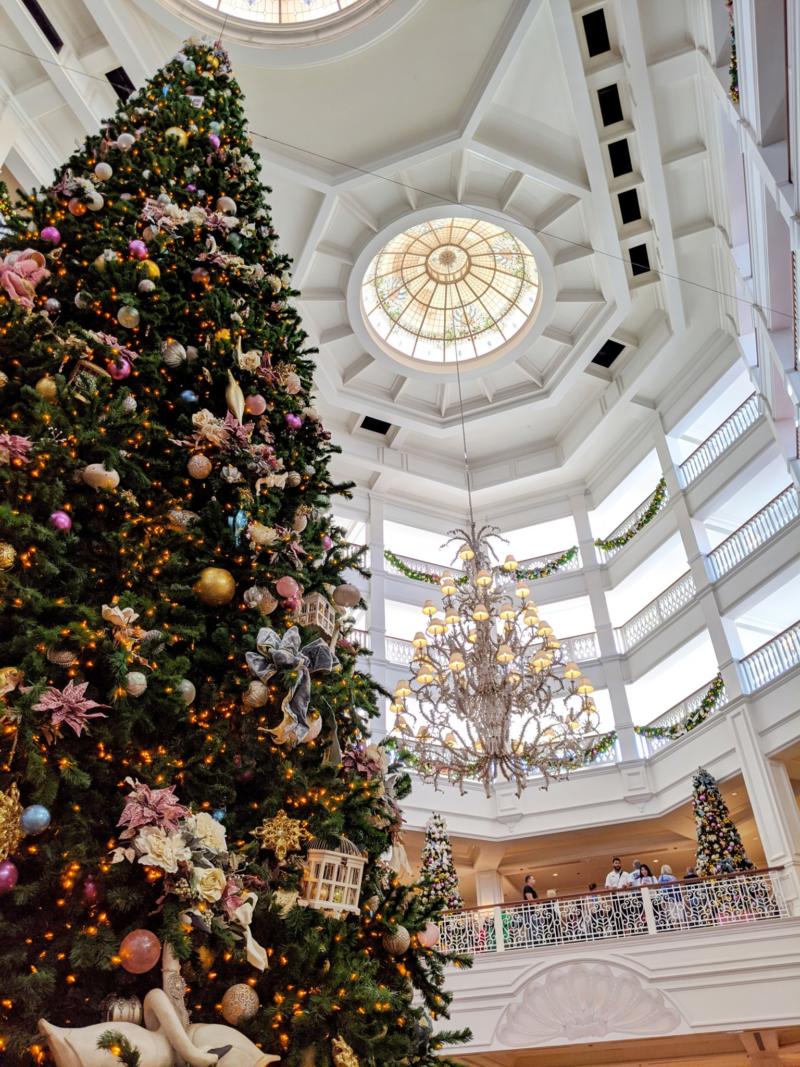 Giant Gingerbread House at The Grand Floridian
The giant gingerbread house at the Grand Floridian is amazing to see in person! It's made of actual gingerbread and has all kinds of adorable little Disney details. You can purchase all kinds of holiday goodies inside the gingerbread house.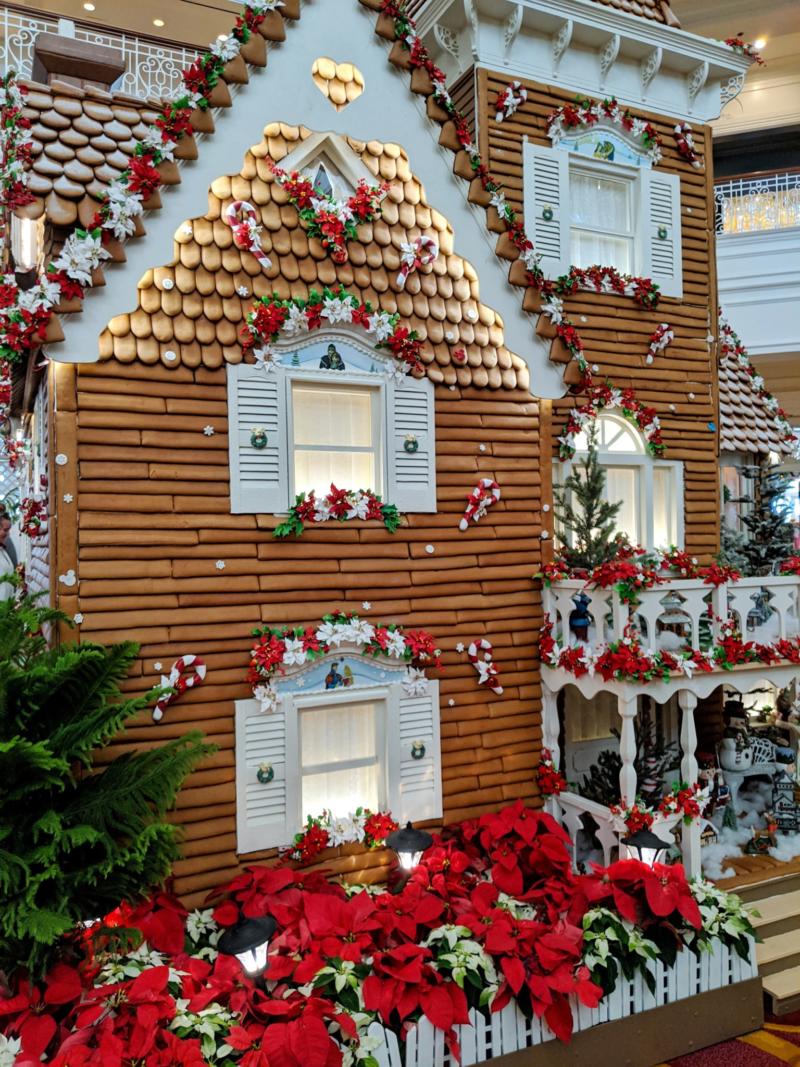 Riding the Monorail or Skyliner
One of our favorite things to do at Walt Disney World is ride the monorail and the Skyliner. These are just a couple of the public transportation options that Disney offers for free, but they are more like rides! You can pay to park at a theme park parking lot (any accept Animal Kingdom), which is $22 for the day, or you can try for free parking at a resort. Ride the monorail or the Skyliner around to discover all the beautiful holiday decorations located at each stop!
2022 INSIDER TIP: You will need a valid hotel reservation, dining reservation, or mobile food order to gain entrance at a resort. If space is limited, you may be charged to park, but many times we have been granted access for free. If parking is full, try parking at Disney Springs and taking a bus to the resort, or pay to park at the Transportation and Ticket Center before hopping on the Monorail or a Disney bus.
Where to board the Monorail:
At any of the resort hotels on the Magic Kingdom loop: The Grand Floridian, The Polynesian, or The Contemporary.
From the Magic Kingdom parking lot/Transportation and Ticket Center or Epcot parking lot
Where to board the Skyliner:
The Pop Century Resort or the Art of Animation Resort
Caribbean Beach Resort (main hub)
Hollywood Studios parking lot
Epcot parking lot
Riviera Resort


Disney Springs
Disney Springs is a great place to spend extra time while in Orlando, or as a free option instead of going into a park. The Disney Springs area is amazing and could easily fill a whole day. Parking is free! There is shopping, dining, activities and free displays that provide a great "taste" of Disney without the price of park ticket. Just like every other area of Disney World during the holiday season, Disney Springs gets all decked out for Christmas!
See Santa at Disney Springs
Meet Santa at Disney Springs! Dates and times for 2021 were November 12 to December 14, 2021 –10:00 AM to 9:00 PM and December 15 to December 24, 2021 –10:00 AM to 11:00 PM. Stay tuned for updated info on this special event!

Christmas Tree Stroll at Disney Springs
The Christmas Tree Stroll is a fun, annual event at Disney Springs. It is free and open to the public. Walk around and admire all the fun, themed trees inspired by different Disney movies, characters and rides. Grab a tree stroll map that helps you navigate the Disney Springs area to find all the trees. At the end of your stroll, you'll get a special treat at participating locations.
Other Holiday Activities at Disney Springs
You'll love all the holiday decorations, live music, DJs and special characters making their appearance each evening. There is SNOW in the forecast, appearing in the Town Center area each night! How magical and Christmasy is that?
Have you been to Disney World during the Christmas season?
What free thing was your favorite?
I'd love to hear your additional ideas or tips!
Pin-It for Later!