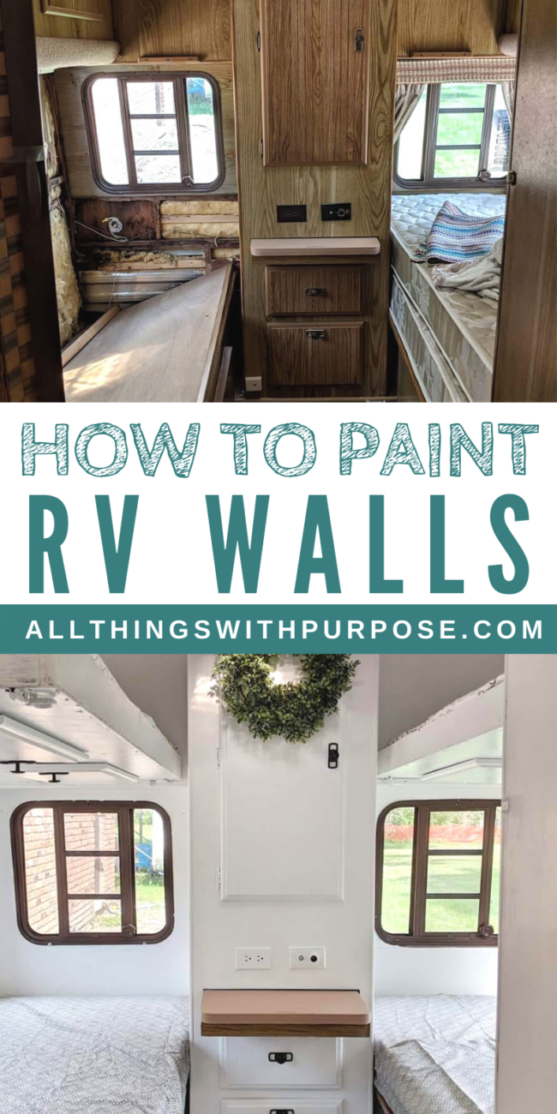 I have written specifically about painting the exterior of an RV, but how do you paint the interior walls of an RV? I receive numerous questions about this topic every week, so I figured it was about time I shared my tips! Here it is; how to paint the interior walls of an old RV.
About RV Walls
The first question most people usually ask is in regards to the walls themselves. You've probably noticed that most older RV's were manufactured with either a fake wood paneling or a thin wallboard that is covered in what seems to be wallpaper. First off, do not attempt to remove this wallpaper. If you are dealing with a camper that has had some water damage or there are spots where this wallpaper is bubbling or rippling, I'd suggest you inspect this for further damage before proceeding. I have seen some rippling in the wallpaper around windows, due to aging or humidity, but not necessarily water damage. If it's minor, I suggest sanding the area down, or using a knife to cut away the rippled area. If it is really bad, you may need to cover this area with new wallpaper, paneling or trim. But like I said, don't attempt to peel back the wallpaper or you will have created way more work for yourself.
Read: How to Paint the Exterior of an RV
Prep Work
Before painting the interior walls of your RV, the prep work is just as important. Make sure your walls are clean, free from dust and grease. In many cases, a high quality paint will have no trouble adhering to a clean, dry wall without the use of an extra chemical. But, if you are dealing with a really old RV with exceptionally dirty walls, you may want to use a TSP substitute like Krud Kutter. If, by chance, your walls are actually covered in real wood, you may want to use a liquid sander first. This will remove the glossy finish! I really like this one.
Temperature and Humidity
One very important thing to consider before painting the interior of your RV, is temperature and humidity. Most oil based paint adheres best when temperatures are between 40 and 90 degrees. Latex paint is best to use when temperatures are between 50 and 85 degrees. In extremely cold climates, I recommend running the heat in your RV for several hours before painting. Even once the interior of your RV has warmed up, I still do not recommend painting when it is below 30 degrees. While the RV is nice and toasty on the inside, the outside is still very cold, which means your walls will probably remain fairly cold as well. This can create condensation on your walls and tricky conditions for paint to adhere and cure. The other tricky factor is ventilation. I encourage you to use a Latex, low VOC paint when ventilation is going to be challenging due to weather.
On the other hand, paint won't adhere properly in extremely hot climates either. High humidity can be especially destructive. I have heard horror stories of paint that went on perfectly, but the following day it had literally slid right off the wall! In humid conditions, paint will not dry and may become runny. Run your air conditioner and/or a dehumidifier while painting in humid weather.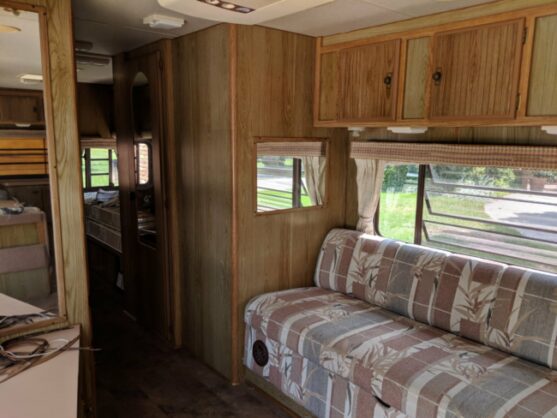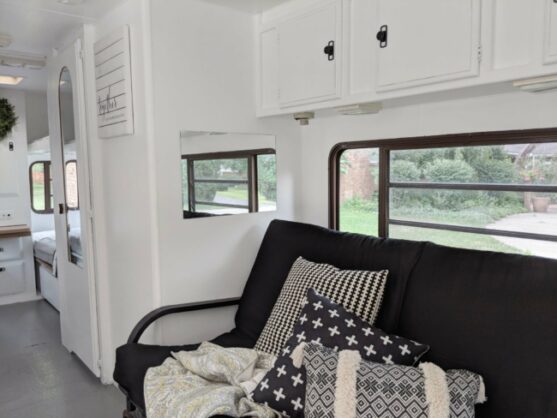 Paint and Primer
I have had great success with Behr Marquee paint and primer in one on regular walls or over wallpaper. It covers great without the use of an additional primer and almost always covers in one coat! On the other hand, I have also used a bonding primer like Stix or Gripper, and then topped with a less expensive paint. As long as your surface is clean and dull, you shouldn't need anything fancy. If you are covering wood or plastic/fake wood or if it has any kind of gloss to it, I HIGHLY recommend using a bonding primer first. I also recommend using a low luster paint with a satin or eggshell finish. Semi-gloss will show up too many imperfections, but flat paint will not ware well in high humidity. I do not recommend using oil based paint. I tried it once thinking it would adhere better, and had problems with it flaking off.
"If you are covering wood or plastic/fake wood or if it has any kind of gloss to it, I HIGHLY recommend using a bonding primer first.
Here is the summary of what I suggest you use:
Stix or Gripper primer over wood paneling, plastic or glossy surfaces
Latex paint
Eggshell finish, not flat or semi-gloss
Clean and prep the surface with TSP substitute like Krud Kutter and allow to thoroughly dry
Sand down or cut away any wallpaper that is bubbling or rippled due to age
Check for water damage before painting
Use bonding primer like Stix or Gripper if there is any sheen to your walls or if painting over any kind of wood paneling
Other Options for Damaged Walls
If you are trying to correct an area that is badly damaged or imperfect, you may want to cover it with something other than paint. Clean the surface as best as you can and then consider covering with one of these options. Disclaimer: don't cover damage without first correcting the issue. If there is a leak, fix the leak and remove damaged wood, don't just cover it up and ignore the problem!
Wallpaper: I have used both peel n' stick and pre-pasted wallpaper. I have had decent success with peel n' stick, but it is not recommended for exterior walls that are prone to condensation due to the changes in whether. If using a peel n' stick, it is generally recommended that you use an additional adhesive. Don't cover every wall in wallpaper, but use it as a great accent to cover damaged walls!
Peel n' stick tile: I love using peel n' stick tile in my RV's. It is inexpensive, easy to install and doesn't add additional weight. Check out my Amazon Store for some of my favorite options!
Vinyl tile: I have used vinyl tiles as an accent in my vintage trailers. It's lightweight and easy to cut. Find some here: Vinyl Tile
Paneling: I wouldn't normally recommend adding a lot of paneling if weight is a concern, but there are so many great options out there to choose from! From thin wood planks, to vinyl tile panels and faux brick, create the look of a focal wall that also reinforces or covers over damage.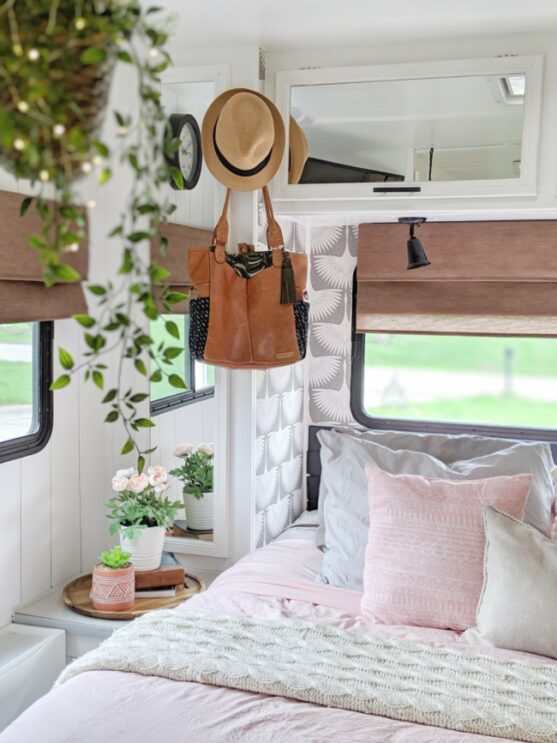 Q and A's
Here's a few commonly asked questions about painting an RV interior.
Q: Should I remove the wallpaper in my RV?
A: No, do not remove the wallpaper. If there is a boarder, you may want to remove that.
Q: Can I paint over the wallpaper in my RV?
A: Yes, paint over the wallpaper that was factory installed in your RV. This is not normal wallpaper and not meant to be removed.
Q: Should I roll or spray the paint on in my RV?
A: This is entirely a matter of preference! Both rolling and spraying paint work great. Spraying will save you time, especially if you have a lot of space to cover, but it takes more prep work and can create a bigger mess. Do what you are most comfortable with.
Q: What kind of paint do you recommend?
A: I don't think you need to spend a lot of money on paint. The prep work is more important. If you're covering existing wallpaper or a dull surface, regular paint of any kind is fine. If you are covering laminate, plastic, or any glossy surface, you will need to sand and prime really well with a gripping primer. The paint is less important in this instance, sanding and priming is the more important step. I like Gripper primmer and Behr Ultra Scuff Defense in most situations. I also really like Behr Marquee for the one coat coverage that saves time with dark colors. I use mostly eggshell or satin finish. I use Stix primer and Benjamin Moore Advance paint when I want to get really fancy.
Q: Do I need to sand my walls before painting?
A: In most cases, no, you do not need to sand walls. The only time you would need to sand your RV walls is if they are covered in wood or paneling of any kind.
Thank You for Pinning!