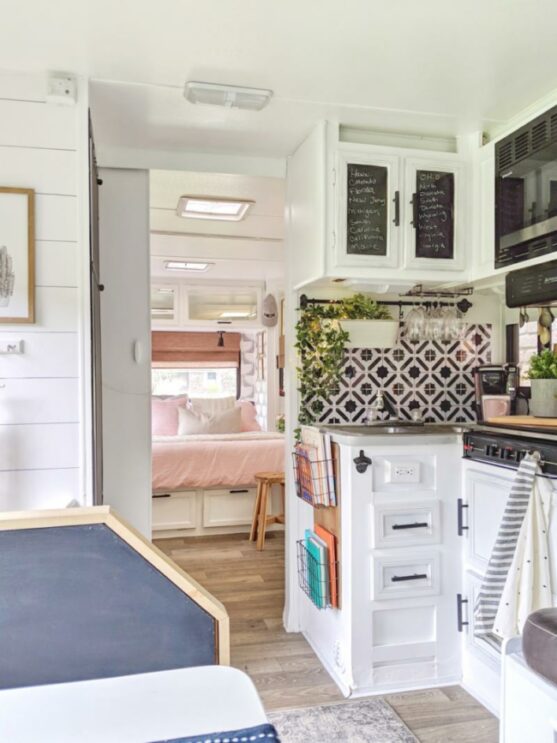 How Much Does it Cost to Renovate an RV?
One of the most frequent questions I get asked is "how much did it cost to renovate your RV?"
Well, I've gone into this a little bit in previous posts, but I thought I'd do a super basic breakdown of the cost involved in a couple of different example scenarios. With each camping trailer or RV, we have renovated, there have been several factors involved in the decision to purchase and how much we've been willing to pay. The shape of the camper you are considering or the extent of the damage will impact how much you should spend initially on the purchase price. We try to do a very quick but thorough assessment of the repairs we will need to do and communicate that with the seller.
Update: I originally wrote this post in 2019, and as you know, the world was a different place then! Prices have definitely gone up, especially in the world of used RVs. It was common for us to find a decent RV under $5,000. Now, I'd say under $15,000 is a good deal!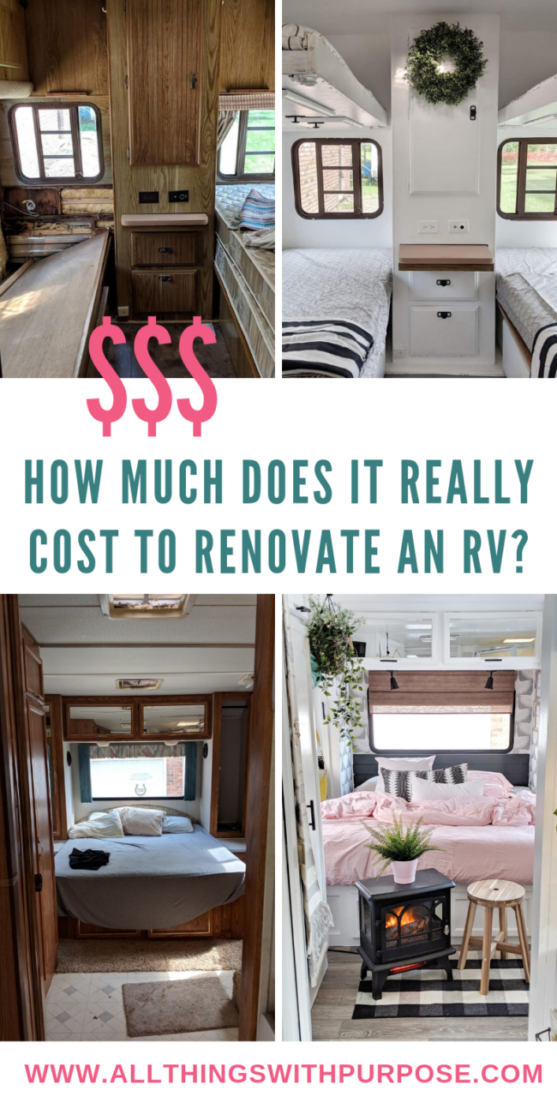 Check-List of What to Look For
When inspecting a trailer and considering a purchase, there are quite a few things we look for while visualizing price tags in our minds! Here is a checklist of things to look at to estimate how much it will cost to renovate an RV.
Major/High Price
Engine problems (RV)

How many miles does the engine have?
Listen and inspect belts, oil level, exhaust, look underneath, look for damage, etc.
Ask questions about the history of maintenance. Was it driven frequently or did it sit for a long time?
Take it to a mechanic or have a friend that knows a lot about cars come along to inspect!

Water damage

Do you see visible cracks or holes in the siding or roof?
Do you see ripples in the wallpaper or ceiling?
Inspect all interior walls and ceiling, be sure to open cabinet doors and look inside!
Water damage can travel! It may be hard to tell how far it has spread, but if there is a clear source of the damage it might be easier to fix.

Cushions, Mattress, Couch

These are things that can really add up in price!
Do they smell? Can they be cleaned?
Can they be recovered or will you need to buy new?

Frame damage

Is it rusty or cracked? A damaged frame can get incredibly costly and sometimes impossible to repair

Windows

Are they in working order? Are they intact?
Check skylights and vent coverings too!
Are screens in place?

Appliances

Appliances can be quite costly to replace! Do they all work? Check them!
Fridge
Hot water heater
Stove
Microwave
AC
Heater

Tires – Tires can be quite costly depending on the size of your camper, but you want them to be in great shape!
Electrical – Do all exterior and interior lights work? A problem with lighting can either be a quick fix, or a sign of something more complicated
Minor/Low Price
Outdated decor – Nothing a little paint can't help!
Ugly wallpaper – Easy, paint over it!
Old/outdated toilet or faucet – Not that expensive to replace and fairly simple to do
Flooring – Flooring can be ripped out and painted or replaced pretty inexpensively
Lights – lights can be painted or replaced rather inexpensively
Smoke detectors
LP gas/Carbon monoxide detectors
Pipes and tanks – Annoying to fix, but not the most expensive thing
Gas tanks
Sewage hoses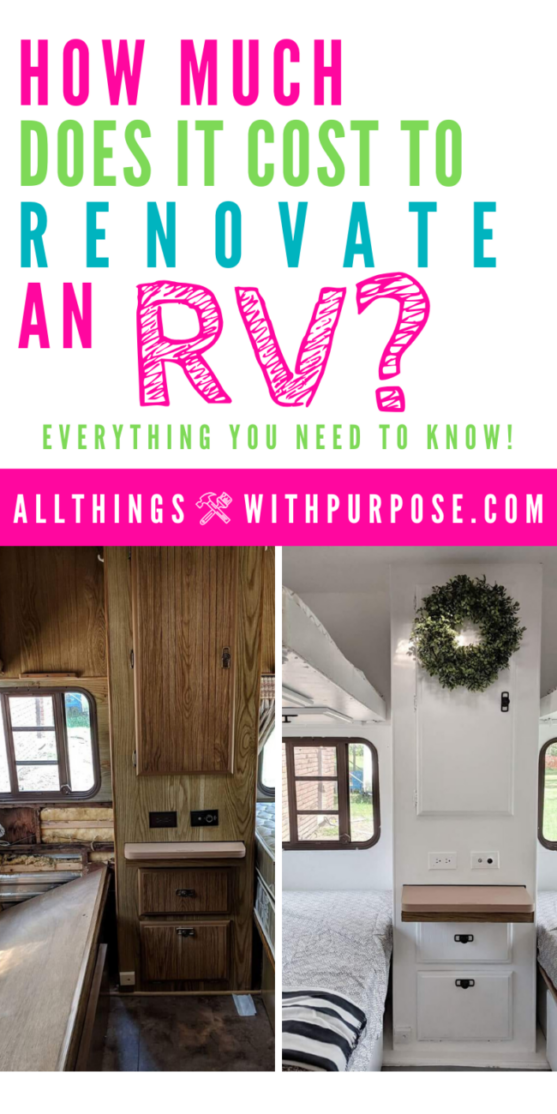 Disclaimer
Before I go on, I should note that every situation has been so different. It is challenging to know what your RV renovation costs will total. You'll never be able to predict what will or won't go wrong. One of the ways we have saved money is by owning all the tools and most of the supplies already. Power tools and saws will obviously be an extra cost if you don't already have them on hand. We also had a lot of the nails, screws and lumber left over from other projects. All these things add up!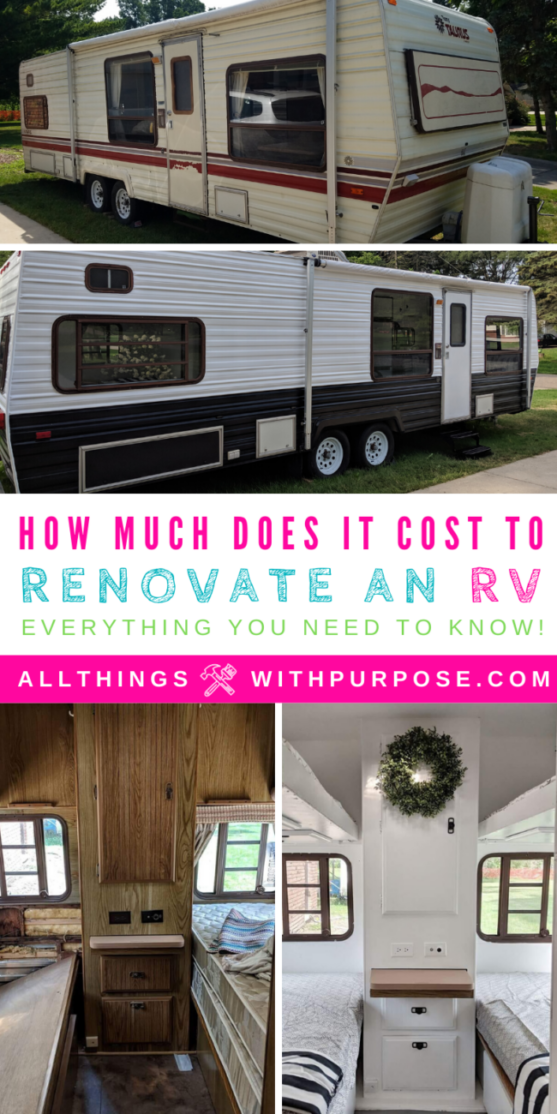 Our 1990's Motorhome Remodel
In the example of our 90's RV, the purchase price was $3,200 with the cost of repairs coming to about $2,370. The largest expense was the price of tires which was $1,300 right away. If you can find a motorhome with new tires that are in great shape, you win! We have 5 kids, so safety is very important to us and having a quality tire that's in good shape is a must.
Here is the approximate breakdown of the repairs we did:
Tires – $1300
Caulk – $50
Paint – $300
Flooring – $30
Couch (Facebook Marketplace) – $100
Mattress – Already had
Dinette Cushions (RV surplus store) – $40
Engine Tune-Up and Minor Repair – $200
Microwave – $190
New Sewage Hoses $40
Decor $20
Window Coverings – $100
Cost of Repairs = 2,370
Purchase Price = $3,200
Total Price = $5,570
*Additional costs include license and registration, additional décor and bedding, extra camping gear, etc.
Read: Our 90's RV Renovation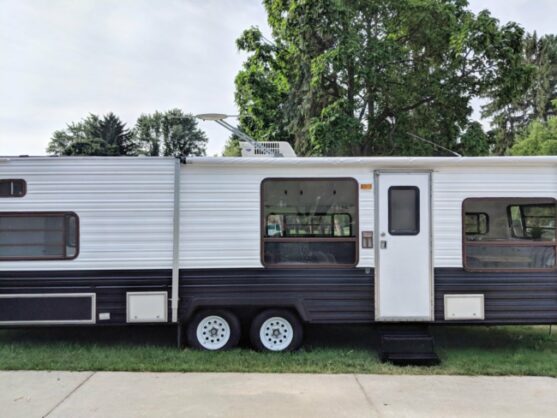 1980's Trailer Remodel
In the example of our 1980's trailer renovation, we bought it specifically to resell, so this impacted a lot of the decision making process. We wanted to keep the RV renovation cost low and not spend a lot of money on specific features that may or may not be important to the next owner. The tires were in pretty good shape, so there was no immediate need to buy new ones. There was a section of the frame that needed to be repaired, but not a lot of damage. All appliances were in working order. Because it was so large, the biggest expense was paint.
Here is the proximate breakdown of the repairs:
Paint – $500
Couch (Futon Bed) – $100
Cushions/Pillows (recovered original with fabric on-hand) – $25
Caulk – $50
Decor – $50
Shades – $150
Lumber $50
Cost for Repairs = $925
Purchase Price = $1,000
Total Cost = $1,925
*Additional costs include license and registration, additional décor and bedding, extra camping gear, etc.
Read: Our 1980's Trailer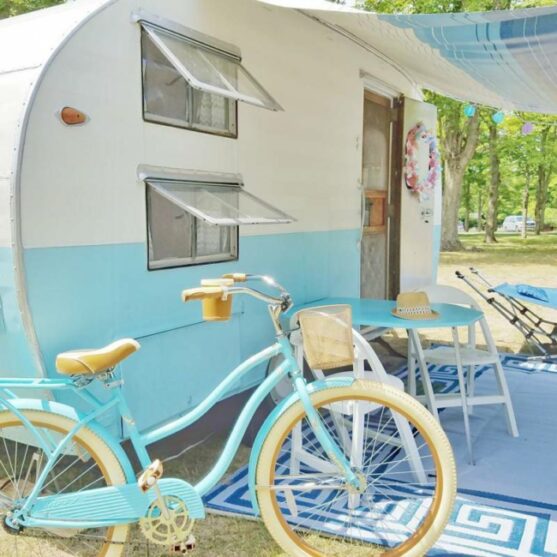 1950's Vintage Trailer Renovation
Our vintage, 1950's trailer renovation was the very first camper I remodeled. She was my dream come true! I had always wanted to own a vintage camper and the dream became a reality when we found "Gidget" as we affectionately named her. The damage was extensive, and I learned a lot about water damage and running new electrical. It was a lot of trial and error, but it was a fun experience! Read more here: Gidget the Vintage Trailer
Here is the breakdown of costs involved in remodeling Gidget:
Frame/Welding Repair – $1200
Tires – $500
Lumber – $500
Paint – $300
Caulk – $50
Cushions and Fabric – $200
Mini Fridge – $100
Microwave – $40
Decor – $50
Electrical panel and converter – Stripped out of my parent's old pop-up camper
Electrical wire – left over from a past project (this could possibly be a big expense)
Mini space heater – Already had
Cost for Repairs = $2,940
Purchase Price = $1,700
Total Cost = $4,640
*Additional costs include license and registration, additional decor and bedding, lights, extra camping gear, etc.
Read: Our Vintage Trailer Before and After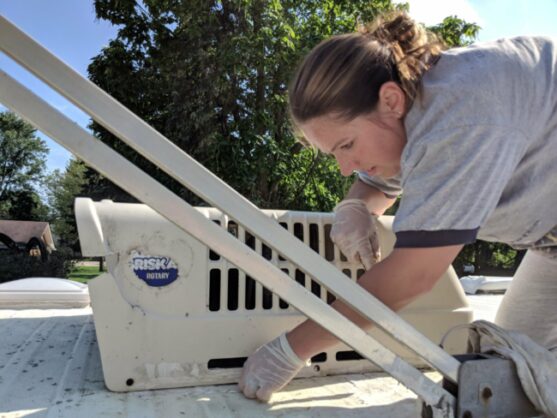 I hope this has been helpful to get a better understanding of how much it costs to renovate an RV.
Pin-It for Later