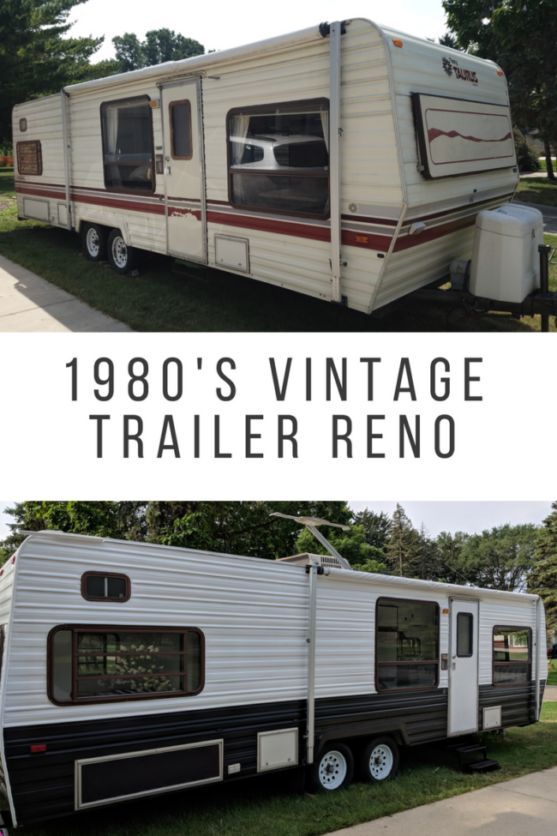 Our 80's Glamper
Many people have inquired about the 1987 vintage camper reno we completed. Since posting about it, we have sold the camper, but I want to take a quick journey back through the restoration process. We took this drab, outdated camper and turned it into a modern glamper in the time span of ONE WEEK!
That's right, one week. My friend Julia came to visit from Illinois, and she thought it would be "fun" to see if we could flip a camper in a week. We enlisted the help our kids, at least the seven that were old enough to help.
Let me tell you, if you're ever concerned about your kids acting too spoiled or entitled, or you just think they've been sitting around enjoying life a little too much, make them paint a trailer (maniacal laughter)! I give you, Exhibit A.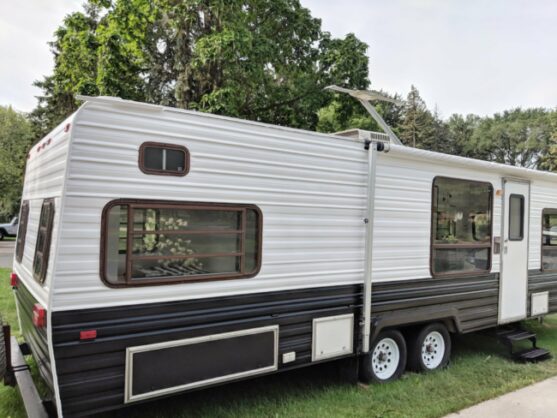 Finding the Right Trailer
We knew we wanted something with a lot of room for decorative upgrades, without a lot of structural damage. We also wanted a good price so that after additional spending on upgrades, we would still be able to sell and make a profit.
There were two main spots of concern for water damage. Both of these spots were obvious because the previous owners had already started to pull the wall apart and inspect it. We were able to pinpoint exactly where water was coming in which made sealing everything up a little easier.
Aside from the water damage, hideous smell and outdated decor, we loved the layout and those quad bunk beds!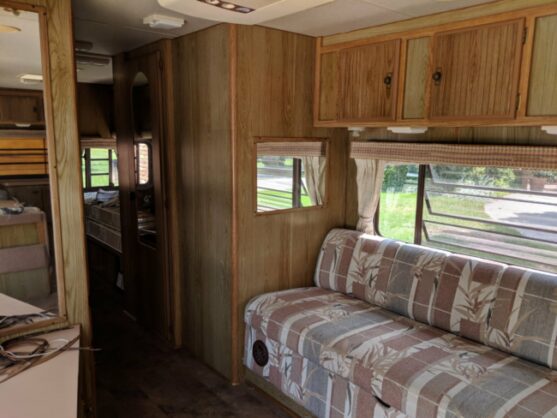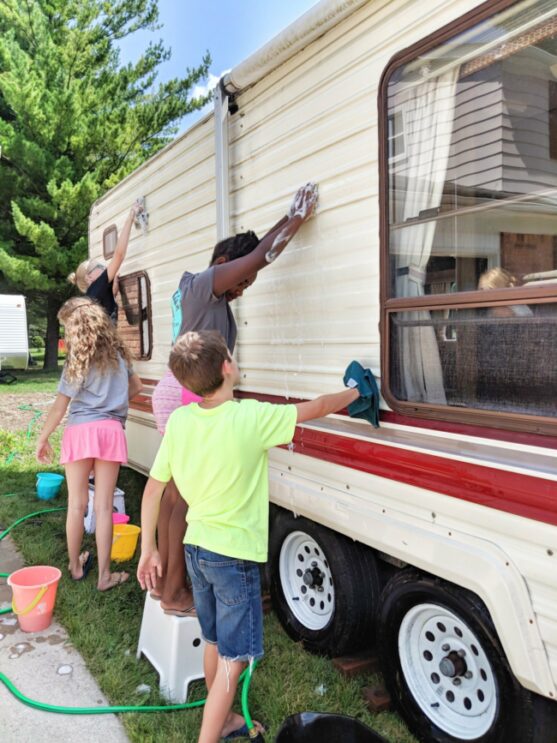 What We Did
Here are a few of the things we did:
Removed original window coverings and valences
Removed original couch and cushions
Rebuilt and reinforced frame that had water damaged
Re-caulked and sealed up outside
Added rain gutter above windows and problem areas
Deep cleaned the inside and outside
Painted walls and cabinets
Painted floor with floor paint
Spray painted nobs and door pulls
Built a frame around water tanks and heater to hold a new futon bed
Replaced shower faucet
New decor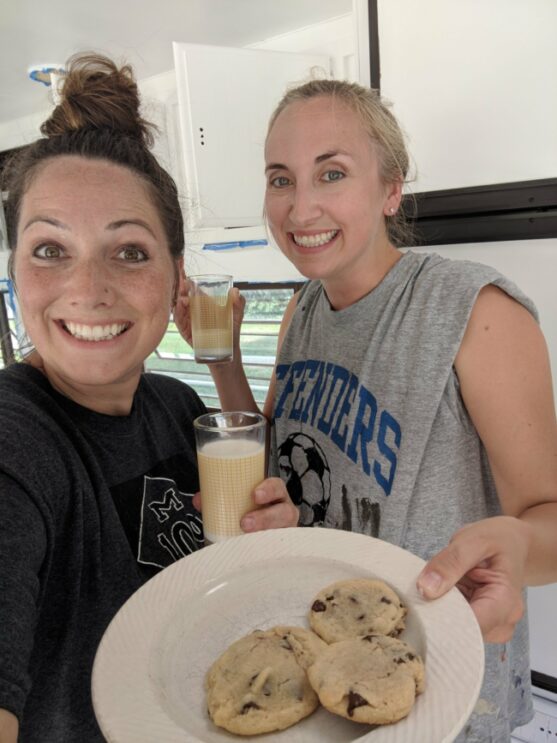 Supplies
Here are a few of the supplies we used:
White interior Behr Marquee paint in satin finish on the interior
White exterior Behr Marquee paint in satin finish on the exterior
Black exterior Behr Marquee paint in satin finish on exterior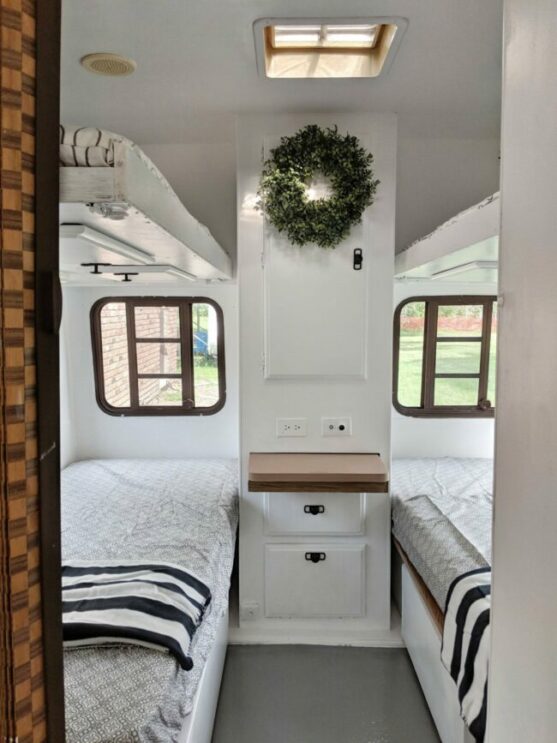 Decor
Here are a few of the things we used to decorate the interior:
Large Clock from Walmart
Artwork from Walmart
Aztec pillow from Walmart
Pillow from IKEA
Futon from Walmart
Towel from Walmart – Similar at Target
Rugs from Walmart
Sheets and blankets from Walmart
Greenery from IKEA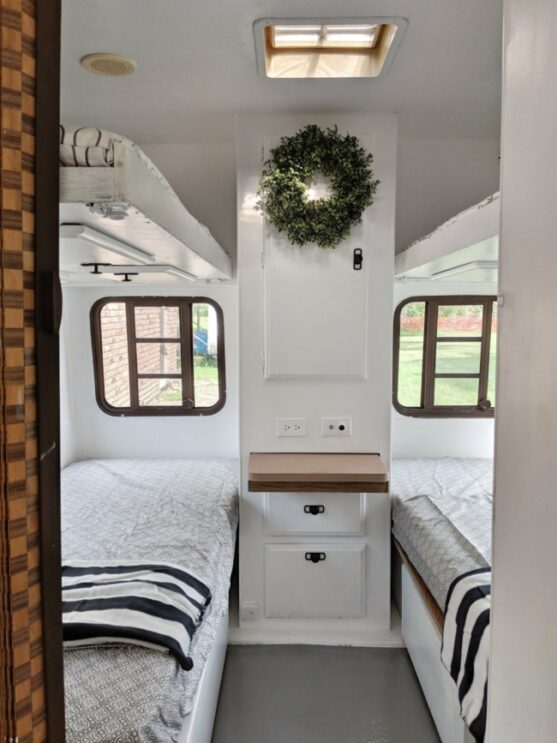 Check out my other trailer renovations!
Find them here: Camper Renovating
Pin-It for Later!