I have painted the exterior of multiple campers, from a vintage trailer to a 90's RV. I'm going to share the simple technique I use and how well it holds up!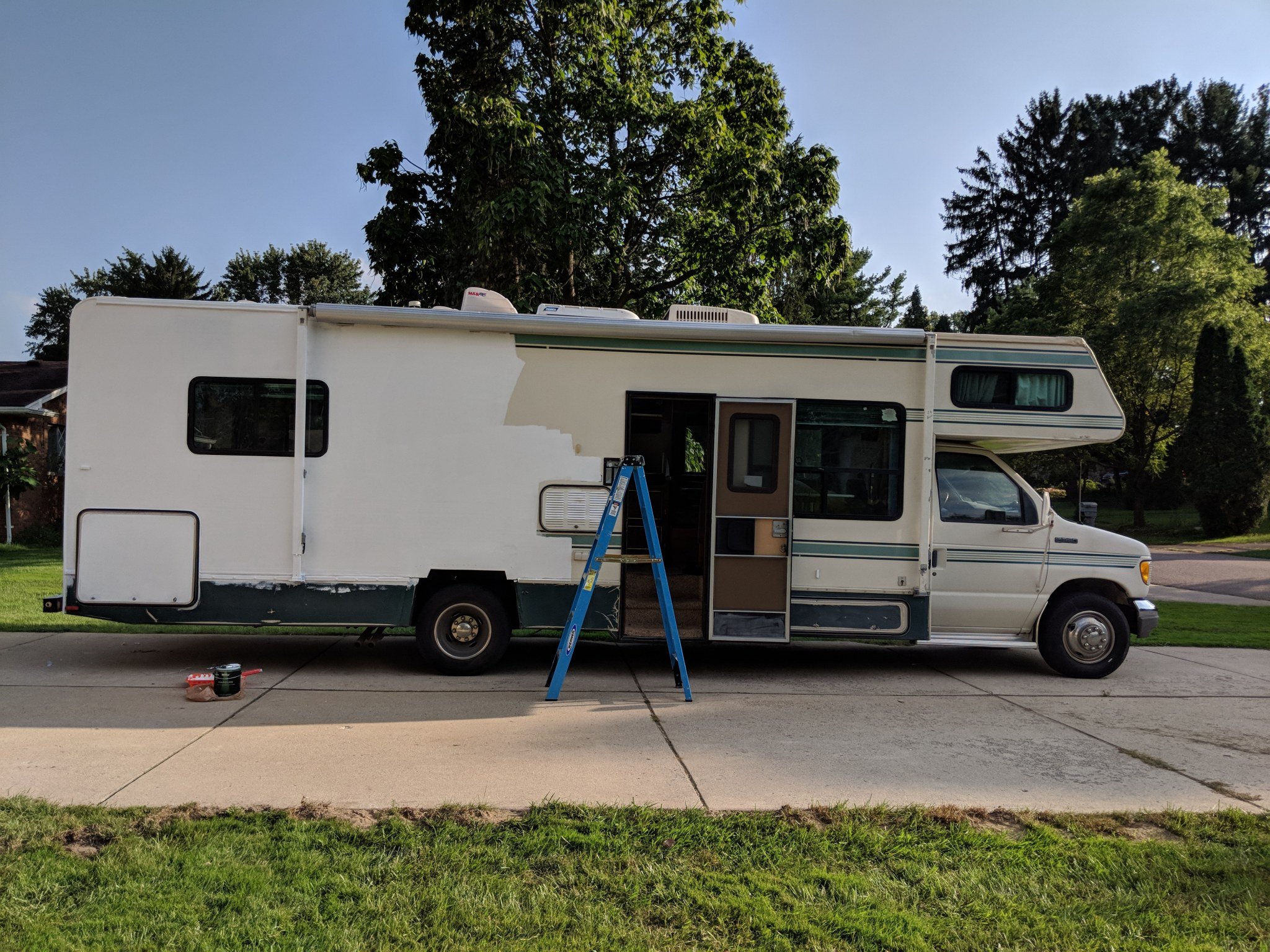 Let's Talk Exterior Paint Jobs
How do you paint the exterior of a camper or RV? Do you spray it or roll it? Do you use a special auto body paint? Do you seal it with some sort of top coat?
How I painted the exterior of my RV is the most frequently asked question I get, and the one I'm most embarrassed to answer!
"Why?" You may ask.
Well, I kind of break all the rules.
I realize I'm going to get some flack for this and some people are going to shake their heads and raise some eyebrows.
I don't follow the rules for auto-body painting and maybe not even for camper painting.
Here's why…
**I roll the paint on using regular exterior paint**
That's right.
I don't spray it, I don't use auto paint.
I don't use a foam roller, I don't tape things off.
I don't even remove the decals.
You can shake your head in disgust now.
Go ahead, you know you want to.
"Done" is better than perfect!
Q: Is it perfect?
A: No.
Q: Is it way better than before?
A: Yes.
Q: Am I embarrassed to be seen with it after it has been painted?
A: No.
Q: Was I previously worried about being mistaken for a mobile meth lab?
A: Yes.
Q: Am I worried about it now?
A: No.
Q: Does it hold up?
A: Yes.
Slide the arrow from side to side to see the before and after of our 2012 Salem Cruise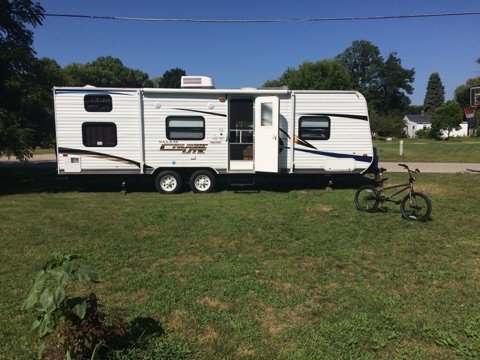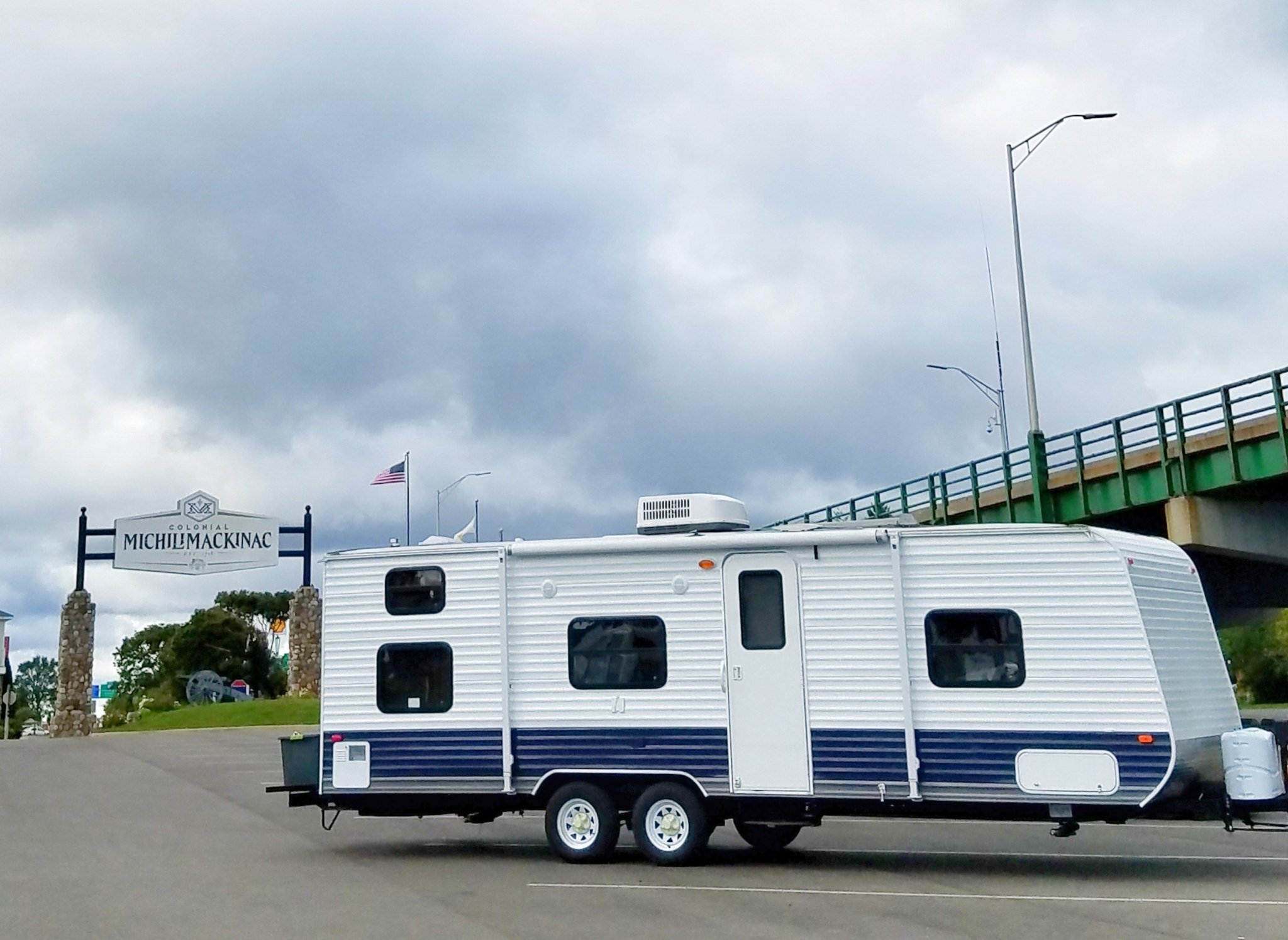 Prep
Here is what I do to prep the surface before painting:
Lightly sand areas where the decals are bubbling or peeling up
Optional: you can try and use a heat gun or a decal removing buffer that fits on a drill to remove the decals first. I have personally had zero success with removing decals, so I've opted to paint over them! This will really depend on the year of your camper, what kind of siding you have and type of decal. I figured if they've stayed on for 20+ years, they can hold up to a layer of paint.
Power wash everything, including the roof
Allow to dry thoroughly
Seal up corners and around all windows with a paintable caulk. I like DAP Extreme Stretch Sealant
Do any repairs to the roof or siding before painting. Make sure everything is water-tight and clean
If you are repainting a newer trailer with a shiny exterior, you may want to consider lightly sanding or painting first with a primer like Stix Bonding Primer – I have always painted older campers that had very flat surfaces once I power washed them, so extra steps were not needed
Read: Our 90's RV Renovation

Decals
Let me talk for a minute about decals. I wasted an entire week of my life trying to remove the decals on our 2012 Salem Cruise trailer. I bought a special decal removing wheel for my drill, I used a heat gun, I used a putty knife, you name it. Those things would NOT come off. Now, the siding on that particular trailer was wavy, not smooth. I think removing decals from a smooth sided trailer would be easier, but maybe not. I vowed that day never to try again! Instead, I have been painting over them ever since.
Does the paint hold up around the decals? Well, I would say for the most part it does. Our RV with smooth sides is holding well. Our last trailer has a couple little spots that started to lift and needed to be repainted. But repainting is easier than spending the time it takes to remove them.
Can you see the outline of the decals under the new paint?
Yes.
But not bad enough to bother me!
Read: 1980's Vintage Trailer Renovation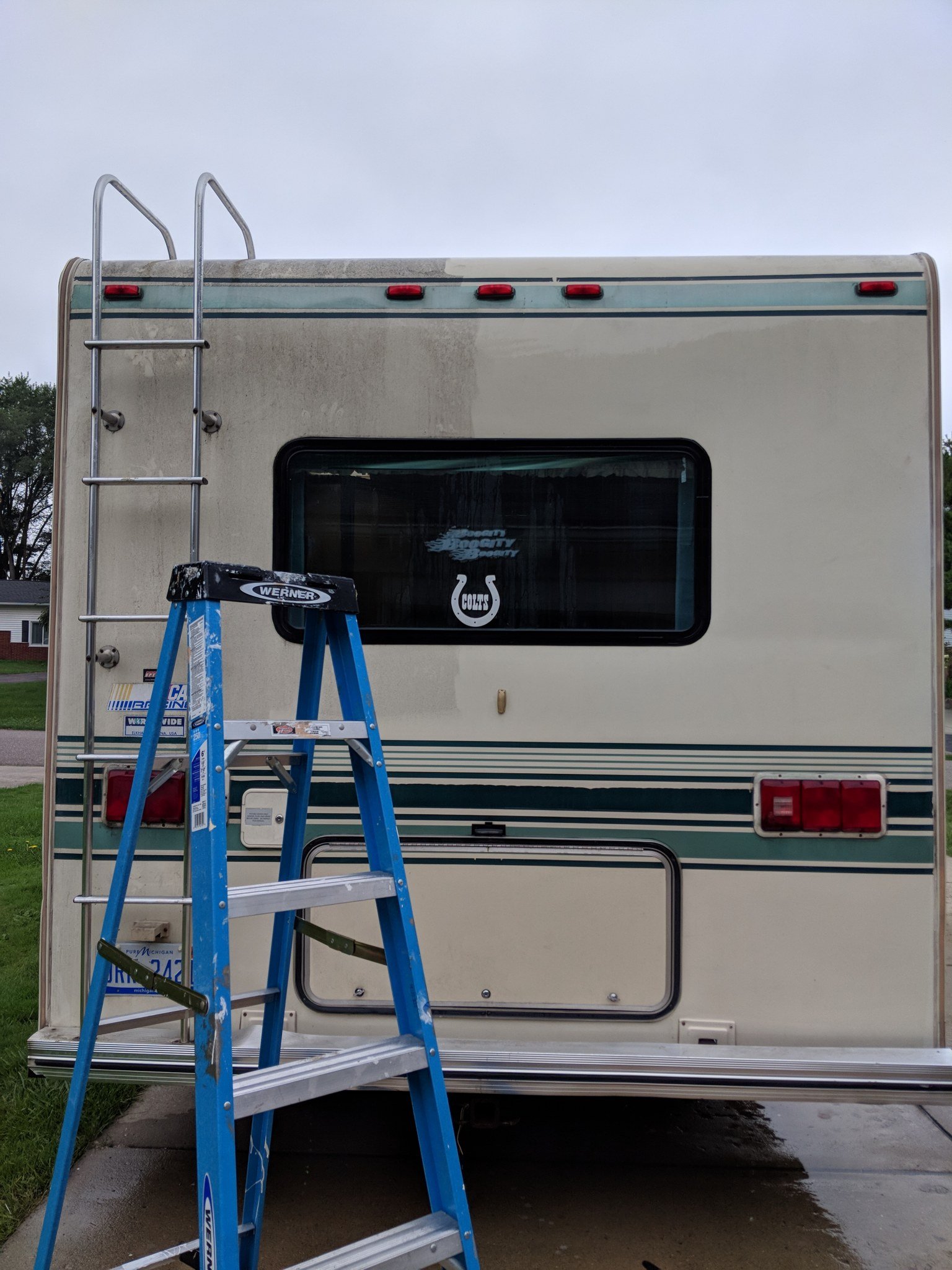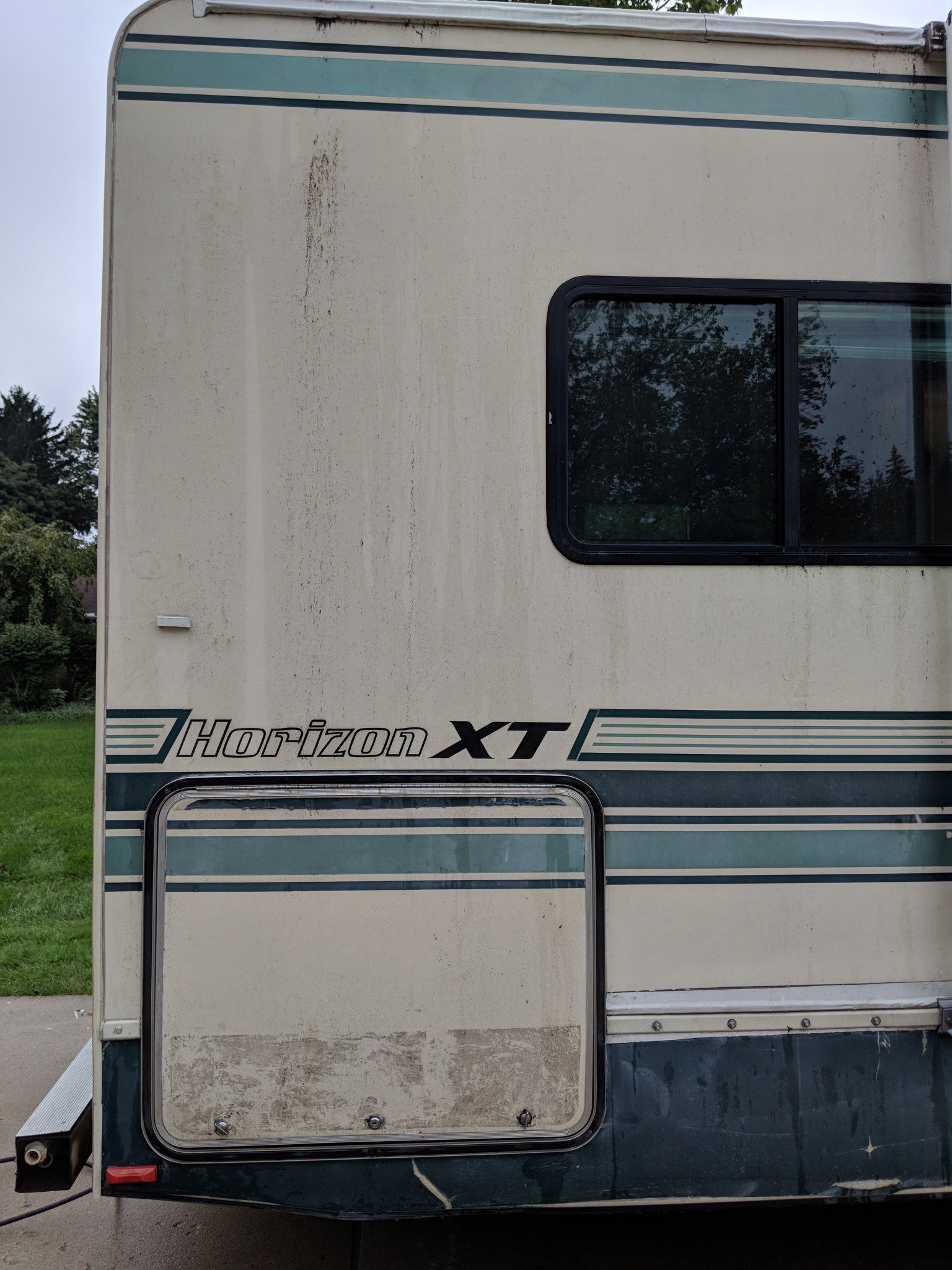 Paint
I have had pretty good success with Behr Marquee exterior paint and primer in one. It goes on nice and smooth and covers beautifully. No need for an added primer or extra coats. It has almost always covered in one coat and held up well.
I used a low luster sheen (eggshell) on the exterior of our 50's vintage trailer because there were so many dents and imperfections in the siding and I wanted a finish that would camouflage them better. The draw back to this, is that dirt doesn't slide off or clean off as nice as a high gloss. I used a satin finish on our newer trailer and semi-gloss on our current RV! I'm always experimenting.
I was reluctant to paint over the decals on our current RV with a semi-gloss paint, but I wanted to see if a semi-gloss would appear more professional. I'm not sure I really see much of a difference.
Read: Upcycled Vintage Radio to Multipurpose Bar Cart
Supplies
Latex Paint
3/8″ nap roller (you could also use 1/4″ nap or a foam roller for a smoother finish)
Angled brush
*I experimented with an oil based paint once and it cracked and flaked off! Oil based dries to a harder finish which may be too rigid for a moving vehicle (at least that's my theory).
Painting the Cab
Are you wondering if I did anything special for the cab of our RV?
Do you really need to ask?
In all fairness, I did stop and contemplate it for a while!
I considered all the crazy things I have painted in the past and wondered if painting a CAR with a paint roller was going to look super trashy.
In the end, I just went for it and never looked back!
Read: FOR SALE Updated Salem Cruise Lite

Slide the arrow up and down to see the before and after of Gidget our Vintage Trailer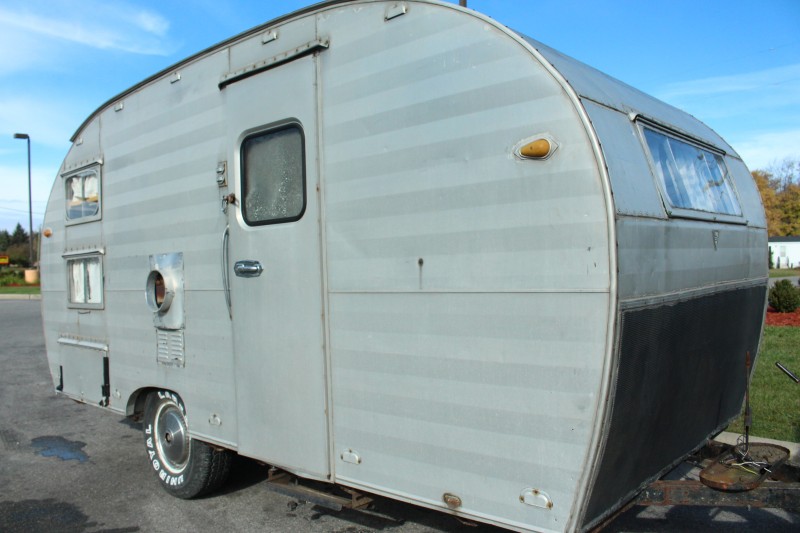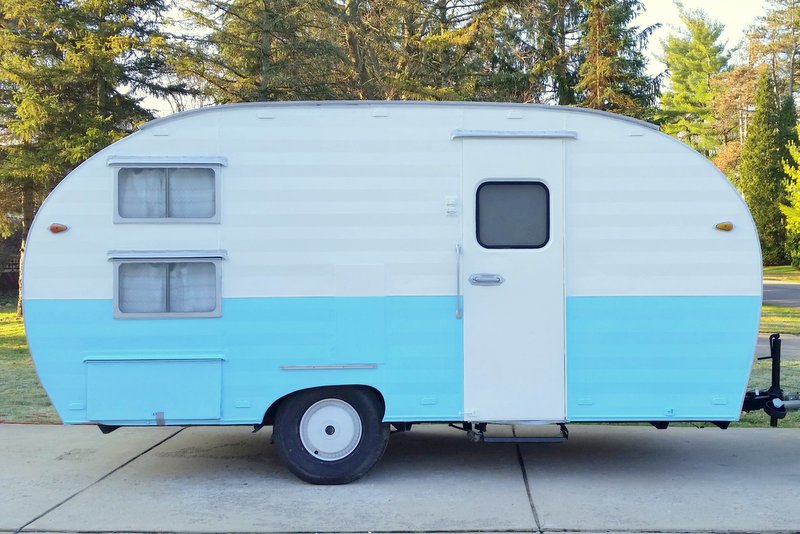 Pros and Cons to Rolling
So why did I choose to roll the paint instead of spraying it?
Well, I'm just more confident with a roller.
I've never been a fan of taping and covering everything up to protect it from the over spray. It's just easier for me to cut-in around everything with an angled brush and roll the rest on. Would a sprayer produce a more even, smooth finish? Probably, yes. But, because of painting over the decals, I have always figured the roller will produce a slightly textured finish that will hide the decals.
Slide the arrow up and down to see the before and after of our 1980's Trailer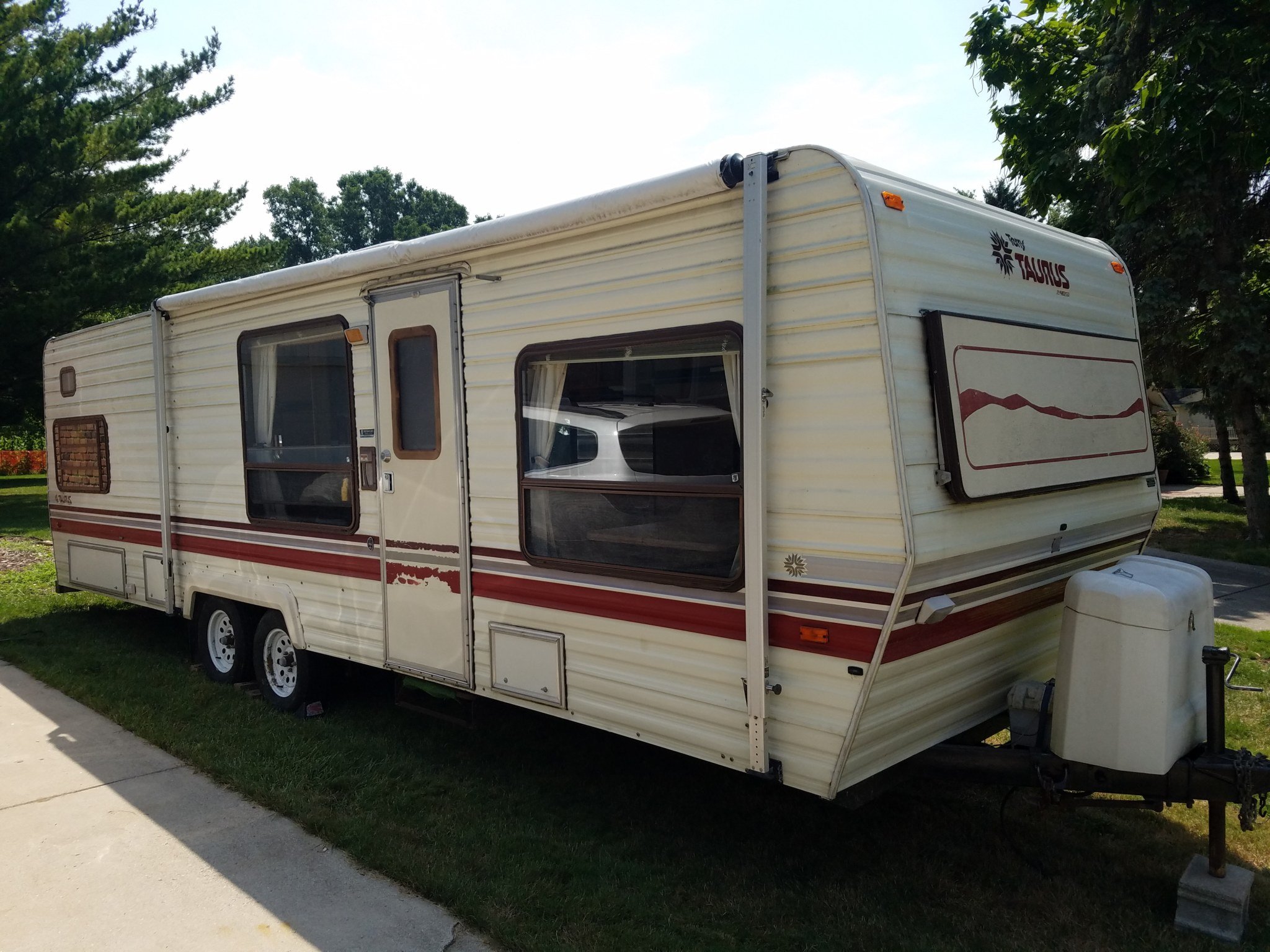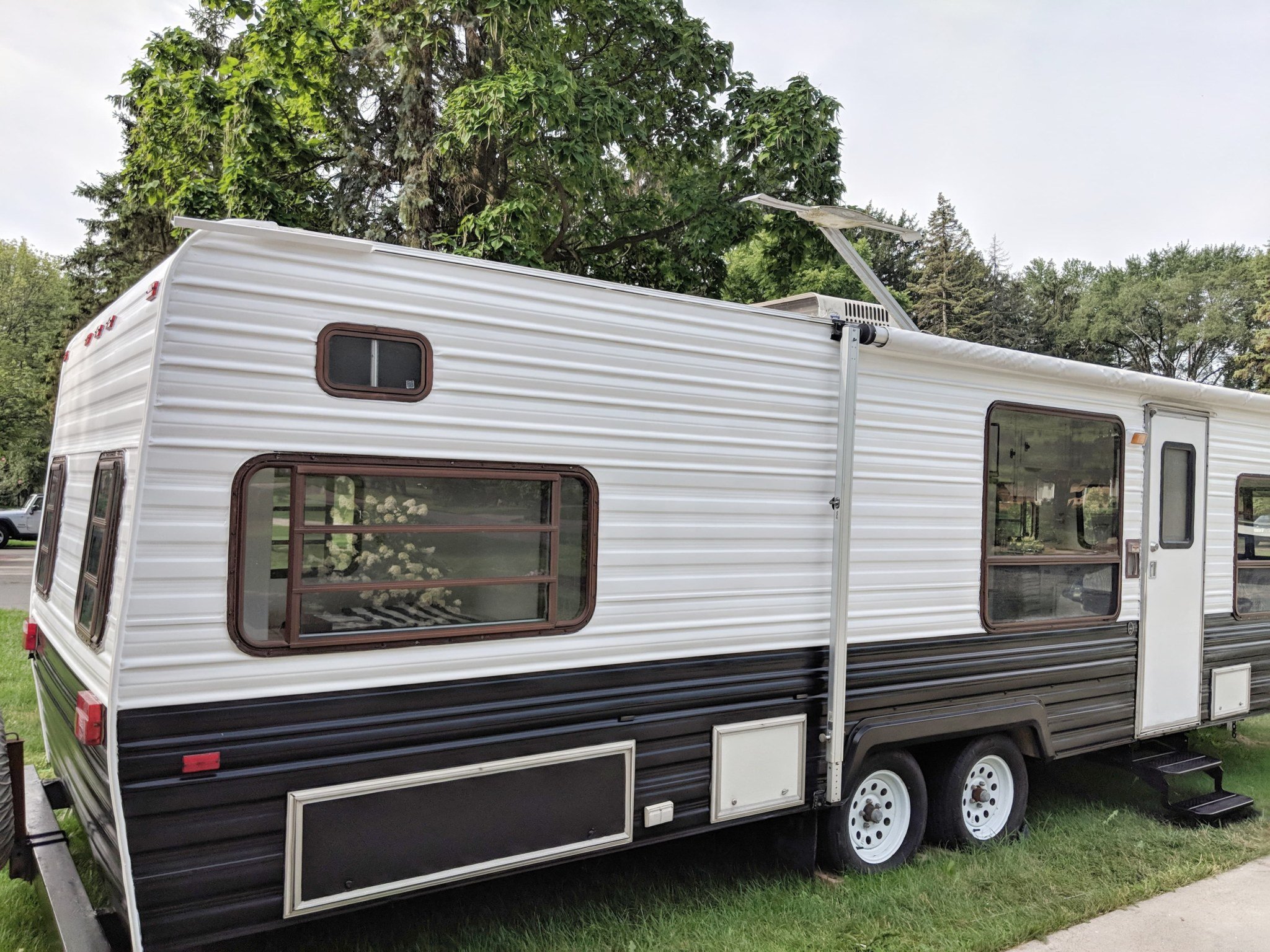 Slide the arrow up and down to see the before and after of our 90's RV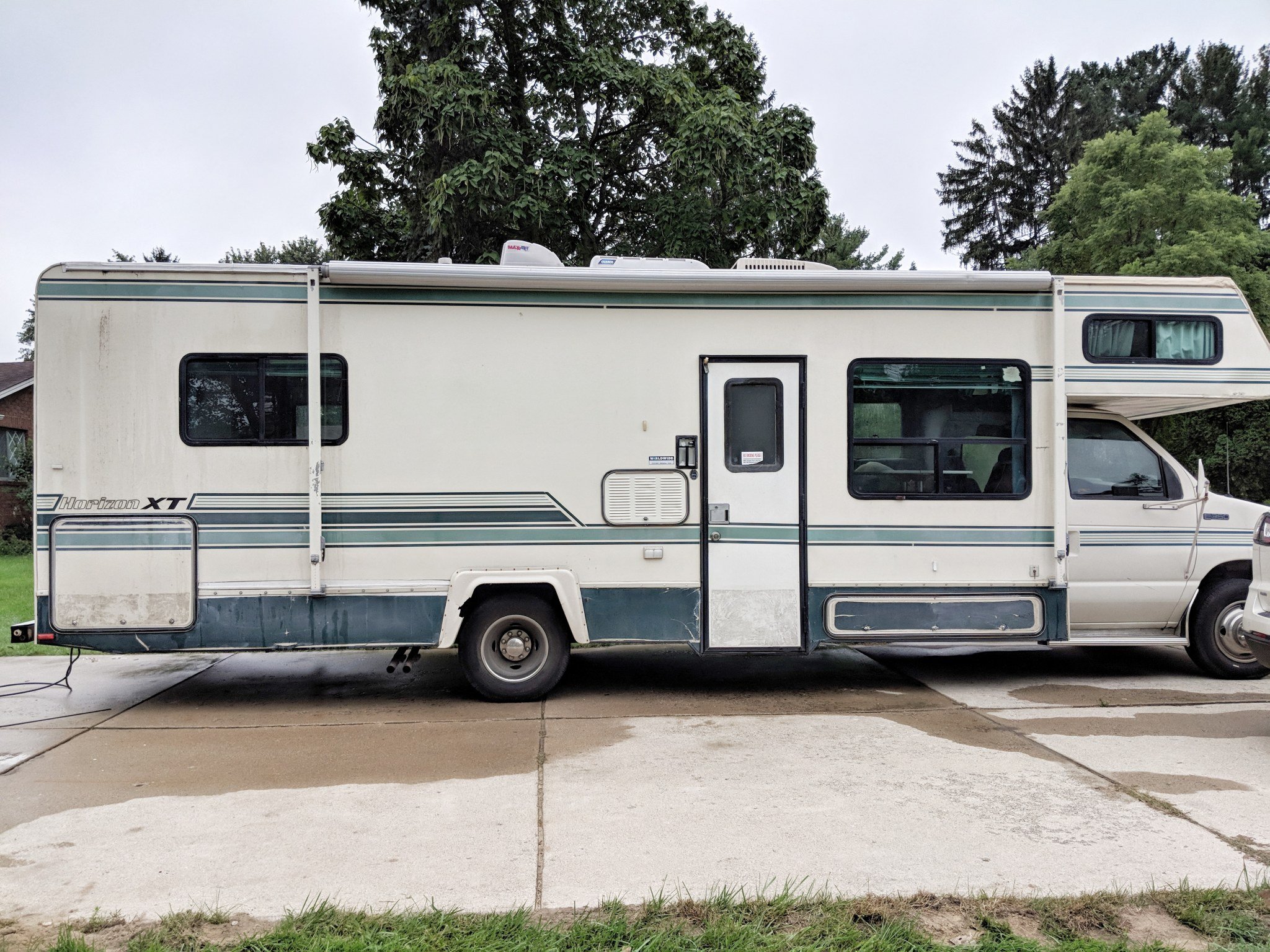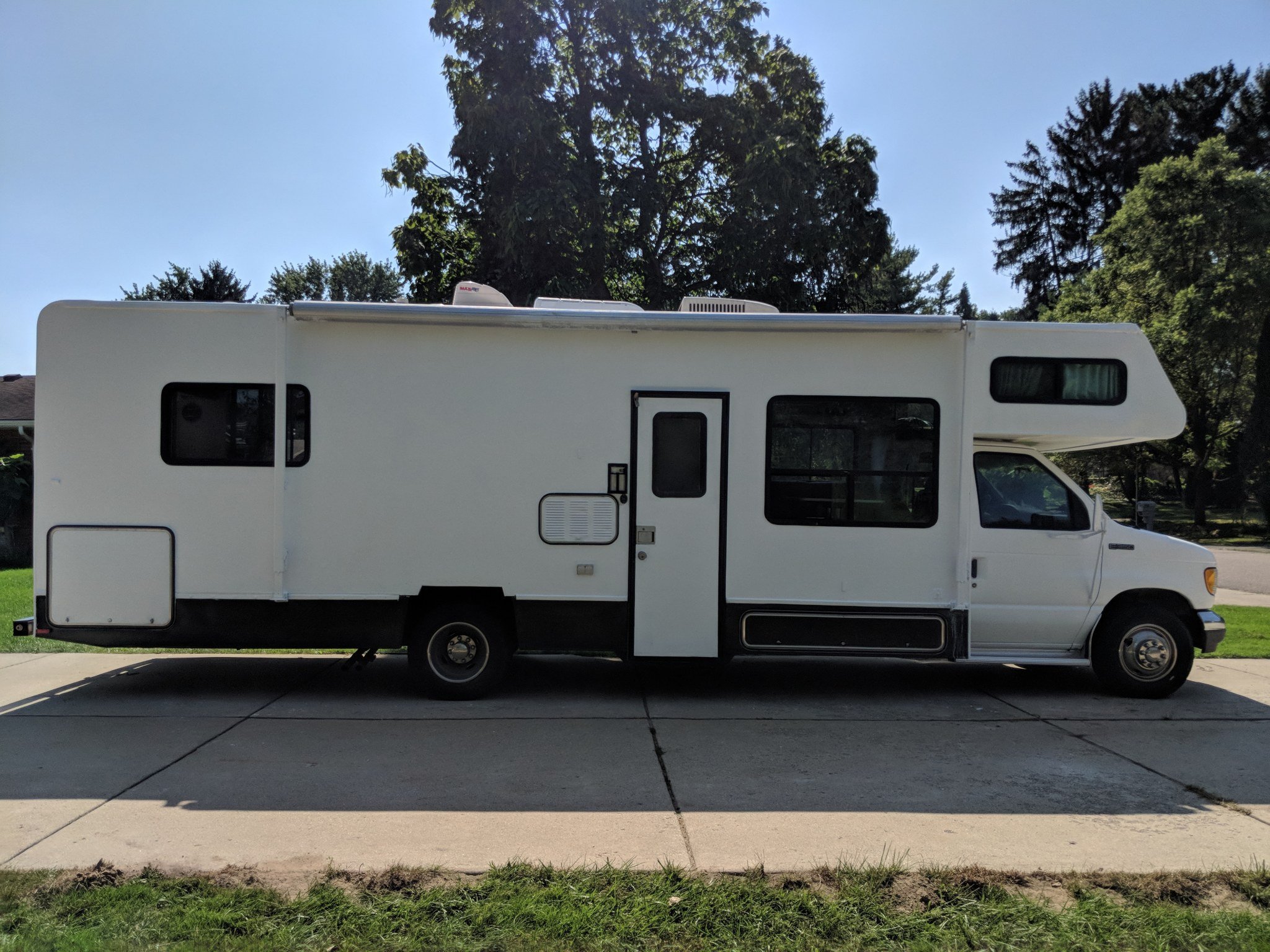 Read: Vintage Vs. New, Pros and Cons of Owning a Vintage Trailer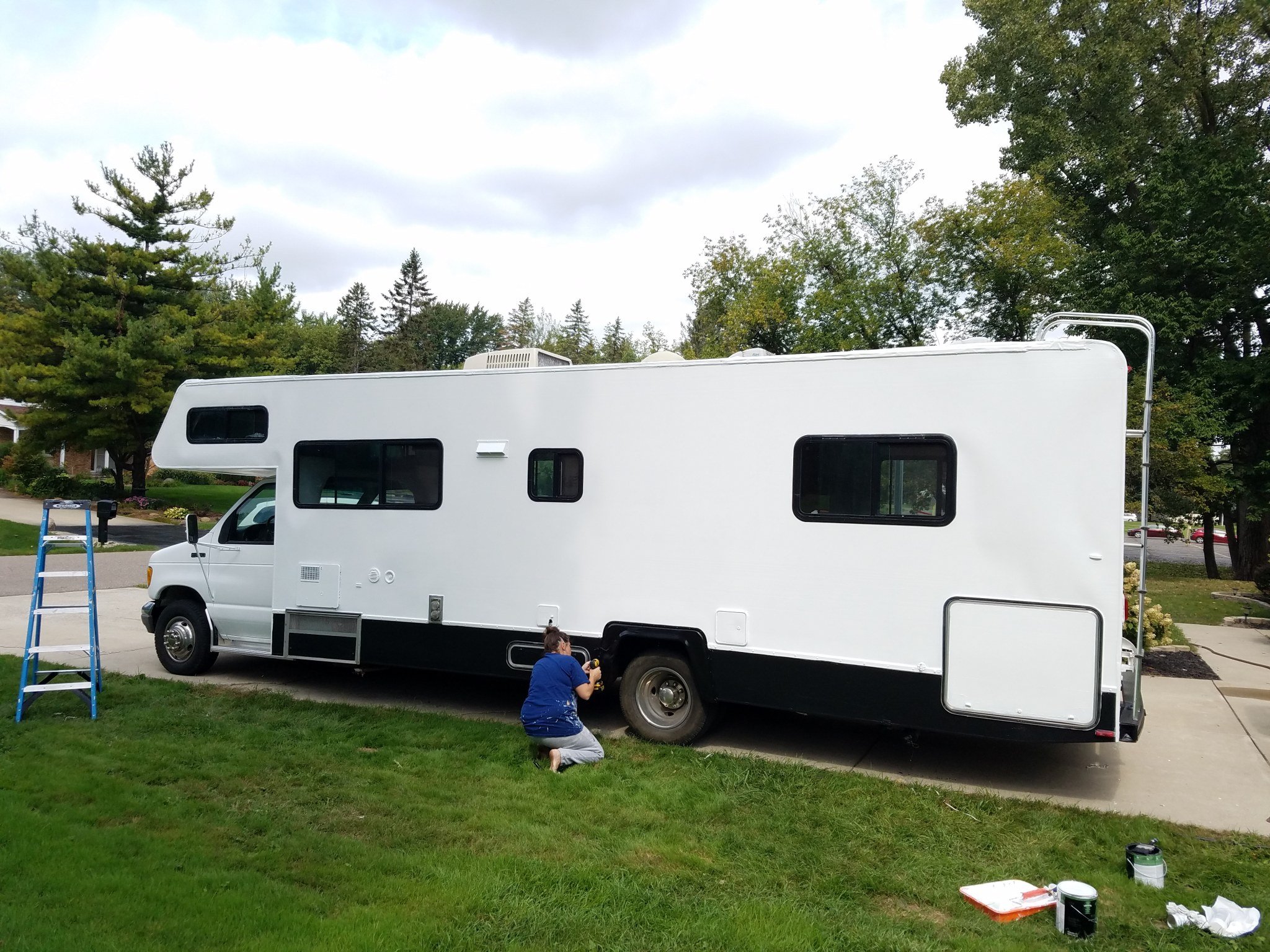 Finishing Touches
Once the paint has dried and cured, I added fun vinyl decals! I made sure the surface was clean and dry before applying. They have held up great with no special sealant needed. I also got a fun vanity plate for the front of the camper. I also painted the door pink!
Find them here: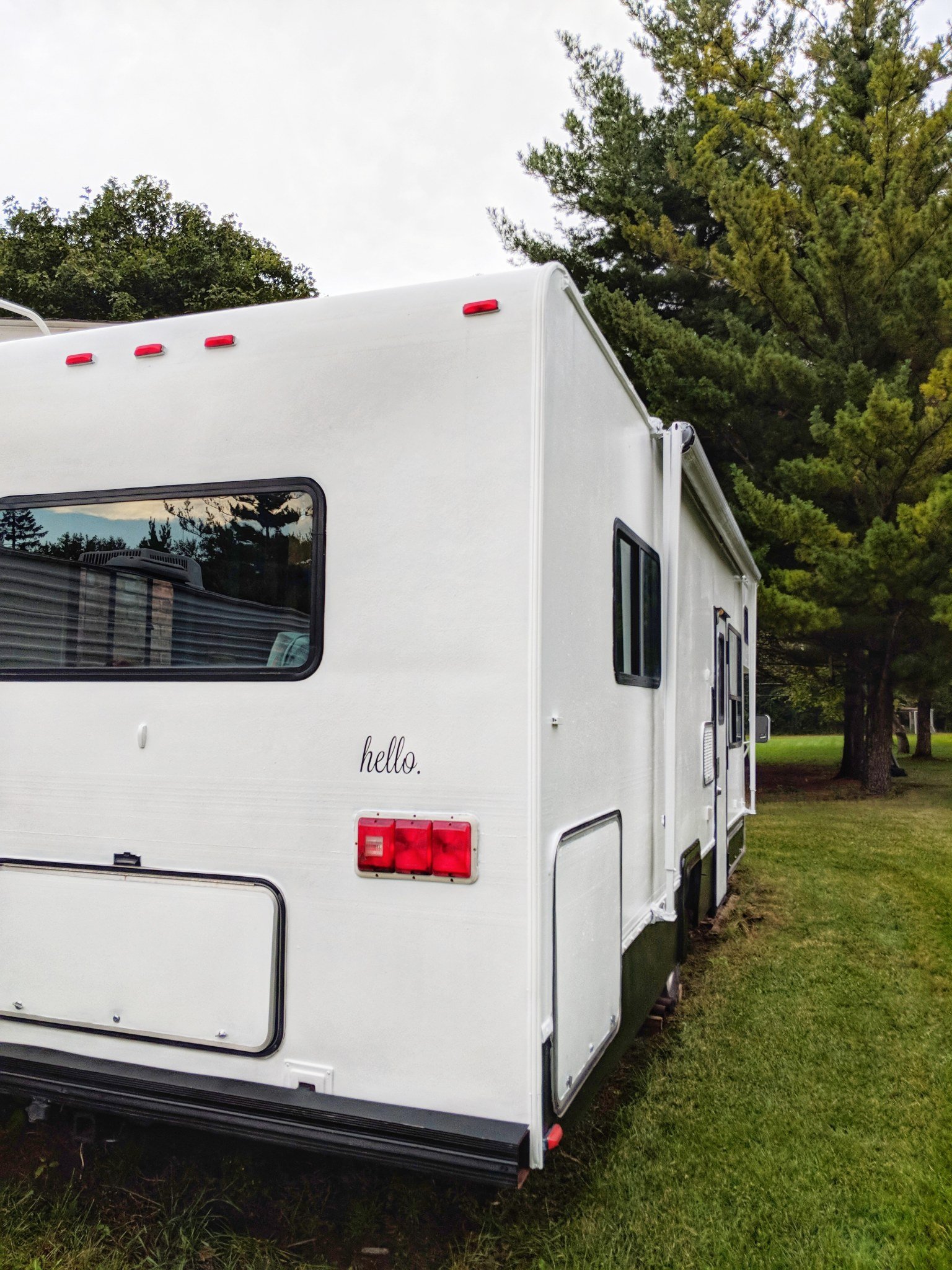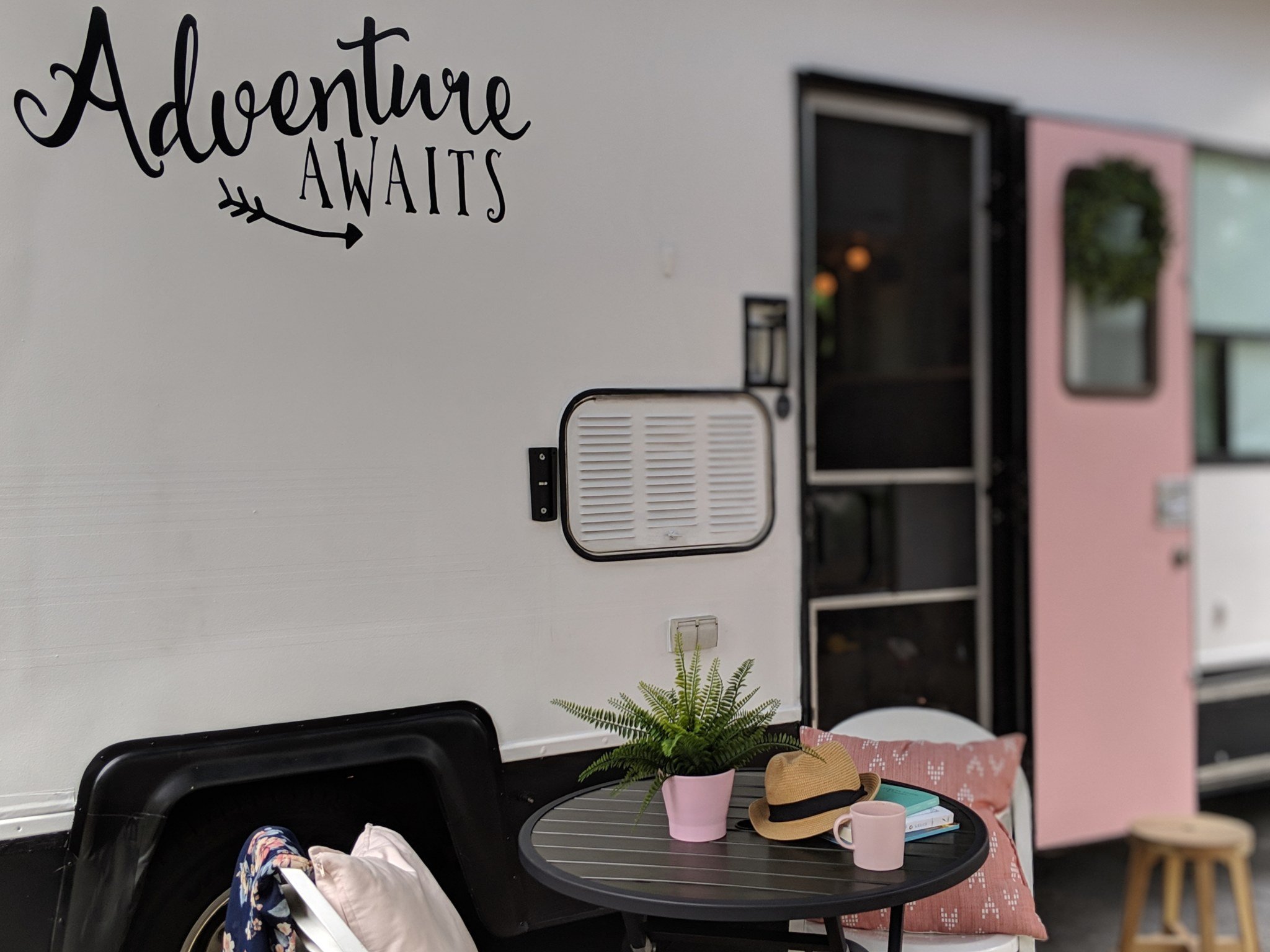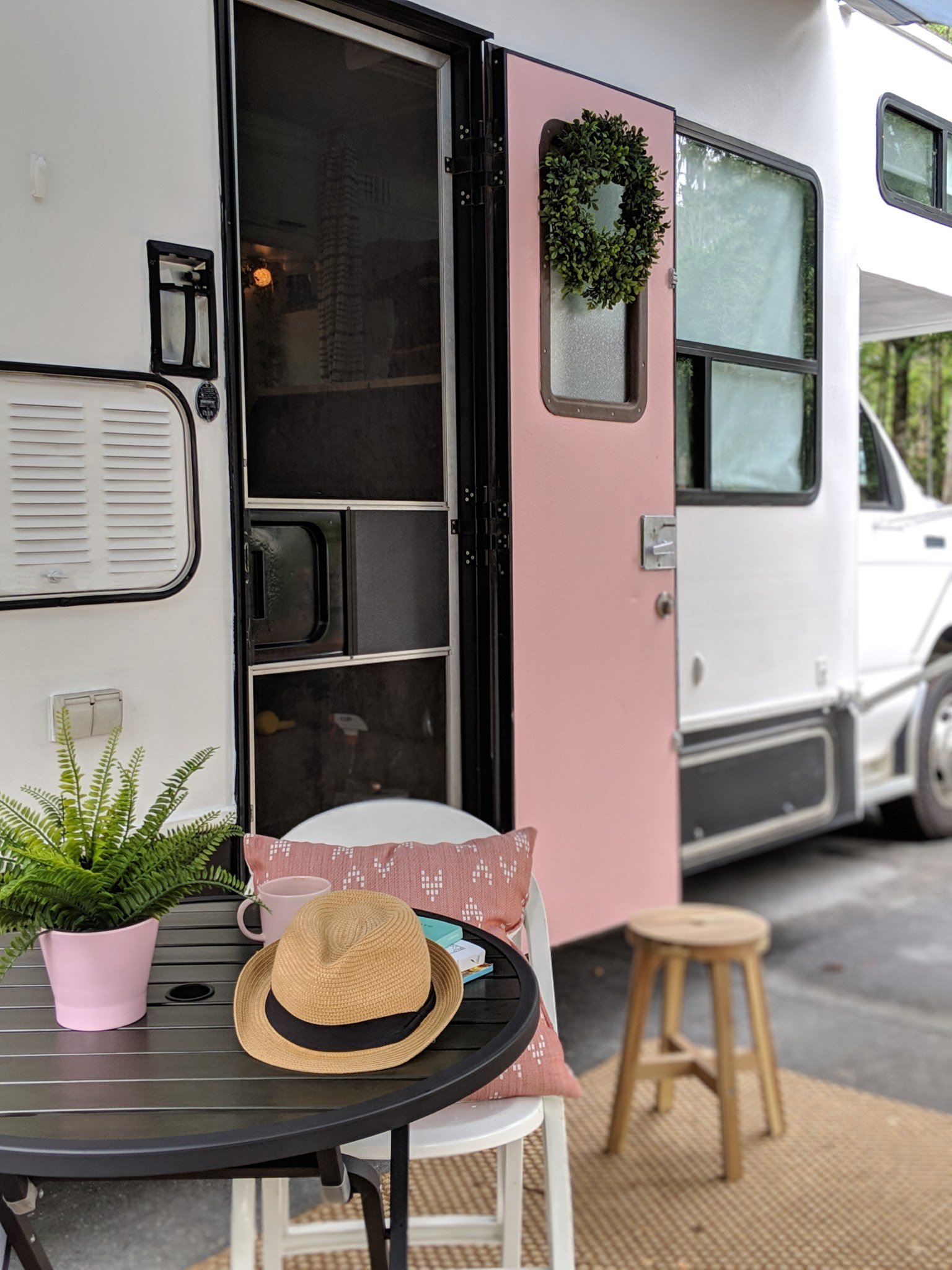 Please let me know if you have any other questions!
Pin-It for Later!