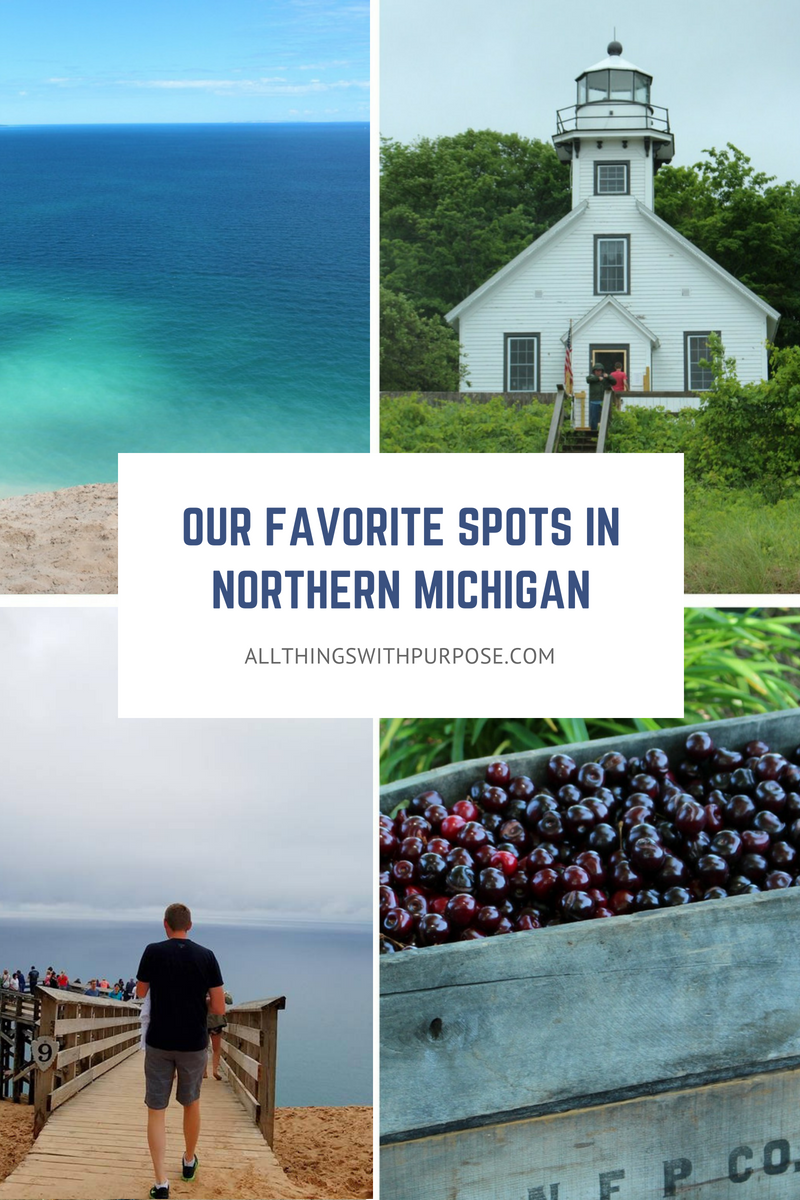 Northern Michigan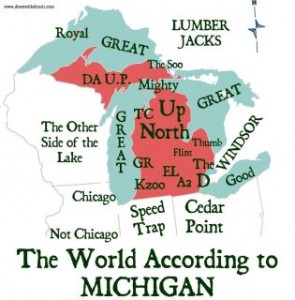 First off, I must clarify one thing. When I use the phrase Northern Michigan I'm referring to the Northern half of the Lower Peninsula. If you're from Michigan, you know Northern Michigan can mean many different things. If you're from the South, anything North of Flint is "Northern Michigan" or "up North" as we like to say. And if you live North of Flint, anything South of there is "Detroit." I've lived all over the great state of Michigan, from the "West side" (Grand Rapids), "up North" (Gladwin County), the "Tri-Cities" area (Saginaw), "A2" (Ann Arbor), the Irish Hills and the "D." But let me share with you one of our favorite areas to explore!

Sleeping Bear Dunes & Traverse City Area
Here are some of our specific favorites in the Sleeping Bear Dunes and Traverse City areas:
M-22/Sleeping Bear Dunes: Voted the most scenic Autumn drive in America!

Pyramid Point: If nothing else, do this!! The most beautiful views of Lake Michigan (pictured above). This is a small parking lot off M-22 with a small sign pointing the way. It is an easy hike along a dirt path, through the woods, and up to the top of a sand dune. We have done this with grandparents and infants. It is very doable! Do not take a stroller. I've seen it done, and it does not look fun. Take a baby carrier if you must. Don't forget your camera! Oh, and feel free to run down the dune if you dare!
Sleeping Bear Dunes – Pierce Stocking Scenic Drive: That's right, I said: drive! This is the best spot to view the dunes with minimal hiking involved. Take the scenic drive all the way to the top turn-off (stop #9) where the best view and awesome wooden overlook is located (pictured below). You will need to purchase a National Park day pass or annual pass to enter. There are primitive restrooms at some stops and picnic areas. Go here for more info: Pierce Stocking
Frankfort: One of our favorite little towns to walk through and shop. It has many of the same shops as Traverse City but fewer crowds. We usually do the drive up and down M-22 and this is as far South as we drive when staying in the TC area.
Empire Beach: Our favorite, kid-friendly beach with beautiful views of the dunes.
The Dune Climb: It's a killer, but you have to do it at least once. BE AWARE there is nothing at the top but more dunes. You will not see Lake Michigan on the other side. You climb to the top to say you did, then run… or roll down!

Cherry Bowl Drive-In: One of our family traditions. It's just fun. US-31 Cherrybowldrivein.com
Moomers Ice Cream: Our favorite stop for ice cream! Sit and watch the cows while you enjoy your favorite flavor! moomers.com
Traverse City: There is so much to do in Traverse City. Featuring the best of both worlds, Traverser City offers plenty of modern conveniences and historical charm. The downtown area features the beautiful bay, a quaint shopping district with local shops, festivals, and eateries. Be aware that the crowds are pretty thick in Traverse City during the Summer, especially during the Cherry Festival. But it's so beautiful and unique, you have to experience it for yourself.
Peninsula Drive: One of our favorite things to do in Traverse City, is to break away from the crowds and take a beautiful drive along the peninsula. Now, there are two peninsulas. The Leelanau Peninsula and Old Mission Peninsula. Old Mission is our favorite. You can do a loop, driving down one side and coming back the other. On the West side (Peninsula Dr) you will see gorgeous homes, our favorite place to eat, and the lighthouse. On the way pack via 37 (Center Rd), you will see breathtaking views of the bay and beautiful vinyards.

Old Mission Lighthouse: At the tip of the peninsula is a charming lighthouse and beautiful photo ops.
The Boathouse Restaurant: Our favorite place to eat on the water. It's less expensive at lunchtime. We started going here before we had kids and loved it for the nautical decor and views of the water. It was fun without kids, but still kid-friendly enough to go with kids, if you're confident your kids will behave.
Chateau Grand Traverse: A beautiful vineyard and one of the larger tasting rooms and stores.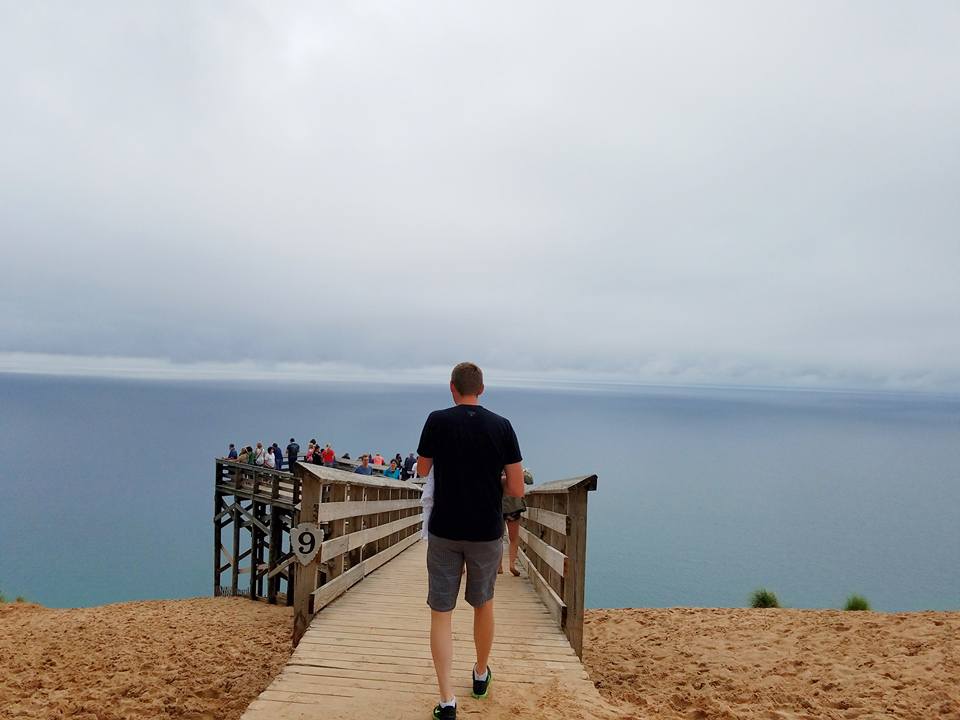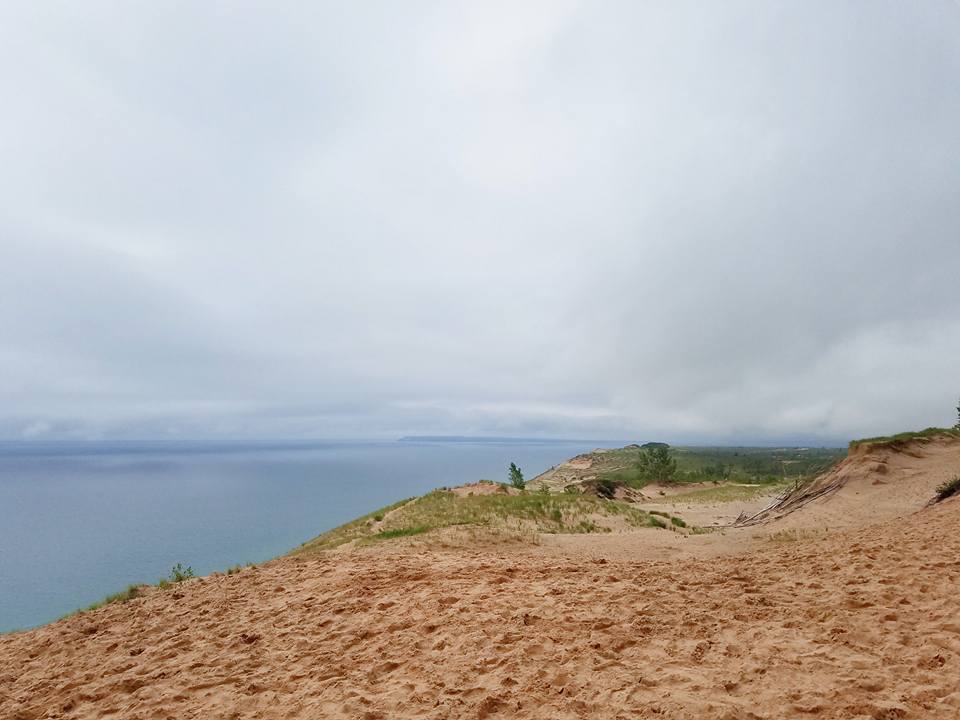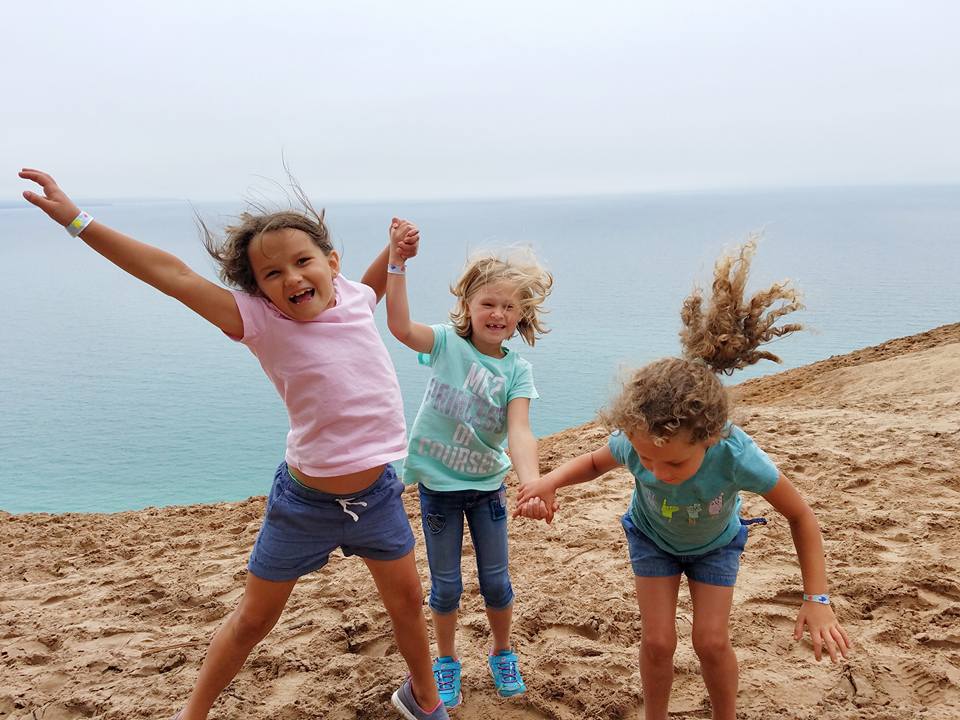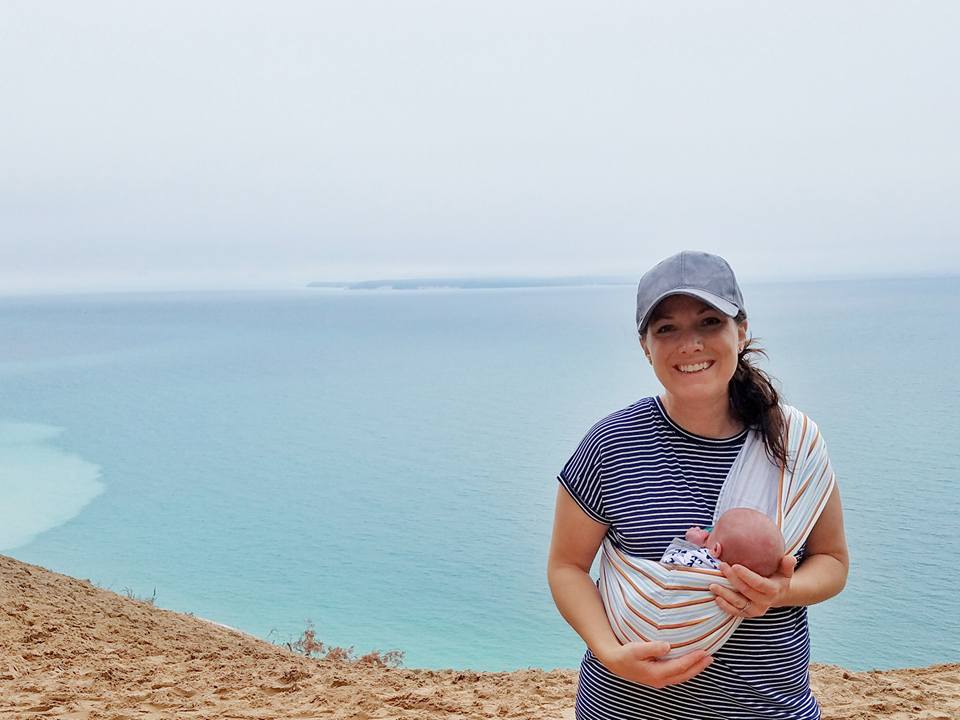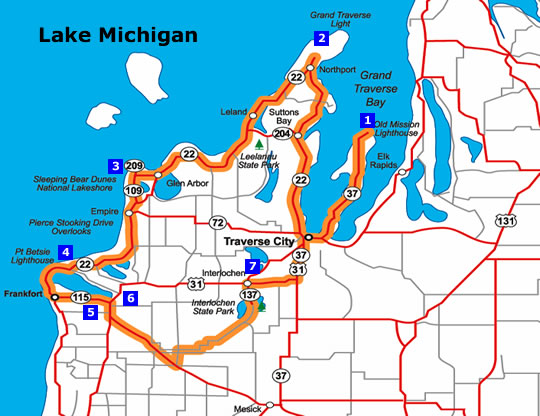 Mackinaw City Area
Here are some of our favorite things to do around the Mackinaw City area:
Ice Cream and fudge in Mackinaw City: A tradition! You just have to.
Mackinac Island: If it's in your budget, visit the island. Be prepared to do a lot of walking or biking. Depending on your budget, you can rent horses, take tours or even stay at one of the many bed and breakfasts or hotels. The Grand Hotel is the ultimate destination, though we have only managed to stay there for a conference special on the off-season. Our favorite place to eat is for lunch, outside at the Iroquois Hotel. There are no cars on the island and we have enjoyed it with little kids many times!
Mackinaw Bridge: Drive it so you can say you did!
Castle Rock: If you're brave enough to cross the bridge, stop and pay your 25 Cents to climb to the top of Castle Rock. It's a lot of stairs, but again, you just have to. Take your camera and say "hi" to Paul Bunyan.
Go Camping: Our favorite places to camp are Tee Pee Campground and Mill Creek. Tee Pee has beautiful views of the bridge, and Mill Creek has really nice cabins for rent.
Old Mackinaw Point Lighthouse: The park near Old Mackinaw Point Lighthouse and Colonial Michilimackinac is a great spot to pull over for a picnic lunch or to sit with your ice cream and get pictures in front of the bridge!

In Between
Here are some of the charming little spots you'll find between Traverse City and Mackinaw City:
Charlevoix: If you drive up 31 from Traverse City, on your way to Mackinaw City you will come through the town of Charlevoix. We love eating on the water at the Weathervane. It's worth the wait to be seated on the water so you can watch boats coming and going through the bridge as it raises. Check their schedule for events, farmer's markets and festivals throughout the Summer.
Petoskey: If you're driving from Traverse City to Mackinaw via 31, right before you cut inland away from the Bay, you'll come to the gorgeous town of Petoskey. One of our favorite parts of making the drive is seeing all these beautiful little towns.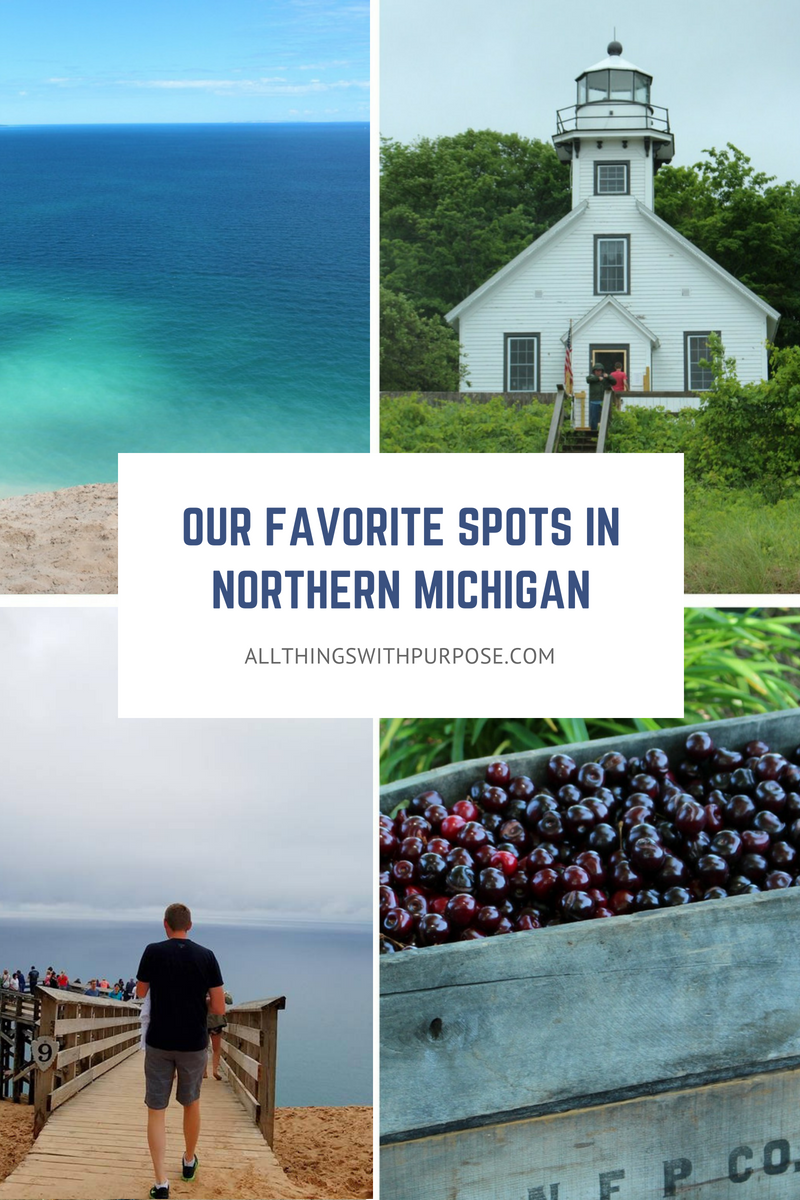 Happy Travels!