Our 90's RV Renovation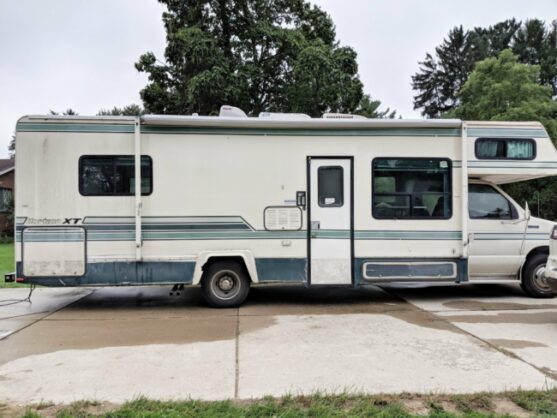 90s Motorhome Renovation
Today is the day. I'm sharing all the amazing "before" and "after" pictures from our latest RV renovation! We started with a 16 foot vintage camper and have slowly upgraded as our family has grown. My husband looked at me one day and said "I think I'd like to try a motorhome instead of a trailer." I knew in that moment that our next adventure was about to begin! The adventure of RV ownership brings a lot of challenges and lessons to learn. Driving and maintaining a motorhome is different from pulling a trailer in so many ways.
If you missed any of my Insta Stories highlighting the whole renovation process, you can watch them here: 90's RV Renovation on Instagram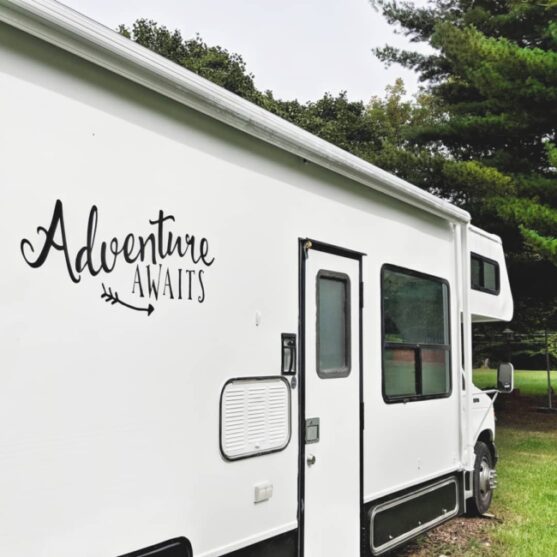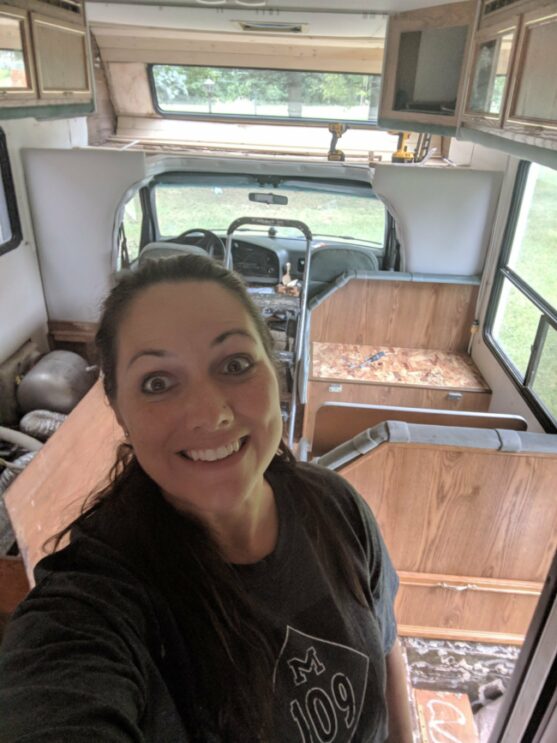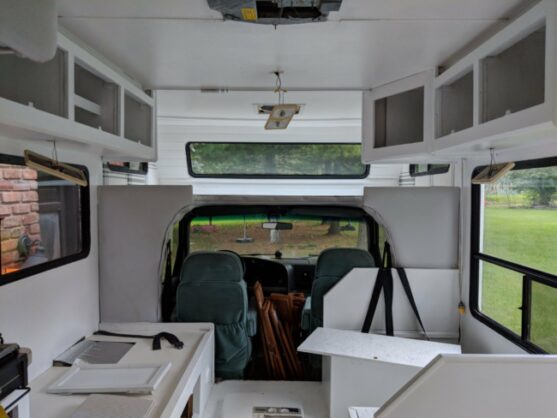 What We Got
We found this 1994 Horizon – 29 foot "class C" Motorhome RV on Facebook Marketplace. It had 82,000 miles on it when we bought it. I used to have great success finding campers on Craigslist, but in recent years, Facebook Marketplace has taken over. I love hearing the stories behind campers. It's always interesting to hear what it was previously used for. This one was repaired by an older man and then sold to a women with teenage sons who traveled around to music festivals. The teenagers would store their kayaks in the camper – hence, a lot of water damage and banged up floor trim. The man who owned it before them would travel the country, most frequently to Florida for NASCAR races (the proof was in the bumper stickers!).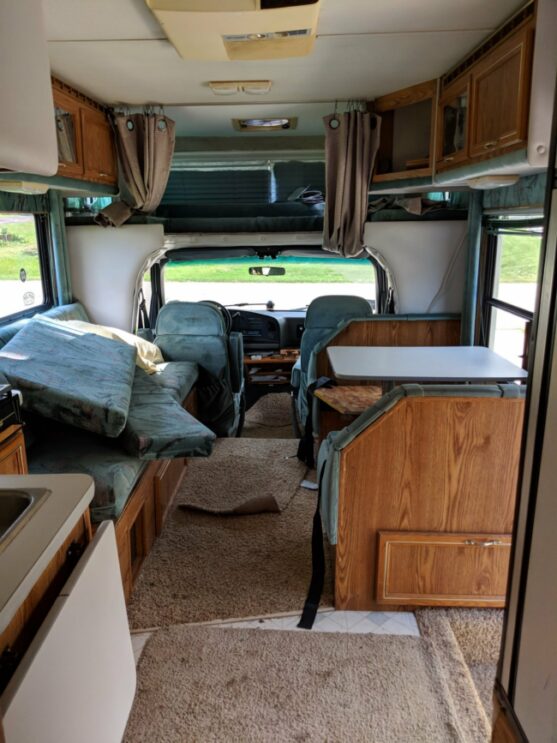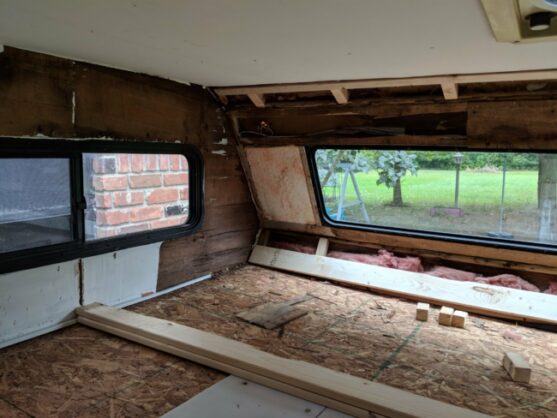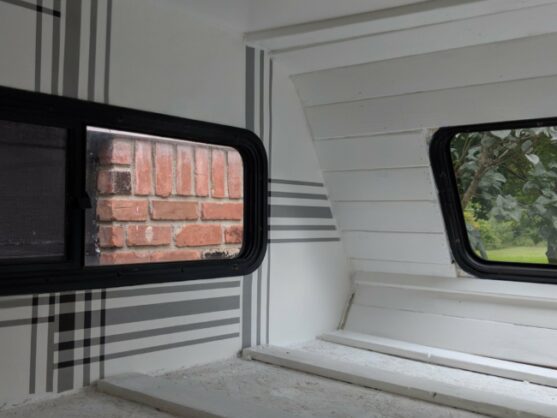 The Damage
We negotiated and purchased this RV for $3,500. We figured we would need to put around $2,000 into it to get it where we wanted it to be. After a thorough inspection, here are the areas of concern:
Water damage in the front cab-over bed and in the rear ceiling
Everything smelled
Gross carpet
Outdated everything
Broken toilet seat
Air ducts were chewed through by mice
Old style lights and yellowed fixtures
Wheel coverings were cracked
Roof damage
Broken window coverings
Fridge doors were banged up
Microwave broken
Weird smell while driving – coming from muffler. Upon further inspections: muffler was overheating and burning a hole through the floor boards!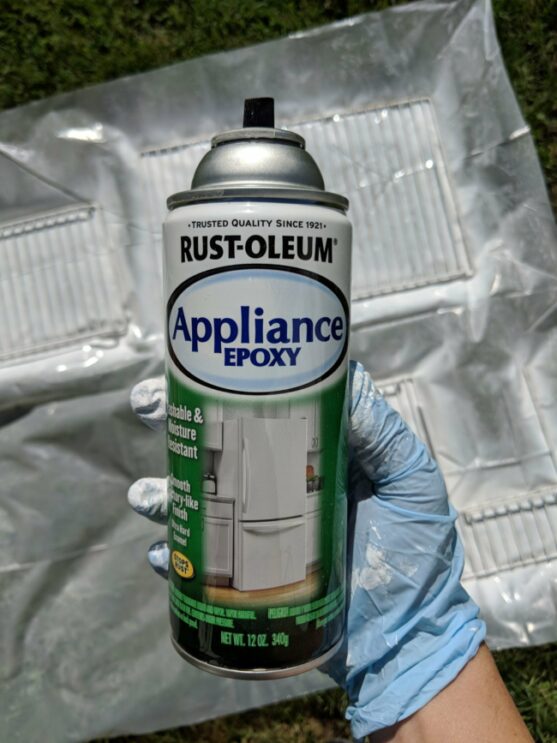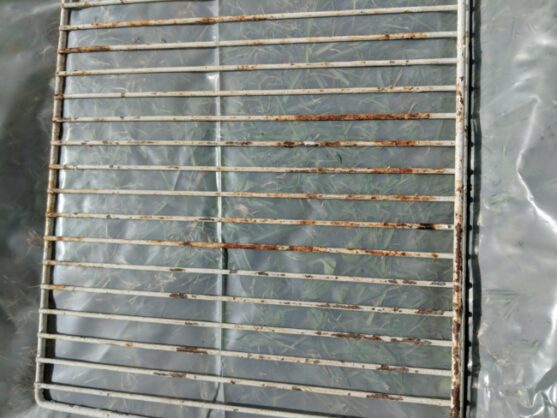 The Plan
We always start by assessing the damage and then make a to-do list of the things we want to tackle.
Repair roof damage, seal all cracks and ensure everything is water tight before starting interior repairs
Paint exterior so it looks better sitting in our driveway!
Remove all bumper stickers and window decals
Remove window coverings and valances
Remove all cushions, couch and mattresses
Remove all carpet and curtains
Bleach everything!
Paint walls and ceiling
Paint cabinets
New cabinet hardware
Paint ceiling vent covers
Paint air conditioner unit
Replace all lights with new 12 volt LED fixtures
New couch
Roller shades for windows
Replace mattress
New toilet
Paint floor or lay new flooring
New smoke detectors, carbon monoxide detector and LP gas detector
New microwave
Fill propane tank
Seal up holes where mice can get in
Decorate!
Check engine, get tune-up
Repair muffler damage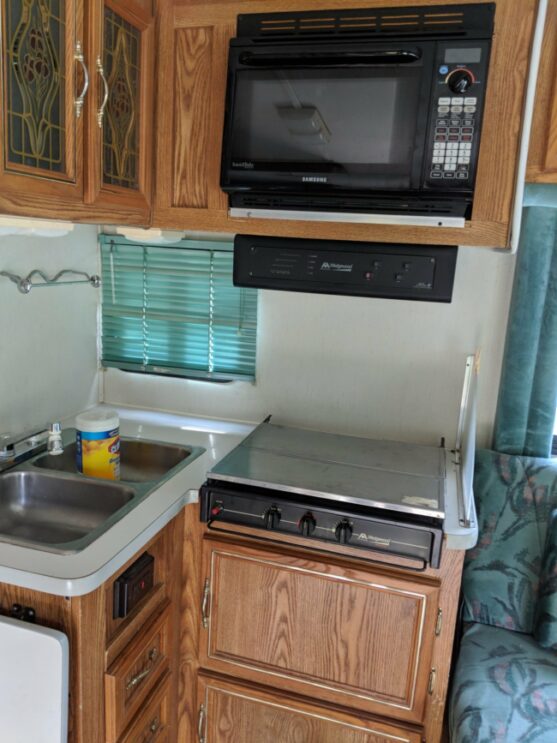 My Favorite Products
Here are a few of my favorite products that we used on this project. I'll be posting more soon, on specific things we did.
Rolled vinyl flooring – from Home Depot!
Rugs and pillows – BH&G from Walmart!
Paint – Behr Marquee in white, satin finish
Wall decor and pictures – Hobby Lobby
Couch – We purchased from a local RV dealer's listing on Facebook Marketplace. Find it new: here
TV/DVD combo with a mount that can be moved to the outside of the camper!
TV mount with two brackets that can be moved inside or outside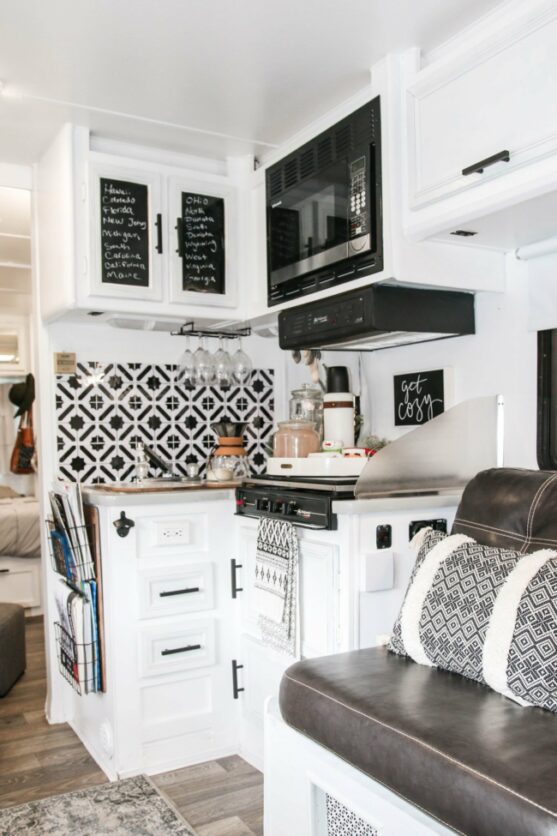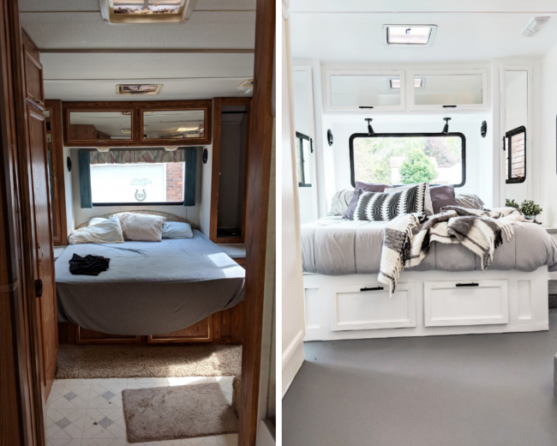 Thanks for joining me on this little tour!
Don't hesitate to ask if you have any other
questions about products I used.
I'll share more details in future posts!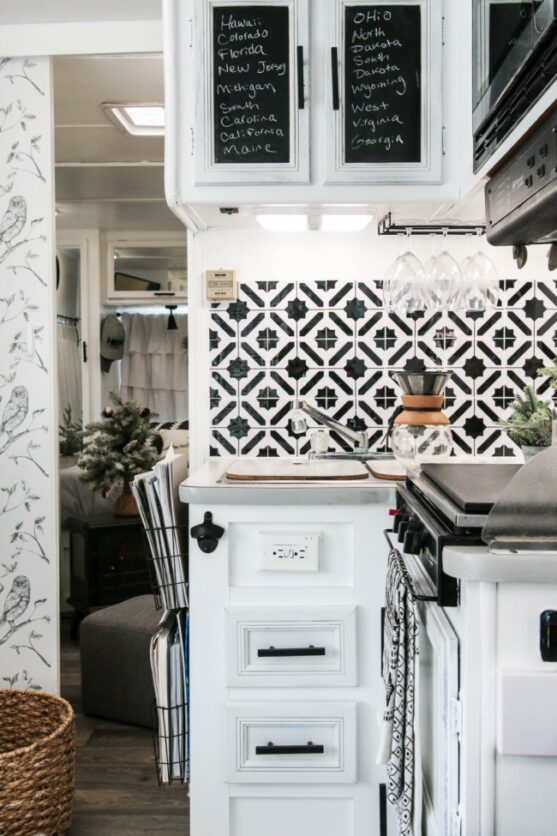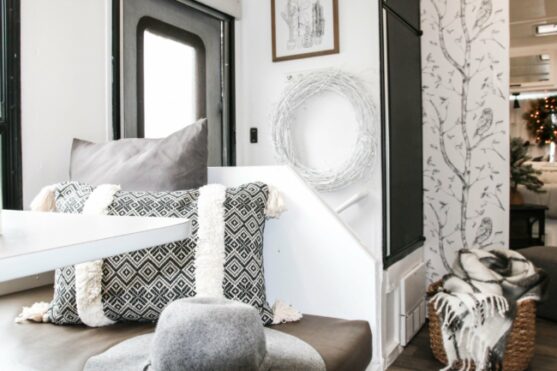 You Might Also Like…
A Cozy Christmas in the Camper