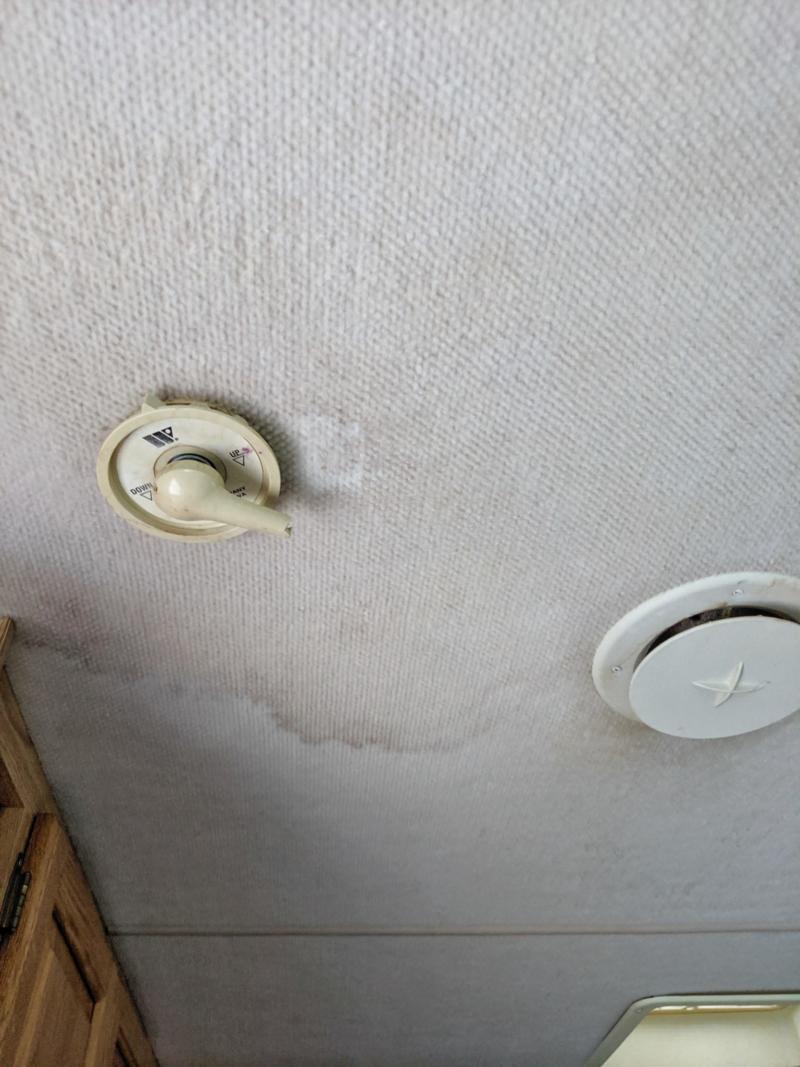 Painting a Carpeted Ceiling
So much carpet. Carpet on the walls, carpet on the ceiling, carpet around the windows, carpet used as trim and carpet on the floor. If you've ever owned or renovated an old motorhome, you've probably noticed how common the use of carpet was as an insulator, bumper, noise muffler, decorative accent, you name it. Carpet serves a lot of great purposes in an RV. It does help muffle sound while driving down the road and is also a great insulator!
The problem is, carpet doesn't wear well, especially when exposed to the kind of abuse an RV gets over time. There are stains from water damage, rain, mud, food, pets, and let's not forget to mention, kids. I've dealt with my fair share of carpet, but this is the first RV I have renovated with a carpeted ceiling! It was in bad shape, and looked worse and worse, the better I made everything else look. So what did I do?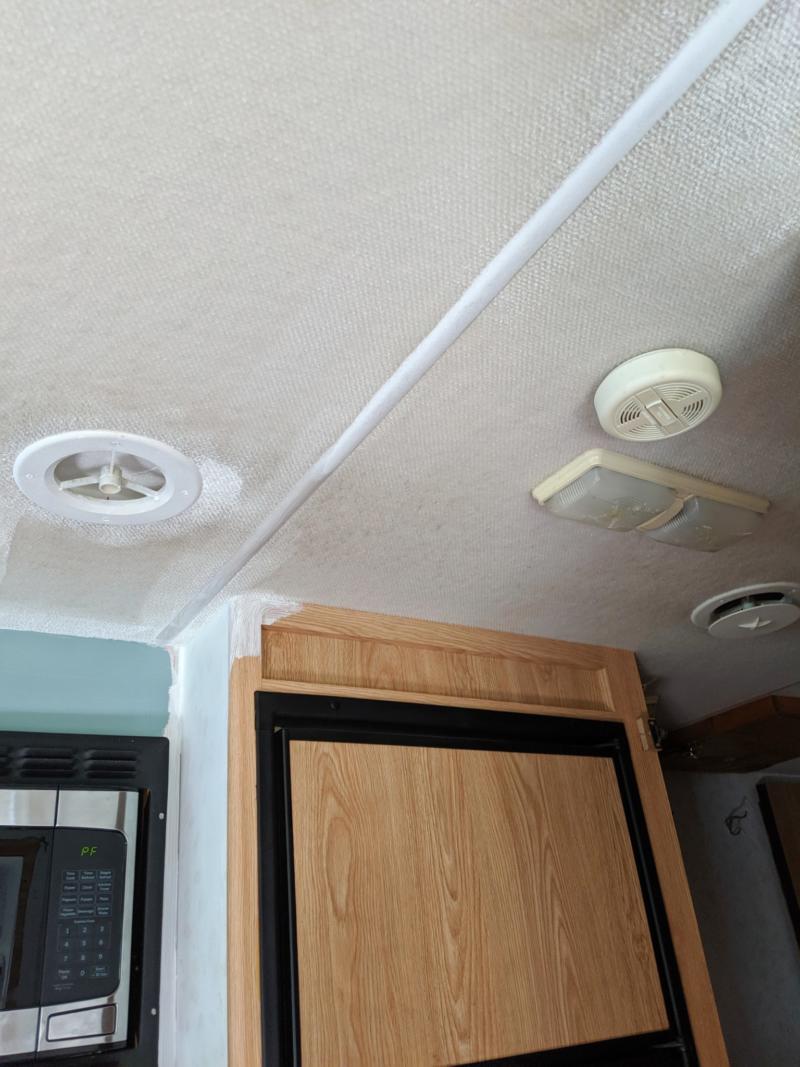 Carpeted Ceiling Options
Before doing anything, you need to inspect your ceiling for damage. If there are water stains, it's very likely there was a leak at some point. Inspect the roof around the spots on the ceiling, check for soft spots and further damage. Seal up any existing leaks or potential problem spots. If you're sure that the roof and ceiling are structurally sound, then you can move on to the question at hand. What can you do to improve the look of your ceiling? Here are a couple options:
Removing the Carpet
Removing the carpet is obviously an option, but you may want to think twice before taking on such a tiresome project. I've never tried to remove the carpet from a ceiling, but I'm going to guess it's glued up there pretty good and peeling it off would be messy and time consuming. Once it's off, you're almost guaranteed to deal with a rough, damaged ceiling that has to be repaired before you can paint it.

Covering the Carpet
Another option would be to hang thin panels of wood or vinyl over top of the carpet. I think this would actually be easier in the long run, than removing the carpet. The cons to this scenario, are that it adds extra weight, can be costly and time consuming.
Cleaning the Carpet
If you are only dealing with a few spots here and there, and the carpet looks pretty good everywhere else, you may want to try cleaning it first. I have seen other people have good success using a baking soda and peroxide mixture. You may also try other carpet cleaning sprays. Be careful not to saturate it too much, and dry everything as best you can. Once the area is fully dry, stand back and see if it blends well or if it's really obvious.
Painting the Carpet
My ceiling was so dingy over-all and had so many gross looking spots, I decided to paint it! Oh, I stood there for a few days, staring and it and debating weather I really felt like starting this project. I researched it some and asked around. Was I crazy for trying to paint the ceiling? Well, in the end, I went for it and lived to tell the tale. I'm going to share what I did and let you in on a few tips I picked up along the way.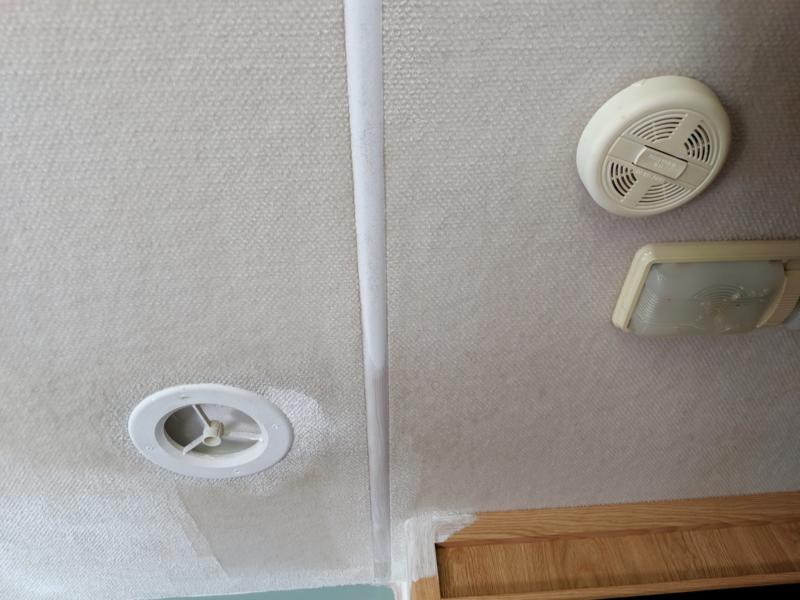 What to Do
Vacuum your ceiling if there is visible dust or cobwebs present. The type of paint you use for this won't really matter. Use the cheapest paint you have on hand, or whatever you are already using. I was already painting the walls on my RV white, and I used the same wall paint I already had on hand. I used a brush to get in the corners and rolled on the rest with a thick nap roller. I used Glidden white paint in eggshell finish, but any low luster paint would be fine.
TIP: In the future, I will thin my paint a little bit before starting. The ceiling doesn't really need a thick coat, it just needs to be cleaned up. Because the carpet is very textured and hard to permeate, a thinner paint would probably go on easier.
The trick is to use an even and consistent amount of pressure. Carpet is not the easiest thing to paint. You'll probably have to go over each area a few times before it looks right. I think a thinner paint would spread easier. A thick nap roller that is meant for textured surfaces will be your friend. Be sure to cover everything beneath you, because you will definitely have some paint spatter.
TIP: Take lots of steps back. Up close, you will think things look blotchy. One everything is dry and you stand back, you'll notice that it all blends together and imperfections are less noticeable.
As you go along, you will notice that the nice, white ceiling makes everything else look dirty! Be prepared to take down light fixtures and spray paint them white, or replace. Replace smoke detectors and paint over vents. You'll be surprised how yellow everything else looks next to a fresh coat of white paint. If you were on the fence about doing this originally, you will be glad you did once you see the difference it makes!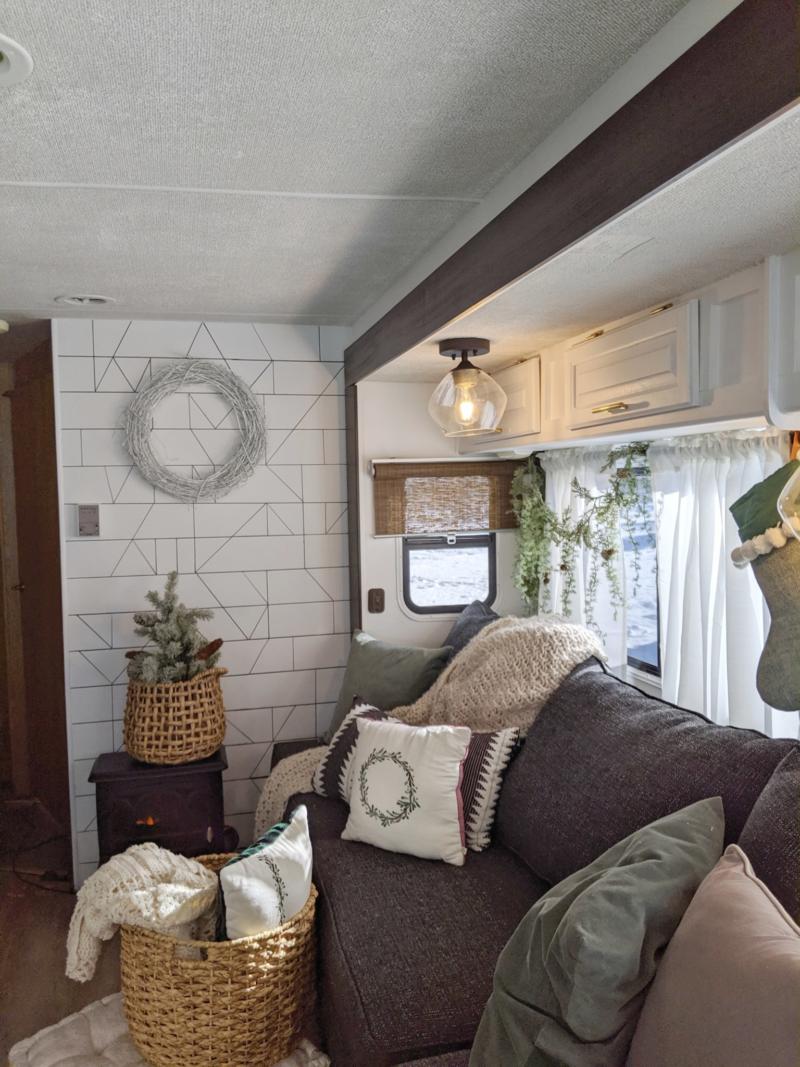 Before and After
Compare the picture above, with the one below! Which do you think looks better?
Pin-It for Later!