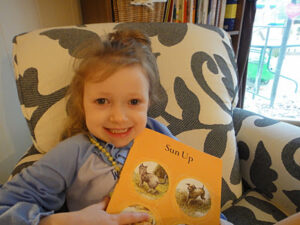 Teaching your child to read can seem like a daunting task, like anything else the first time you venture into the great unknown. I remember just blindly stumbling from one step to another not feeling I had a clear direction. If you're looking for some guidance, please allow me to assist you. I will outline the process here, and then go into more detail on other posts.
Learning Letter Sounds and Letter Recognition
Starfall.com is a fun and free way to teach young children letter recognition and sounds. Depending on your child, you can start as early as you like. I typically started them at the age of two. I'd put them on my lap and click for them. They also have an app for $2.99, but the website is free.
Preschools do letter sounds and recognition over the course of a year. I bought a Pre-School curriculum and my daughter picked them up in two days. That was a waste of money.
Then I moved on to the Kindergarten Phonics Museum produced by Veritas Press. I used the Teacher's Maunal and the Workbook. Cathy Duffy has a review here describing the whole kit they sell. I was given the entire set from a friend, but I personally wouldn't consider the kit worth the expense. I did like the CD that comes with it, but that was more helpful for First Grade.
Learning to Recognize the sound of a letter at the beginning and middle of a word:
If you were teaching the letter m, you would review the sound that m makes and ask your child to raise their hand when they heard the m sound. m,k,g,m,p,t,n,m,o Pause and give you child time to respond. Then you could slowly read a list of words pausing after each word asking your child to tell you when you read a word that starts with m. Milk, Cow, Doll, Man, Baby, Mermaid, Bell, Match. This is a daily activity depending on what letter/s you are teaching or reviewing.
Blending
The biggest and most challenging step is teaching them to blend their letters. That means to keep saying the sound of the first letter until you start saying the sound of the second letter. That continues until they have blended the entire word. Clearly you will start with small words like bat, sat, hat, etc. In order to help children start blending, the combination of four letters m, a, b, p, and t give you a maximum amount of words. That is why you may not teach the letter sounds in order when you are teaching your child to read.
These are the first blends using the short vowel sounds.
m + a = ma
b + a = ba
p + a = pa
Memorizing Blends:
Memorizing blends can be very helpful. While they are always able to blend the sounds together, once they recognize that a + t is at they can just say at they don't have to sound it out. Again it's a concept that you will encourage your kids with many times.
a + t = at
a + b = ab
a + p = ap
a + m = am
Blend a word
m + a + t = mat
b + a + t = bat
p + a + t = pat
Now your child is reading!! Ok, it's not rocket science, but you have come a long way, Baby!! What happens next? More practice. You'll add more blending practice, and start teaching them about the words that don't follow all the sounds you spent time learning :)
Learning to Recognize the sound of a letter at the end of a word:
**Disclaimer**
I am sure many different schools of thought exist on everything that I described because let's face it, God made us all unique and we think differently, too. That's ok. If you want to do something different, feel free :)