Like many of the things I write about on my blog, this is a question I get asked about a lot. I thought I'd create a place to send my friends and family members that may have questions about blogging… because it's easier to have it written down rather than repeat it every time I'm asked!
Ahem.
I realize there are many awesome posts about starting a blog already in existence, and I'm going to be linking to several of them in this post.
This post contains affiliate links for your convenience.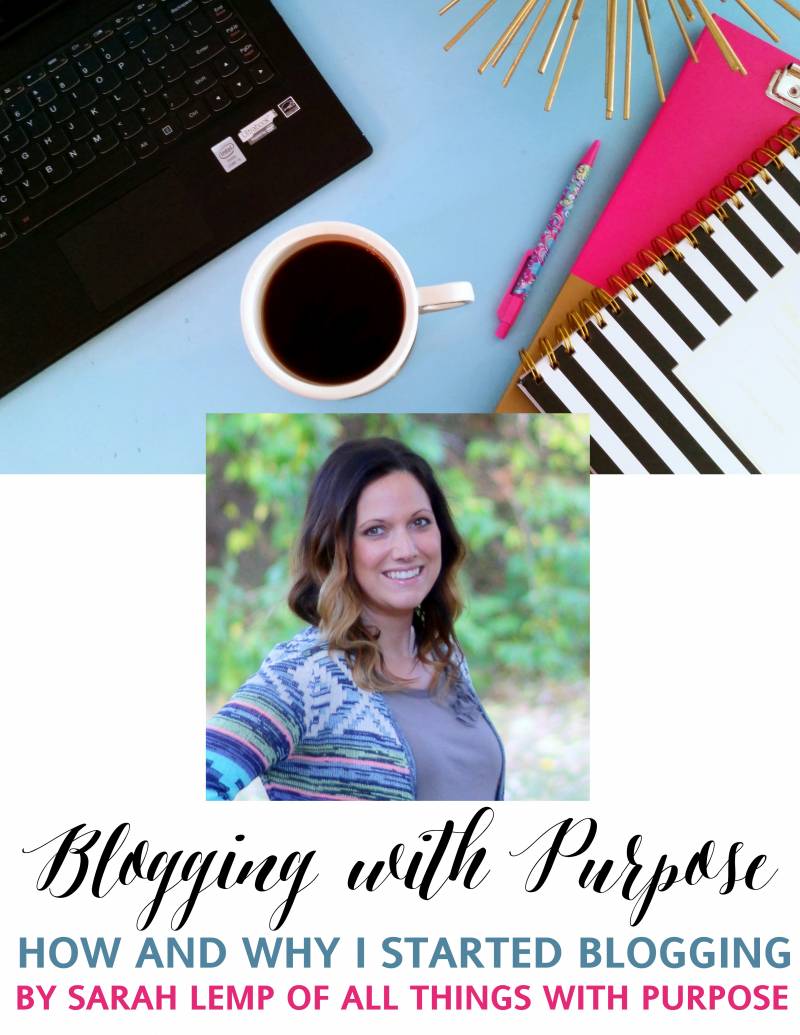 The How
I first started blogging on a free blogger platform. I began as allthingswithpurpose.blogspot.com and then soon purchased my domain through GoDaddy and became allthingswithpurpose.com
Learn from my mistake. Don't do it that way or in that order! Here's what I would do if I could start over again:
Choose a name

Pick a name that represents you well and can be branded well. Does your name restrict you to a very small niche area or keep things wide open for growth? Is your name easy to remember and spell? Make sure no one else has a name similar to yours.

Check for the use of your name and names similar across all social media: facebook, instagram, twitter, .net, .org, .com, etc. It's better to go with originality and not risk potential trademarking issues or confusion down the road.  You can check availability and purchase your domain name at www.godaddy.com I always recommend going with a .com simply because it is easier to remember. I don't recommend using special characters or numbers in a name. If you are super stuck on a name that is not available, consider adding "blog" or "online" to the end of it.

Go ahead and register that name on instagram, pinterest, twitter and as a facebook page. I always recommend using the exact name and exact spelling across all social media and domain names. My name: "All Things with Purpose" is too long for twitter and instagram, so on social media I am "purposeblog" this kind of bothers me and I wish I had thought about it sooner, but it is what it is.

So to summarize:
a. Pick a name that is original
b. Check to see if it is available as a .com and on all social media platforms
c. Buy name on www.godaddy.com
d. Set up social media pages to correspond

Choose a platform

If you're sure you're only going to be blogging as a hobby and want to keep it completely free and low key, you can go with a blog that is hosted for free by Blogger or WordPress.com BUT I highly recommend doing it right the first time and going straight to a WordPress.org site. If you want to be able to grow with your blog and potentially make money down the road, you will want to pay for monthly hosting yourself and go with WordPress.org.

I'll try and break down these 3 options for you:

a. BLOGGER: A free blogging platform hosted by Google. Blogger blogs will start out completely free as "yourname.blogspot.com" with the option to buy your own domain (yourname.com) and use it. You CAN put advertisements and affiliate links on your blogger blog to make money. Blogger is also one of the most USER FRIENDLY sites to run. It is super simple to navigate and post to for those that are not super tech savvy. The drawback is… you don't technically own it because they are hosting it. They have the right to shut you down at any point and I have heard of this happening. However, I also know of several super successful bloggers that are still on blogger and love it. www.iheartorganizing.com is one of them.

b. WORDPRESS.COM: Much like blogger blogs, in the sense that it is a completely free site hosted by someone else. Your name would start out as "yourname.wordpress.com" unless you buy your domain name. The drawback to WordPress.com is that you cannot monetize it, meaning no advertisements.

c. WODPRESS.ORG: This is what I recommend starting with. It is a little more technical feeling and not as user friendly as Blogger, but you can do way more with it. It will grow with you for the long run and start you out on the right foot. You will need to purchase your own hosting, but you will be able to use it as a source of income (hopefully) as you grow your brand.  If you're serious about blogging, you'll want to start here.

Purchase Hosting

I highly recommend Siteground Hosting. I have used them for the past couple years and have received great support. You can start on a small, cost effective plan and upgrade as your traffic increases.

Install WordPress

On your Siteground cPanel,  you will see a section titled "auto installers." Select WordPress from the list and follow the set-up instructions.

Purchase Genesis Framework and Child Theme

Unless you are content to use a free WordPress theme, you will want to purchase the Genesis framework and a cute child theme. You can purchase both through Studiopress. Or, you can purchase the Genesis framework and find more feminine theme options through Pretty Darn Cute. I have bought several of her themes including Swank, Pretty and Fun. My current theme is Fun. Her themes come with great instructions and support for getting it set up.

Plugins I Use/Have Used

Akismet – Spam filter
Woo Commerce – For an online store
Genesis Connect for WooCommerce
WooCommerce PDF Invoices & Packing Slips
WooCommerce Menu Cart
Easy Digital Downloads – If you don't want a full Woo Commerce store but want to charge for digital downloads
Delightful Downloads – Keep your free downloads organized and track how many times they have been downloaded
Shareaholic – Sharing buttons
Sucuri Security
iThemes Security
Yoast SEO
Jetpack by WordPress.com
Alpine PhotoTile for Pinterest
BackupBuddy – Automatically back up your blog!
EWWW Image Optimizer
Imsanity – Compress giant images
Genesis Responsive Slider – My homepage image slider
Simple Local Avatars – Change your profile picture in wordpress instead of Gravitar.
Tweet This – Creates a highlighted text within a post that readers can easily tweet.
WordPress Related Posts – The related content at the bottom of each post.
Google Analytics by Yoast
ZipList Recipe Plugin – Ziplist was supposedly not updating anymore, but I have continued to use it with no issues.
Instagram Slider Widget
Other Great Resources…
Don't Miss the Other Posts in this Series…