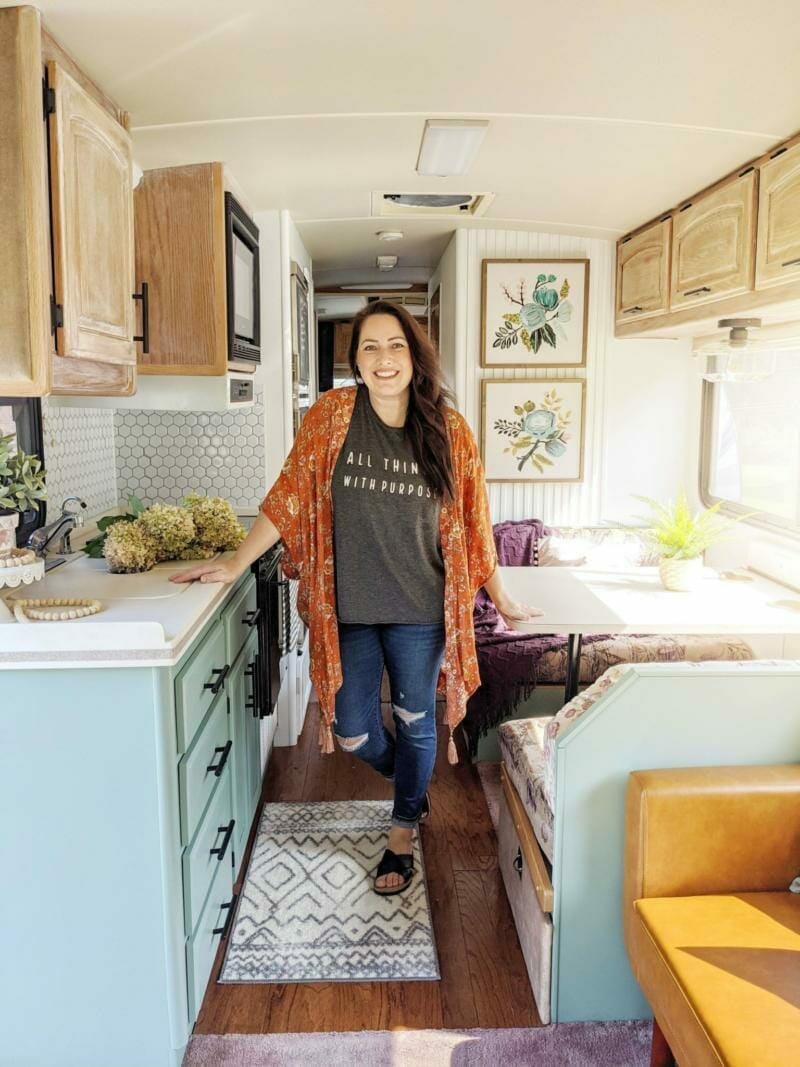 Our Pace Arrow Renovation
I am excited to share the details from our latest renovation! This Pace Arrow has already sold and gone home with her new owners, but the transformation is too fun not to share. This RV was purchased through a friend of a friend. They were the only owners and had stored it in a heated facility for the last decade. It had been taken out for routine maintenance and kept in pristine condition. I've never seen an RV this old, in this good of condition. The exterior was spotless, like it had just rolled off the showroom floor. It was really hard to decide what to keep and what to replace, since it was all like-new!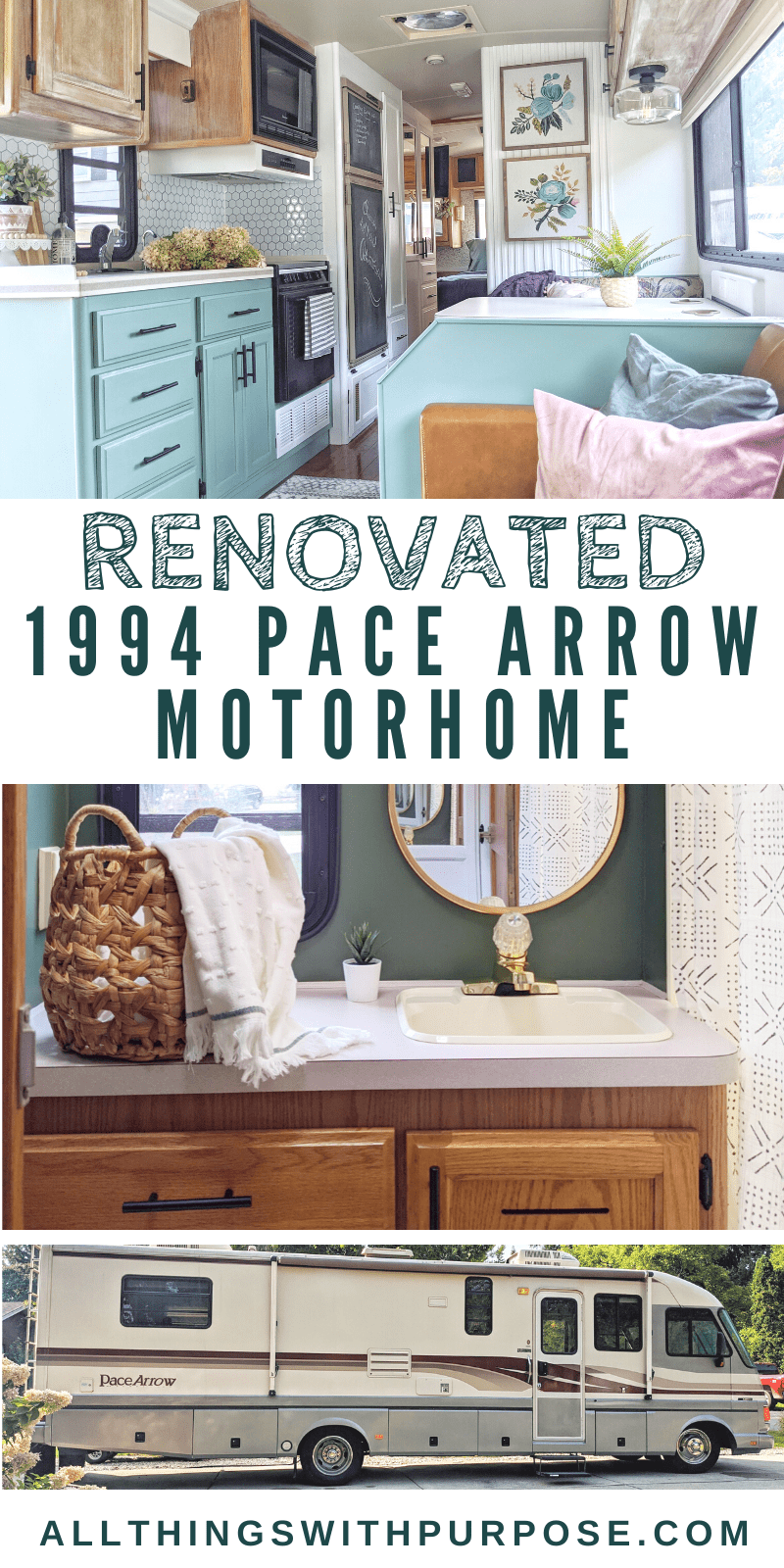 Before and After
Slide the arrow to the left and right to compare the before and after pictures from this project.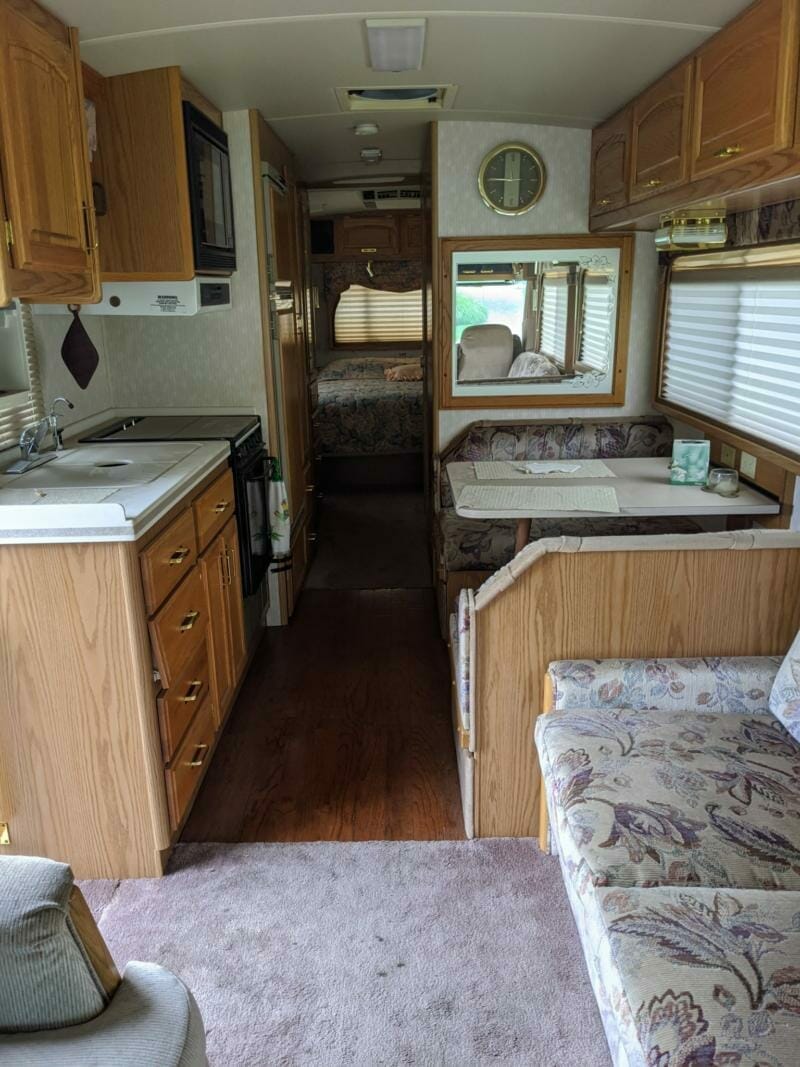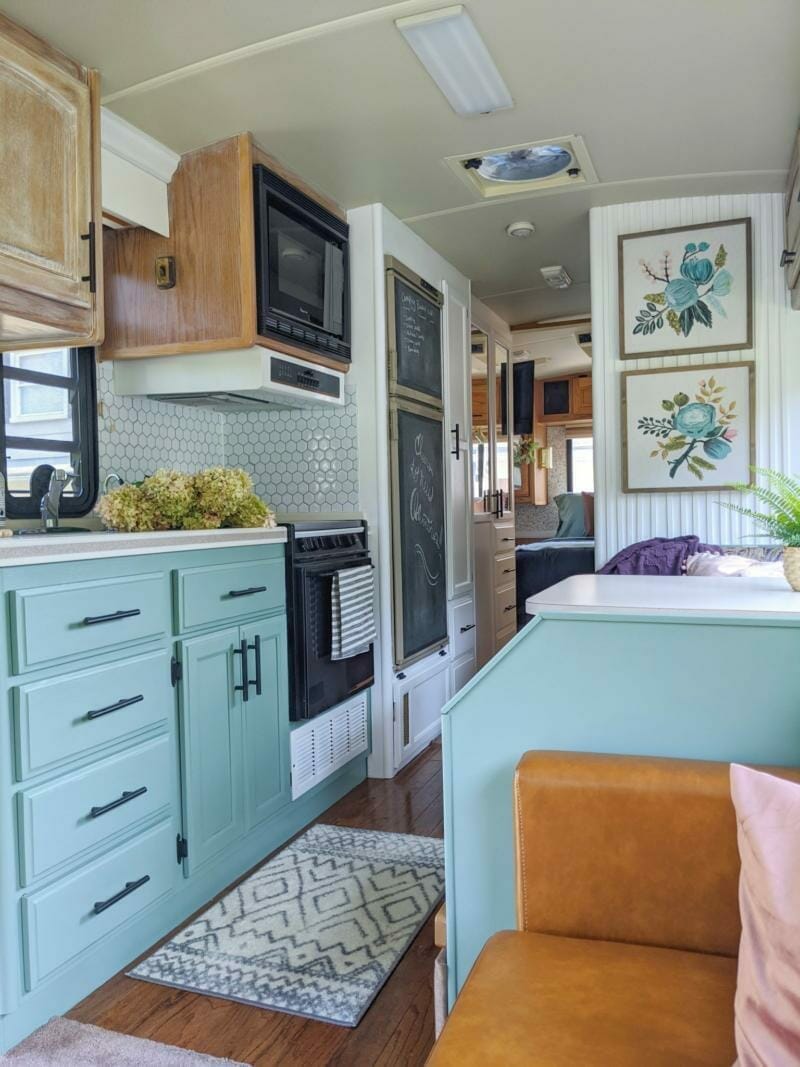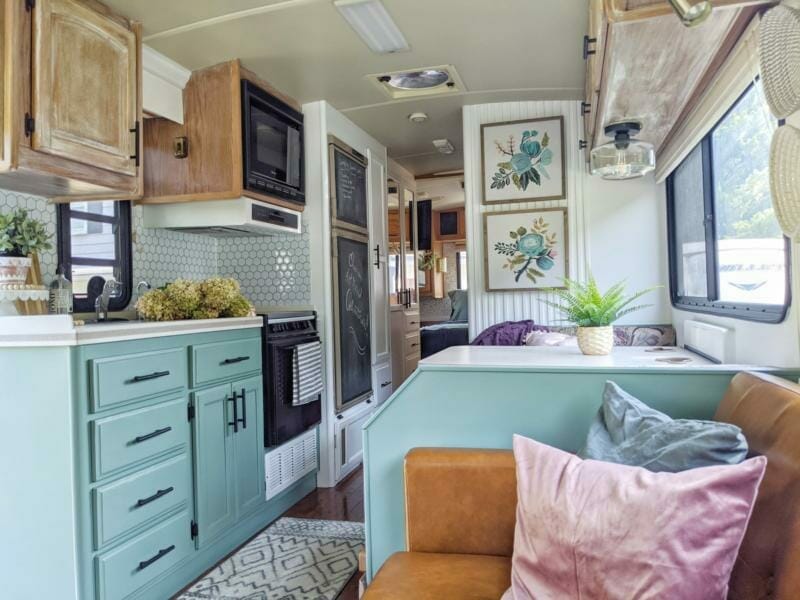 Shop the Look
Find all the links to products found in this RV, in the images below.
What We Did
After lots of deliberation, I finally settled on a plan. I wanted to do something different from what I always do, so I tried a different technique on the cabinets. For the sake of trying something new, I sanded them down, bleached them and did a white wash to create an aged, farmhouse look. I also switched out the cabinet hardware and handles. I like how this toned down the orange look of the oak, without covering up the wood look. I painted the lower cabinets in the kitchen, and left he original oak in the bedroom and bathroom.
Here's a list of the things we upgraded or repaired:
White washed cabinets
Changed all cabinet hinges and handles from gold to black
Replaced cassette tape deck with Bluetooth CD player
Installed new microwave
Painted walls white
Added wood slat feature wall
Removed heavy window boxes around windows, but reused original blinds
Hung new flat screen TV
Installed new 12v convertor
Installed Tic Tac Tile backsplash
Removed original couch and replaced with new futon sofa bed
Replaced one light fixture and kept the rest
Hung pictures and other décor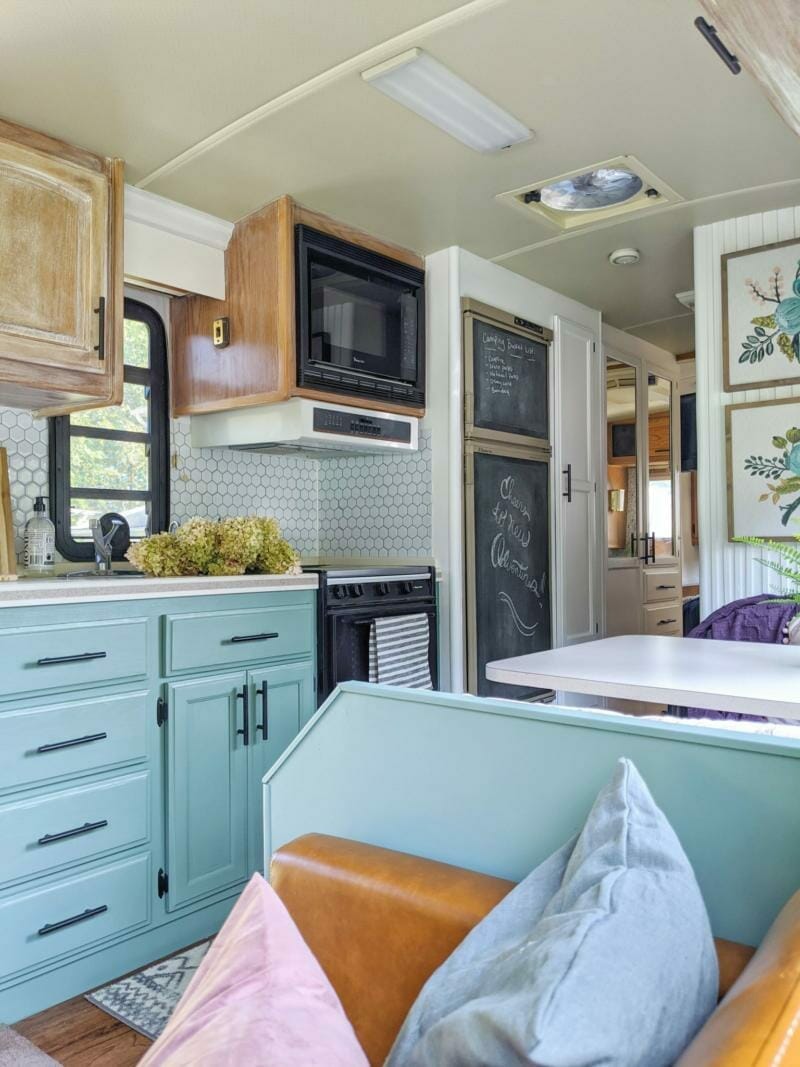 Special Care with Older RVs
Because this particular RV had sat for a long time, there were a few things on our checklist to inspect. It had been stored in a heated facility, so the exterior was beautiful, there were no signs of water leaks or mice. The owners had the tires replaced a few years ago, and it hadn't been moved since. This could be a good or a bad thing, but after inspecting them, they looked great! The concern was the gas in the tank. Because the gas hadn't been changed in so many years, it needed to be siphoned out and removed before starting the RV. We also had to replace all three batteries before anything would fire up.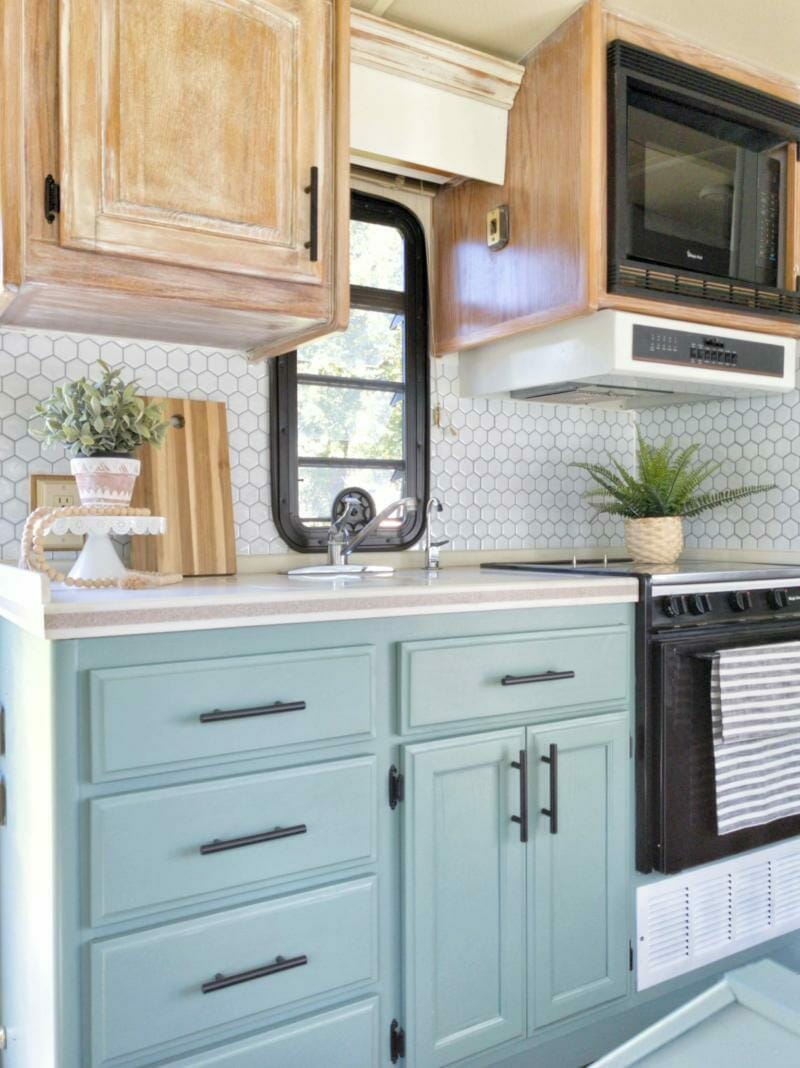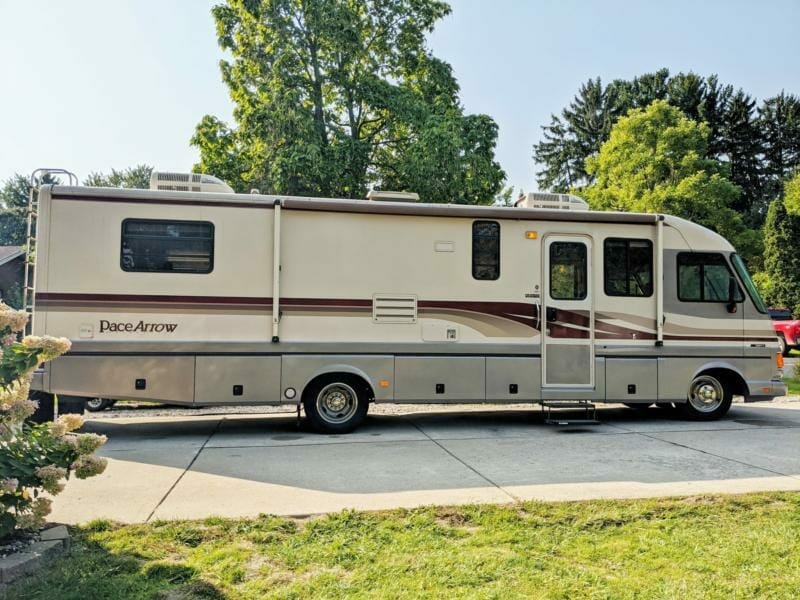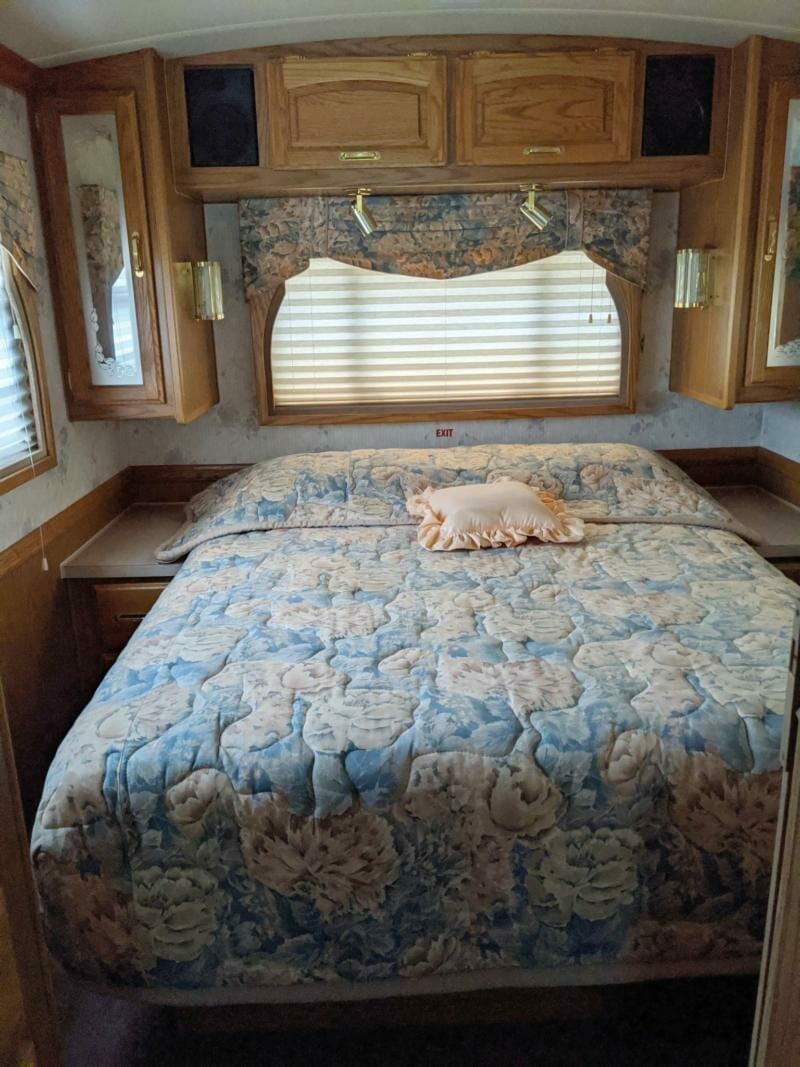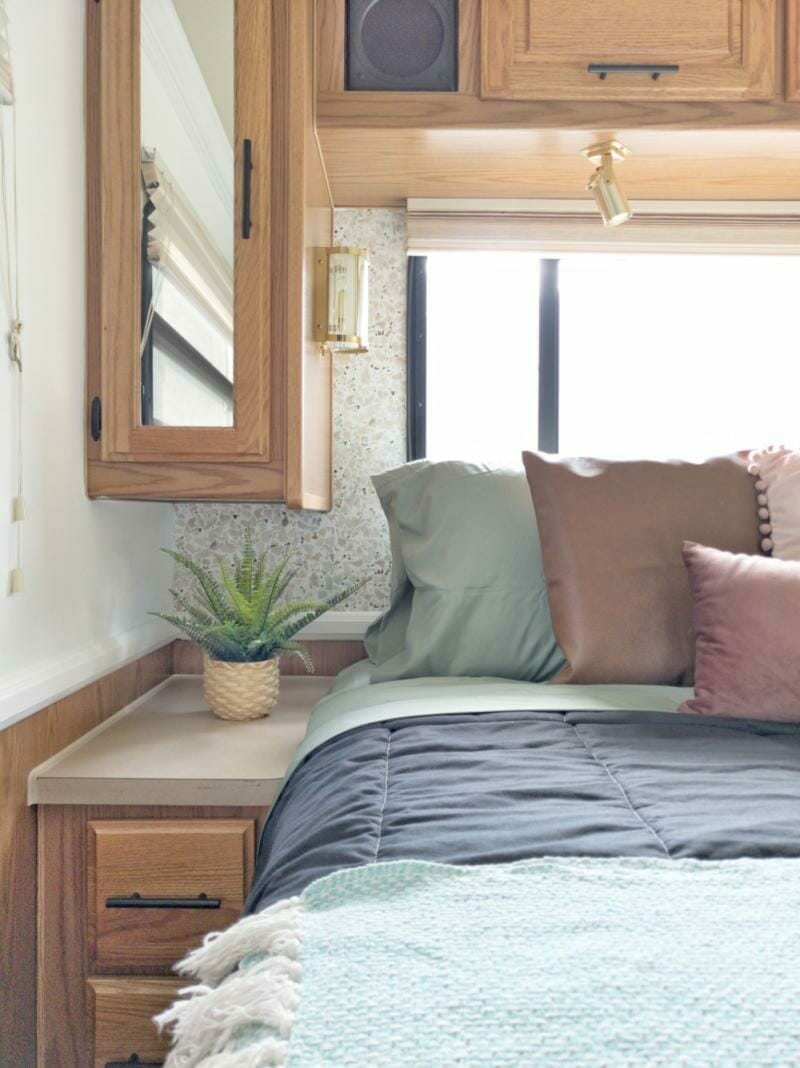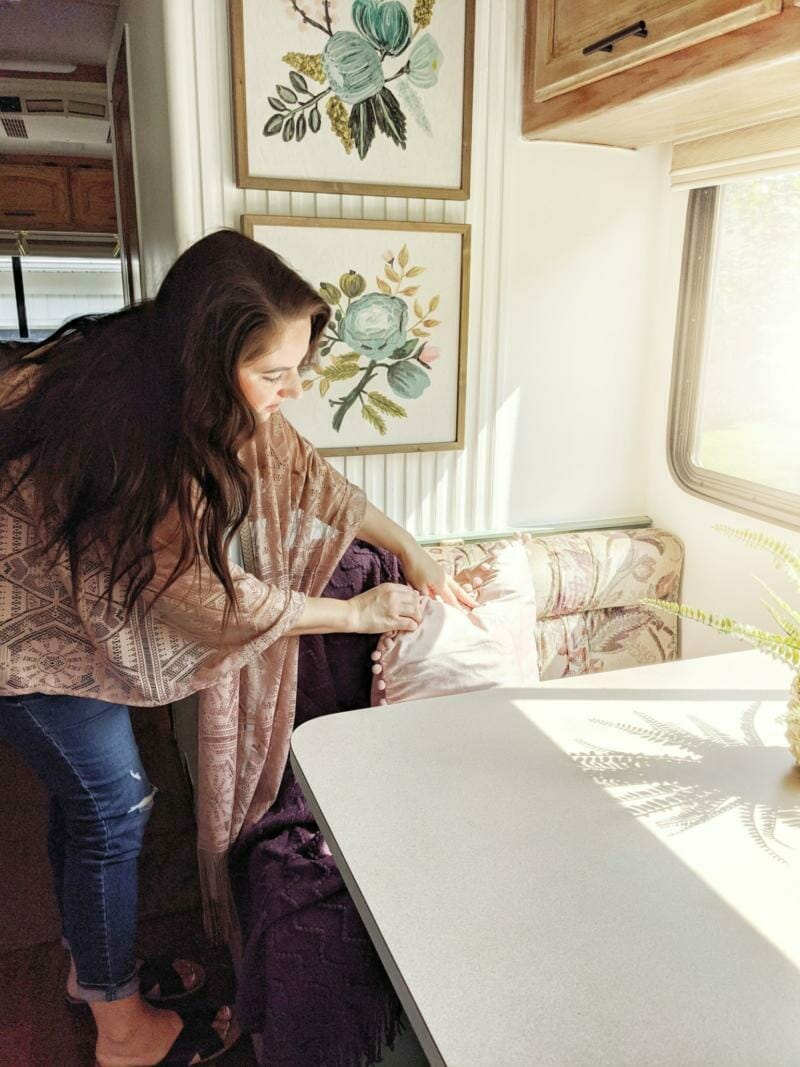 What We Salvaged
I have a soft spot for utilizing everything I think I can work with. I hate getting rid of things if they can be upcycled or repurposed. If something is in great condition, it kills me to get rid of it – BUT I will do it if I think it will make a big impact to switch it out for something else. It's a fine line. If I can paint it or reuse it, I will. Here are the things we kept for this project:
All original flooring!
The table top – I painted the leg black.
Dinette cushions – I worked them into the design!
Most light fixtures – I only switched out one.
Original speakers, awning, stereo, toilet, a many other things were still in good working order.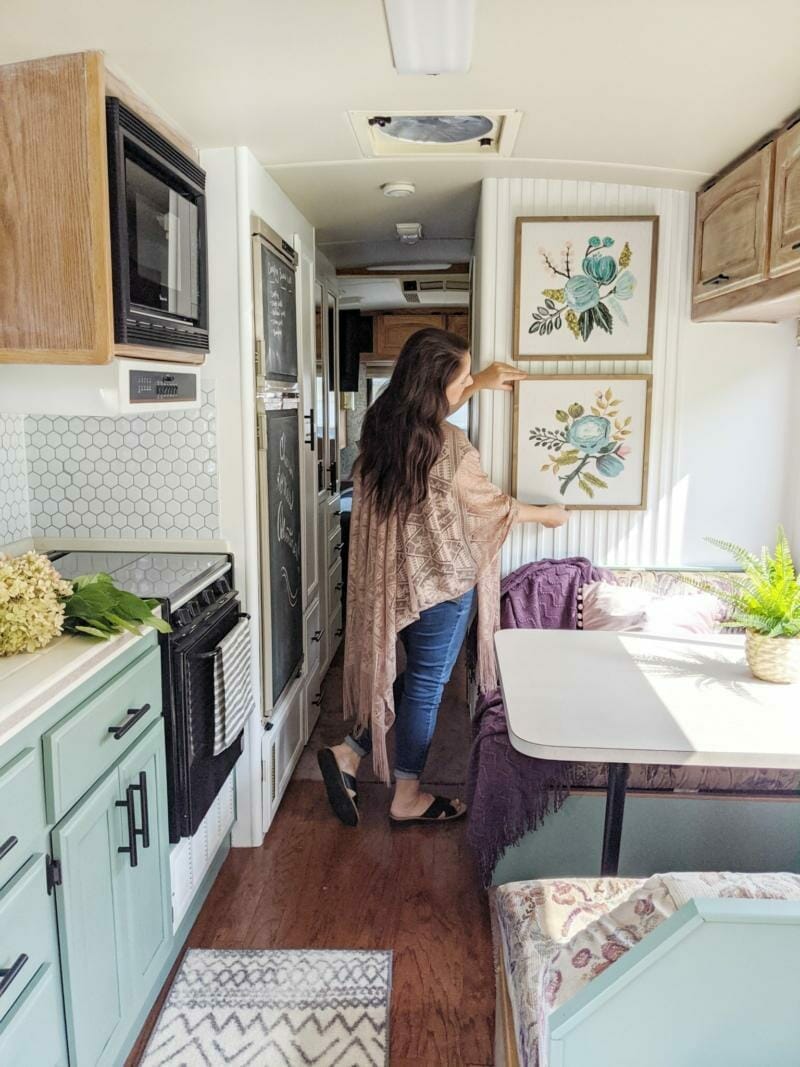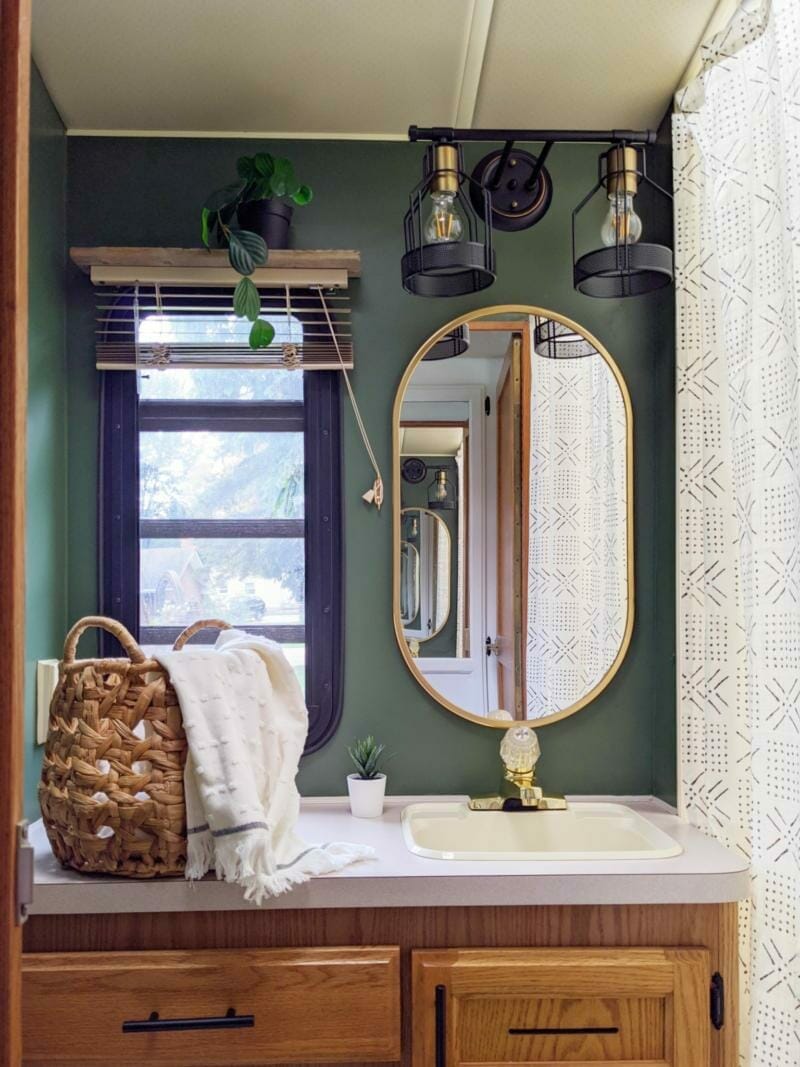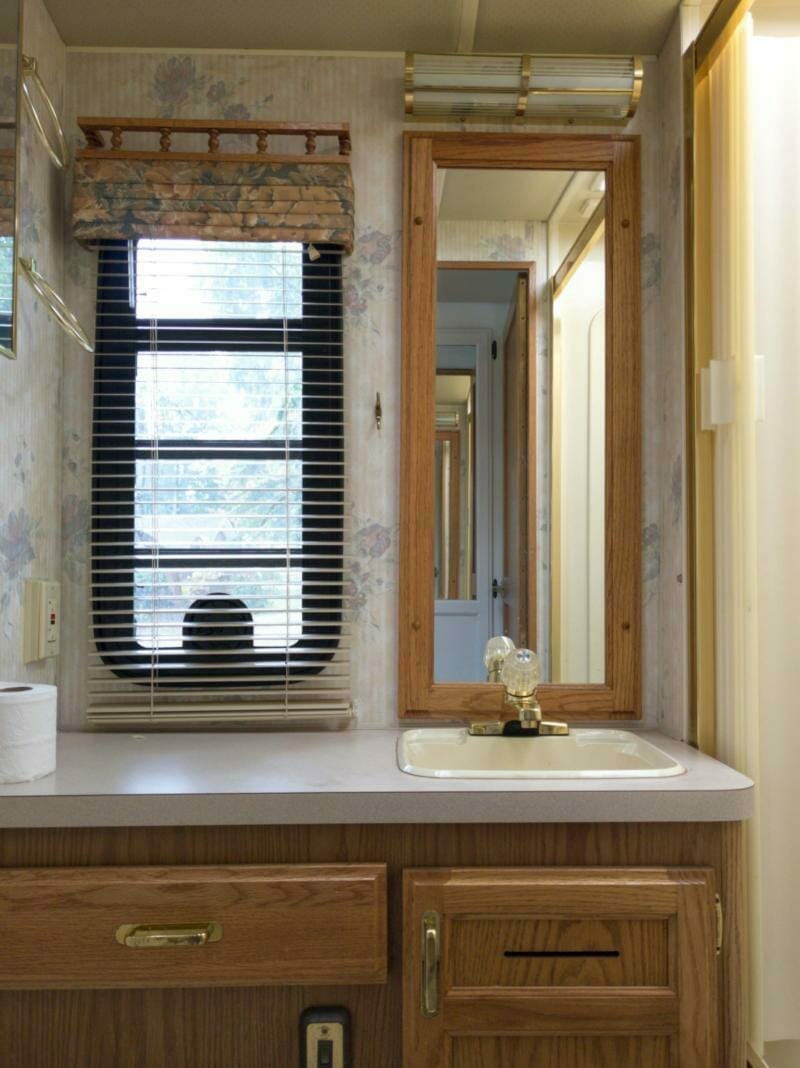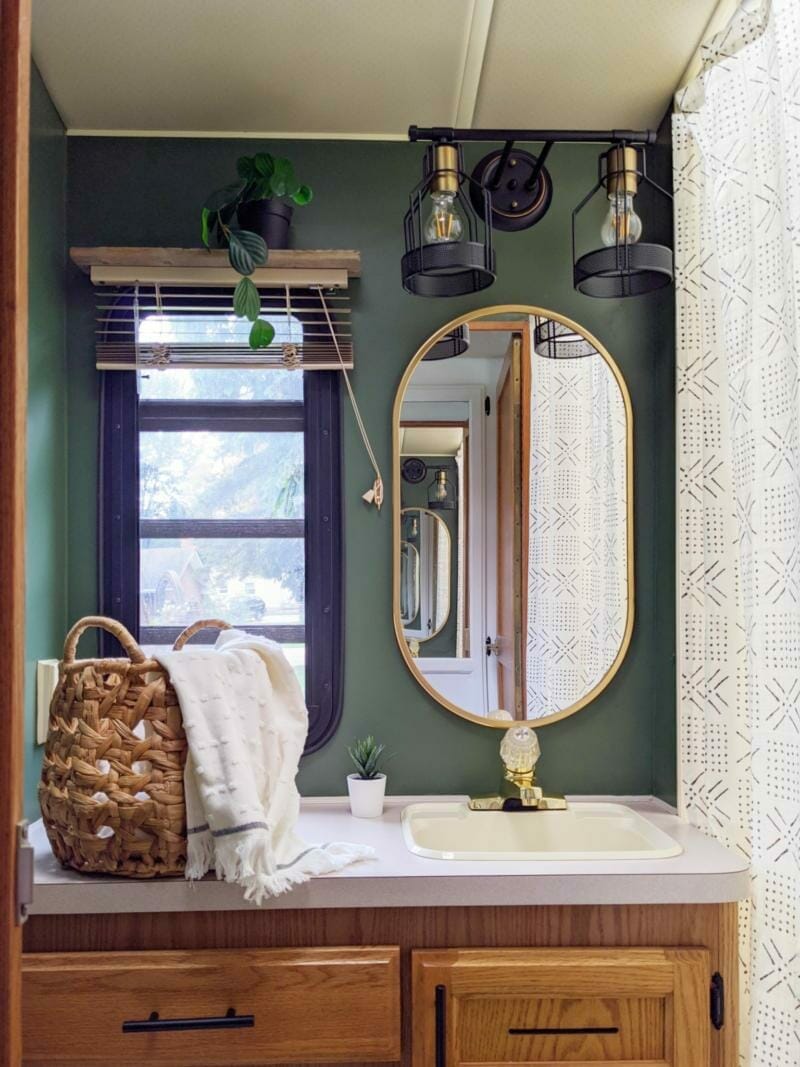 Shop the Look
Find all the links to products found in this RV, in the images below.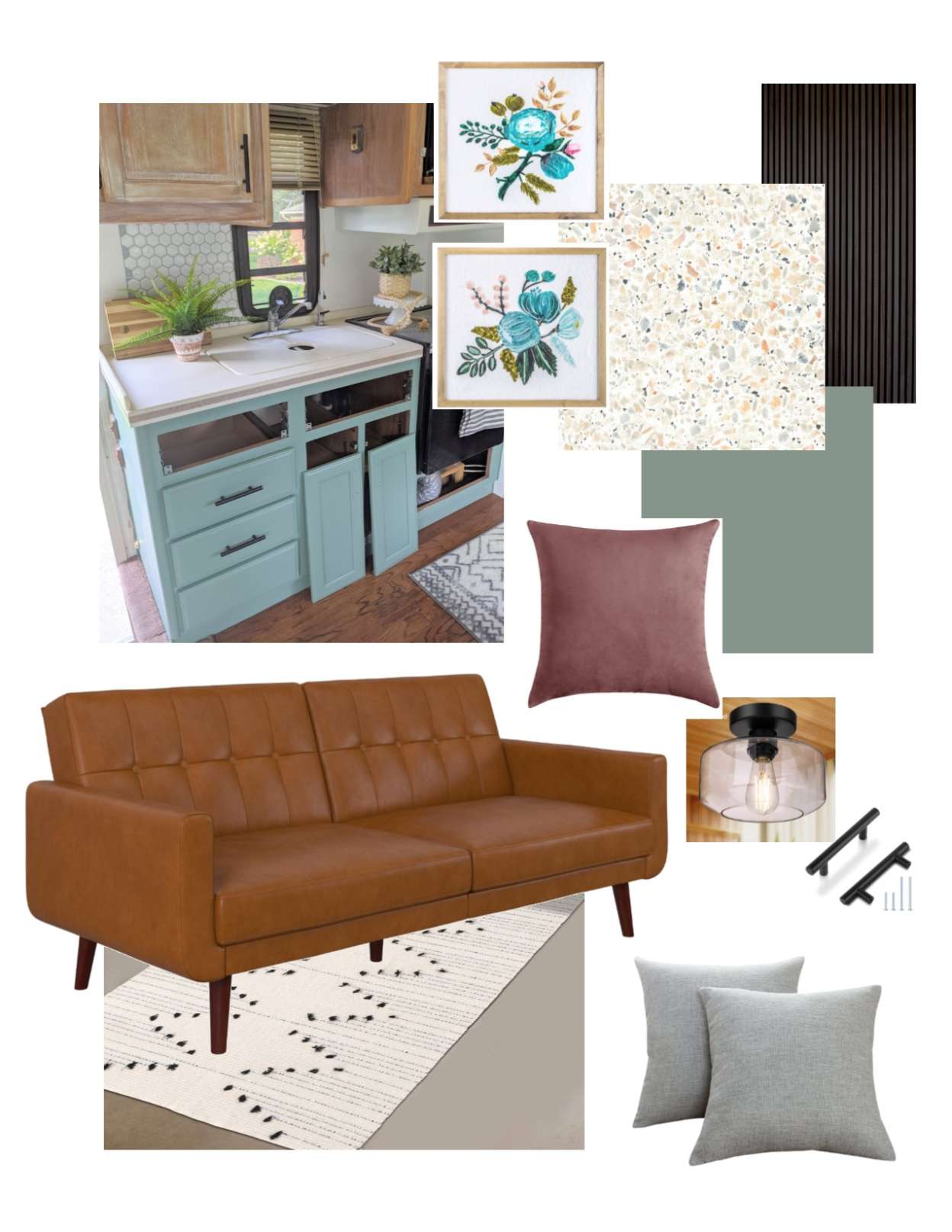 Pin-It!