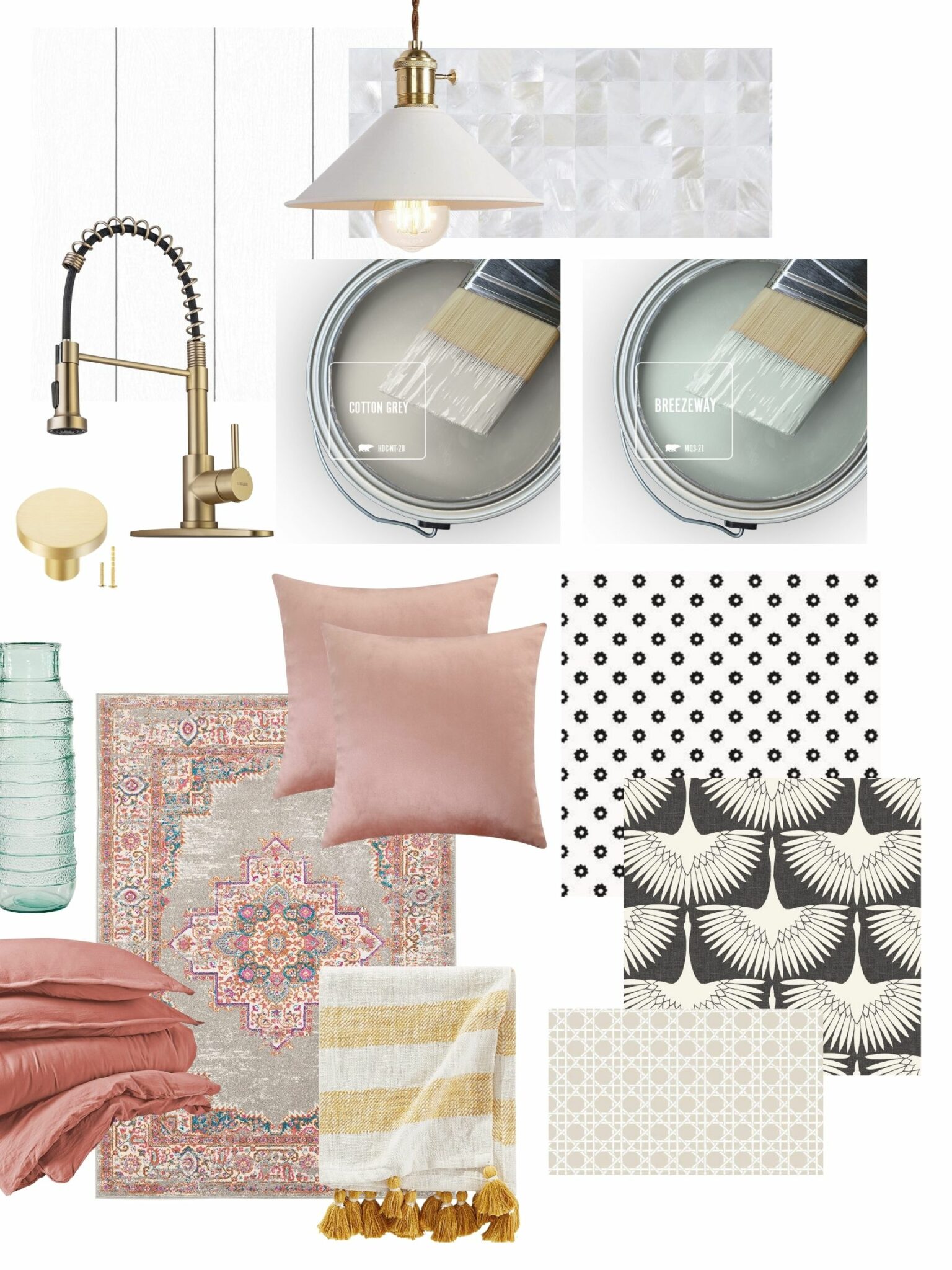 2015 Sportsmen Travel Trailer Renovation
Well that escalated quickly! Jay and I were just talking about the bills that keep piling up from our Florida house repairs. We have a huge list of things that we want to do if money were no object! I might have mentioned that I would be willing to work on another small camper while we're in Michigan to help pay for some of the things we are doing in Florida. Well, Jay works fast and we are now the proud owners of a 2015 Sportsmen travel trailer that is ready for a renovation to be transformed into a glamper!
The Details
Here are the details:
Base price 19,900
2015
Super lightweight! 2,600 lbs.
20′ long
Sleeps 5 – one queen bed, one bunk bed and one dinette that makes into a bed
Comes equipped with gas cooktop, fridge/freezer, awning, one bathroom with shower/tub combo, sink, water pump, fresh water holding tank, battery, propane tank, furnace, air conditioner and hot water heater
The Before Pictures
Here's a look at the current state of this trailer. It is in great shape and only needs cosmetic updates. Because of the cold weather here in Michigan, I am not able to paint the exterior, but this camper looks pretty nice already! One of my requirements for working during the Winter is to start with a camper that already looks nice on the outside, with little or no repair work that needs to be done. This little trailer is in perfect condition, it just needs a makeover!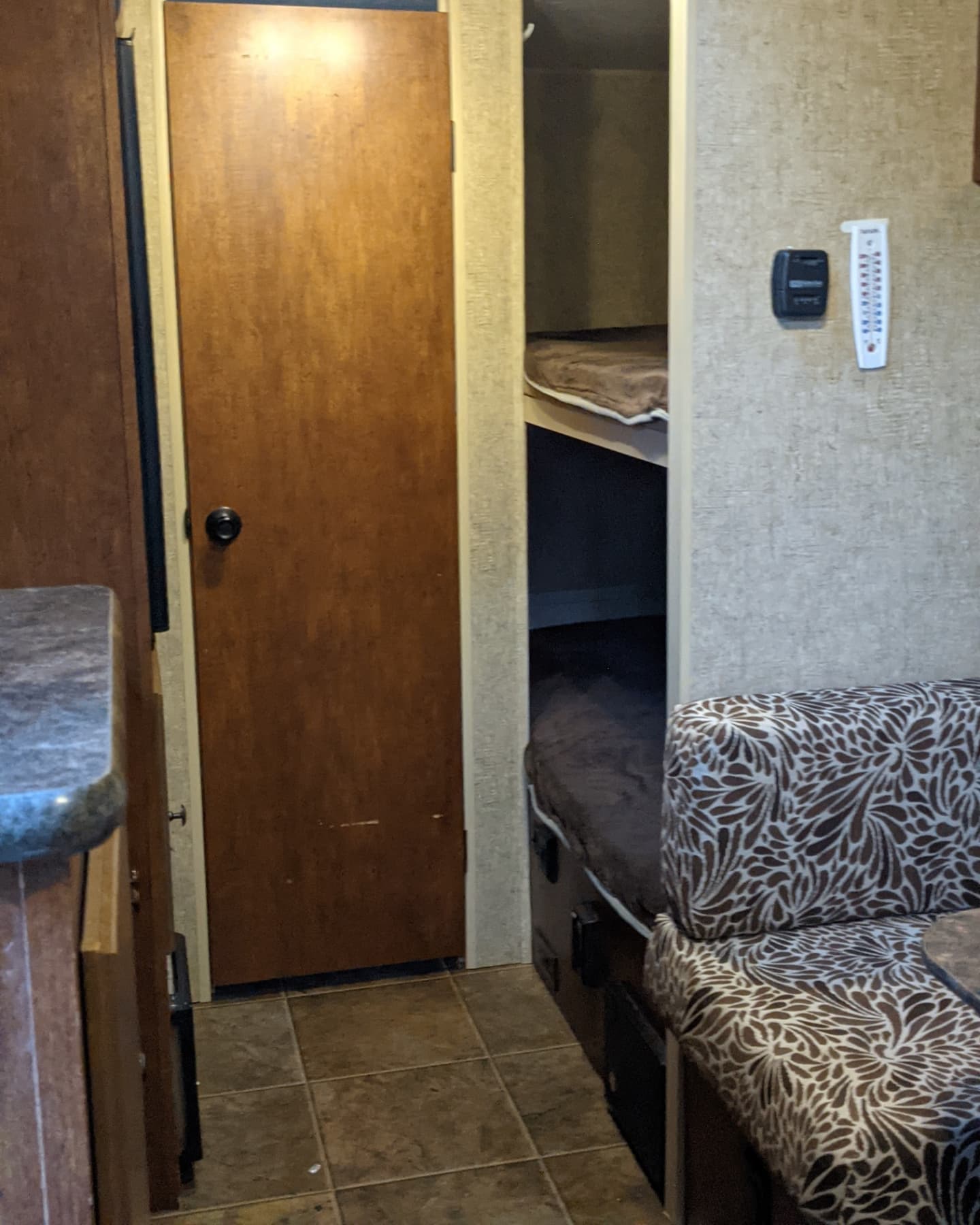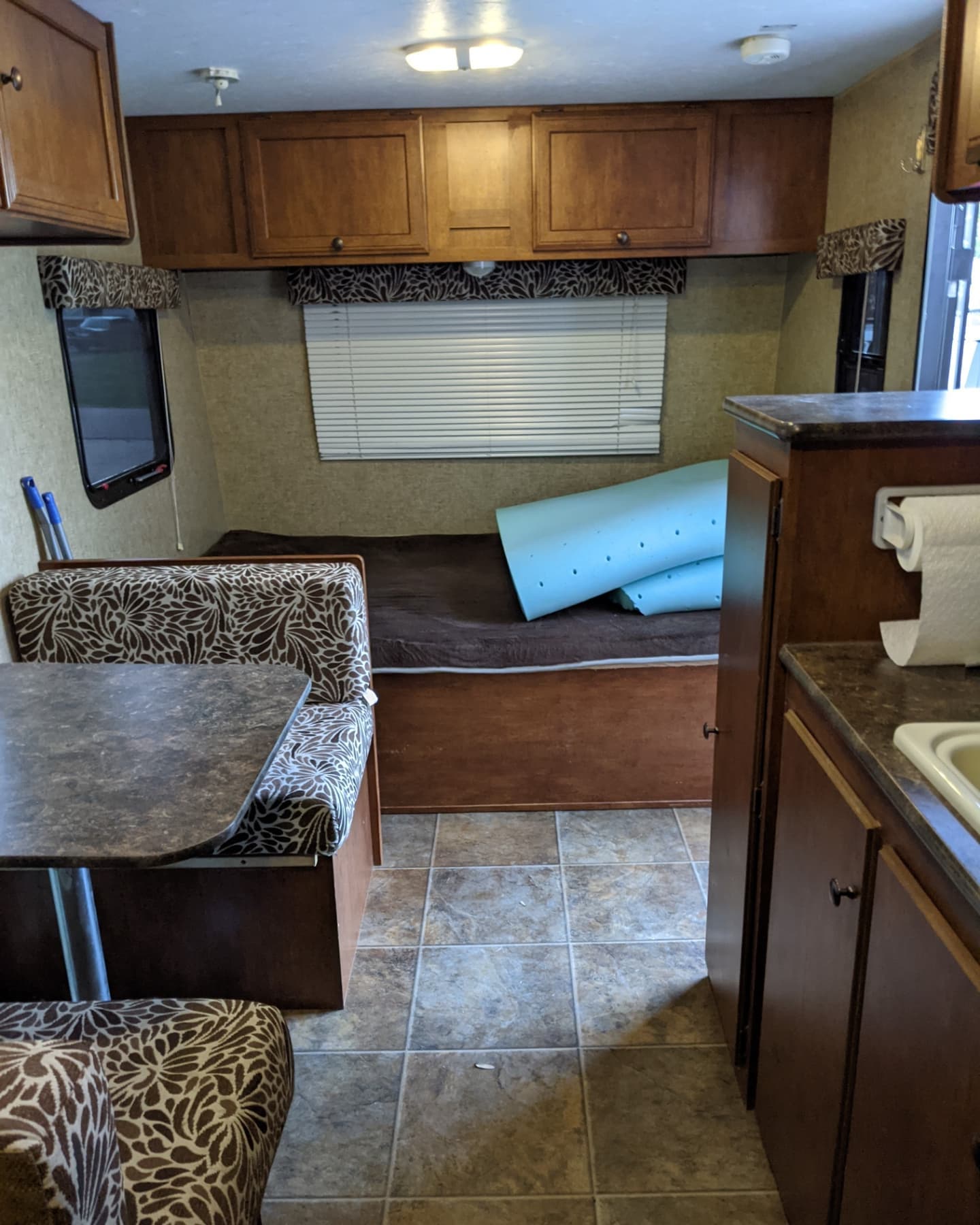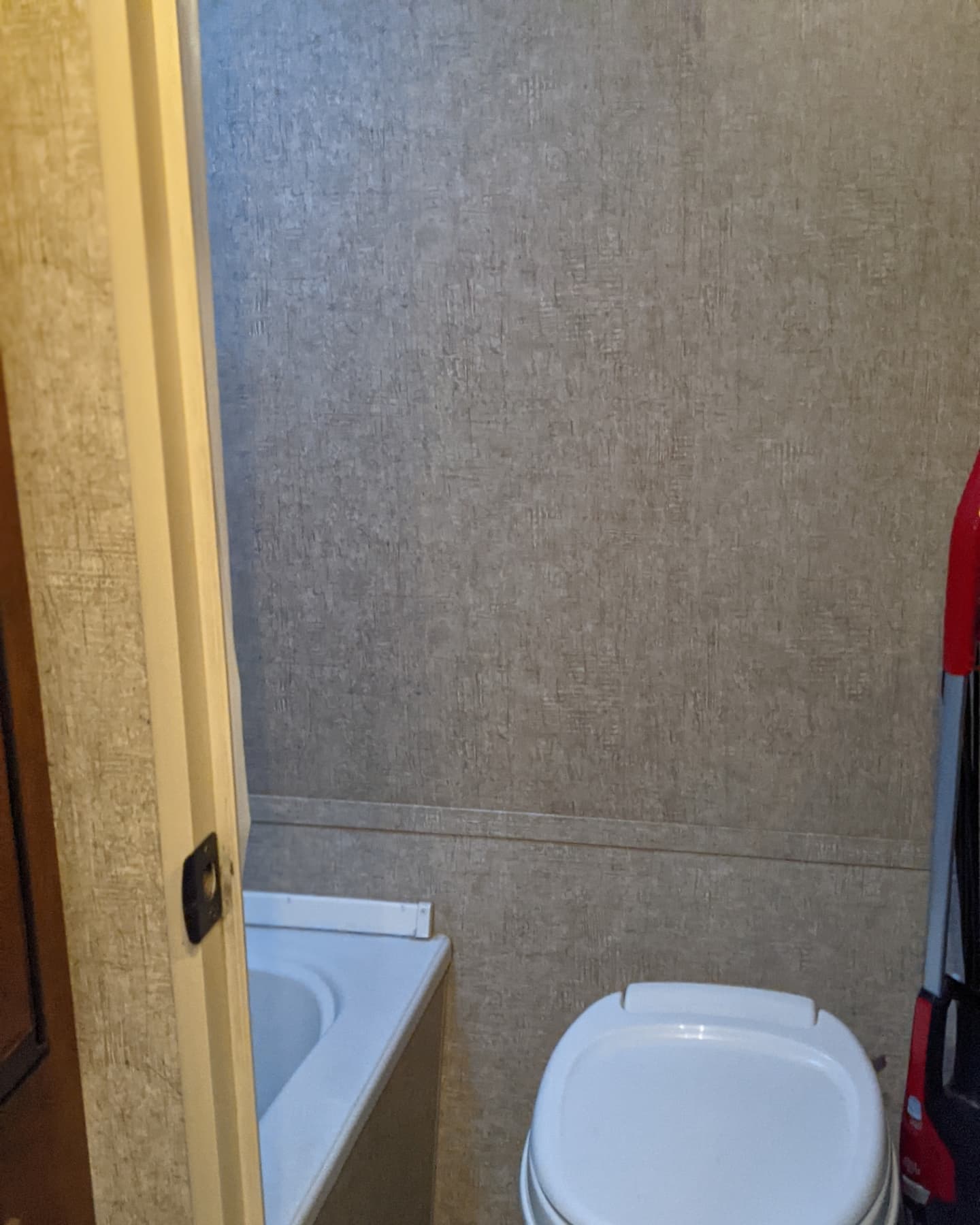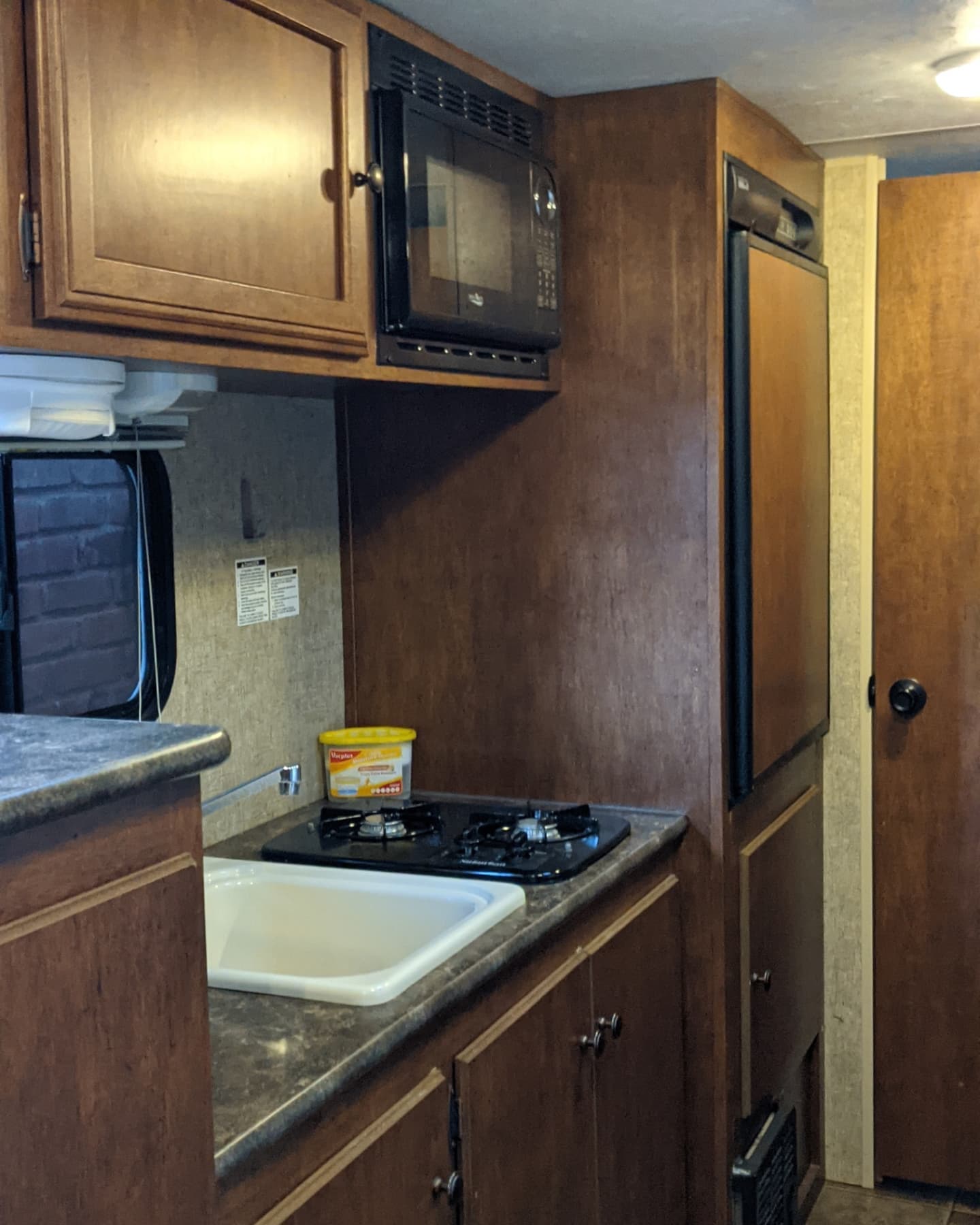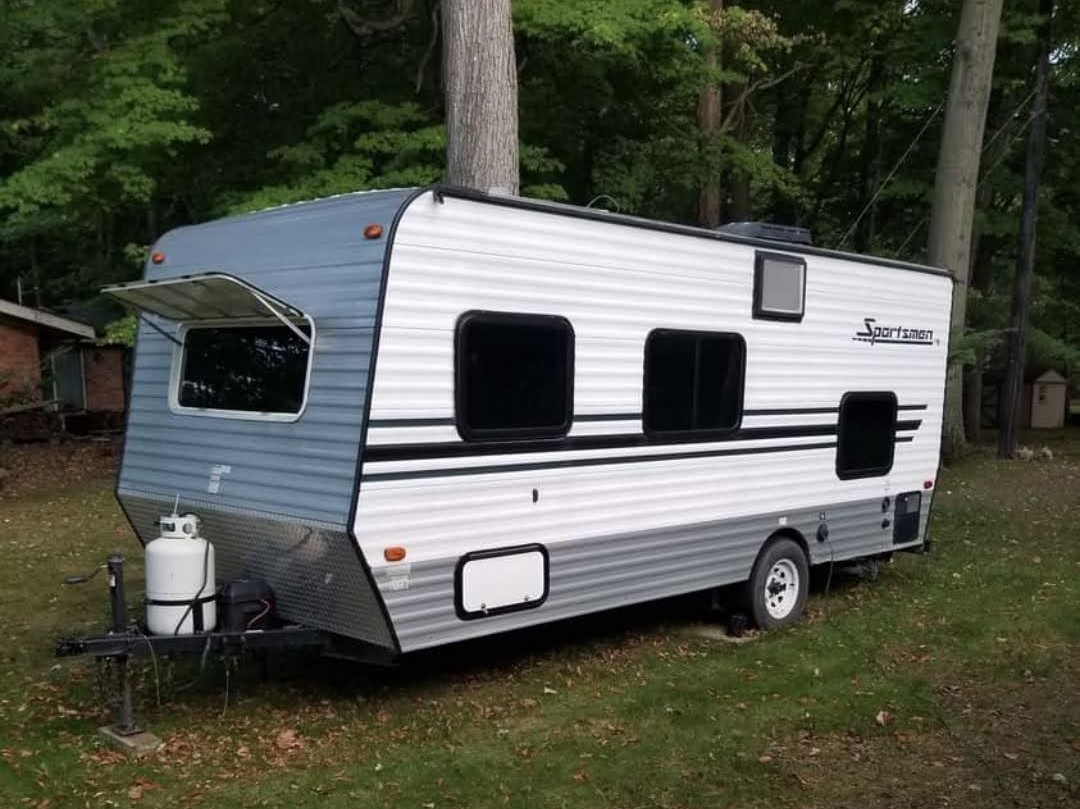 Design Plans
I have a design plan in place and most of the supplies already purchased. I'm hoping this travel trailer renovation will have a similar look and style as the Trail Cruiser and the Catalina. Because this camper is already super light and I don't want to add extra weight, I may do a lighter weight flooring option like rolled linoleum or floor paint. Because this camper is light enough for even some vans, I don't want to ruin the opportunity for someone to tow it by adding extra bulk. I plan on recovering the dinette table and cushions instead of removing it, unless someone enters into a presale agreement in which I'll give them the option of removal!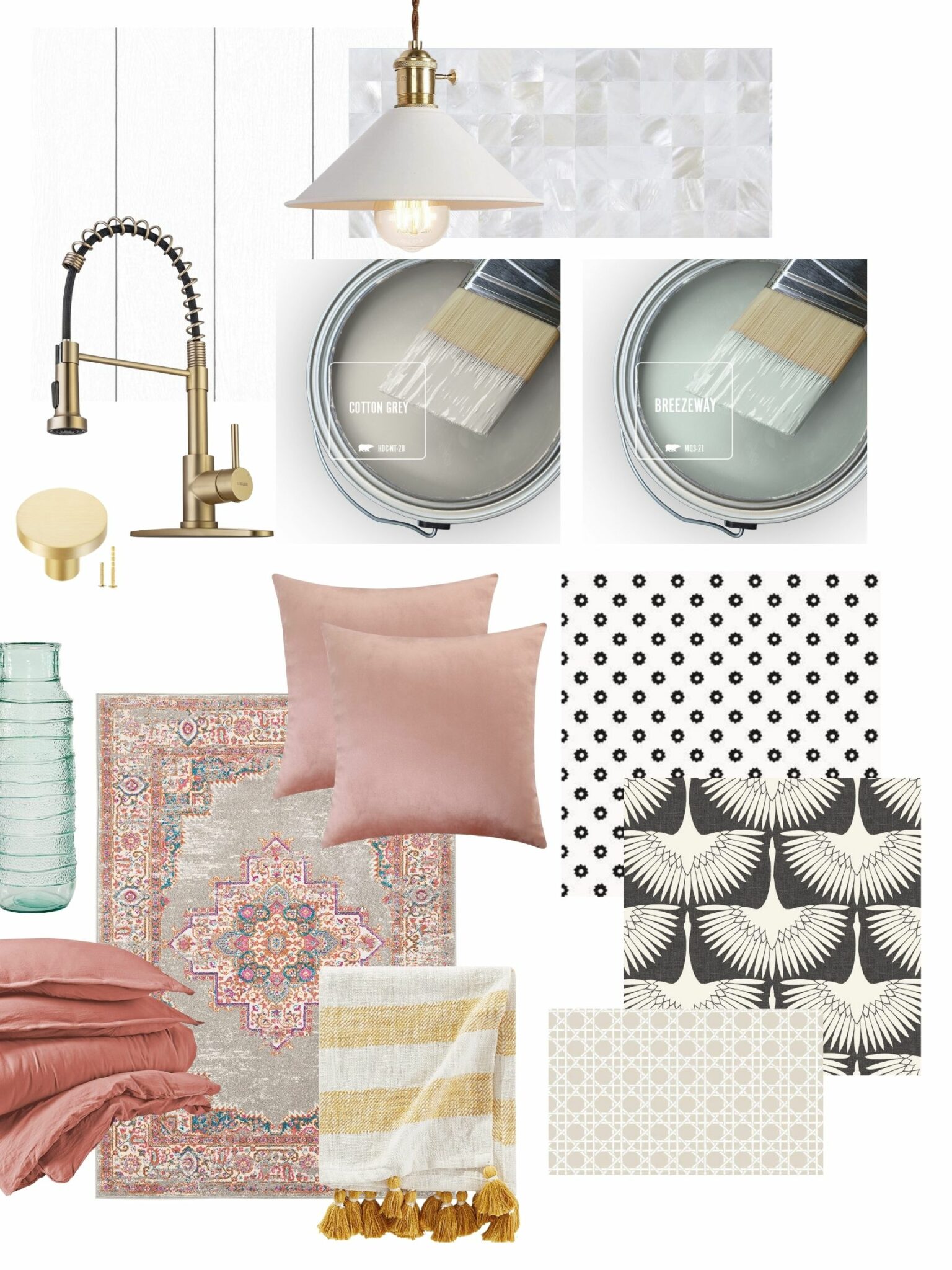 Sources
Here are the supplies I have already purchased:
Cabinet hinges
Paint colors: Behr "Breezeway" for accents, "Cameo White" for walls and "Cotton Grey" for cabinets
Presale Details
As we have done in the past, I am opening this camper up for a presale. This gives you the option to lock-in a sale before it is complete. We require a 50% down payment and $2,000 non-refundable deposit. Once the down payment has been made, I'll offer a selection of optional customizations and add-ons. I prefer to stick with the overall design plan I have already set in motion, but anywhere that I can shift gears and change plans to meet a client's needs, I'll do so! Overall, I want you to be happy and excited about your camper! I'll do whatever is in my power to make adjustments when necessary and take into consideration your specific requests.