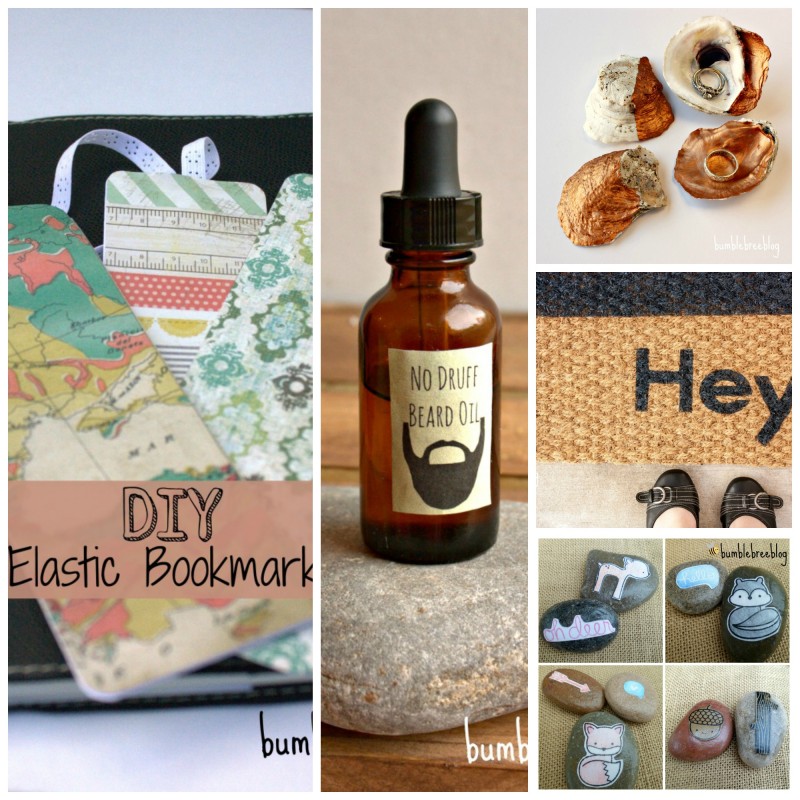 I am back! If we haven't "met" before, I am Bree and I blog over at bumblebreeblog. The holiday season is quickly approaching and if you are like me, then you like to create DIY gifts for friends and family. This is the perfect time to start, so I am sharing with you my favorite 6 DIY gifts for everyone on your list.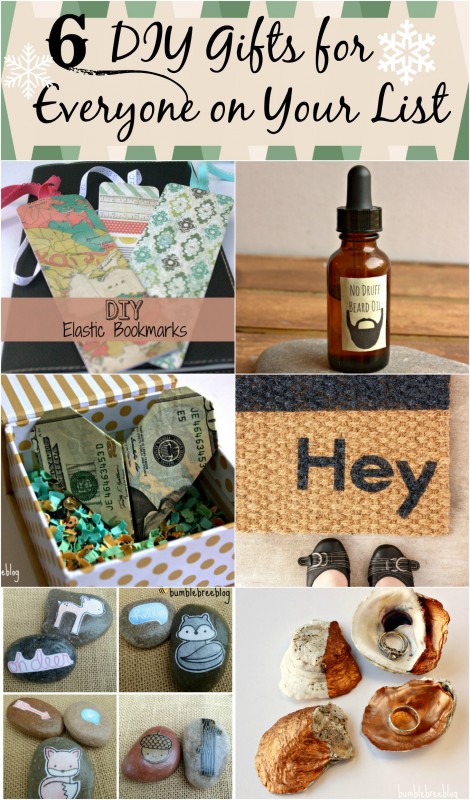 6 DIY Gifts for Everyone on Your List
1. Elastic Bookmarks
The first DIY gift is one of my favorites. I am a huge book nerd and I hate when my bookmark falls out of my book. This DIY gift is quick and easy to make and stays in a book effortlessly. You can customize each bookmark with unique scrapbook paper and decorative elastic that is perfect for any book lover in your life. You can see the full tutorial here.
2. Story Stones
The second DIY gift is perfect for the children or creative parents in your life. Story stones help the user create unique stories using the images on the stones. They are great for children who are shy, love to make up stories, or have speech delays. These stones may also be used to help children express their emotions and feelings. The best part about his DIY gift is that you can use images from stamps to create fun figures that you don't have to hand paint. You can even create different themes of story stones sets, such as fairy tell story stones, Christmas story stones, or make them personalized for the gift receiver. View the full tutorial here.
3. Beard Oil
The third DIY gift is for the bearded men in your life. Beard oil helps the skin underneath a beard stay healthy and moisturized. This recipe includes essential oils that may reduce beard dandruff, because no one wants beard dandruff in their lives. Beard oil also helps with beard styling and maintenance. This is a must have for the bearded hipster in your life. Make your own with the tutorial here.
4. Duel Greeting Welcome Mat
I mentioned this beautiful fourth DIY gift idea in my last post at All Things With Purpose. This dual greeting welcome mat has a great little "hey" when guests come up to the door and an adorable"bye" when they leave. Have a friend who spent the summer studying abroad in France? Use french greetings instead. A perfect way to remind the gift receiver of you everyday! The best part? This Anthropologie inspired gift costs less then $7 to make. Find out how to make your own here.
5. Decorative Oyster Shells
Our fifth DIY gift is these beautiful decorative oyster shells. This gift is elegant, useful, perfect for all decor styles, and extremely affordable to make. Go out for a yummy oyster appetizer, creepily ask the waitstaff to box them up for you, clean them, and you are ready to create. Using simple liquid copper leafing you can add copper detailing on the insides or top. All the details to make these can be found here.
5. Confetti and Money Origami Gift
If all else fails, our sixth DIY gift idea is cold hard cash, but gifting it in a unique way. Rather then giving a gift card or cash inside a card, be creative and fold the bills into a unique shape. Place your folded money on a bed of a confetti mix inside a decorative box. Bam. You have a unique holiday gift and something that the gift receiver will enjoy. Find out the details on this gift idea and where I got the wonderful confetti here.
Thanks for checking out my ideas! I hope you are inspired to create your own DIY gifts this holiday season. Feel free to visit me over at bumblebreeblog anytime. Which is your favorite gift? Let me know in the comments!