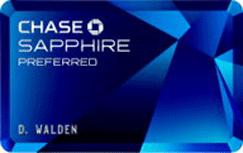 I am totally serious. This Chase Credit Card is offering $400 in cash or $500 worth of travel miles depending on which one you choose. My husband already did it and has already received the money. Now I am. If you decide to go with the cash, then after you see the $400 on your statement you ask for it to be applied to your bill.

The $95 annual fee is waived the first year, so if you decide not to keep it, just make sure you close it before your year anniversary. It does not get better than this! I found this offer on My Money Blog if you are looking for other offers. Don't forget to tell me what you did with your extra cash!!
40,000 Points, Worth $400 in Cash or $500 in Airfare
The Chase Sapphire Preferred(SM) Card is a rewards credit card offering new cardholders 40,000 bonus points after you spend $3,000 in purchases within the first 3 months. This is quite a good deal, as 40,000 points can be redeemed for $400 cash or two airplane tickets worth up to $250 each (you can buy a more expensive ticket and simply pay the difference). No annual fee for the first year, $95 in future years. They also now offer 2 points per dollar spent on dining, airfare, hotels, car rentals and other travel expenses, as well as 1 point per dollar spent on all other purchases.
(This card is the "big brother" of the regular Chase Sapphire Card, where you can get 10,000 points after you spend $500 in purchases within the first 3 months, and there is no annual fee in the first year or subsequent years.) Open up a Chase Sapphire Preferred(SM) account
"So let each one give as he purposes in his heart, not grudgingly or of necessity; for God loves a cheerful giver"
It is a blessing to receive extra money you weren't expecting. While you may choose to use the money toward paying down debt, or a vacation. You may also consider giving or buying gifts from a wonderful organization, Women At Risk (WAR), that enables women who were once a commodity to be able to make things from Jewelry to Home Decor. Women from all around the world are paid a salary and their goods are sold in the US. 90% of the proceeds actually go to feed and house the women. Aren't we blessed we have not experienced being sold and forced to do things against our will? You can even host a party for them at your church. They will come with product to be purchased on the spot. Check them out! ~Julia