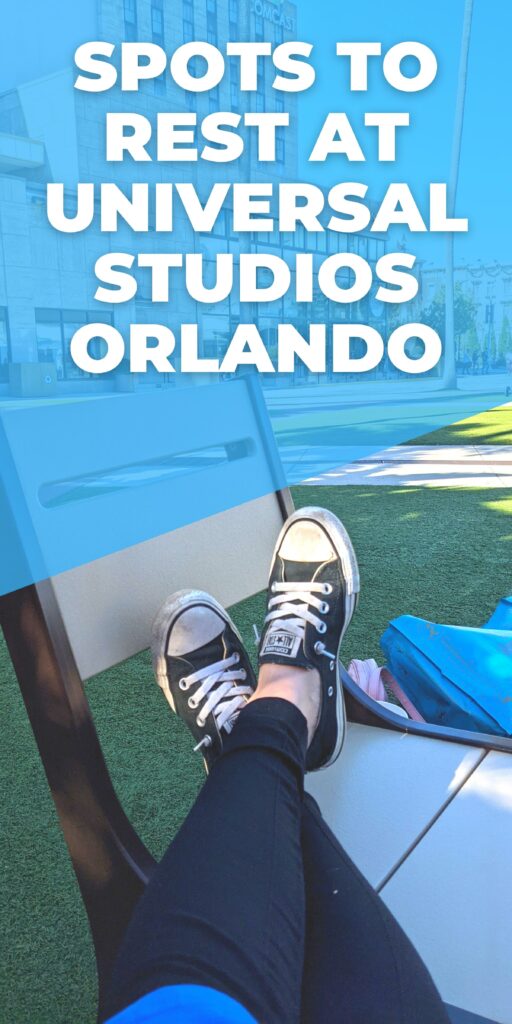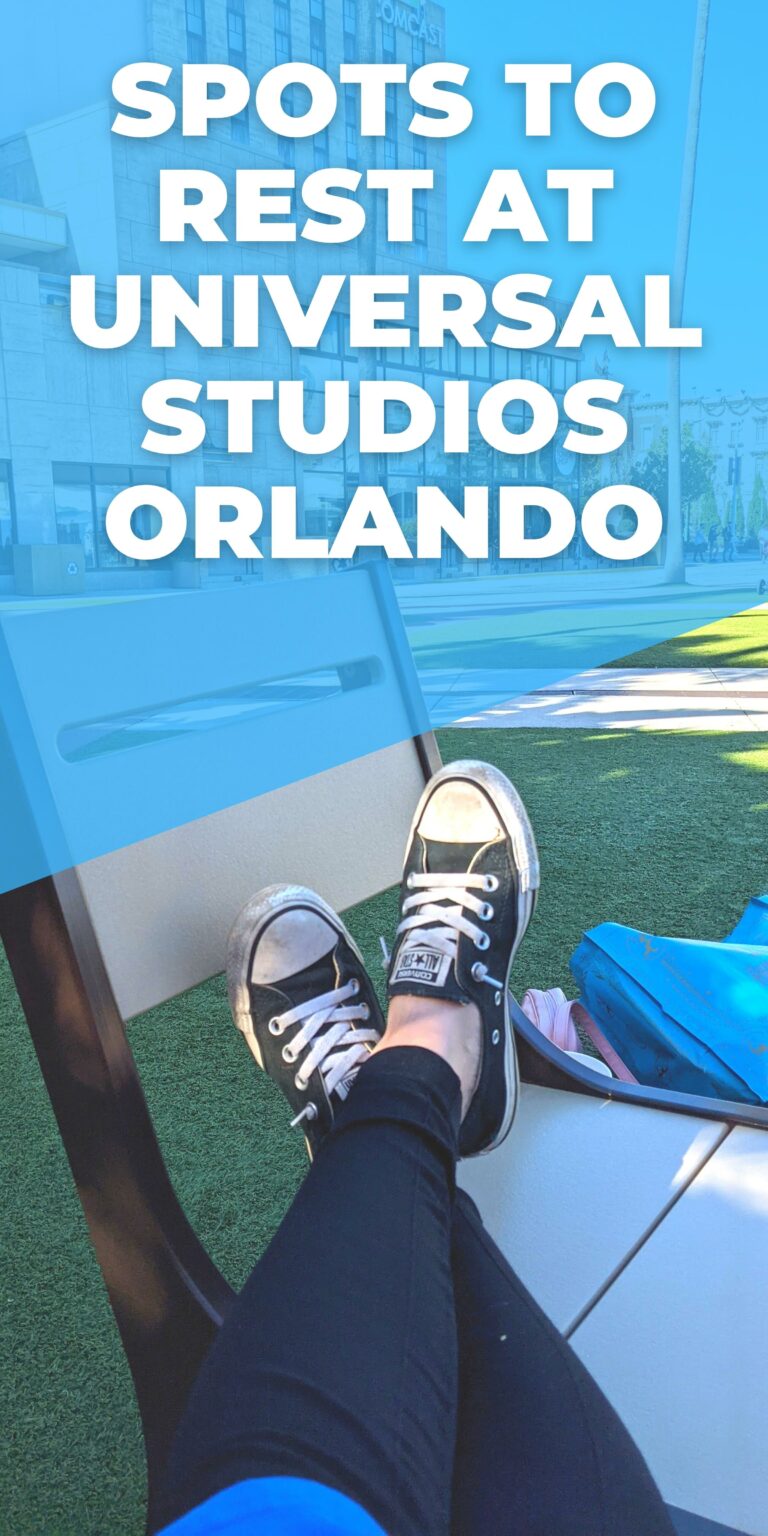 Places to Rest at Universal Studios Orlando
After a long morning of fun at the Universal Orlando theme Parks, you need to take the afternoon off to rest. But where? There's no way a hot and busy day at one of Orlando's most popular theme parks could have spots where peace and quiet exist, right? Don't worry; there, in fact, is! As a UOAP (Universal Orlando Annual Passholder), I've got you covered! I have been to the parks enough times during various seasons to know where you can find great places to refuel. Here are some of the best spots to rest at Universal Studios and Islands of Adventure:
Universal's Islands of Adventure
These are the best spots to rest at Universal Studios Islands of Adventure.
The Three Broomsticks in Hogsmeade – This is by far my favorite place in Islands of Adventure to grab a table and a meal, beverage, or snack to refuel! I highly recommend picking an outdoor table unless incredibly hot and humid summer day. Seating at the Three Broomsticks does not require a reservation, and each table is either under an umbrella or the big tent pavilion. You also get a good view of Hogwarts castle and can catch a nice breeze from Jurassic World's Velocicoaster zooming by.
Pavilion near Filch's Emporium of Confiscated goods in Hogsmeade – This pavilion offers plenty of benches tucked in right next to the chaotic crowds of Hogsmeade. It's a great place to find shade and sit for a while, but it does get busy during peak times.
The Cosmic Strip Café in Marvel Superhero Island – I highly recommend this café for a late dinner or time to rest later into the evening. The large group I came with one day enjoyed complete silence and a meal during after-dinner hours, while most people were back out on the attractions.
Sneetch Beach Side Street in Suess Landing – This kiddie-themed area is not much of interest to most guests looking for thrill rides, which makes it a great place to rest your feet. Even during crazy busy times of the year, there never seem to be many people sitting along the benches stretching quite a ways throughout this side of the park. Suess Landing also features many slower rides with short wait times that are perfect for resting your feet on, too!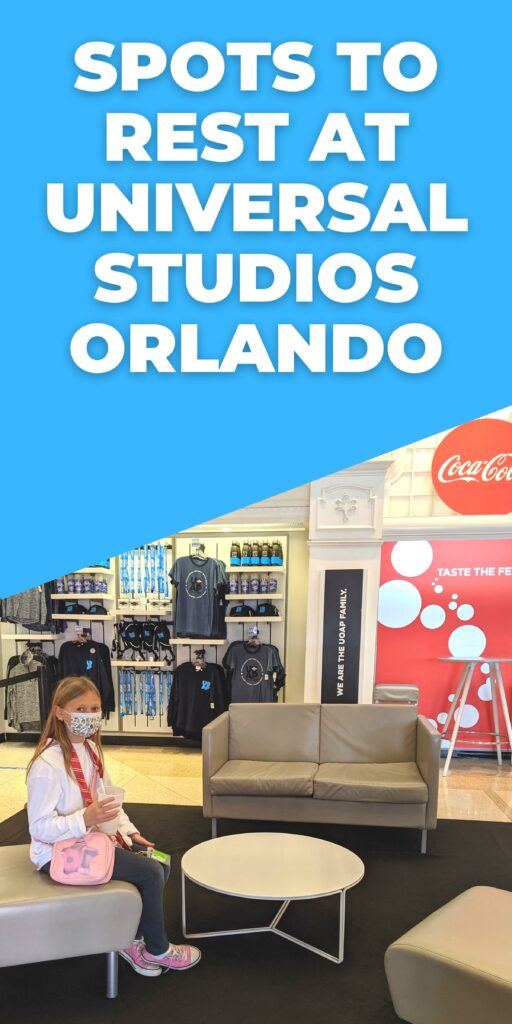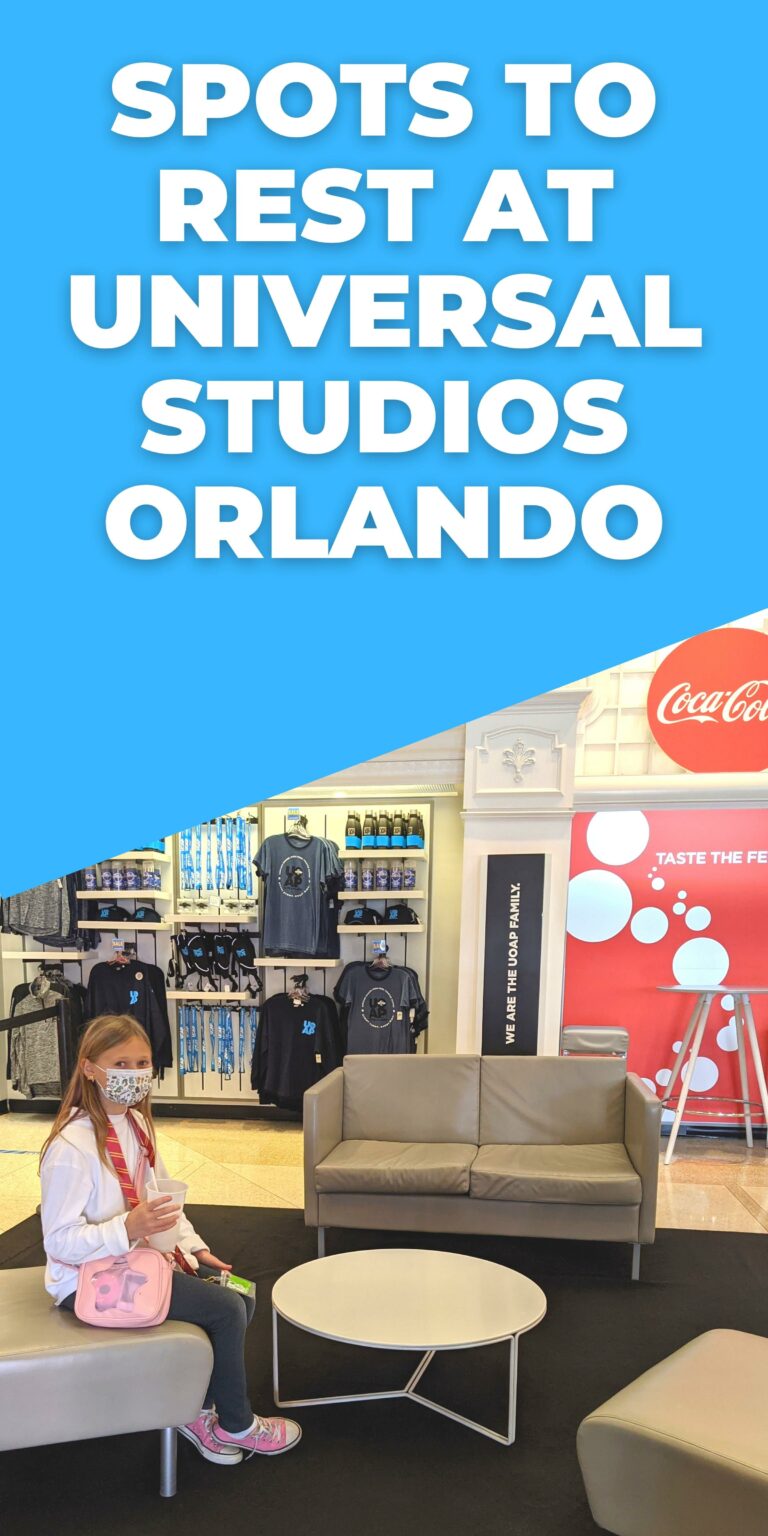 Universal Studios
Best spots to rest at Universal Studios Orlando.
Curious George Goes to Town – This water play area is one of the best-kept secrets of the park. There are plenty of places to sit down while the not-so-tired kids run off and play! I highly recommend this area for guests of any age that want to cool themselves off during hot afternoons. Just be mindful of all the little kids!
Fievel's Playland – Located right next to the Curious George play area, this is also a great spot to rest in a quieter environment and let the energetic kids play!
Dreamworks Destination – This place is right in between Fievel's Playland and the Curious George play area. Every time my family has visited this area, it has been completely empty
Update:
Sadly, Fievel's playland, Curious George Goes to Town, and Dreamworks Destination is currently undergoing construction. It is likely that these areas are being removed and replaced with new themes.
Grass area near Rip Ride Rockit – My family enjoys lounging and snacking in this grassy area while my thrill-seeking siblings and I go on Rip Ride Rockit. The grass area also provides a great view of the coaster in action, and venues for popcorn and beverages are very close by. This isn't necessarily the quietest spot to rest in Universal Studios since you are an ear-shot away from Rip Ride Rockit guests screaming their heads off, but it is a great place to rest!
Nocturn Alley in Diagon Alley – Depending on the season and the time of day, this can be a very quiet spot to venture around away from the blinding sun and heat. Even on a busy day, it feels so nice to walk through for the sake of the air conditioning. While, as I have said, this area can be crowded, the alley does provide a nice break from the hot sun.
Central Park – This is a very quiet and shaded spot to rest and refuel! It offers large grassy planes for picnics and plenty of benches. Central Park also gives a great view of most of Universal Studios! Central Park is beautiful, and the trees surrounding the area provide shade from the hot sun.
Annual Passholder Lounge – I have to mention this spot, even though it does come with a catch. The VIP Annual Passholder Lounge is an awesome spot to sit and chill on a hot day, but you do have to be a Universal Orlando Annual Passholder to get it. If you've never checked it out before, find it on Hollywood Blvd next to Schwab's Pharmacy. The lounge is open from 11:00 to 4:00 on most days, and you'll need to present your pass to enter. You'll find seating, Passholder merchandise, and drinks to purchase. This is also where you can pick up any Passholder exclusive giveaways that are available.
Other Tips
These are some of my favorite places to rest at the Universal Orlando theme parks, but there are also other places throughout the parks to rest and refuel. Most of the time, it depends on the season and the time of day, and during the off-season, you can expect anywhere to be quieter than it would be during the summer or other holidays. Try to hit restaurants on the off-times and not at peak meal hours. Hopefully, my insights can help you to enjoy your time at the Universal Orlando parks to the fullest!