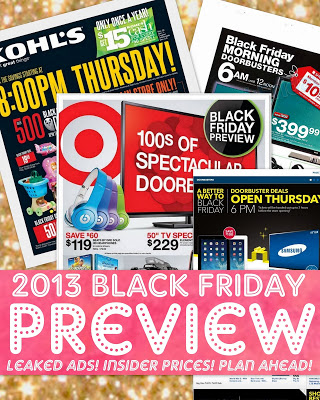 Do you have Black Friday Traditions? This year my daughter's 7th birthday lands on Black Friday.  I guess she truly was Born to Shop :) My husband and father-in-law usually hit things pretty early or late depending on how you look at it. They've done Best Buy, Wal-Mart, Khols, etc. I would go early, but with young kids you can't both go at the same time or the purpose is defeated of saving money when you hire a babysitter!
My philosophy is that I don't want to ruin my entire day.  If I get up too early or stay up too late then my entire day is shot because I feel yucky.  I like to go around 6:00 when the early, early birds are going home and the leisurely shoppers are still in bed :)
To help you find the best deals look at all of the Black Friday Ads that are already LEAKED!!
Khol's Black Friday Ad 2013
Kmart Black Friday Ad 2013
JCPenny Black Friday Ad 2013
What are your traditions? What are you going to stand in line for this year? Want to see an ad that's not here? Ask.
~Julia