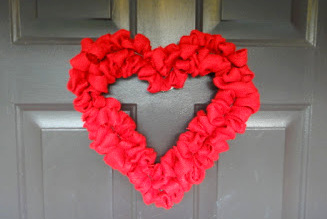 This red burlap heart wreath is super cute and perfect for Valentine's Day!
Find yourself some red burlap, or purchase
it from Hobby Lobby's On-line store:
Here
.
For this wreath, I used the same technique you can see
demonstrated in my burlap wreath tutorial: Here.
Use a heart shaped wreath form like the one seen here.
I got mine at Hobby Lobby and you can find the exact
one at their site for only $2.47:
Heart Wreath