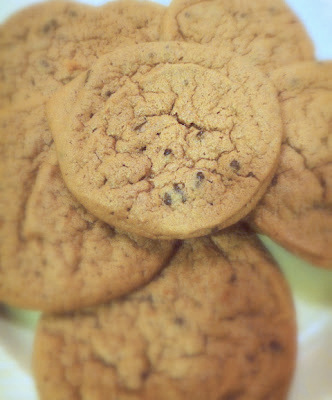 My sister made the mistake of leaving a plate of cake batter cookies out on the kitchen counter one day… BIG mistake. Never had I tasted such goodness! I've seen enough recipes popping up lately, to know cake batter is the new big thing. Cake batter dip, cake batter cookies, cake batter in everything. I couldn't remember exactly what my sister had said she used in her recipe, so I turned to Pinterest for answers. I found a bunch of recipes that called for 1 cup of the cake mix. Well that's stupid, I thought, what do you do with the rest of the mix?? So, I improvised, mixed a bunch of stuff together and voila! They were pretty good if I do say so myself. This recipe made about 3 dozen. We ate first dozen in 5 minutes flat.
Recipe:
1 Box dry cake mix of your choice (I used a yellow cake mix)
1 Box dry instant pudding mix (I used chocolate)
1 1/2 sticks butter, softened
3 eggs
Sprinkles or chocolate chips if desired (I used chocolate sprinkles)Mix all ingredients together well. Drop by spoonful or roll into 1″ balls and place on cookie sheet. Bake at 350 degrees for 10 to 12 minutes. Let sit for 1 minute on the pan, then move to a cooling rack. Enjoy!
~Sarah