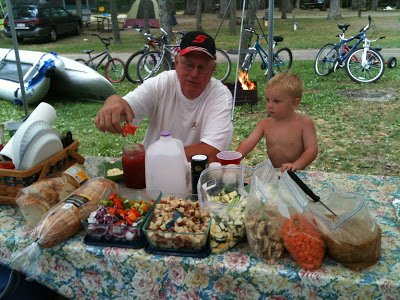 If you have been camping, you know tasks that you perform at home without much difficulty take much more planning and forethought. Making dinner is a prime example. This past weekend we went camping and my sister-in-law made the best Hobo Dinner around. Here's how she did it.
She spent time chopping green peppers, red peppers, onions, zucchini, carrots, mushrooms, and cubed chicken. Each of those dishes had a serving utensil.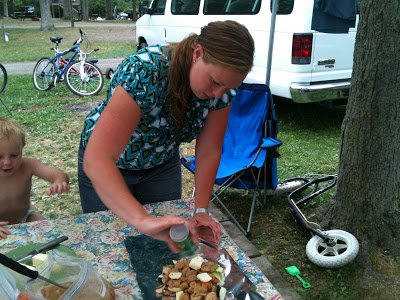 Each person dishes what they want onto their single layer of foil. The shinny side should be what you put your food on. If you are placing it directly into the fire double foil. Put three pats of butter onto your food. That prevents sticking and gives it something to cook in. Cooking spray would also work. Add seasonings to taste. Sharon provided, garlic salt, salt, seasoning salt, pepper and Italian seasoning.
Fold the bottom, top and edges to enclose your food.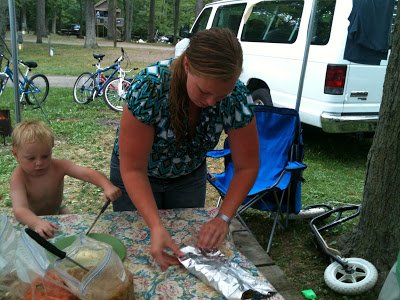 Don't worry about Ransom. He put the utensil down and was not harmed during the filming of this dinner :)
Label each dinner with each individual's name.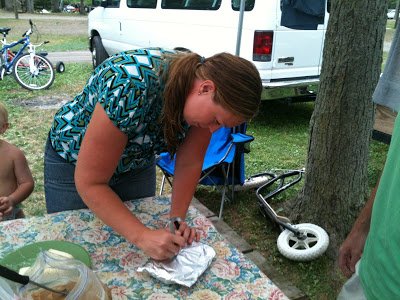 Our father-in-law had a tripod that allowed us to cook over the fire for thirty minutes. And we placed corn on the cob directly in the fire. Putting the Hobo Dinner in the fire works just as well. The beauty is it is not an exact science. The Hobo Dinners allow leeway in the temperature and the cook time.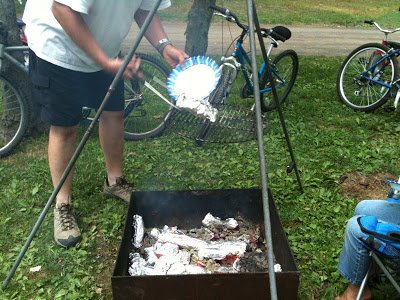 Delicious!!