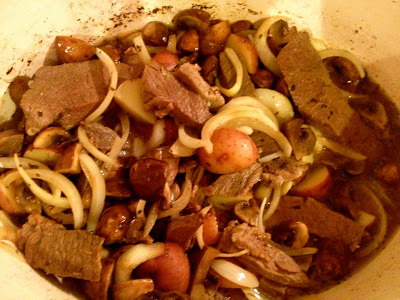 What was your favorite Christmas present? My favorite present was an enamel covered cast iron pot. I decided to give it a try last night and here is what resulted. The great thing about these pots is that you are supposed to do everything in one pot, and you can!!

Here is a recipe that I created for our family:
Rinse and halve 1 lb. of fresh mushrooms and slice 1 onion. Put your cookware on a large burner on a high setting. Melt 4 tbsp. of butter and saute mushrooms and onions for 3 minutes.
Remove from pot and set aside. Keep the pot on the burner. Melt the 2 tbsp. butter. Cut beef into 1/4 inch thick stripes and brown on both sides in the pot about 5 minutes. Add cubed potatoes if desired.
Add 1 1/2 cups of beef broth (you can create your own with beef boulion cubes). Bring it to a boil, reduce heat, cover and let is simmer for 40 minutes.
Add mushrooms and onions back in. Cover and simmer for 5 minutes.
Enjoy!! ~Julia