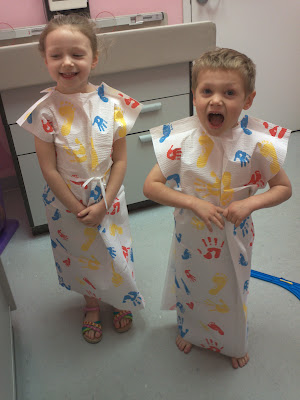 Taylor turned 4 years old this past May. About the time he had completely transitioned onto solid foods, he started having a lot of skin issues and flair ups of a red, itchy rash that would eventually split open and turn into open wounds all over his body. He also demonstrated what seemed like digestive issues and loss of apatite. He was always congested, and had watery, glazed over eyes. He would also go through periods of time with an extremely runny nose and sneezing fits which would result in bloody noses every night. We began researching what could be causing his issues, and thus, the long journey of allergy testing and experimenting with different medications began.
We thought it was food allergies at first, and began experimenting by taking him off of dairy products, wheat, gluten, eggs, nuts, you name it. Sometimes there seemed to be an improvement, but not great enough to convince ourselves of an explanation. We had a very hard time convincing our pediatrician to do anything or give us anything. He didn't believe in allergy testing on a kid Taylor's age, and was convinced that he'd grow out of whatever it was he had. I was convinced there had to be something out there to ease his discomfort, so we continued searching.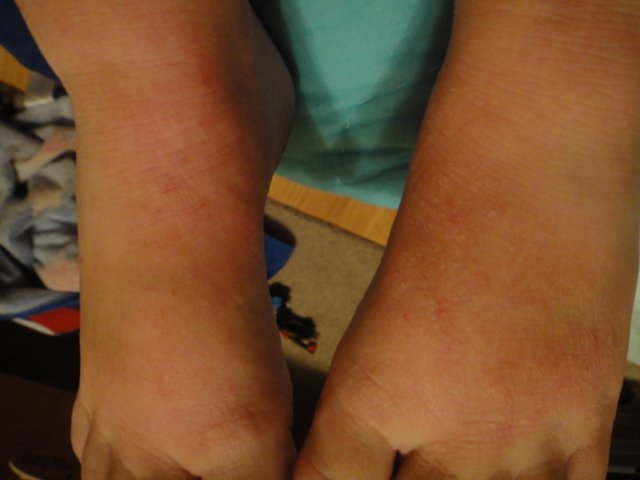 This is Taylor's skin on a really good day. We've seen a lot of good days and bad days since he was born, but it's hard knowing that even on the best days, he's always uncomfortable.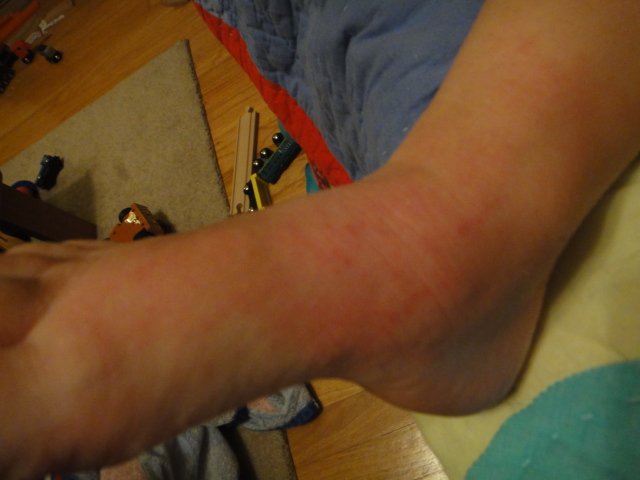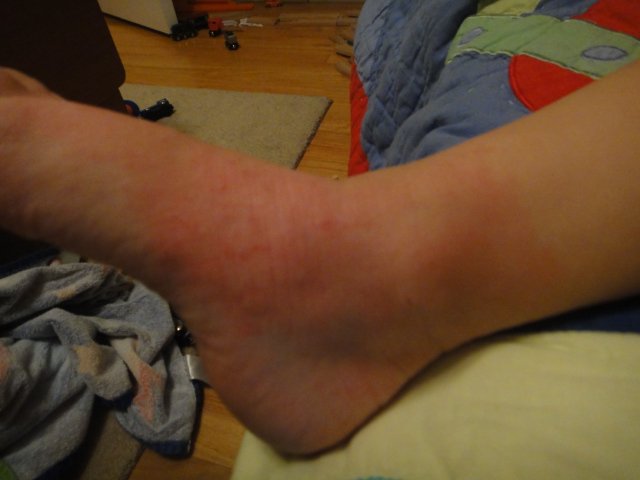 My advice for anyone concerned with the possibility of a food allergy, seasonal allergies or skin irritation, is to start researching, experimenting, getting blood tests or skin tests done if possible, and figuring it out through trial and error. I have many friends who were able to get a simple blood test done to determine their child's food allergies. We have not had an easy road, but have discovered what works best for us to keep Taylor at his best.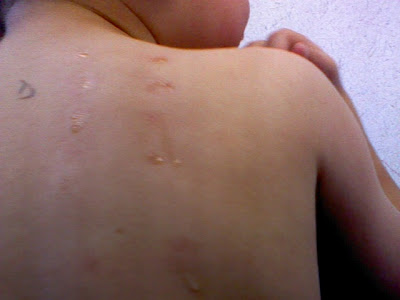 If you can, see an actual allergist who may choose to conduct a skin test. We finally got in to see an allergist after years of hearing from the pediatrician that allergy testing was not necessary. The allergist was a great listener and decided to do the skin test just to be thorough. He chose to test him for a broad spectrum of common environmental allergens (nothing food related). It was uncomfortable for Taylor, but just for a moment. The test results showed he was allergic to trees and cats. OK, so not real helpful as those are things that will be found literally, everywhere. There is no real way to stay away from them.
The allergist was concerned with Taylor's hearing because of how congested he is on a regular basis, so he checked his ears and prescribed the nose spray, Flonase (Fluticasone Propionate). The nose spray has been great and has almost completely relieved Taylor's symptoms of: runny nose, nose bleeds, itchy watery eyes, swollen eyes and dry skin around his nose and eyes. Yep, those are the symptoms he was experiencing on a regular basis and are now almost completely gone, as long as he consistanly uses the spray. The reason the nose spray works better than loading him up during the day with other antihistamines (like Benadryl, Claritin, Allegra, etc), is that it targets the medication directly at the spot it needs it most.
The allergist also did the best job of explaining what eczema is and how we can help treat it. He finally was able to assure me that there is nothing we can do to heal it completely or make it go away (I say "assure me" because I have been convinced for years that there must be a reason and a cure). For some, eczema may be a symptom of a food allergy. For Taylor, he is one of many that is more prone to eczema because of his seasonal allergies, but it is not necessarily a symptom. We can't cure the eczema, but we can treat it and keep his skin on the defense against it. Here is a list of things we have learned over the years may help fight off eczema and other allergy related skin outbreaks:
Avoid all allergens that have been established as triggers for flair ups (environmental allergens, specific foods, certain kinds of animals, etc)
Use a free and clear (dye free, fragrance free) laundry detergent
Do not use fabric softener or fabric sheets
If possible, bathe your child as soon as they come in for the day after playing outside. Or, at least wipe their face off and wipe down their arms and legs with a wash cloth and slather on some lotion
Use a special, sensitive soap and lotion like Cetaphil
Use specifically fragrance free lotions designed for sensitive skin
Administer an antihistamine like Zertec (cetirizine) at night (the allergist said Zertec, specifically, is best for eczema)
Treat open sores caused by the eczema like any other wounds, with a triple antibiotic ointment
Use a prescription strength cream like Triamcinolone Acetonide, Locoid Lipocream (hydrocortisone butyrate 0.1%), or Mometasone Furoate Cream on bad skin outbreaks (these are all tubes of ointments that we've used and it takes just a tiny bit to do a lot of good)
Keep skin protected with socks and shoes, long pants, etc. Limit the exposure of skin to grass and other allergens.
Use special allergy pillow case protectors to fight against dust mites and other allergens
Wash bedding on a regular basis in free and clear detergent
Keep bedrooms clean and clutter free – vacuum regularly. Wood floors are best, but keep carpet clean.
Limit exposure to pets that may have a heavy dander, like cats.
We do our best to follow ALL these steps on a regular basis. I know it's a lot, but it's just a way of life for us. Start by checking out some reputable web sites. I really like the information provided on the Mayo Clinic site, and I know it is all trustworthy:
I hope this is helpful! Don't give up seeking the answers you need and figuring out what will work best for your specific child. ~Sarah