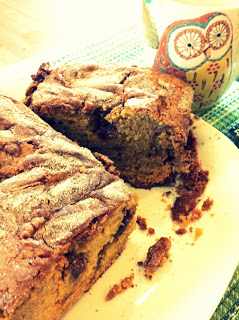 Every Monday morning, I pile the kids into our minivan and head over to my sister's house for a time my friends and I call our "reward." The homeschooled kids get some socializing in, while the moms get to load up on coffee, encouragement and very often, some yummy goodness. Last week, Jill had something special cooking in the oven when we all arrived. She was so excited to pull it out of the oven, she could hardly contain the urge to peek inside every 30 seconds!
Come to find out, she had found the recipe on Pinterest for
Amish Cinnamon Bread
, by no other than Julia's cousin, Melissa over at
Redfly Creations
! Melissa has guest posted on our site and we love the quality inspiration she publishes on a regular basis. What a small world. The bread was delicious and complimented our coffee and discussion just beautifully.