Is a Disney Park Hopper ticket really worth the price? Can you see everything at Disney World in one day? I'm going to share how my family maximizes our park hopper tickets to see everything we want to see in one day!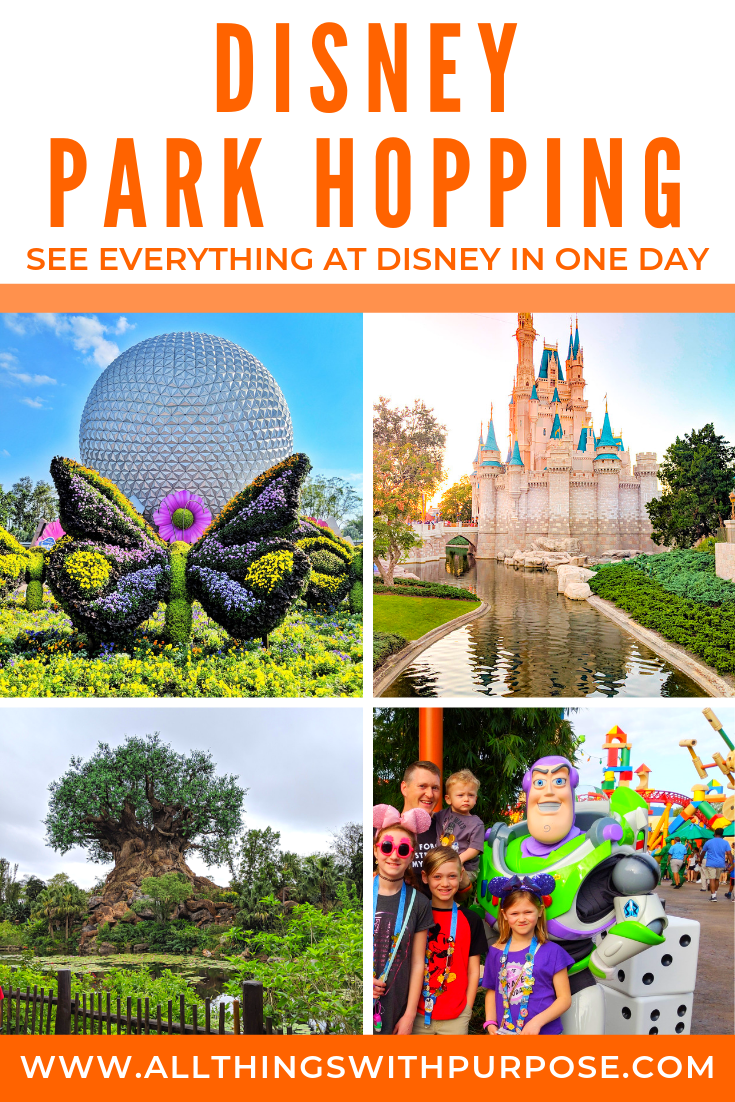 I've shared before about my opinion on multiple day tickets to Disney World with young kids. One day at any Disney park is a magical, wonderful, fun-fill day of happiness, but it's also super tiring!
When our kids were tiny, I can't imagine having gone back in to a park without having at least one day in between to rest. To save money and sanity, we normally buy a regular base ticket and pick ONE park to visit per trip to Florida. BUT now that our kids are a little older and we all know exactly what we really want to see, we have bought park hopper tickets and seen everything we want to see at 3 out of the 4 parks in ONE DAY.
How can you choose between a picture in front of Cinderella's castle or meeting all the Star Wars characters? You just can't. It's super hard. So, if you don't want to take multiple days at Disney, a park hopper is the way to go!
How to Maximize Your One Day Park Hopper Ticket
Buy a One Day Park Hopper ticket for everyone in your group.
Make a list of the shows, attractions, rides, restaurants, and characters that you absolutely have to see at each park! Now, narrow it down to an "absolutely can't miss" list and a "if we have time" list.
Get fastpasses ahead of time for the big rides you know you want to hit.
Be ready to start the day early! Be prepared and be at your first park before they open.
Drive if you can, you'll spend less time waiting on shuttles and buses to arrive and won't have to make unnecessary stops.
Go with a couple meal options or make reservations if you have a specific place in mind.
You'll have time for all 4 parks if you walk fast and stay focused. You'll have more flex time and breathing room if you eliminate one park. We have usually eliminated either Epcot or Animal Kingdom so we have more time to spare. Base this on the attractions your family really wants to see.
Go in this order: Animal Kingdom, Hollywood Studios, Epcot, Magic Kingdom. Unless you're staying at a Disney Resort and have access to a park with extra magic hours in the morning. If there is a park open later on the day you are there, save that one for last or go back to that one last.
Perks to Staying at a Disney Resort
The last time we went to Disney World, we camped at the Fort Wilderness Campground. The campground is right across the lake from the Magic Kingdom and accessible by boat.
Perks to staying at a Disney Resort include:
Extra Magic Hours: Each day of the week, a specific park will let resort guests into the park earlier and stay later than the general public. This gives you extra time to spare when trying to fit everything into one day!
Resort transportation. Though this is not always the quickest rout, we found the boat ride back to our campsite from the Magic Kingdom to be an enjoyable ending to our day.
Concierge service that is extremely helpful for making last minute dining reservations and getting Fastpasses.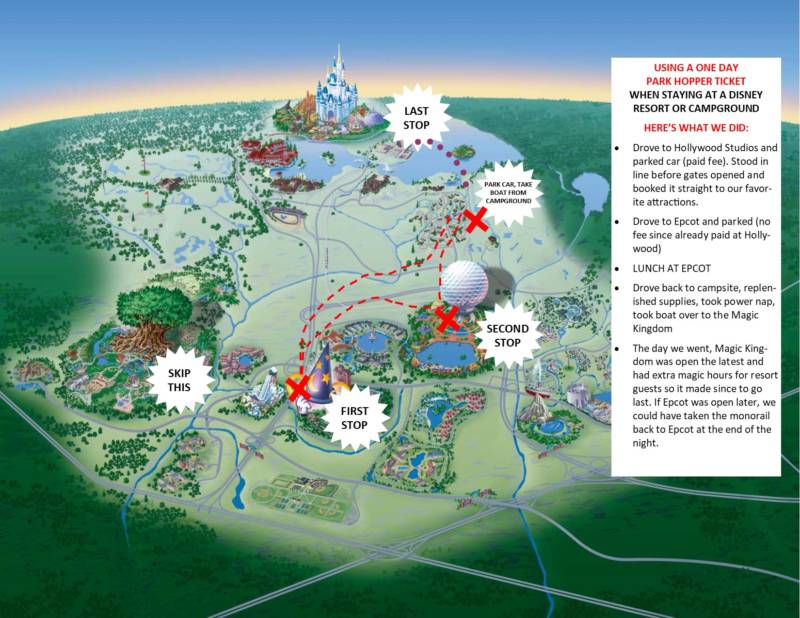 What we did
We chose to skip the Animal Kingdom this past time around to give us more breathing room. We bought park hopper tickets and started the day at Hollywood Studios.
STOP 1: We drove to Hollywood Studios and got there before the general public (with our extra magic hour) and booked it straight back to get in line to meet Kylo Ren. We then hit the couple other spots on our map, took some pictures and left. Driving saved us time and you only have to pay for parking once per day.
STOP 2: We drove to Epcot and parked (no parking fee this time). We hit the couple things we wanted to see and ate lunch in Mexico, then left.
STOP 3: We headed back to our campsite and parked our car. There, we grabbed our sweatshirts for later, fresh bottles of water, had a snack, changed from Star Wars outfits into pirates and princesses and Papa took a nap. We then hopped on the boat from Fort Wilderness Campground over to the Magic Kingdom.
STOP 4: We saved the majority of our time for the Magic Kingdom, since it has the most to see. We also made sure that our fastpasses were all for later in the day, at the Magic Kingdom, so we didn't risk missing our times. The Magic Kingdom was open later than any other park that day, so it made since for it to be our last stop.
What about you?
Have you ever used a one day park hopper ticket at Disney World and lived to tell about it? I'd love to hear!!