Grand Legacy at the Park
Whether you're visiting Disneyland with a large family or on a romantic getaway for two, Grand Legacy offers comfortable accommodations and great amenities. When compared with hotels on Disney property, Grand Legacy offers many of the same conveniences at a fraction of the price.
We just returned from our 20th anniversary trip to California and had the pleasure of staying at Grand Legacy at the Park for a second time. Grand Legacy is considered a Disneyland "Good Neighbor" hotel, which is not on Disney property but crazy close to Disneyland in Anaheim (it's even closer to Disneyland than the Disneyland Hotel)! But proximity alone is not the only reason we love Grand Legacy.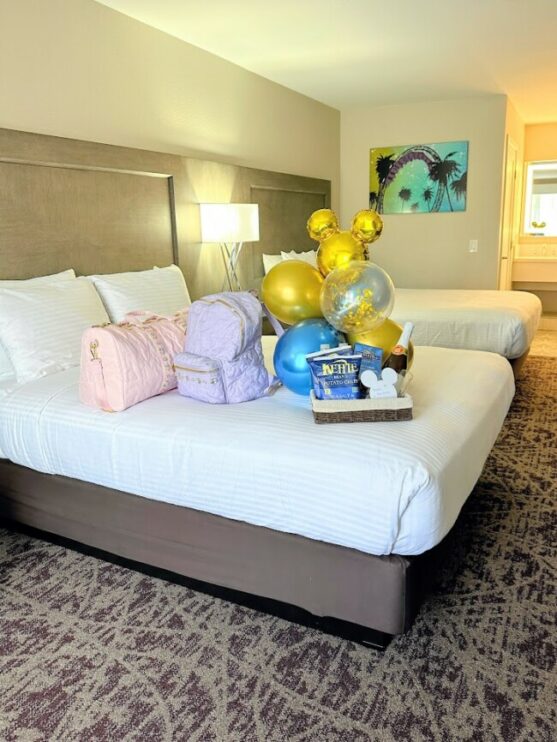 What We Loved
I'm going to state the obvious (location), but also share a few other reasons we love staying at the Grand Legacy.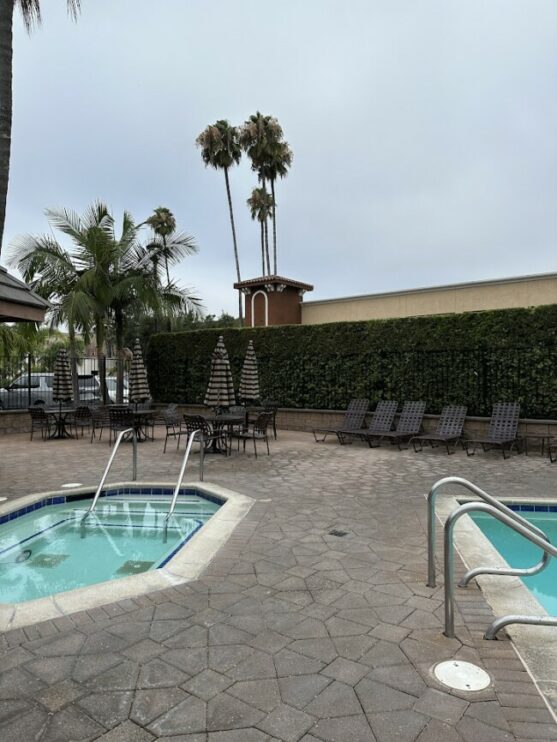 Location, location, location. The proximity to Disneyland and Disney's California Adventure park is crazy close, but it's also close to so many other places! We chose to get a Lyft from the airport to our hotel, and stayed the entire time without a car. We were a short walk to numerous shops, restaurants and even a mall. The pictures below show the walking directions from Grand Legacy (0.3 miles) to the Disneyland front gates, compared to the Disneyland hotel (0.5 m.
Style. The style at Grand Legacy is clean and modern. It is minimalistic, yet cozy. Many of the rooms have been recently updated. We stayed in a new Luxury Plus room that had subtle Disney style throughout.
Price. When pricing out other options in the Anaheim area that were within walking distance to Disneyland, nothing else was comparable to Grand Legacy.
Room options. You can compare the different room options here: accommodations. This time around we stayed in a Luxury Plus room, but when we came with kids, we did two connecting classic rooms. There are connecting rooms available throughout. I stopped at the front desk to ask specifically about this for families. While they cannot be guaranteed, if you request a connecting room, they do a really good job of honoring that request!
Amenities. With so many hotels offering fewer and fewer amenities these days, we were really happy with the things that come standard in the rooms at Grand Legacy. We absolutely loved having a fridge and microwave! All rooms also have access to the pool and laundry facilities. Here are a few things included in a classic room (which is the most basic option):

Wi-Fi
Refrigerator
Microwave
Pillow-top mattress
In-room coffee
Phone & voicemail
Cable TV
Alarm Clock
Hair dryer
Iron & ironing board

Special occasions. The staff at Grand Legacy is great at providing special touches to help you celebrate your special occasion! Be sure to mention what you are celebrating and ask about options.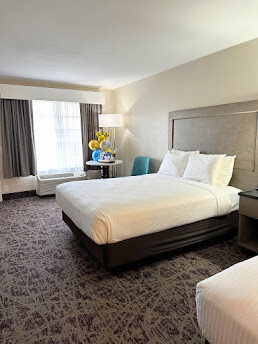 How to Book
You can book directly with Grand Legacy (which is preferred), or through Disney's website. Please note, if you book through Disneyland, you will be purchasing a vacation package that includes park tickets. If you would rather book à la carte and save some extra money, book directly through Grand Legacy.
We stayed in a new Luxury Plus room this time around, which was not advertised as having a view of the fireworks – but, we were excited to discover that you could see them from our window! There are many places throughout the property where you can view fireworks. The best spot is up top, at the Fifth Rooftop Restaurant. There are also rooms available with a clear view of the fireworks, these are going to be the Luxury Rooms with rates starting at just $237 a night!
We had a magical time at Disneyland, celebrating our 20th anniversary! This was such a fun trip to take just the two of us, without kids. Thank you Grand Legacy for helping make it a relaxing stay!