The Little Mermaid
The long-awaited live-action remake of Disney's The Little Mermaid is finally here! Premiering Worldwide May 26th. This retelling of the beloved Hans Christian Anderson fairytale, The Little Mermaid features many of our favorite songs from Disney's animated feature, plus three new originals from Lin-Manuel Miranda. Carissa and I were invited by Disney to experience an early screening of the movie at the AMC at Disney Springs. It was a beautiful event and we went in our mermaid finest!
"The Little Mermaid" is the beloved story of Ariel, a beautiful and spirited young mermaid with a thirst for adventure. The youngest of King Triton's daughters and the most defiant, Ariel longs to find out more about the world beyond the sea and, while visiting the surface, falls for the dashing Prince Eric. While mermaids are forbidden to interact with humans, Ariel must follow her heart. She makes a deal with the evil sea witch, Ursula, which gives her a chance to experience life on land but ultimately places her life – and her father's crown – in jeopardy.

Walt Disney Studios
Directed By: Rob Marshall
Written By: David Magee, Rob Marshall, John DeLuca
Produced By: Marc Platt, Lin-Manuel Miranda, Rob Marshall, John DeLuca
Cast: Halle Bailey, Daveed Diggs, Jacob Tremblay, Awkwafina, Jonah Hauer-King, Art Malik, Noma Dumezweni, Javier Bardem, Melissa McCarthy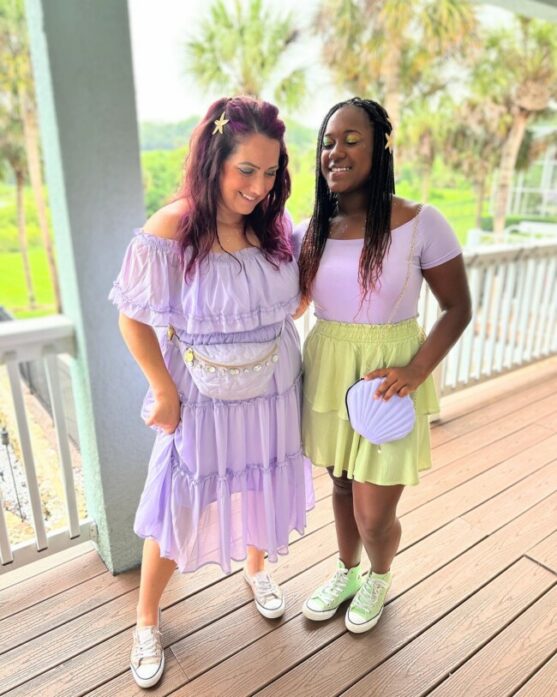 Ariel Disneybouds
We both Disneybounded as Ariel for this event. You can find links to all the pieces warn in our outfits here: The Little Mermaid Disneybounds or on my Amazon shop here: Shop Amazon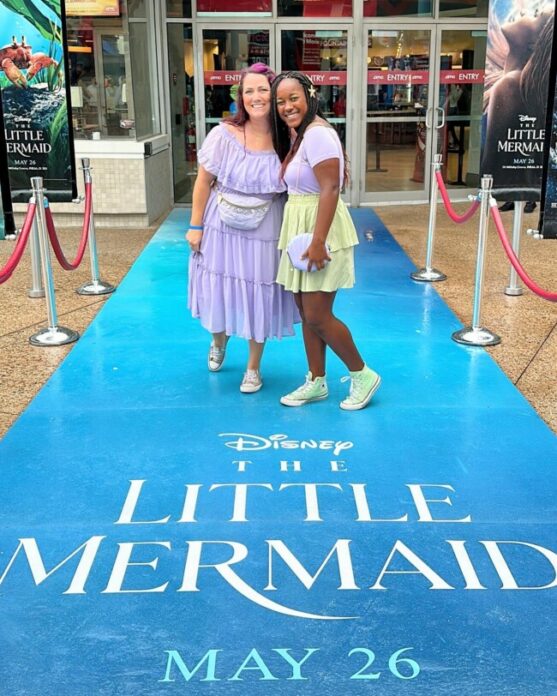 Movie Review
Carissa and I were able to see an early screening of this movie, so what did we think? Did it live up to the hype? Coming from someone that was in elementary school when the original animated classic was released in theaters, I was hopeful and excited to finally see this movie! The Little Mermaid was easily one of my all-time favorite movies as a little girl. Did the essence of Disney's animated version translate well into a live-action film?
Positives
I had already read some negative reviews and went into this movie a little guarded. I was nervous that the CGI would look funny and that the real-life depictions of our favorite characters would be distracting and weird. I held my breath through the entire intro, but my fears were put to rest! This movie was everything that I could have wanted and more!
The colors and imagery were bright and beautiful. We loved the extra depth they provided for each character, especially Price Eric. The music was flawless. The three new songs weren't our favorite, but they added extra aspects of the story that we really enjoyed.
I won't give any spoilers, but there were several deliciously wonderful scenes that made the audience audibly gasp in awe and smile so big (I know you can't usually hear a smile, but believe me, I heard everyone smile).
"you shouldn't have to give up your voice to be heard."

-King Tritan
There were several positive messages woven throughout the film, without feeling overly contrived or pushy. I loved the emphasis on bringing people together from different walks of life. We were reminded that just because one person is cruel or hateful, we shouldn't assume that everyone else like them is the same. There was a brief scene focusing on the carelessness of humans and their impact on ocean life. King Tritan says to Ariel, "you shouldn't have to give up your voice to be heard." At the end of the movie, after the human and mermaid worlds have been joined together by Ariel and Eric, Ariel reminds us that there is still work to be done, but this is a great "beginning."
Negatives
Like I said, I was nervous about the CGI and the images I had seen of Flounder and Sabastian. But seriously, as the movie played out, nothing bothered me. It all worked! They did a great job of balancing realism with fantasy. So, this isn't really a negative!
Because of this movie being live action, you would expect it to be a little more intense. There were definitely scenes that may be too intense for young viewers, but they were consistent with other Disney live-action remakes. It is also a little on the longer side, which may make it hard for small children to stay interested.
There were a few characters from the animated version that were left out of this movie. Overall, it didn't really bother us, but some people may be disappointed. There are several keys scenes that were filmed to match spot on with the animated version (hello, Ariel on the rocks). But there are a few key scenes (specifically the ending) that differ considerably and seem to be lacking the same magic.
Overall
I went into this movie a little skeptical. I wanted to cheer it on and to love it, but I was so nervous! All my fears were put to rest. This live-action version of The Little Mermaid left my nostalgic heart so happy. I cried happy tears and smiled the entire time.