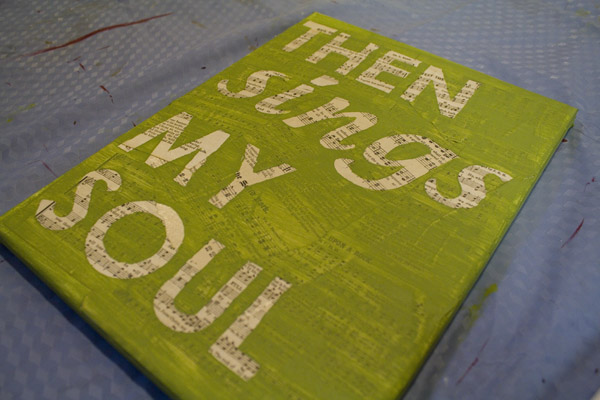 Hey, there! Stacy, here. I'm excited to be contributing here at All Things With Purpose today, but you will usually find me blogging over at Flights of Delight. That's where I share my DIY projects, natural home & personal care, and ideas for joyful & intentional living. Thanks for stopping by! This month, I decided to show you how to create this lovely sheet music song lyric wall art.
Besides highlighting some of your favorite song lyrics, the lyrics reveal sheet music underneath. What a wonderful project for anyone who loves music.
The ones you will see in my tutorial are ones that I made as a gift for my mother-in-law. We have a $5 limit for our Christmas gifts, which takes the focus off of material things, and forces us to see how creative we can get with just $5. This is what I came up with.
Sheet Music Song Lyric Wall Art Tutorial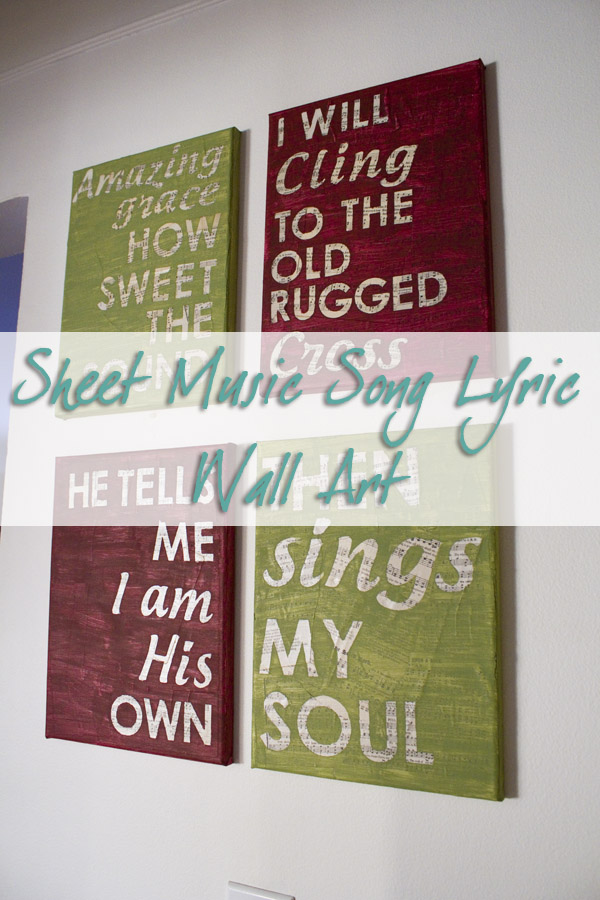 To get started, do a little lyric planning, then gather your supplies. I got a great deal on a value pack of 8″ x 10″ canvases, so I decided to take lyrics from four favorite hymns. Then, I got my items together:
4 Canvases
Assorted Sheet Music
Drop Cloth
Mod Podge
Sponge Brush
Cardstock
Scissors
Re-positionable Tacky Spray
Acrylic Paint
Paint Brush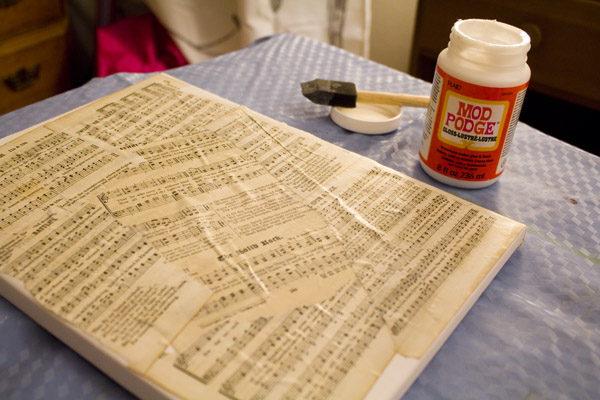 I started by selecting assorted sheet music. A few years ago, I bought a whole box of old hymnals from an estate sale for $1. I selected some pages, tore them a bit, and decoupaged them onto my canvas. Brush a little Mod Podge on the canvas, smooth down your sheet music, then lightly cover it with Mod Podge.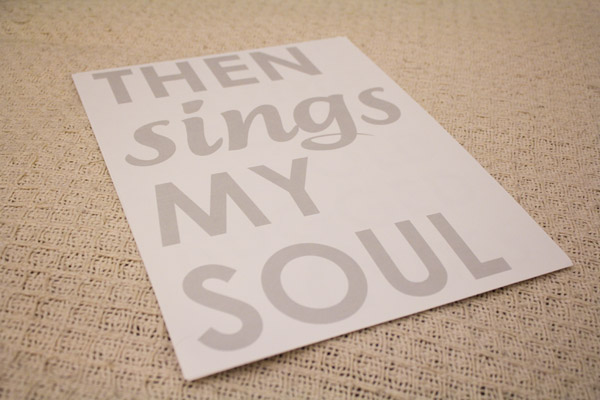 While you are waiting for your canvases to dry, print out your lyrics. Keep it short, and make sure that they will fit on your canvas. Then, cut out each letter. This can get tedious, so remember to keep your lyrics short and simple. To add a little interest, I used a basic font, and a script font to emphasize particular words.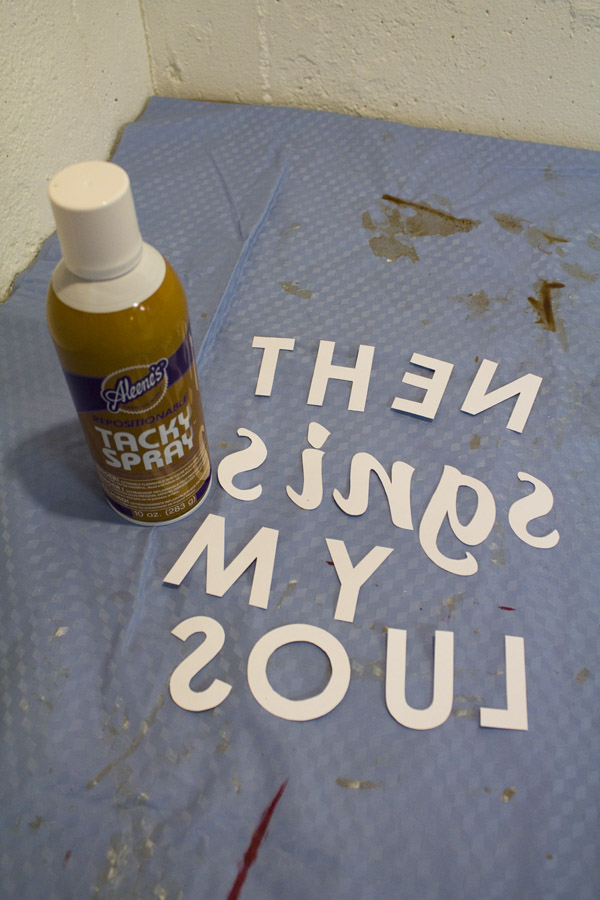 Once your lyrics are cut out and your canvas is dry, lay out your lyrics face down on your drop cloth. Very lightly spray the back side of your letters with re-positional tacky spray. Then, temporarily adhere your lyrics to your canvas.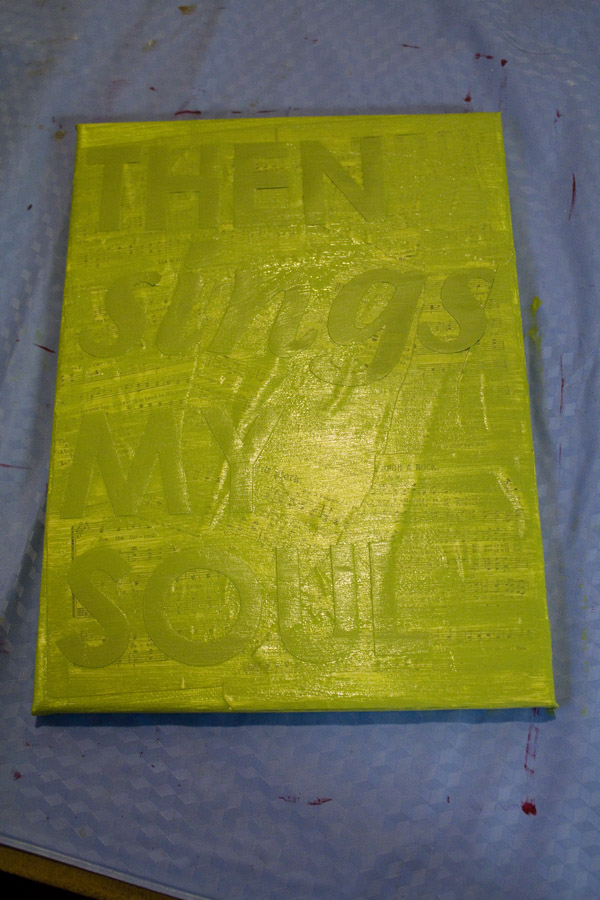 Once your lyrics are positioned nicely, paint over the whole canvas. Be mindful of your letters as you brush across them. I put my paint on fairly lightly, because I like the effect of the brush strokes and being able to slightly see the sheet music that is underneath.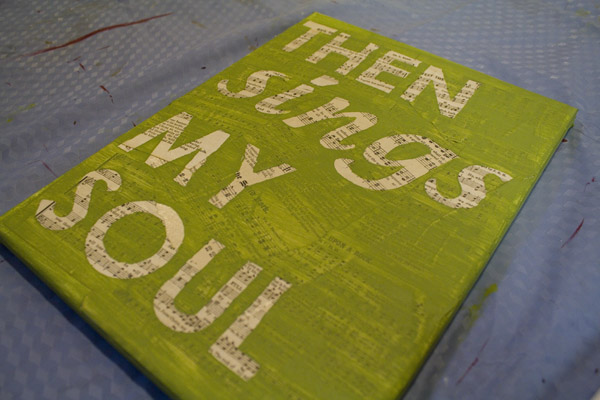 When you are done painting, carefully peel off the letters. Fingernails really come in handy for this! Then, let the paint dry.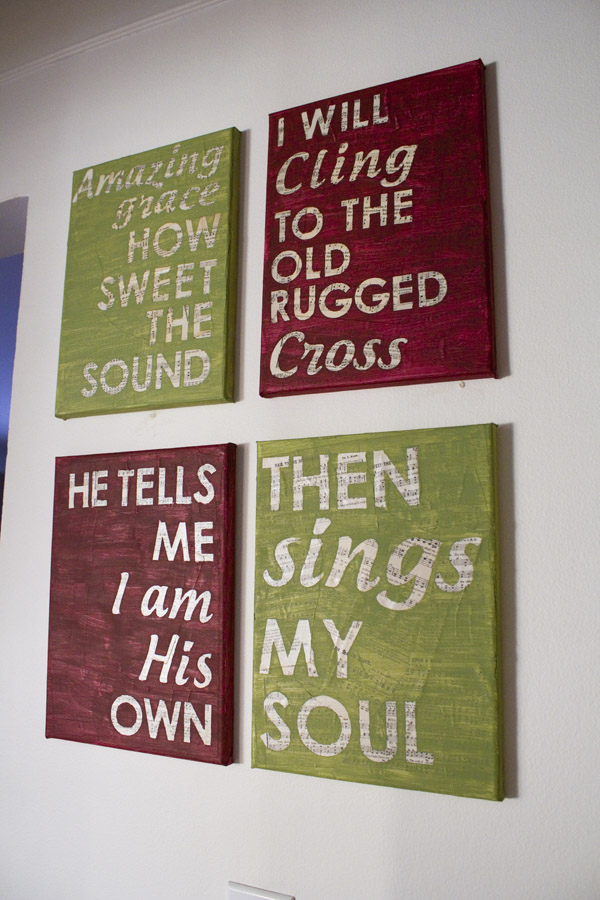 Finally, hang and enjoy! Or give as a gift- whatever strikes your fancy.
Thanks so much for joining me! I hope that you are inspired to make your own song lyric wall art- the possibilities are endless. If you're diggin' this project, please stop by and visit me at Flights of Delight! Check out my beautiful inspiration for this years' autumn decor color trend: teal & mustard. Then, grab a freebie- a pretty little reminder to enjoy the little things. Can't wait to come back in October!
Now, what song lyrics will you hang on your wall?