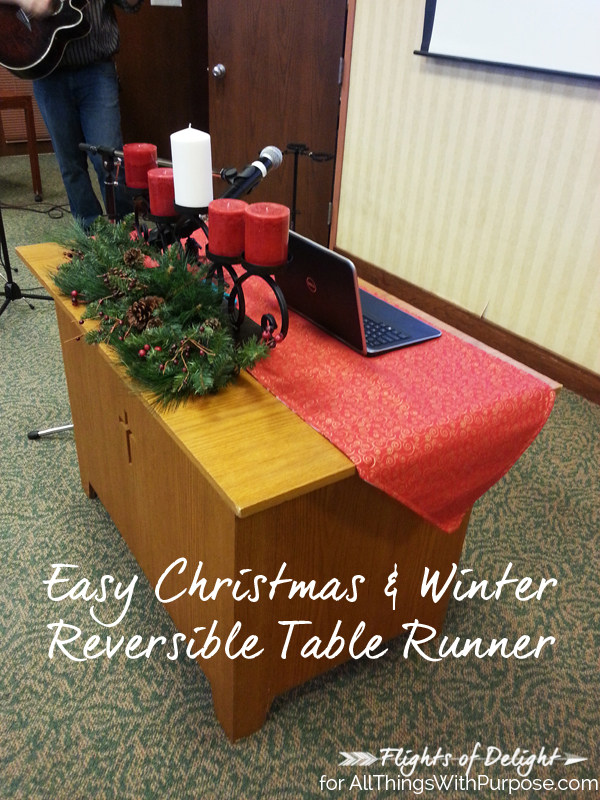 Happy December! Stacy here, visiting from Flights of Delight, where I blog DIY projects, natural health & home care, and joyful & intentional living by God's grace. Come visit me sometime!
Today, I'm going to show you how to make a reversible table runner to include in your Christmas decor and last through your winter decor, as well. It's easy, and even beginners can complete this project in less than an hour.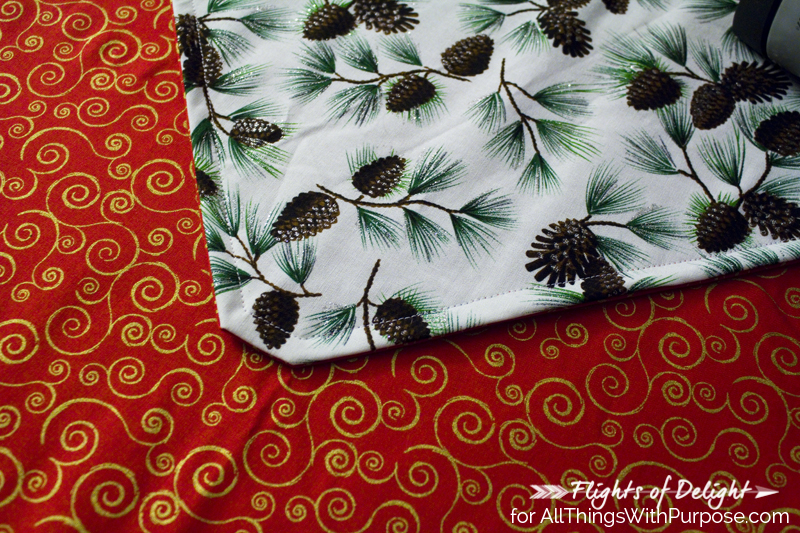 As you can see I have a red & gold fabric on one side, and a pretty white pine & pine cone fabric on the other (yes, it has glitter!). I created this for my church, as it is our first Christmas, and we needed a festive table runner for our podium. The red fabric matched with our advent candles, and the pine print will be lovely throughout the winter season.
Let's get started!
Reversible Table Runner Tutorial
Here are the supplies you will need to complete this project:
– 2 yards each of two fabrics of your choice
– 2 yards medium weight stabilizer
– Sewing Machine
– Scissors
– Thread
– Iron
To start, you need to decide what size you want your finished runner to be. Mine is six feet long, and about 21 inches wide. My stabilizer came in about a 22 inch width, so I decided to make that the width (minus seam allowances) to save myself some cuts.
Next, cut your fabrics to size. I cut them to the same size as the stabilizer. However, if you want your runner to be 18 inches wide when it's finished, cut the fabric to 19 inches to allow for a 1/2 inch seam allowance on each side.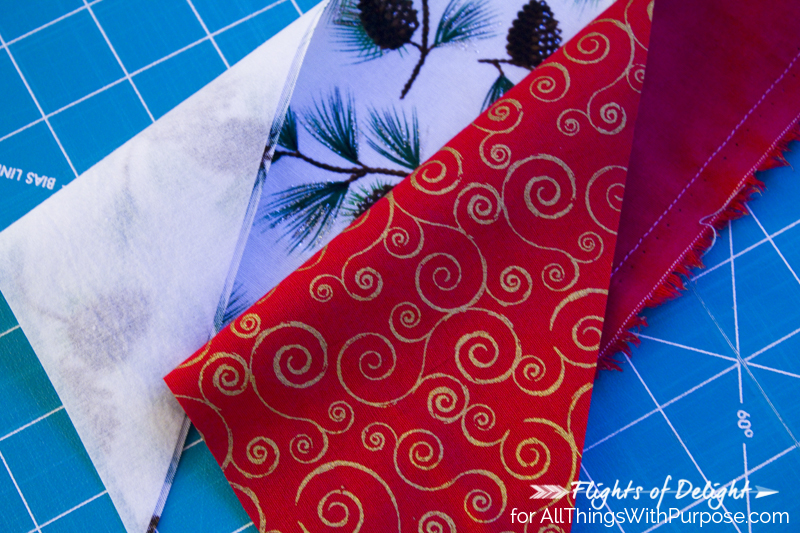 Once your fabrics are cut, place your two print fabrics right sides together (face to face), then the stabilizer goes on top of one or the other- it doesn't matter which one- and pin in place. If you wish to have a "v" shape or angled corners on the ends of your runner, cut them now. Then, sew a straight 1/2 inch seam all of the way around, except for a 6- 8 inch gap on one end.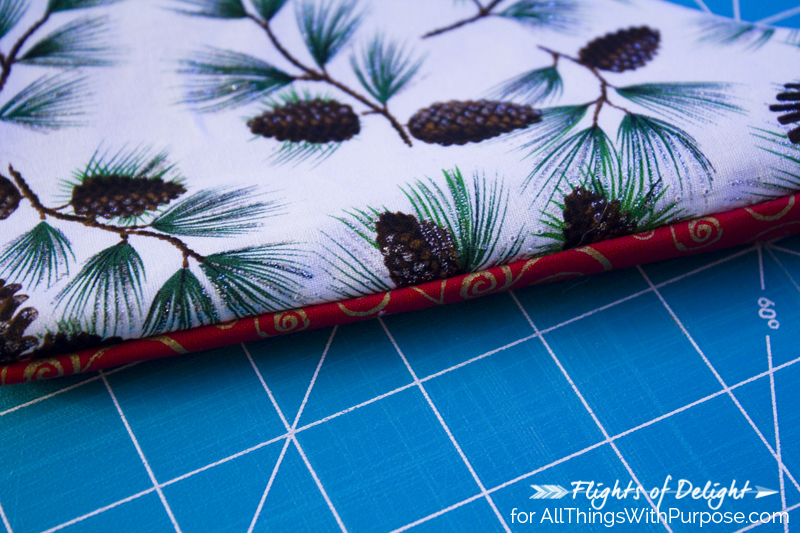 Through the gap that you left, turn the runner right side out, now. The stabilizer should be on the inside, and you should see your pretty prints on each side.
At this point, you can iron your seams flat, if that helps. With the stabilizer, I find that I don't need to take the extra step. However, you will want probably want to fold in the unfinished edges at your gap and iron them so that they match up.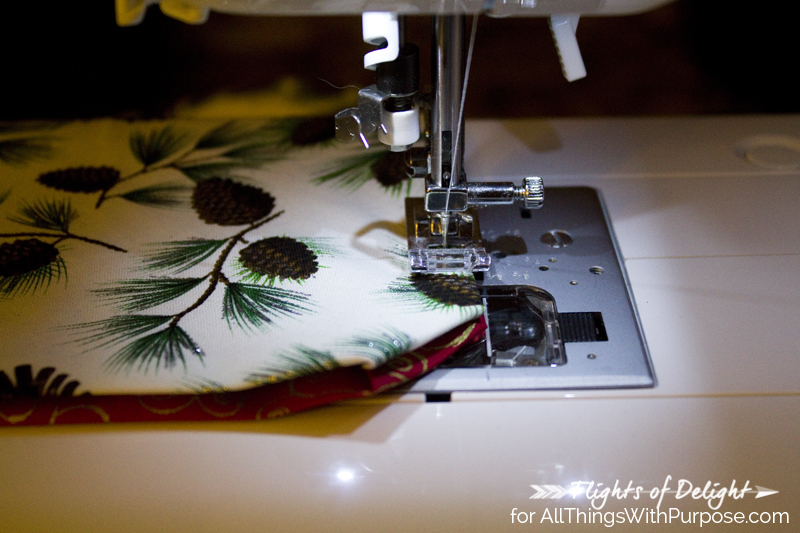 Now, sew your gap shut and continue sewing around the entire runner. Then, you're finished! Enjoy your homemade reversible table runner through winter. Of course, you will want to make one for spring and summer, too!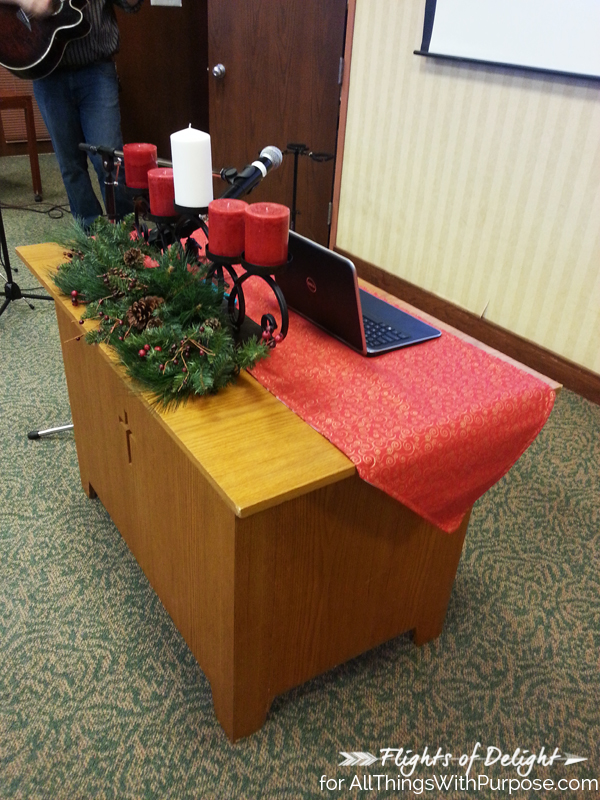 Thanks so much for stopping by All Things With Purpose today! I hope that you enjoyed my simple reversible table runner tutorial! Be sure to drop by and visit me at Flights of Delight and enjoy posts like my Photo Pillow DIY!