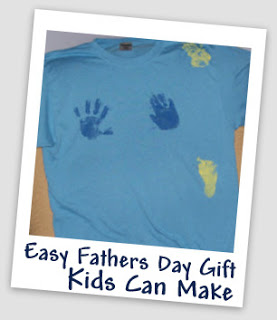 For the past two years, our Father's Day gift has been a T-Shirt. Each year we buy a plain T-Shirt from JoAnn Fabric, and we decorate it with handprints. The first year my mom and dad actually helped the kids shape their hands in a heart shape around his heart while we were out. Last year I tried to reflect their personalities in the T-Shirt. Noah, loved to run up to his dad and just push him in the chest, so those were his hand prints. Jude was a baby, so I put his hand print and foot print where he would be held.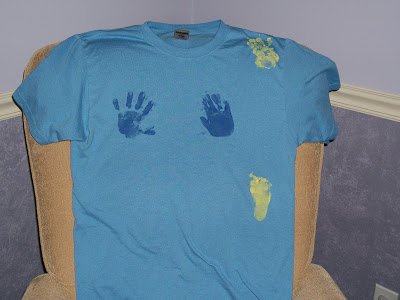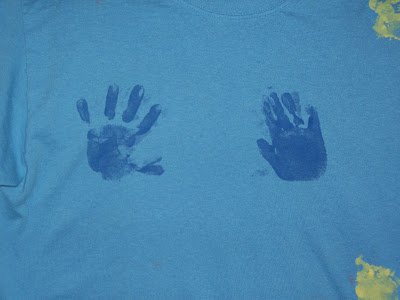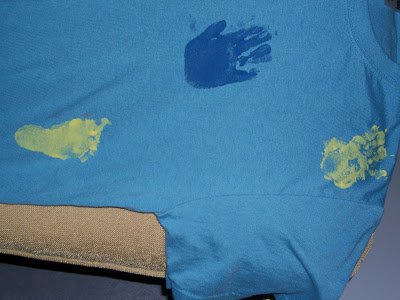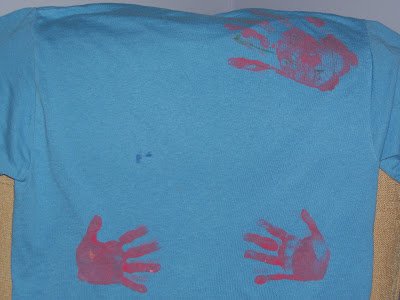 Natalie loves giving hugs, so we thought about how the placement would be and put her hand prints around his waist in the back.
Finally, I put my hand print on his shoulder like I was giving him a supportive pat on the back.
T-Shirt Tips
I used Plaid brand acrylic paint that can be purchased at Joann's or Walmart. Plaid PROMOABII Apple Barrel Acrylic Paint, 2-Ounce, Best Selling Colors II
Use plenty of paint on your hands. I put some paint on a plate and dipped the kids hands in. I tried painting it on with a paint brush, but I didn't get enough on my hand print.
Practice how you want your kids to put their hands down and pick them up before they have paint. You want them to start with the base of the hand and then kind of roll down to the fingertips hold their hand there while you press on their hand and then roll it off the same way.
Do not stress about the handprints!!
ONCE PAINT IS DRY: Get a plain brown grocery bag, cover the painted area with the bag and iron over top of the bag (do not use steam), press firmly. This will prevent the paint from washing out. I did that once :(
I hope you are inspired to get creative and make your own designs for your special guy!!
~Julia