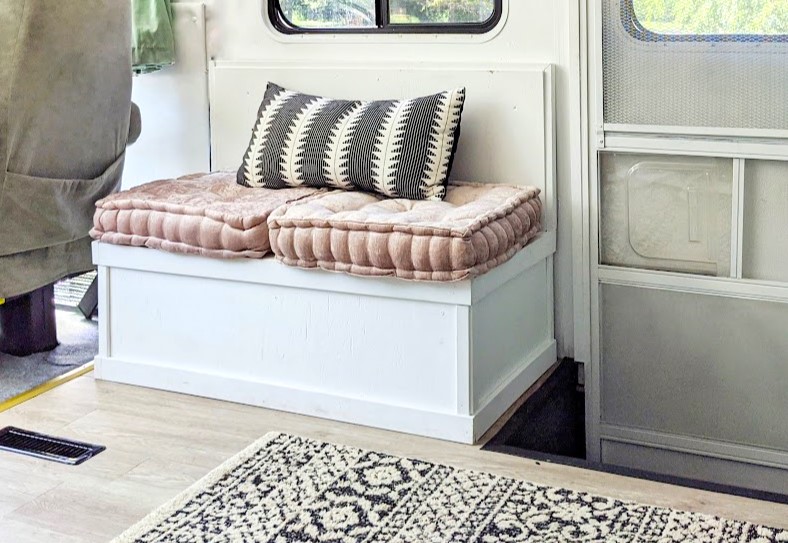 Recovering RV Dinette Cushions
How I recover my RV dinette cushions is one of the most-ask questions I get here on my blog. It can be one of the most challenging and expensive projects you face during your renovation. I'm going to share a few different options you might want to consider when recovering RV dinette cushions as well as replacement options and where to buy new cushions.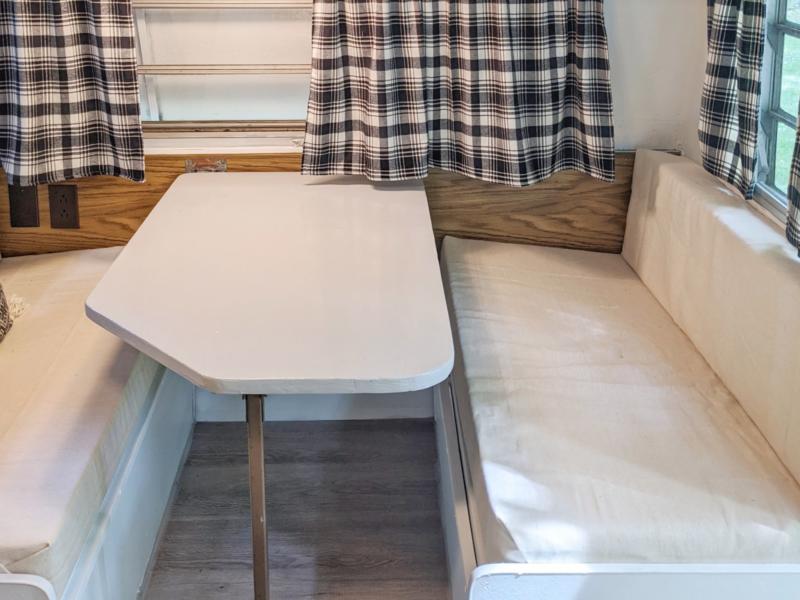 Salvaging the Foam
One of the biggest hidden expenses you may come across during an RV renovation, involves the dinette cushions and sofa. Foam is surprisingly expensive! Wile renovating my first vintage camper several years ago, I threw away the foam cushions almost immediately. I assumed they were disgusting and beyond salvaging, only to be shocked by the cost of new foam. In the future, I would always save the cushions until I knew for sure what I wanted to do with them. I picked up a few tricks along the way, which I'll share with you!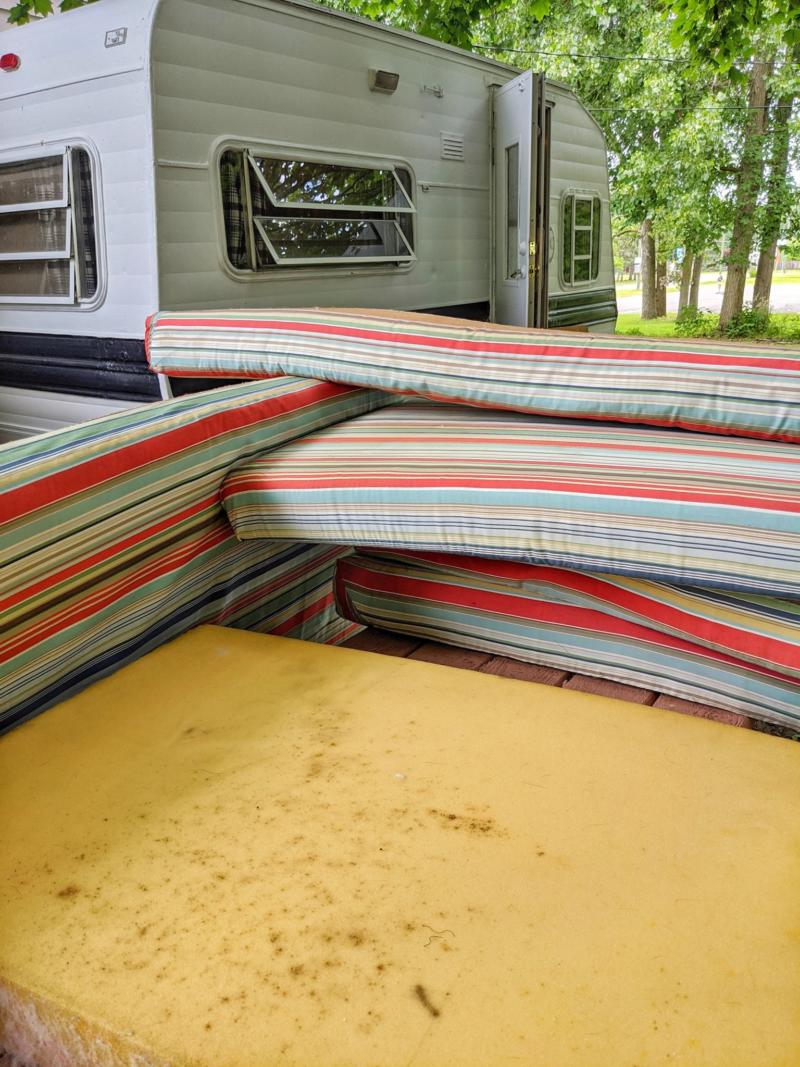 How to Clean Foam
Here are the steps I recommend:
Strip off all outside layers of fabric. Remove the outer decorative layer, as well as any other layers of batting or thin fabric
Vacuum the foam as best as you can to remove dust particles
Saturate the cushions in a disinfectant solution. Some options to try: vinegar and baking soda, vodka or mild laundry detergent with water
Lay the cushions out in the sun for several hours
Hose the cushions down to rinse out disinfectant
Allow to dry in the sun
Finish by spraying with a fabric odor eliminator like Fabreeze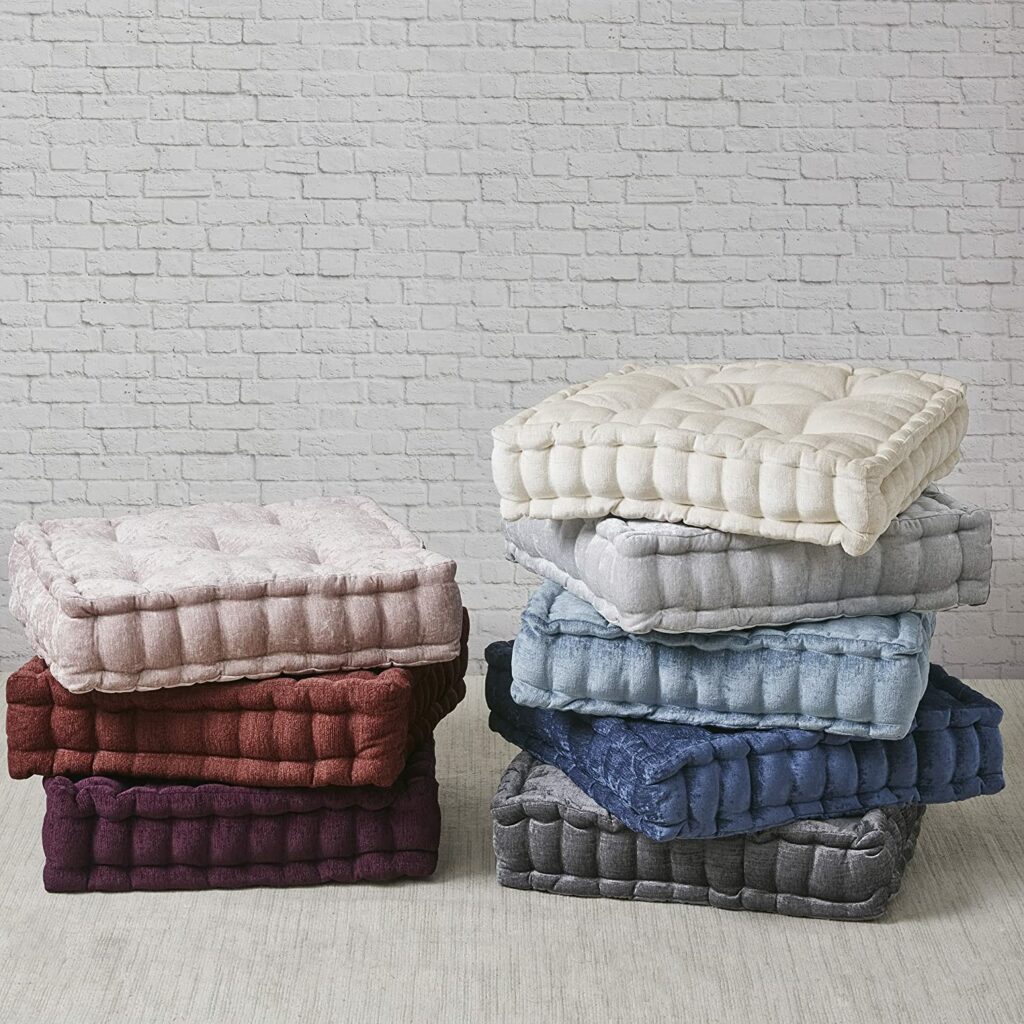 Buying New Foam
If salvaging the foam is out of the question, there are a few ways you can purchase new foam to save on expenses. Here are my favorite ways to purchase new foam inserts:
Buy foam from a fabric store like JoAnn Fabric or Hobby Lobby. You can purchase pieces priced individually or by the foot. Go with a coupon to save money!
Purchase on Amazon: You can find many different types of foam available on Amazon. Don't be afraid to get creative and cut your pieces to size.
Get creative with memory foam toppers. Sometimes you can search outside the box for things like memory foam toppers or mattresses. These can be cut to size and covered so you would never know the difference!
Use decorative cushions instead of recovering foam inserts! I love these tufted floor pillows.
Cut foam easily using an electric kitchen knife (trust me!) like this one: Electric kitchen knife


No-Sew Options for Recovering Cushions
Here are a few of the different options I have tried over the years!
Cleaning and Reusing Original Fabric
This is obviously the simplest and cheapest option, but not necessarily the best! It's pretty rare to have cushion covers worth salvaging. If you happen to have cushion covers that are nice looking and aren't in terrible shape, you might as well try cleaning them! Strip them off the foam and wash on delicate with laundry detergent and vinegar. Air dry, do not put them in the dryer or they may never go back on your cushions. Warning, getting cushion covers back onto the foam is pretty challenging.
The Staple Method
One option that many people use, is to cut a piece of wood slightly smaller than the cushion. Put the wood on the bottom of the cushion and stretch a piece of fabric over the top. Staple the fabric to the wood on the underside. The wood is hidden from site and also helps reinforce a sagging bench.
Buying Covers
There are a few different options available to purchase on Amazon and other stores. Depending on the size and shape of your cushion, you may find that a couch slip-cover will work. Otherwise, what you are looking for is a fabric piece that is gathered around the edges with elastic (picture a shower cap). This cover will stretch tightly across the top of your cushion and gather underneath.
[show_shopthepost_widget id="4156670″]
An Easy-Sew Option
If you have a sewing machine and basic sewing skills, you may want to attempt an easy sew option. Sew together 2 long rectangles (slightly larger than your cushion). Sew all the way around 3 sides and leave one end open. You are essentially sewing a large pillow case. This can be pulled over your cushion and the open end can be tucked under or pinned in place.
TIP: Upholstery fabric can be expensive. I will always look at what I have on hand first before buying new. I have used old sheets, curtains and blankets. IKEA has many curtain options that are heavy fabric and can be cheaper than buying actual upholstery fabric.


Wrapping a Present
For this option, I'm going to highly recommend buying painters drop cloth from Home Depot. You can find it in several sizes and it is very inexpensive. The edges are hemmed nicely and work well to give this option a finished look. For this particular cover, I used hot glue! You can use safety pins or hand sew the drop cloth onto your piece of foam. If you're going to use hot glue, you will want to use HIGH HEAT to create a more permanent bond. You can also get industrial strength glue sticks or Gorilla brand glue to creates a stronger bond.
Lay your fabric out like you would wrapping paper and cut to the desired size. You literally wrap your cushion like a present, making sure the edges are lined up nice and straight. I made sure the cut edge was hidden, with the hemmed edge on top. I put a strip of hot glue down each side.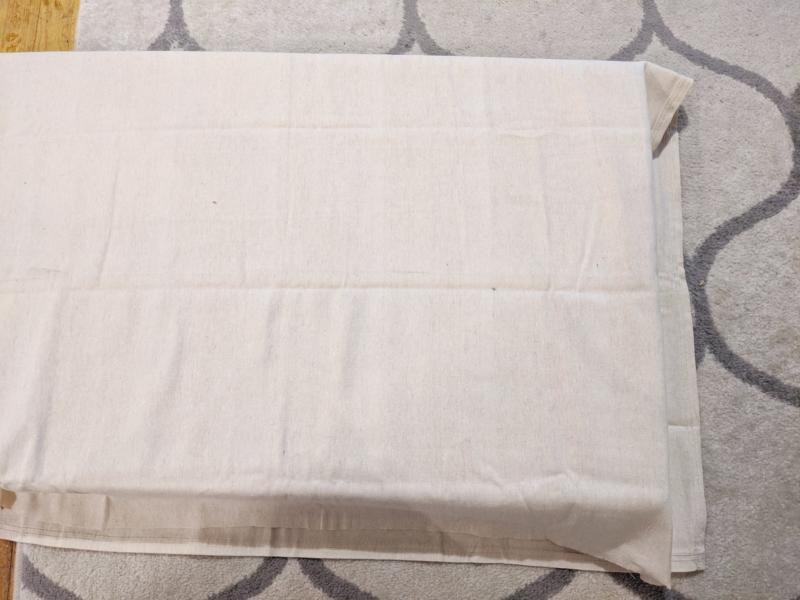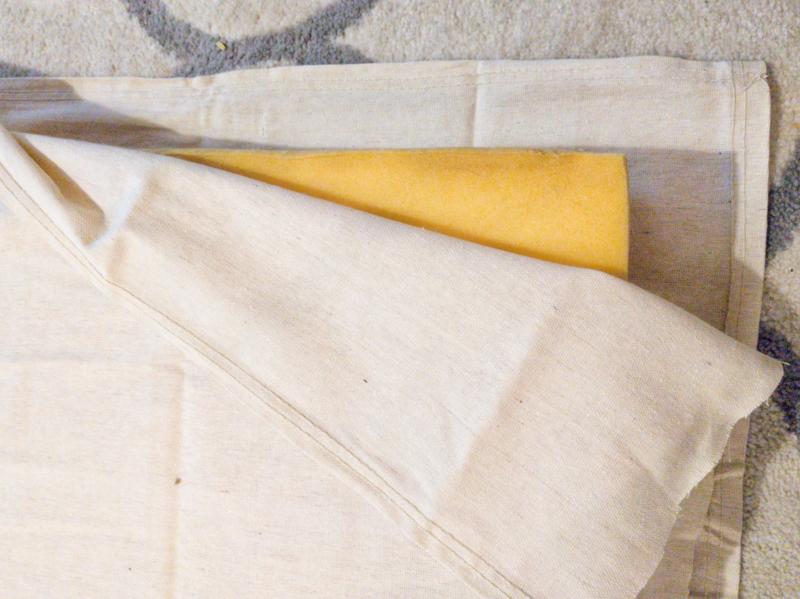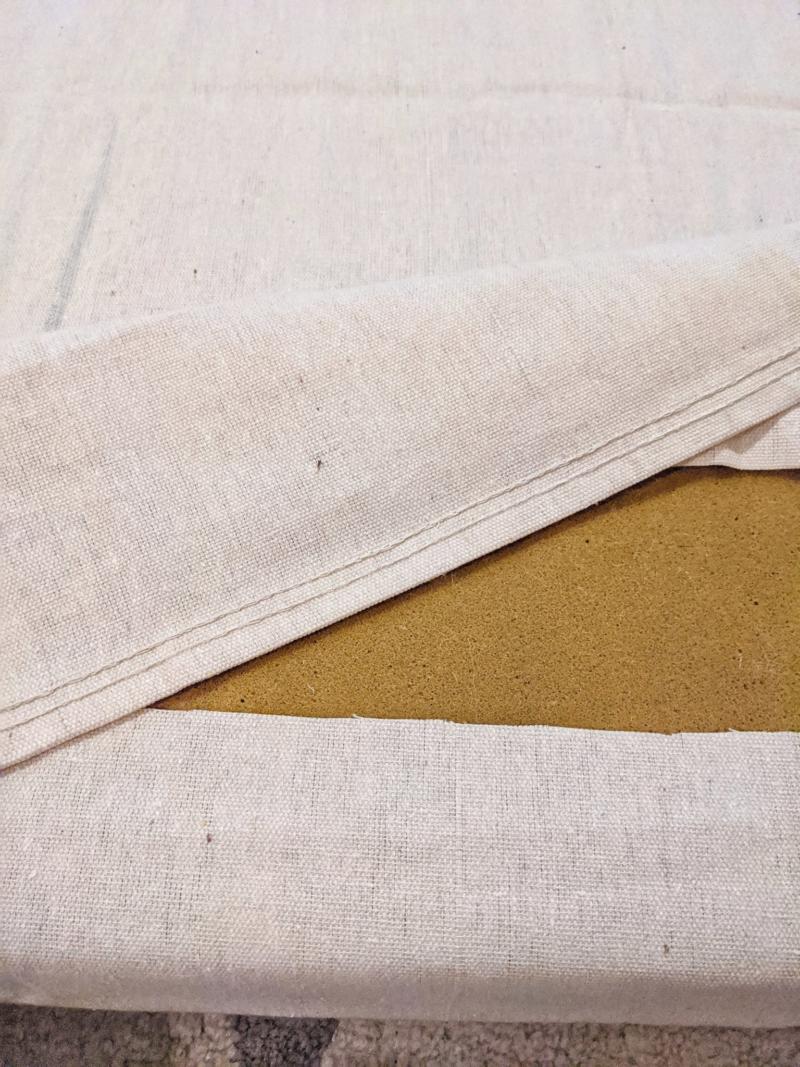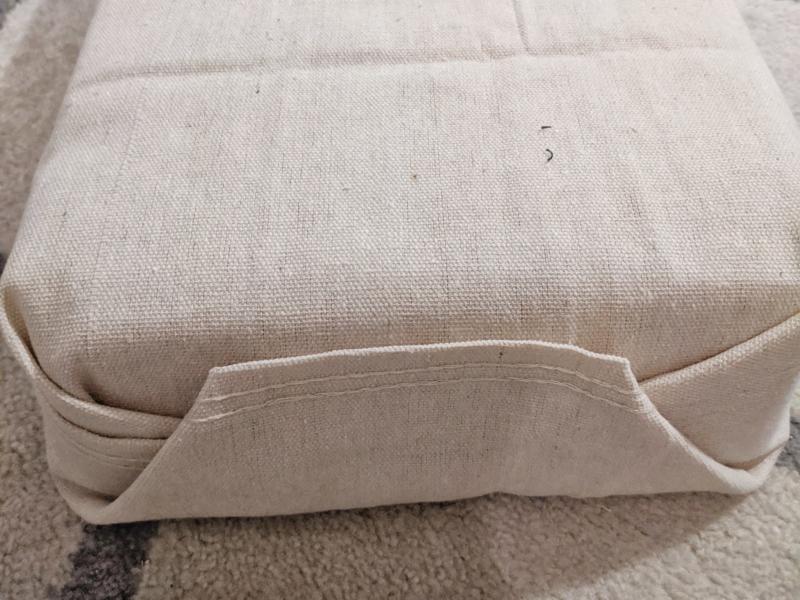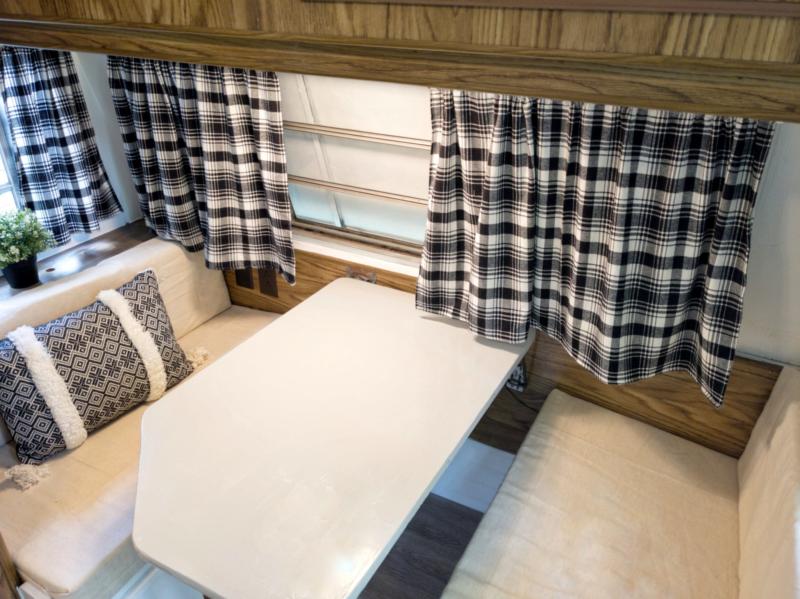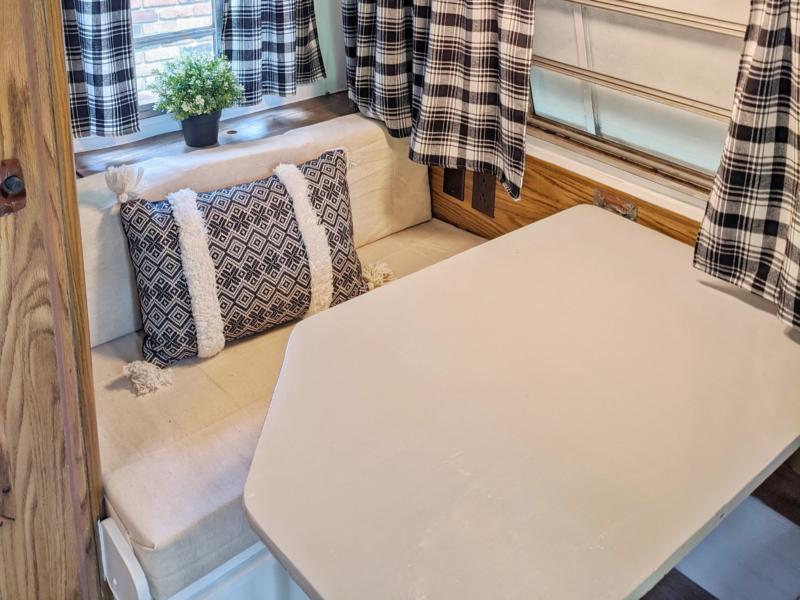 PIN-IT FOR LATER!