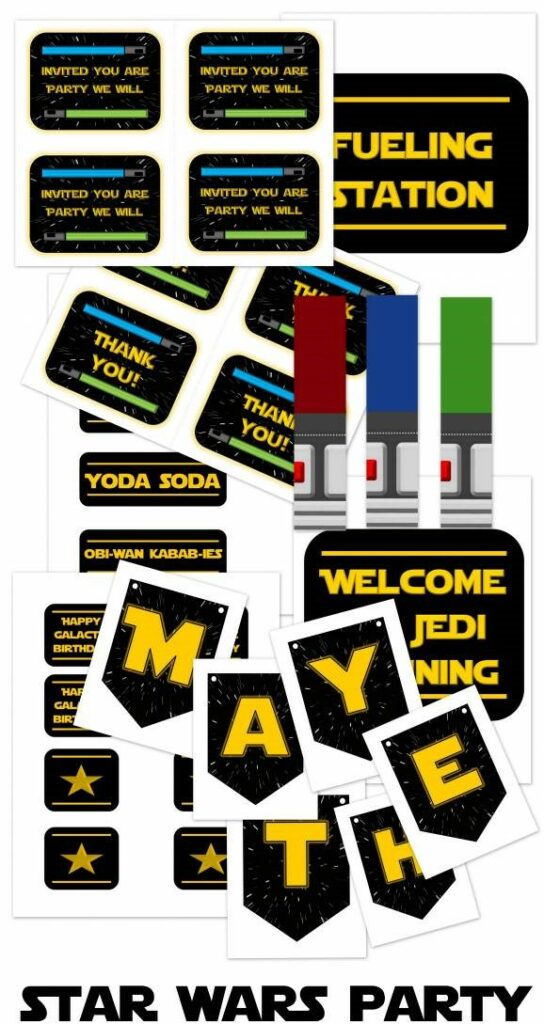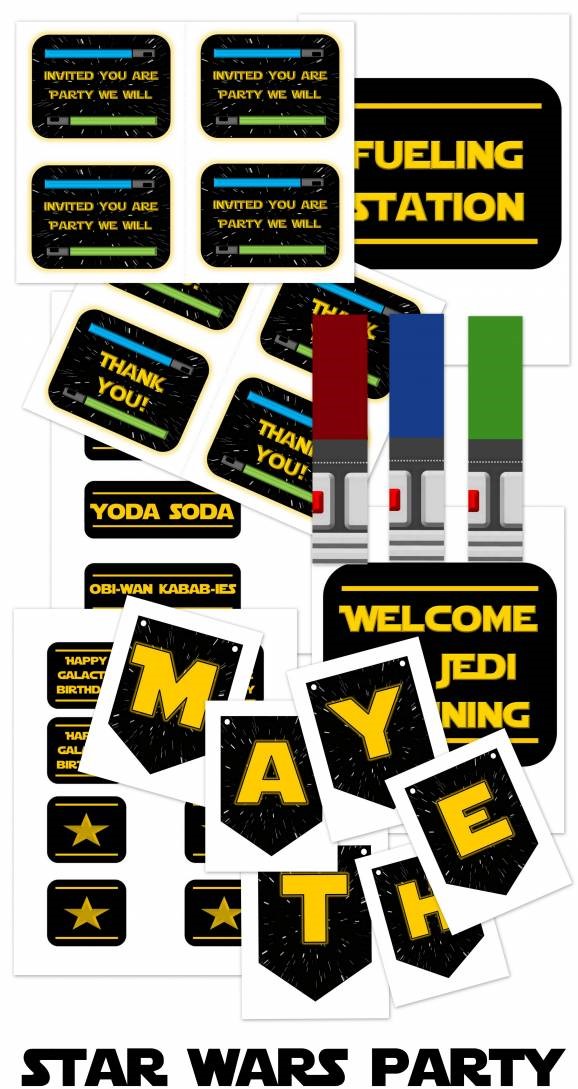 Star Wars Party
One of my most popular posts of all time was the post I did on my son's Lego Star Wars-themed birthday party! I put together a free printable pack of favors, signs, games and menu cards that I honestly didn't put much thought into at the time. I have been blown away by the attention it has received over the years. With the release of Episode Seven, Star Wars fever has been rekindled and I thought it'd be a great time to revisit some of my ideas and do some UPDATES to my original printable.
What the printable pack includes:
Invitation postcards
Thank you note postcards
Menu/food label signs
Blank labels
Game and activity center signs
Banners
Cupcake toppers
Lightsaber napkin wrappers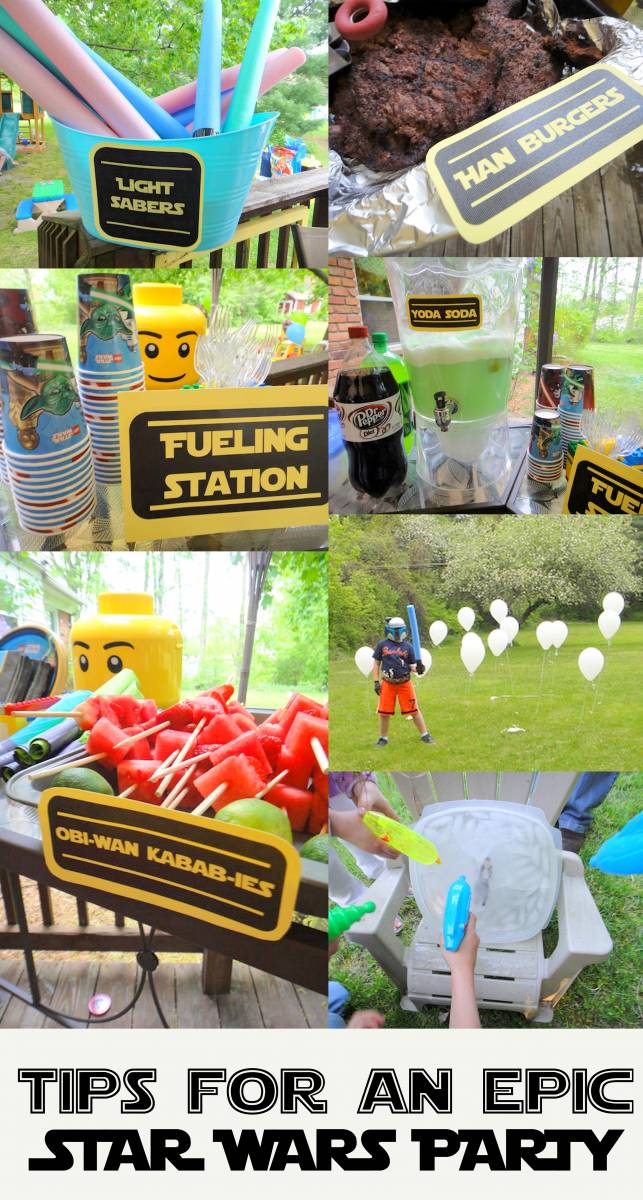 Menu Ideas
These are all ideas that I include signs for in my printable pack!
Light Sabers: Pretzel rods dipped in colored white chocolate
Princess Lays: Chips
Thermal Detonators: Cheese puffs or malted milk balls
Obi-Wan Kabab-ies: Fruit kababs (could also be grilled chicken and veggies, etc)
Yoda Soda: Lime sherbet and Sprite or 7-Up
Vader-Ade: Red kool-ade or fruit punch
Wookie-Cookies: Any type of cookie
Hans-Rolos: Rolo candies
Han Burgers: Hamburgers
Hutt Dogs or Hoth Dogs: Hot dogs
Bow-Ba Fett Pasta: Bow tie pasta salad (I threw mine together with a balsamic vinaigrette dressing, green peppers, feta cheese and cherry tomatoes)
Ewok Treats: Animal crackers
Leia's Bunns: Cinnamon rolls
Vader Taters: Tater-tots
Millennium Falcorn: Corn on the cob
Carbonite Jello: Freeze a Han Solo action figure in Jello!
Storm Trooper Scoopers: Tortilla chip scoops and salsa or dip
Dark Side Cake: Chocolate cake
C-3P Oreos: Oreos
Palpatine's Pizza: Pizza
First Order Fries: French fries
Qui-Gon Jinn-Gerbread: Gingerbread cookies
Skywalker Sundae: Ice cream bar or giant ice cream sundae like we did HERE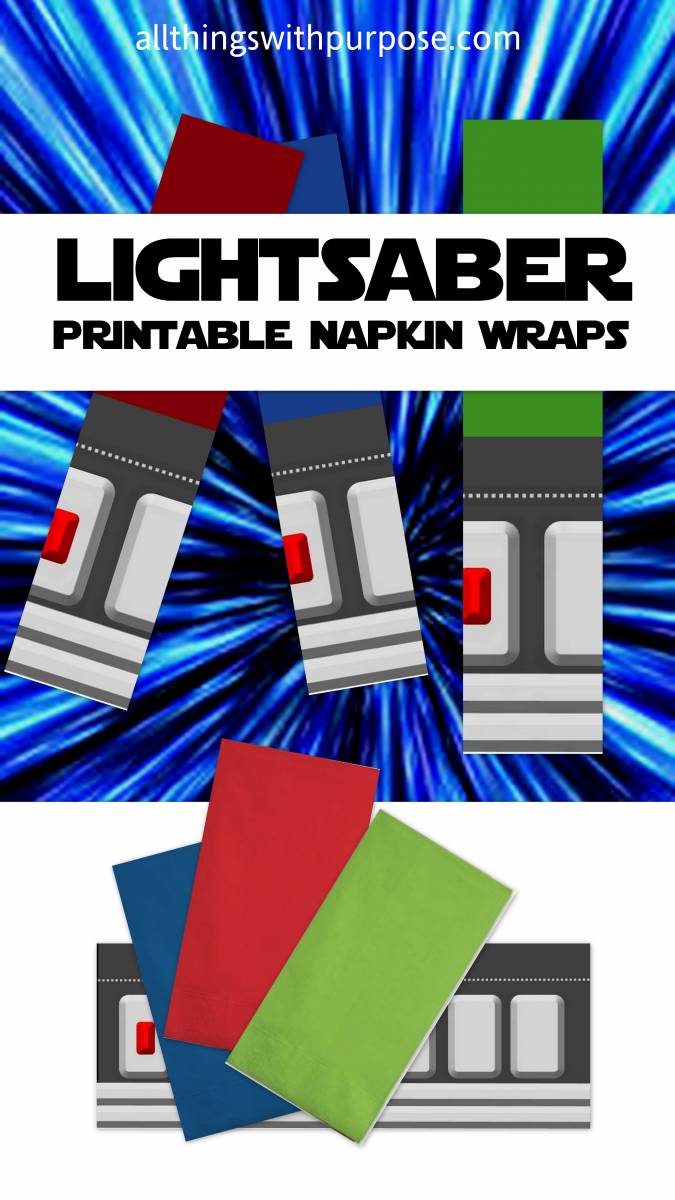 Favors
Light Sabers: Buy them or make your own. We made them out of pool noodles so the kids could play and not get hurt…
Jedi robes: Cut them out of brown fabric for a no-sew option! Cut a large rectangle, then fold in half and cut a hole in the middle for a head to go through.
Make light saber bubble wands by spray painting the handles of regular bubble wands silver! Use wands like these: bubble wands on Amazon
You can find a lot of great ideas here: Star Wars Party Favors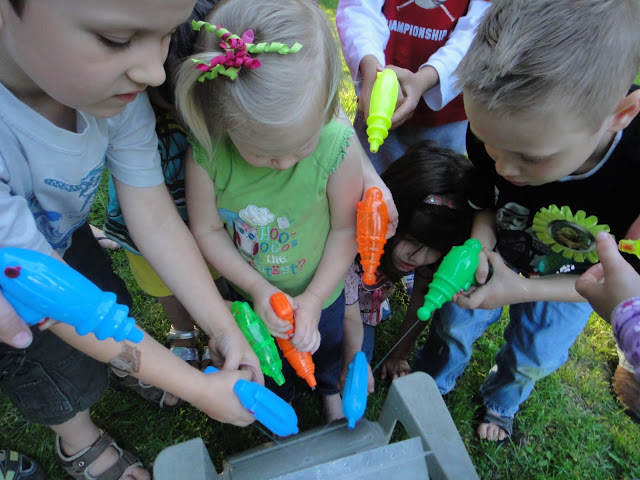 Decorations
Banner, Food Signs and Other Printables: Find everything you need in my FREE Printable Pack!!
Light Saber Napkins: The wrapper for these is in my printable pack. Find the tutorial HERE
Store Bought Star Wars Party Accessories: Find them at Star Wars Party Supplies
Games
Attack the Clone Army: We gave each guest a foam light saber, then basically let them loose on a field of white balloons! Hint: don't steak your balloons out too early. Most of ours popped on the grass before the kids had a chance to attack. If you have a willing individual, have someone dress as Darth Vader or another member of the Imperial guard to head up the Clone army.
Unfreeze Han Solo: Freeze a plastic Han Solo action figure in a tub of ice, give each guest a dollar store squirt gun and let them race against the clock to unfreeze Han from "Carbonite"
Go HERE for my complete post of party games
How to Access This Printable
Hey, friends! After years of providing this printable for free to my readers, I've had to make the hard decision to move it to my shop page where it can now be purchased individually or as part of a giant printables collection!

Many of you know, my website experienced a huge loss this year as it was down due to a cyber attack for over a month. I'm attempting to rebuild and regain the income my family lost. I would love for you to check out my shop page and let me know what you think!

SHOP HERE
Party
Bundle
9.00
---
Get access for 1 year to my entire collection of party printables!
Download and Use Forever
Giant
Bundle
19.99
---
Get access for 1 year to my entire collection of printables!
Download and Use Forever
Thank You for Pinning!