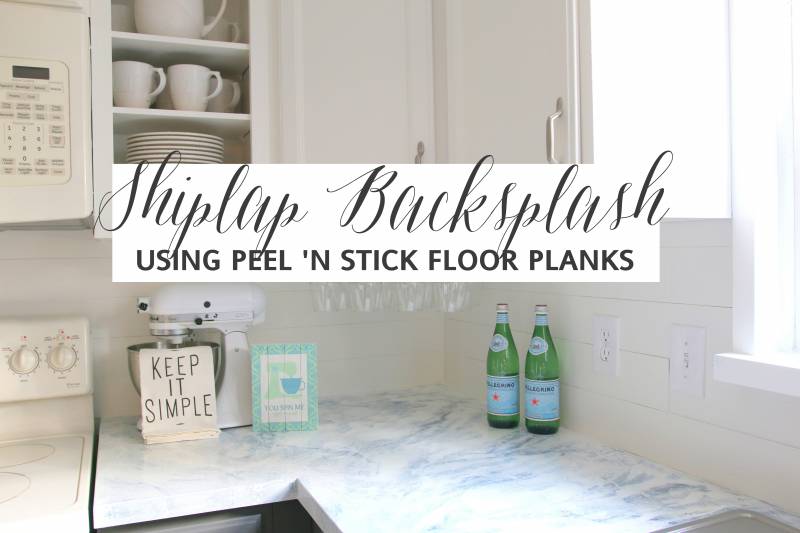 If you thought I was excited about painting my cabinets…
or my faux marble painted countertops…
you obviously haven't heard me talk about this shiplap inspired backsplash!
What is Shiplap
The term "planked wall" is a very broad term that refers to a super popular trend for interior walls. Planked walls have come and gone in popularity over the years. A while back, the natural wood of tongue and groove paneling was very popular as an accent wall. Tongue and groove wall planks were known to be installed vertically or horizontally. Planks are sometimes made out of pine board or even MDF.
Traditional shiplap walls on the other hand are usually installed horizontally and are very common as interior and exterior siding – especially in old farmhouses and especially in Texas apparently! The term "shiplap" has become a buzz word in recent years thanks to the Texas based HGTV show "Fixer Upper" and hosts, Chip and Joanna Gaines.
We all LOVE that warm farmhouse feel of bright, white shiplap. The term "shiplap" technically refers to the specific cut of wood and how it comes together. But in most cases, you can get the rustic look you want in your modern farmhouse, without specifically using a shiplap board.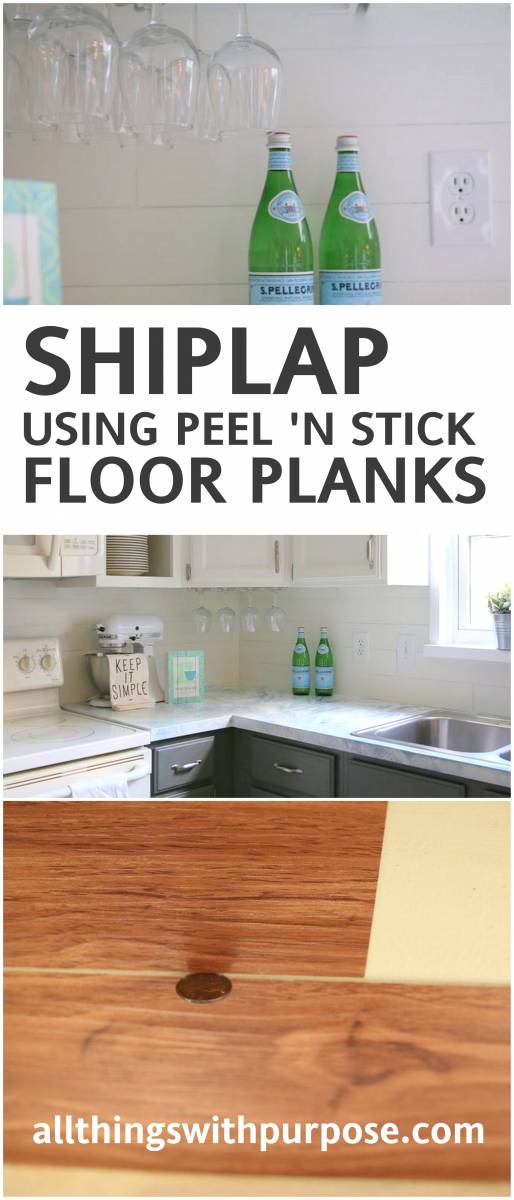 In my case, I created the look of real wood shiplap paneling using vinyl wood floor planks instead of wooden boards!! For about $20 I bought one package of peel and stick flooring. This can be used on a kitchen island, in a mud room or to create a cozy bedroom look.
I started with a clean, dry surface. My wall surface was a vinyl sheet that had been previously painted. I started on the bottom and simply lined my first plank up with the counter. I positioned the next plank directly beside the first until I reached a corner.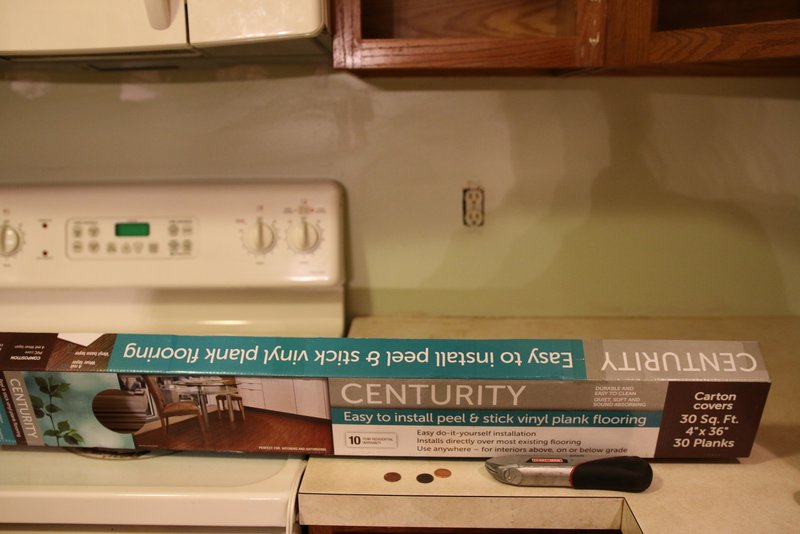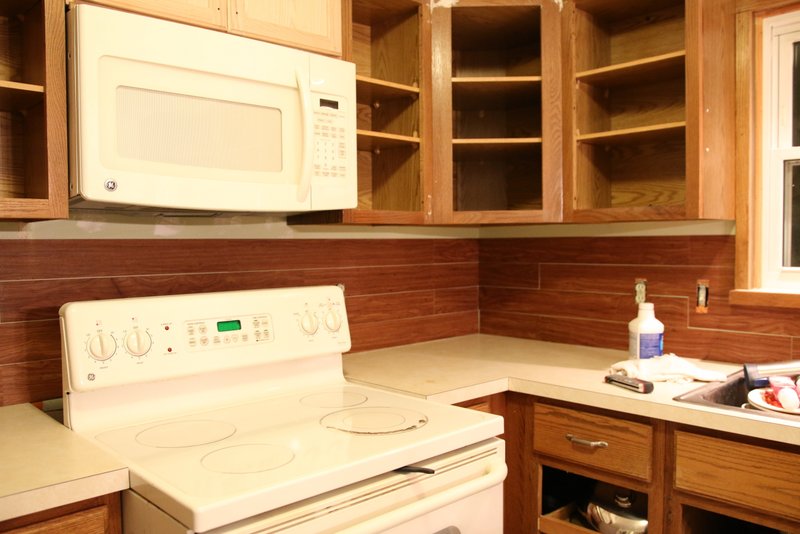 The vinyl is super easy to cut and only needs to be scored with an exacto knife. For my next row up, I cut a piece in half so the boards would be staggered and spaced it above the first row using a penny. Press on each board, firmly as you go. Follow package instructions for specific pressure and timing. Some may recommend using a rolling pin.
I left a small space between the planks and the bottom of the cabinets. I chose not to spend time cutting any planks horizontally to fill that gap. I planned on painting my cabinets and shiplap all the same color, and figured it would blend together well.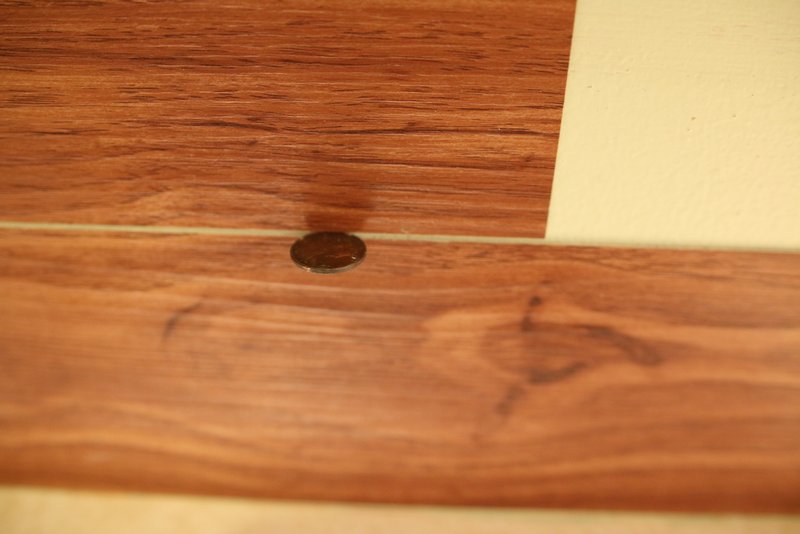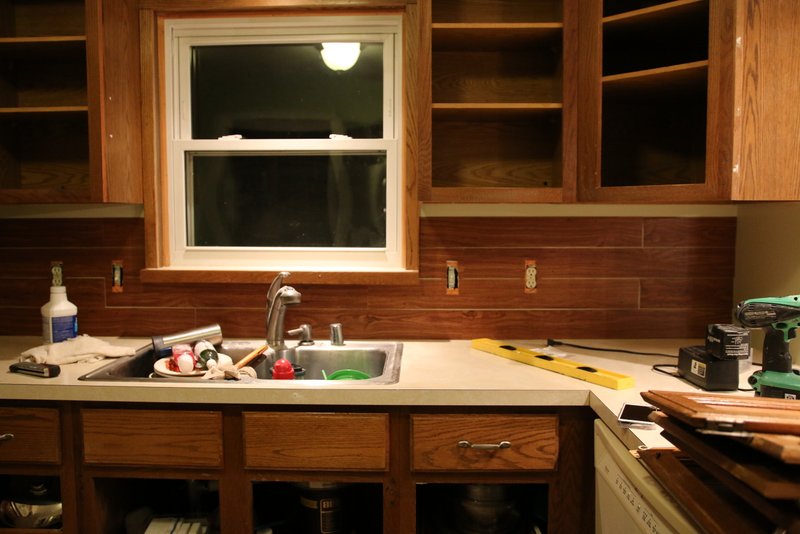 I painted the boards first using Stix primer. Then, I painted with the same color as my cabinets: Benjamin Moore Dove White.
***TIP! The trick while painting, is to make sure the paint doesn't settle into your cracks and fill them up. You want that defined horizontal line to create a rustic and natural look. I continually cleaned out the crack using a wood skewer.
I love the fact that even though it's vinyl, the wood grain look comes through!
If installing this as a backsplash, I recommend sealing along the countertop with silicone.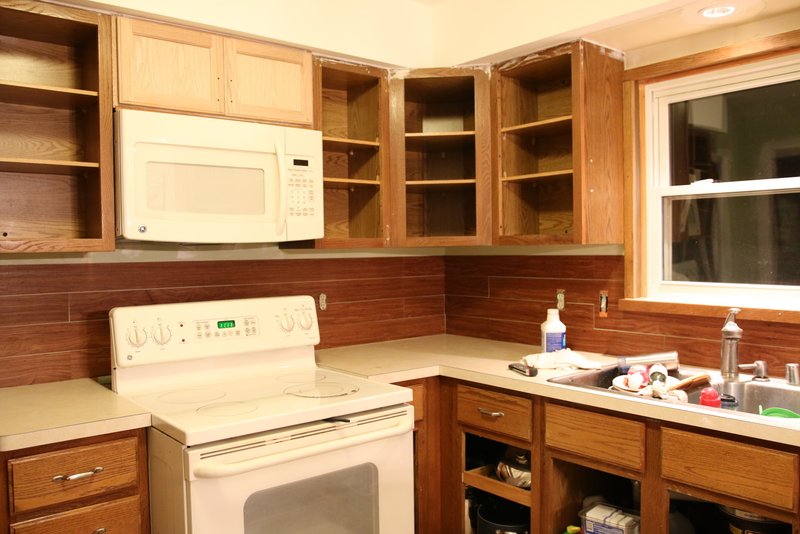 Supply List
White Paint (I used Benjamine Moore Advanced in Dove White)
Vinyl Wood Planks (Mine are from Menards, but these are similar and can also be found at Home Depot)
Pennies
Wood skewer or pointed stick to keep cracks clean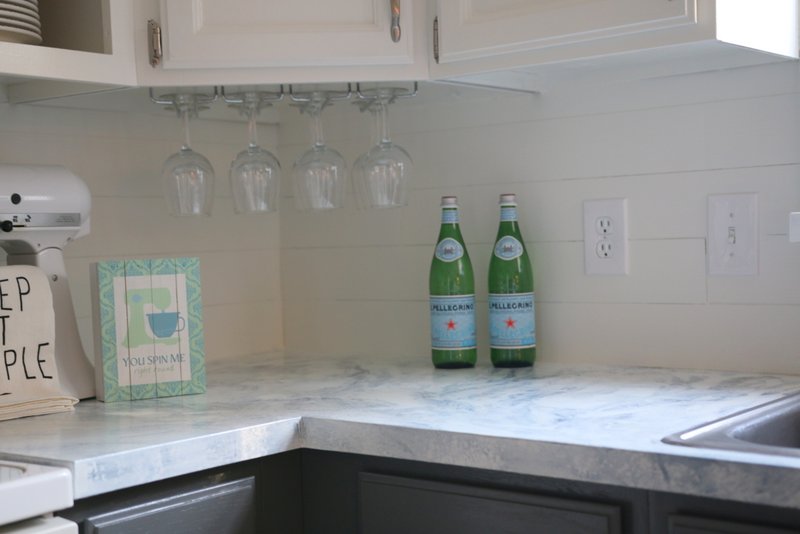 UPDATE!! Almost 6 months later and my shiplap is still in place, it has cleaned really well and nothing is falling off! I did a similar project, however, on a furniture piece and I had to use additional glue and nails to keep the planks in place. They started warping and popping off almost immediately. I'm not sure what to contribute the success in my kitchen to – the brand of plank, paint I used, deglossing agent or temperature in the room. But either way, I am still super happy with my results!!
ANOTHER UPDATE!! My farmhouse style shiplap is still holding fast almost a year later. I wanted to point your attention to some great tips provided by a reader:
Hello Everyone: I read with interest about the vinyl tile backsplash idea. Being from the flooring industry for 40 years, allow me to comment. Vinyl tile adhesive, whether applied at the factory or put down 'wet' has a unique feature: it never fully dries; it remains tacky for life. The reason? If it dried hard (like construction adhesive) it would crack and lose its adhesive quality (from the weight of people walking on the tile). Further, the force of gravity pulls the tile into the tacky adhesive forever. Because of this property, when installed vertically, tiles will usually begin sliding downwards, buckling the tile below it (again, the force of gravity). Why your particular installation has not failed, is a quandary. Perhaps the tiles are thick enough not to bow out? Or the adhesive formulation is unique to that company? Not all hope is lost, however.

Preparation: When ever you will be using adhesive, you must DEGREASE the surface COMPLETELY. Mopping a floor or cleaning a wall with window cleaner is not enough! Have you cleaned a black stove top only to see shiny 'streaks' across it? That is grease; this amount will cause adhesive failure. Another example is glassware. Ever wash a clear glass bowl and see droplets of rinse water remain? The class has grease on it. Water will sheet-off only if the glass is CLEAN. So, before using self stick tile or adhesive (you can use adhesive with self stick) use a product labeled DEGREASERE. Do not dilute; clean up with paper towels first, then with a couple of ounces of vinegar in a gallon clear water, wipe down again (okay to use a clean cotton towel here). If there is paint on the surface, first scarify it with an old brick, then clean as above.

Since all vinyl glue won't work, there are two types that will: COVE BASE ADHESIVE or CERAMIC TILE ADHESIVE TYPE I (one). They both dry semi-hard, but retain just a bit of elasticity. Hint: I use CTA for laminating wood together, or gluing wood to walls, etc. It is so much stronger than construction adhesive! and does not crystallize. For thin tile (1/16″) use a 1/16″x1/16″ trowel; for thicker tiles, use 1/8″x1/8″ trowels. Have a bucket of warm soapy water on hand for IMMEDIATE clean up. Once it gets dries, only scraping will remove it. HINT: after spreading the glue, set the tile. If you touch the glue and nothing transfers to your finger, it has skinned over and must be removed with a putty knife and new troweled on. Next, use a 4′-6″ section of white plumbing pipe (or rolling pin) and press the tile into the wet adhesive. (we used 100# rollers on floors giving us 100% adhesive contact).

One last HINT: where the tile meets the countertop,put the tiles on top of a nickel. This way, when you caulk, it will go under the tile (not just on top, giving you a much tighter water seal and longer lasting job. Now get off the computer and Go have fun…- Joseph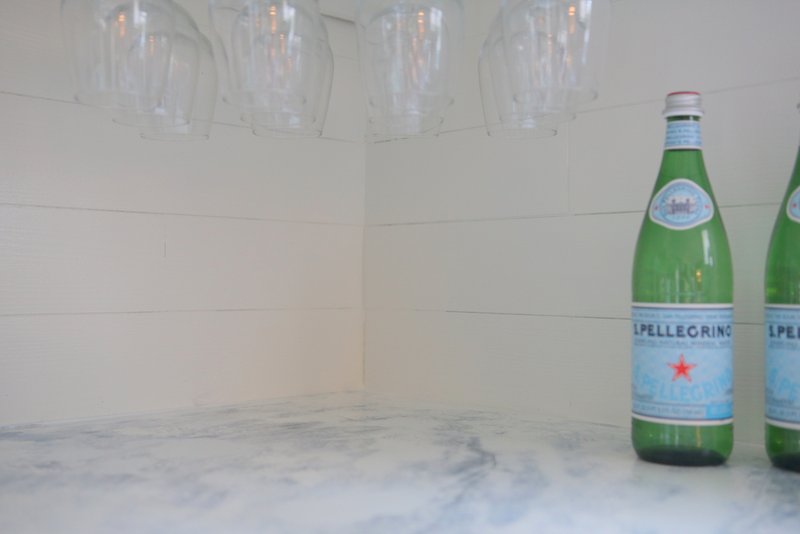 You Might Also Like…
See the rest of my kitchen here: Fixer Upper Inspired Kitchen Reveal!
See my tutorial for the faux marble countertops here: Faux Marble Painted Countertops