This post was hosted by Disney. My family and I were invited by Disney to experience a Disney cruise aboard the Disney Dream. All opinions are my own!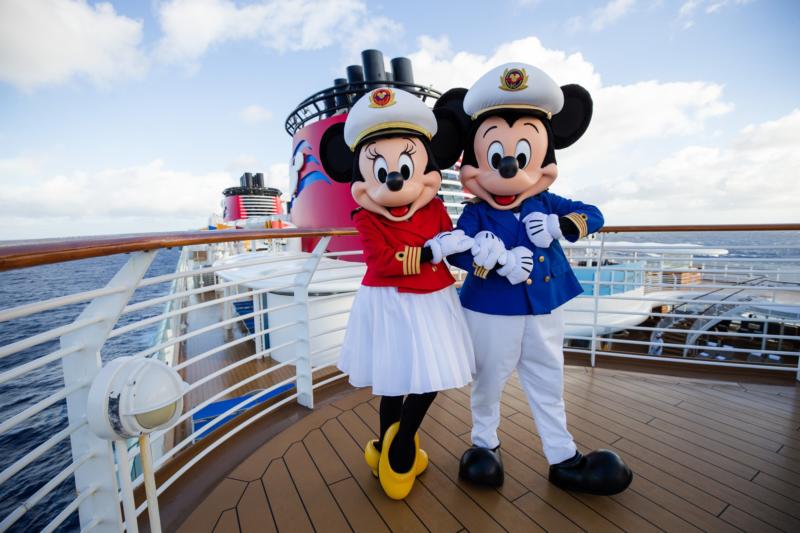 First-Timer's Guide to a Disney Cruise
We are a family of cruising newbies! I've been to Disney World too many times to count, but had never experienced a Disney cruise until last week. When I first got the invitation to attend the Disney Creators Celebration on land and sea, I immediately started researching everything I could think to research about Disney cruises. I felt like I was taking a crash course in the art of cruising, and at times, it was in a completely different language!
Disney currently has a fleet of four ships: The Disney Dream, Magic, Fantasy and Wonder. These ships are very similar, with a few stand-out differences. Be sure to compare the differences when choosing which cruise is right for you. One of the biggest questions I have always had in regards to booking a cruise, was which room to get. We had a deluxe ocean-view stateroom with a balcony on our cruise and I am very glad we did. The balcony was my favorite part!
Booking Your Cruise
If you don't already have your cruise booked, the best place to start is at disneycruise.disney.go.com to familiarize yourself with the different options and features of the cruise!
I highly recommend going through a Disney vacation planner like Becca Carnes for your first cruise! Contact Becca through her facebook page: Dreaming About the Mouse Having a vacation planner like Becca do all your planning is no additional charge to you, but you get the benefit of someone who knows all the ins and outs of cruising. Becca gave us so many helpful tips before our first cruise!

What's Included
I was asked this question a lot by readers as they followed our family's adventure on our first cruise. What's really included in the price of a cruise? When I say the price of a Disney cruise is all-inclusive, it really is! All your meals, drinks, ice cream, room service, activities, kids and teen clubs, shows, movies, you name it. You could go the entire cruise without ever spending any additional money.
What's Not Included
Now, there are a few things that are an additional cost, but these are optional. Some of the additional costs include: specialty coffee drinks, alcohol, nursery care for children under 3 years old, popcorn, excursions on land, and spa services.
Gratuity
Tips are also not included in the price. Tipping is always considered optional, but highly recommended. The crew and support staff all work very hard at making your experience great and they definitely deserve the extra tips! Expect to tip anyone that handles your bags, $1 to $2 per bag. You can hand deliver additional tips to stateroom hosts or dining room wait staff, or wait until the end of your cruise and use the envelopes that are provided in your room. They are also very appreciative of any positive reviews you can leave them by filling out the comment cards given on the last day. Here is a great list of suggested amounts and further details: Gratuity Suggestions

What to Pack
This was my biggest question. Because we are a large family that likes to fly cheap on Spirit, we're used to packing light. However, it's hard to pack light when you don't know what to expect! I have legit anxiety over this. I hate getting somewhere and feeling unprepared, but I also know how annoying it is to over-pack and carry around unnecessary bags. Based on our experience, here are some things you want to make sure you take with you:
Passports or original birth certificates and photo ID's. Go here for details on all required documents.
Bathing suit and cover-up
Sandals or flip-flops
Sunglasses
Sunscreen
Sweater or jacket
Pirate outfits: If you really want to pack light, skip the costume. The cruise-line does provide a Mickey pirate bandanna for everyone on board so you would at least have that. However, people go ALL OUT for pirate night, so just know that if a bandanna is your only costume, you will be in the minority.
Formal attire: The cruise we went on was a 3 night cruise which does not enforce a formal night, however, longer cruises do. Read more about specific dress codes here: Disney Cruise Packing List
Lanyard for your Key to the World Card
Motion sickness medication or Sea Bands – if you're unsure you'll really need these, you can skip bringing them and get a motion sickness pill for free on the ship! But, if you're like us and are prone to motion sickness, I recommend going prepared.
Running shoes and running clothes if you plan on running the 5K
Fish extender hanger and gifts if participating in a fish extender exchange
Magnets to decorate your stateroom door. The doors and walls are magnetic, which makes it really easy to hang things! Use magnets to help your kids recognize their door. Hang a white board so kids can leave notes about where they are at whenever they come and go from the room.

What Not to Pack
There are definitely things you should NOT pack for your cruise. These are items that are either unnecessary, prohibited or provided for you on the cruise.
Blow dryer – they are provided in every room
Iron – Irons are prohibited but provided in the guest laundry room on each floor
Pack N Play – Pack N Plays are provided upon request
Strollers – Strollers are also available upon request, however because we wanted ours for the airport and while at Disney World the week before, we brought our own. We chose to bring our smallest umbrella stroller and I'm glad we did. Elevators and hallways on the cruise are tight and larger strollers are hard to maneuver.
Towels – Towels are provided in each room, at the pool and on Castaway Cay.
Highchairs or booster seats – these are provided at each restaurant
Extension cords or power strips – these will be confiscated if you try to bring them on board
Soap, lotion and shampoo/conditioner – these are all provided in your bathroom

What to Wear
This is something i fretted about to no end. I didn't want to over-pack, but I hate not feeling confident with the right clothing options. There are guest laundry facilities on-board the ship, but you may not want to have to do laundry while on vacation! Overall, I saw a wide range of styles represented on the ship. Beach attire, bathing suites and flip flops were worn a lot. However, when it came time for dinner in one of the formal dining rooms, I noticed that most people were on the dressy side. While the only real dress code for the evening meal prohibits swimsuits and beach attire, most women came in dresses and most men were in button down shirts or polos.
It was definitely chilly and windy at night out on the deck, so pack a sweater or jacket! If you're on a longer cruise that will have a formal night or plan on eating at one of the Adult-only restaurants (Palo or Remy), you will want more formal attire. Closed toed shoes and dresses for women, dress pants and suit coat for men. Find more details here: Cruise Packing List
My husband and I ate brunch at Palo one morning, and the dress code was slightly less formal. My husband wore nice jeans and sneakers with a button down shirt, and I wore a dress with sandals.
Pirate Night
Don't forget pirate attire for pirate night! People go ALL OUT for this event. If you're one of those people that doesn't enjoy dressing up in costume, you will definitely be in the minority. I also recommend packing princess dresses for girls of all ages! There is a Bibbidi Bobbidi Boutique on board, but it is recommended to make a reservation in advance as spaces do fill up.

What are Fish Extenders?
Outside every stateroom door is a little fish with your room number on it. Somewhere along the line, someone invented the idea of hanging pockets on this fish and organizing a little gift exchange between other people on the cruise. For most cruises, you can search Facebook for the name and date of the cruise you will be on and find a fish extender group that is being organized for your particular cruise. You will be put in a group of 5 or 6 other families and exchange information, including names, ages, favorite colors or favorite Disney characters.
Hang your fish extender pockets outside your door and wait for all the fun little gifts to appear! Some people plan to give out little gifts each day or a couple times a day. Small gift examples include glow sticks, candy, crayons, pirate stickers, etc. Other people did bigger gifts only a couple times. I did two larger gifts which I gave out once on the first day and once on the second.
Would I Do it Again?
Fish extenders are not necessary, but they are a fun way to spread extra "pixie dust." Our kids loved coming back to our room each day and checking their pocket for gifts! They also enjoyed going around and passing them out. I am torn whether I would do it again, simply because it did take a lot of extra planning, money and precious space in my suitcase! Regardless, it was fun to experience at least once.

Do I Need to Book an Excursion?
You will be offered the opportunity in advance to book excursions while you are at port. Because we were on a shorter cruise, we only had 2 port days with optional excursions. We chose not to book anything while at port in Nassau. Instead, we got off the ship just long enough to walk into town, see some local shops and head back. We found that the 3 night cruise was so short, there wasn't nearly enough time to really enjoy everything on-board the ship, and the day at port in Nassau was a great day to spend at the ships pool.
There are also activities you can book while at Disney's private island, Castaway Cay. Again, we didn't book any specific excursions, as we planned on just enjoying the beach for a while and then heading back to enjoy the ship while it was less crowded. We did, however, run the 5K that morning, which was fun! My husband and a couple kids rented bikes to explore the island while the other kids rented tubes to float in the water. There were plenty of fun things to see and do along the beach, and it was nice to just sit and relax for a while. Lunch, beach towels, beach chairs, unlimited drinks and ice cream are also available on the island (again, all included)!
TIP: Don't waste your money or suitcase space on souvenirs you can buy anywhere. Buy things that are unique to each port or that are specific to the Disney Cruise Line and can't be found anywhere else! Castaway Cay 5K merchandise can only be purchased at Castaway Cay, and Disney Cruise Line Minnie ears can only be found on board.

What to Expect the First Day
Once you arrive at port and enter the check-in line, you will need to have your required citizenship documents out and ready. Your bags will be taken from you and delivered to your stateroom, but it could take several hours to receive them. We kept a rolling carry-on bag with us that had our bathing suits, diapers, medications and other important things we thought we would need right away. We were able to get into our room at 1:30, but didn't get the rest of our luggage until closer to 3:00.
Once we had boarded the ship, we pretty much went straight to lunch. Later that day, everyone on board was required to attend a safety briefing. Being our first time, we were confused where to go and had no idea how serious this was taken. Two of our kids were sleeping and we considered leaving them. I'm glad we didn't! Everyone in your family must be accounted for or you will be required to go back and get them. I was told that the back of our stateroom door said where we were supposed to head for our particular safety briefing, but we never noticed it and wandered the halls in confusion instead!
Other Things to Keep in Mind
The first day is the only time adults are allowed in to explore the kids and teens clubs. The open house is a great time to go in and take pictures! You may also want to use this time to register your kids for the kids clubs or get your infant registered for the nursery if you haven't already. We also checked in person at Palo for a brunch opening which had previously not shown up online. We were able to get in for brunch on Tuesday morning, even though I had been checking for weeks with no success.
Something we didn't realize was that the shops on board are not open for normal shopping hours like most stores are. Most of the shops are only open at night during a specific window of time, when the ship is out to sea.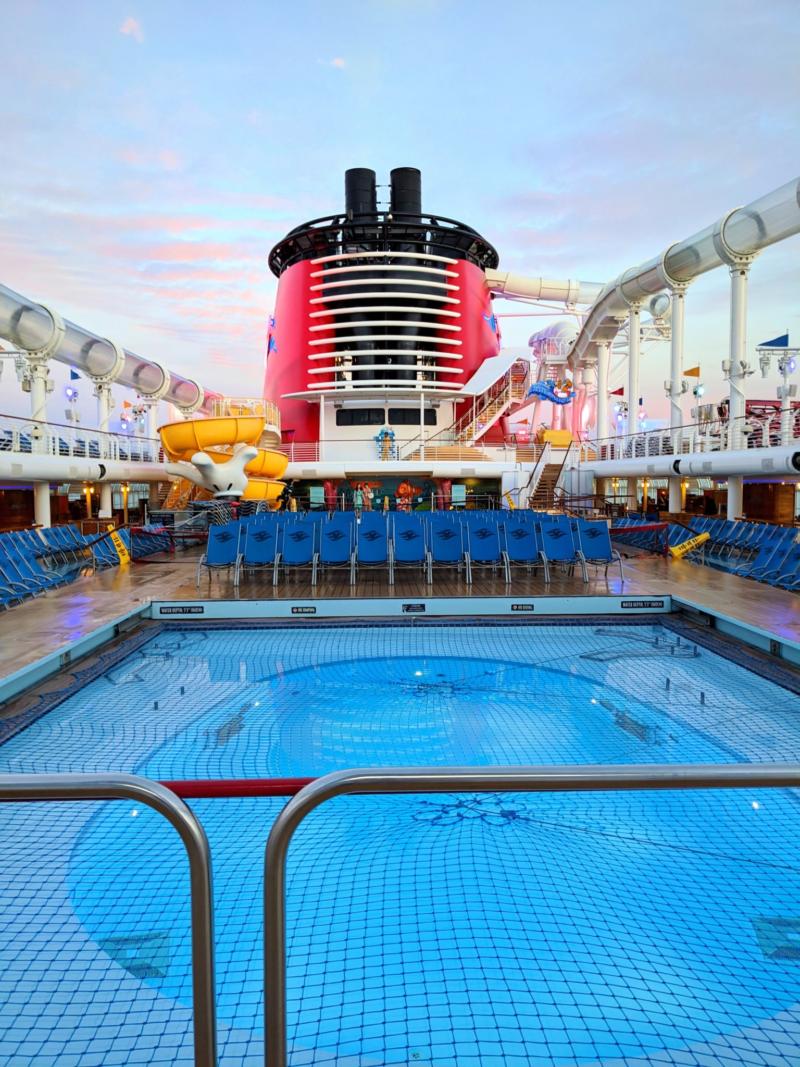 Things You Can Only Do While On-Board
There are some things you should know about that can only be done while physically on board the ship. The first thing you should know about is taking advantage of a "cruise place holder" which basically locks you into the lowest possible rate for your next cruise. These place holders are basically deposits, and they are only available while physically on board the ship. The next thing you should keep in mind is that cruise photos are not included in your Disney PhotoPass package. If you were at Disney World before your cruise and you bought a photo package, you will need to purchase a different photo package for your cruise photos. Any photos that are taken on board the ship will need to be purchased before leaving. Accessing these photos after you leave is practically impossible or very difficult to do.
Characters
There are character meet-and-greets happening all over the ship at different times a day. A complete schedule can be found on the Disney Cruise Navigator app and on the TV in your stateroom. The lines can be long, so be prepared for a wait. Be sure to take autograph books or other fun things to have signed! We took this extra large autograph button from a shop on Etsy, which was really fun to have signed! Find it here: Magical Creations Cafe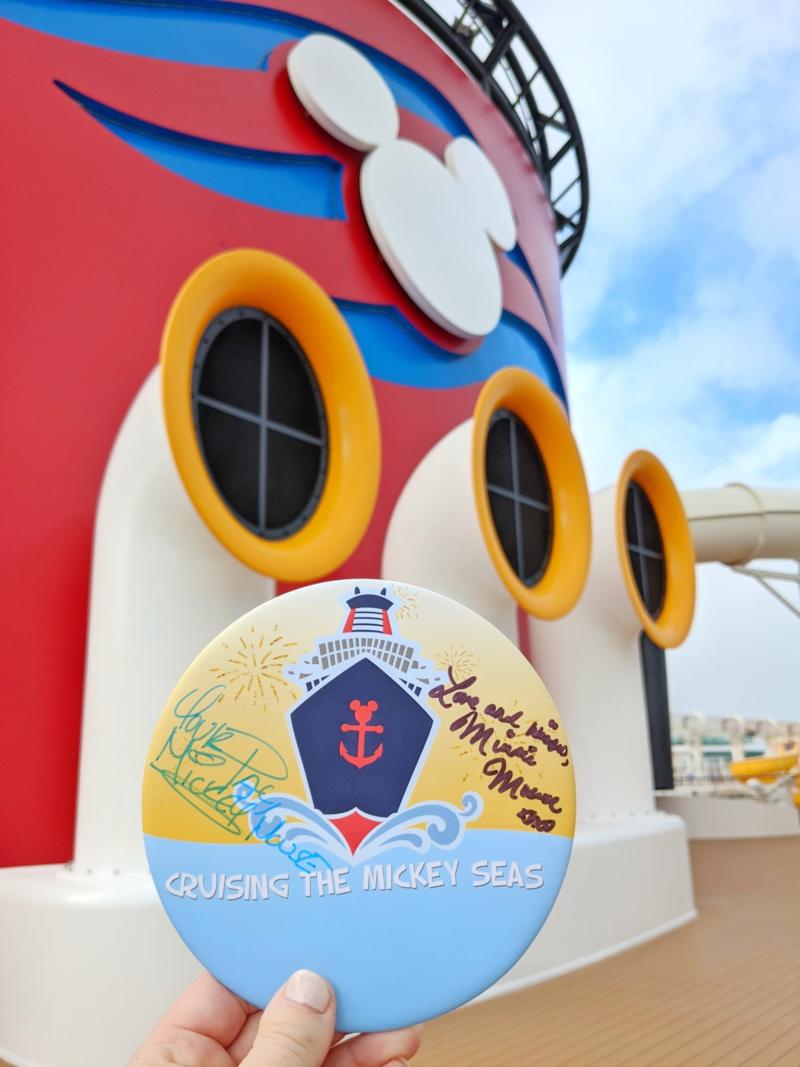 Cruise Photos
As I stated above, photos taken on the cruise are not included in your Disney Parks PhotoPass, you will need to purchase a separate cruise package. Photos on the cruise are managed by a third-party photography company. They are stationed throughout the cruise, wherever characters are located and before entering each dining room at dinner time. They are also located on Castaway Cay! While sitting on the beach, there was always a photographer out in the water, offering to capture any moments you'd like. This is great, especially if you forgot your phone or camera on board, or if you're too nervous to take one out into the water. Each time you have your picture taken, you simply tell them your stateroom number.
You can purchase a cruise photo package in advance at this website, or while on board. Just remember, you must view and purchase your photos before leaving! There is no easy way of tracking down pictures after the cruise is over.
TIP: Cruise photographers will NOT take a picture using your cell phone like Disney photographers will do at the parks. If you're not planning on purchasing a photo package, make sure you hand your phone to a friend or pack a mini tripod like this one and use the timer on your phone!
Important Words to Know
Being on a cruise requires a whole new language of nautical terminology. As first timers, it took a little while to grasp all these phrases. Here are some things to keep in mind:
Embarkation: getting on the ship for the first time during your cruise
Disembarkation or debarkation: getting off the ship at the end of your cruise
Port: the left side of the ship as you face forward
Starboard: the right side as you face forward
Forward: the front of the ship
Aft: the rear of the ship
Stateroom: your room
Porthole: circular windows
Fish extender: a gift exchange done between other cruise guests
Cay: pronounced "key" by locals

WiFi and Cell Service
Before leaving, be sure to download the Disney Cruise Navigator app. This app will work while on board without using data or needing to pay for internet. This app will work as a virtual schedule, provide a way of messaging other guests and will even alert you when your kids are checked out of the kids club.
Make sure you put your cell phone on airplane mode so you don't get charged roaming fees. There are wifi and data plans available through the cruise-line, and are cheapest on the first day. While we were on our cruise, we were given the top of the line Wifi package by Disney to use for the duration of our stay. It worked well most of the time, but did cut out every once in a while. There two phones available in each room that you can carry around the ship to stay in touch with family members. These phones are free to use, but there is a hefty fine if they are lost or damaged!

Meals
Everyone is assigned a specific meal time and schedule for rotating around to all 3 restaurants at dinner time. Your dinner schedule can be found on your Key to the World card and on the Cruise Line Navigator app. Breakfast and lunch are up to you to choose one of the options that is open during specific windows of time. There are formal meals available as well as buffet options. Kids have the option of eating in the kids club if you would prefer to have an adult only meal. Room service is free and available 24 hours a day, but in our experience, it was gross! The first night of our cruise, the water was very rough and my husband and I both felt too sick to sit through dinner. Instead, we ordered room service, having no idea how basic and bland it would be. Had we known better, we should have sent one of our teens out to the buffet on deck to bring back better food.
What we loved about the meal times, is that you are assigned to the same table number and server team to assist you each night. Our servers got to know us and always had our favorite drinks waiting for us at the table. They are very accommodating and considerate of food allergies and preferences.
The price of the cruise includes all your meals. This includes an appetizer, main course, and dessert! Being a large family that usually lives on a budget, our kids favorite part was being able to order anything they wanted off the menu! When we go out to eat on a normal basis, we only order water and we never order dessert. You should have seen their eyes when we told them they could order any drink they wanted and as many desserts as they wanted!

Drinks
All self-serve drink stations are free and unlimited, and many are open 24 hours a day. There are small disposable cups available for cold and hot beverages. I recommend bringing a larger travel cup with you (many people had their Disney resort refillable mugs with them). These drink stations offer milk, juice, tea (hot and iced), coffee, hot cocoa, lemonade and sodas. The dining rooms all offer milk, tea, juice, hot cocoa, coffee, lemonade and sodas at no extra charge.
Bottled water, alcoholic beverages, smoothies, shakes and espresso drinks are an extra charge. You are permitted to bring alcoholic beverages on board, as long as you follow the strict rules found here: Alcoholic beverage policy Wine and beer plans are also available for purchase, find more details here: Gifts and Amenities

Castaway Cay Day
Castaway Cay is easily everyone's favorite day! Castaway Cay is a long stretch of different beaches and points of interest. There is a tram that will take you all the way down, stopping at each main area. You can walk it, but it's a long walk. You will want to take everything with you that you'll need for the day. Having to go back onto the ship for anything can be a pain and will easily chew into your time.
What's Provided on Castaway Cay
There are several things you don't need to bring with you onto Castaway Cay. Almost everything you need is provided! Here are the things provided:
Beach towels
Beach chairs and umbrellas (there are LOTS of them available, but you might want to hurry to get a good spot!)
Lunch is provided on the island at no extra charge
Unlimited beverages and ice cream is provided, just like on the ship
Tubes and bikes are available to rent for a fee
A limited number of strollers are available to rent for free

Castaway Cay 5K
Running in the Castaway Cay 5K is free and I absolutely recommend it! It's fun, and you get a free finishers medal! The race is open to anyone 10 years old and up. You are not allowed to push strollers in the race. Kids that are too young to race and are at least 3 years old can stay at the Scuttles Cove kids club during the race. Infants younger than 3 would need to stay at the nursery on board the ship.
If you want to run the Castaway Cay 5K, you will need to register ahead of time. This can be done at home before leaving, or at guest services while on board. You can either meet at the designated meeting point the night before you receive your race bib, or pick it up at the start line the day of. They also provide the safety pins and several water stops along the course. All they ask that you bring are liability release forms for each person running. 5K merchandise is available to purchase on the island as well.
TIP: Be prepared to book it off the ship as soon as you can. The start line is a ways away from the ship and you only have about 20 minutes to get off the ship and get back there before the race starts. Have everything ready because time will be tight. On the other hand, this is not a timed race and the cast members running it seemed pretty laid back. If you are really rushed for time and arrive a little late, I'm pretty sure they'd still let you run!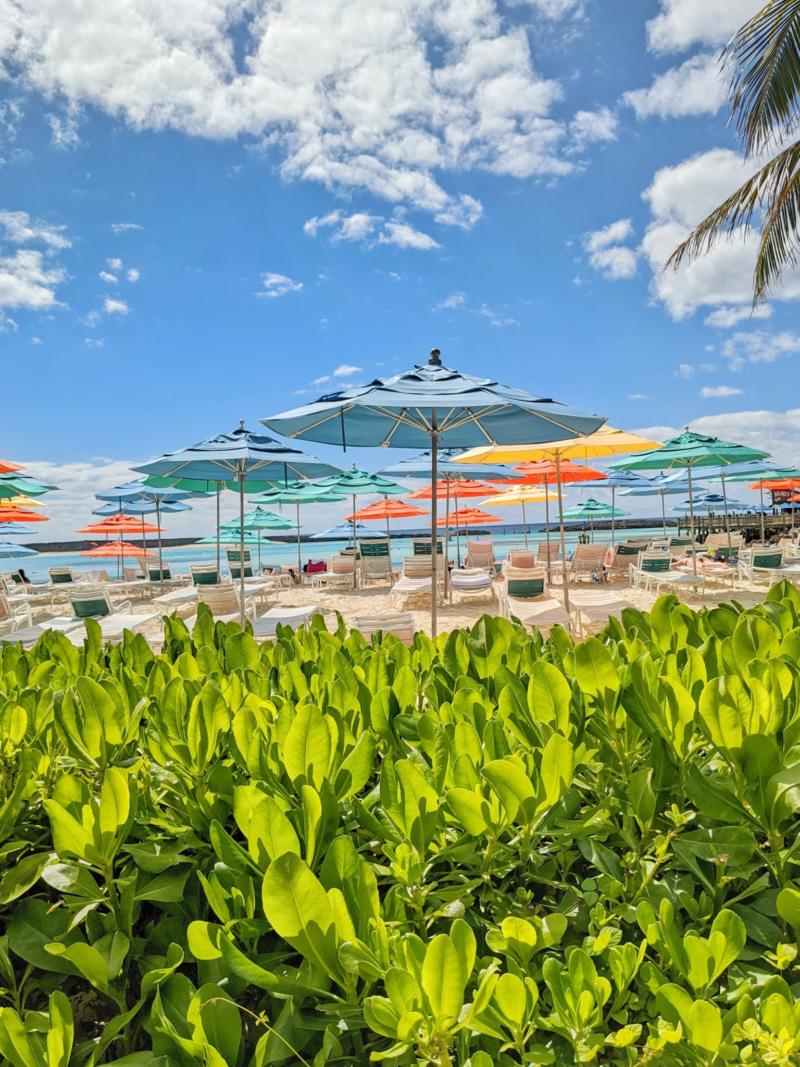 Will I Get Sick?
My husband is prone to motion sickness on any moving object and I have to be cautious at times. We went prepared with everything we could think to take, just in case! We had talked with a lot of people ahead of time that had been on multiple Disney cruises, and most people say you can't even tell you're on a boat. Unfortunately, our first night out to sea was really rough. We experienced unusually rough water and high winds. The ship was rocking so much, many people had a hard time walking without bumping into the walls! A lot of people were saying they had never experienced anything like that before, which was good news! We were glad to hear it was not the norm.
Fortunately for Jay, he had planned ahead and taken all his medication before getting on the ship. I on the other hand, was overly confident that I would be fine, but ended up getting sick. We did not make it through dinner on our first night before booking it back to our room where I spent the remainder of the evening running between the bed and the bathroom. Once I took the motion sickness medications and the storm passed, I was better, but still a little shaky. Jay felt a little queasy, but never got full-on sick. As bad of an experience that was, we're still willing to try it again and go more prepared next time. The cruise was so fun, we decided a day of sickness was actually worth it.
What to Do
So, what did Jay do that kept him ahead of the sickness? Here are my top tips:
Get ahead of the sickness – This is something we heard many times before leaving for our trip. People said that if you got sick, you'd have a hard time bouncing back. Better to take precautions ahead of time so you never get sick. This is what Jay did and it worked well! He put on a patch on, wore his wrist bands, and took Bonine the morning we left.
Seabands – We bought a bulk supply to pass out to all the kids, in case they felt sick. I'm still not totally sure these do anything, but many people swear by them!
Scopolamine Patch – This is a prescription you get ahead of time from your doctor. Jay uses these every time he flies and they are the best! It can be worn for up to 3 days and doesn't make you nearly as drowsy as other medications.
Dramamine – An over the counter medication. Can be used for kids as well but does make you drowsy.
Bonine – An over the counter medication that tends to be less drowsy.
EmeTerm Electrode Stimulator – Similar concept to the seaband, but this actually runs on batteries and has a slight electrical charge to it! Jay really believes this made a difference! It is a little pricey, but we decided it would be worth the price if it worked! Find the one we bought HERE
Stay in the center of the ship – We had read that the center of the ship is the best place to be when you feel sick. Likewise, the back of the ship is the worst! We felt the worst when we were eating dinner in the restaurants located toward the back of the ship.
Immerse yourself in water – Jay and read that if you get in the pool and go under water, it would help regulate your equilibrium. He tried it just to see if it would help. It might have a little bit.
Get a room with a balcony – This was a huge lifesaver for us. Being able to step outside for fresh air and watching the line of the horizon really helped.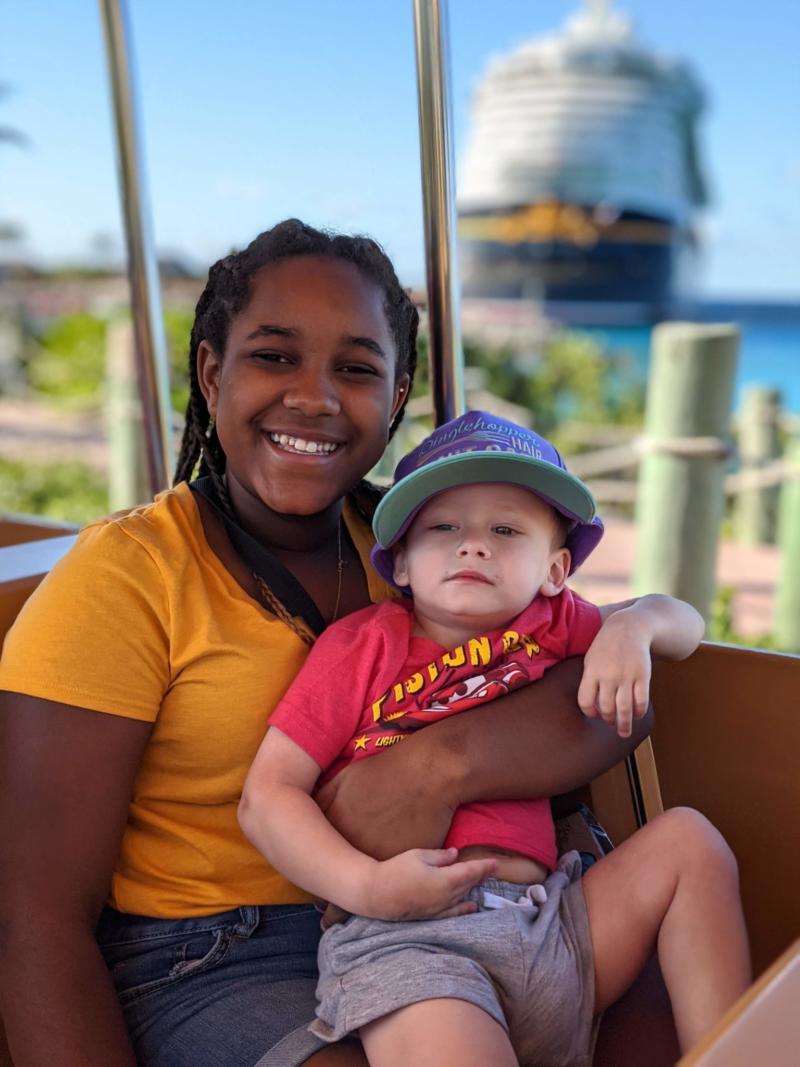 Things we Loved About the Disney Cruise Line
Here are a few of our favorite things from our cruise experience:
They take your health seriously. We received numerous updates via email, about the efforts they were taking to track viruses and ensure the safety of everyone on board. You fill out a health screening questionnaire before boarding. Hand washing stations at all the kids clubs, hand sanitizing stations enforced for everyone boarding the ship and sanitizing wipes handed to everyone as you enter each restaurant!
They really have thought of everything! Even if you did forget something, almost everything necessary is provided or available to purchase.
There is something for every age. The kids clubs really are as awesome as everyone says they are. Your kids will never want to leave! On top of that, there are tween, teen and adult clubs, spas, basketball courts, movie theaters, splash pad, water slide, adult only areas, Broadway style shows and more!
Accommodations for infants and young children. Not only is the nursery facility wonderful at caring for your infants so you can have a break, the ship really will provide everything else you need! From cribs, to strollers, to blending up your food ahead of time so it's just right for your little one, their goal is to make your experience as pleasant as possible!
The crew and support staff is wonderful. Everyone is trained to provide the same Disney service with a smile that you experience in the parks. You'll never pass anyone without receiving a smile and a "good morning" or "hello." Our dining room wait staff went above and beyond to make sure we had an amazing dining experience. Our stateroom hostess cleaned our room multiple times a day, and always left adorable towel sculptures or arranged the kids toys in the most delightful way.
Pin-It!