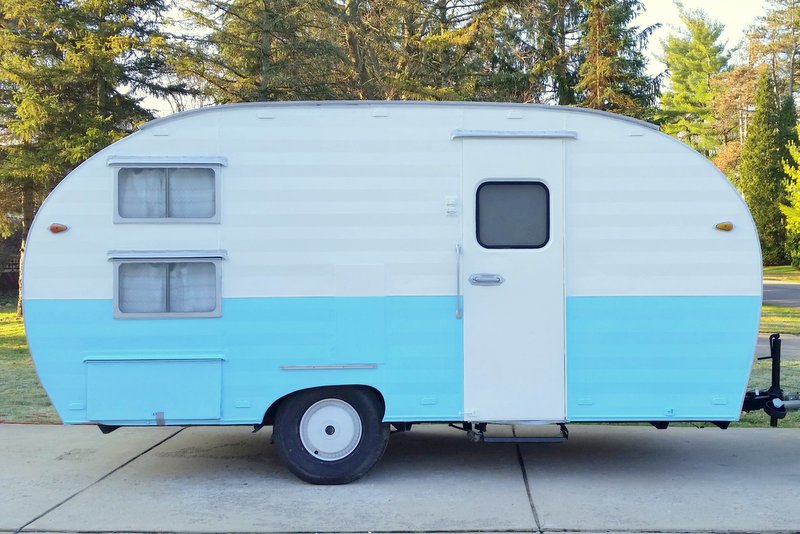 SOLD
Find all my RV renos here: Camper Renovations
It is with a heavy heart that are choosing to sell our dear, Gidget! Beautifully restored and decorated, this little camper has given us many wonderful memories. Our family of 5 has recently become, 6. As much as we have talked about cramming inside for the next several years, we have set our eyes on something a little bigger and are moving on to new adventures!
Asking Price: $8,900
Details:
Located in Livonia, MI – We will not deliver, you must come prepared to tow it away!
16′ long (not including tongue)
Approximately 1,800 pounds dry weight (we had her weighed while we were in the remodeling phase, so this may have changed just slightly)
1956 Century, made in Detroit by the Federal Trailer Co
We purchased a few years ago and completely gutted and restored the interior and painted the exterior
No AC, but we installed a 12V ceiling vent fan that works wonders!
Sleeps 4 to 5: Table converts to a bed which can fit 2 adults (but it's tight!), full size bed in the back with a single bunk over top. My husband and I got cozy and slept in the front on the fold down table, while the kids slept in back.
No bathroom, but we purchased a little marine style toilet that worked great for the kids.
Working sink with new faucet
Spacious refrigerator with freezer (can fit a full size milk jug)
Microwave
All new wiring and outlets
2 Large closets
Lots of cupboard space and storage spots
Storage under bench seats and under bed in back
New laminate wood flooring
New paint throughout
Comes fully furnished and decorated
Under the counter mounted TV and DVD player
Awning and poles
Table that attaches outside camper
Frame has been re-welded and reinforced anywhere that was showing signs of weakness. Tongue was extended.
New tail lights were installed and wired.
All gas lines were removed, no furnace installed but we will include our little space heater with thermostat.
Slideshow below, or find more pictures here: Gidget the Vintage Trailer
Find pictures on instagram with #gidgetgoescamping or #rvrenosbysarah
Connect with me on instagram here: @purposeblog
To-Do List:
Not all windows open and there are a few screens missing
Threshold of door needs to be reinforced with new metal trim
You get the charm of a 1956 trailer, but she needs continued attention and maintenance. I check her over every Spring to watch for leaks and make sure to re-caulk anywhere that is showing signs of age or cracking.
Find all my RV renos here: Camper Renovations