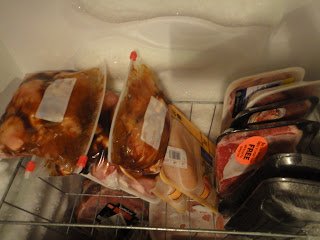 I've never officially done once-a-month cooking, but I do make a habit of buying in bulk, keeping lots of meal starting ingredients on hand and storing up meat (and everything else) when I find it on a really good deal. I keep a lot of stuff on hand in the freezer, including dishes I've made too much of, and meat I've cooked up and put in individual zip lock bags. I'd really like to gather a group of friends and try some kind of meal exchange! Using ideas based on these kinds of things:
Freezer Meals on the Cheap
Pictured Above: Some of my meat stash including chicken legs I divided up into freezer bags and covered in BBQ sauce so they will be marinated and ready to grill at a moments notice!
Below: My cheese stash!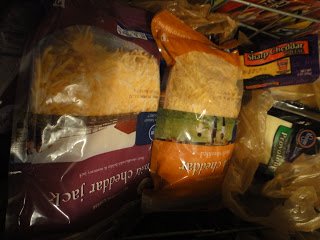 My idea would consist of a group of 5+ women who would set a menu based on things that were similar in cost and everyone likes. Each women would cook up 5 (or 10 or 20) of 1 meal, then everyone would exchange and you'd end up with 5 different meals in your freezer!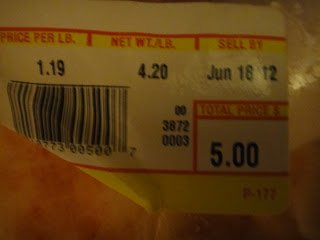 Grilled chicken drum sticks are such a cheap, easy meal during the Summer. This is actually a high end price, many times they are more like .97 a pound.
I am horrible at planing out meals. Who doesn't have a day or 2 (or 3 or 4) that dinner time sneaks up on you and you've got absolutely no idea what you're going to make? I definitely need to plan ahead more and for me, having meal starters or ready-to-prepare meals on hand makes life soooo much better!
You don't have to buy costly prepared meals that are full of preservatives and harmful additives, just set aside the time to cook-ahead. Who's with me?! ~Sarah
Julia will be doing some once-a-month cooking in the next week, stay tuned for her post! I can't wait!