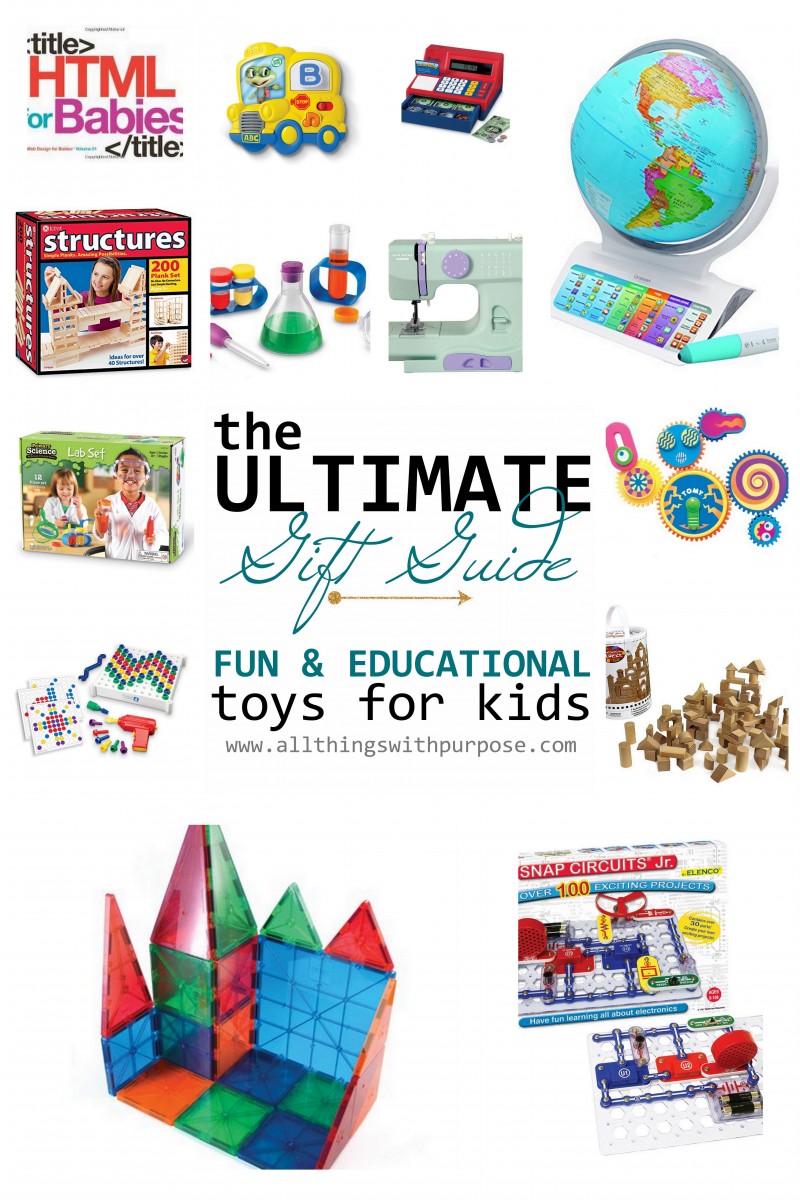 Welcome to my ULTIMATE EDUCATIONAL TOY GIFT GUIDE!
Putting together a Christmas list of ideas for your kids can be tough.
Sure, there are plenty of things they may want.
But really, how many more toys do they need?
And how many more toys do you want laying around the house,
taking up space and hardly ever getting played with?
I really struggle with this thought.
I'm sure you do too.
I'm always on the hunt for the perfect toy
that is not only going to light up the eyes of my child,
but provide them with endless hours of entertainment!!
This is why the idea of an educational toy get's my interest.
It's almost like I can justify it easier because I feel like it's doing some good. Ya know?
Here's my definition of an educational toy:
A toy, game or program that keeps my child's mind actively engaged,
stretches their imagination, teaches them a new concept,
strengthens a skill, or provides a foundation for building advanced concepts.
My number one recommendation for an active brain toy is our Picasso Tiles!
We love our Picasotiles. They are a super durable magnetic building system that beats the competitor in price comparison. We originally bought them after comparing them to the other magnetic kits on the market. They were far less expensive, yet had great reviews. We have 2, 100 piece sets – that's 200 pieces total, between our 3 kids. This is plenty! We've taken them with us to hotels, our beach condo, family vacations and getaways, and other group activities that involve kids of all ages. We've owned them now for over a year and don't have any broken or lost pieces. We keep them stored in plastic bins. Our kids will literally play with these for hours and I love seeing the designs they come up with! We've also pulled these out several times to use as a math manipulative for 1st and 3rd grade math concepts.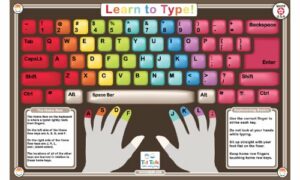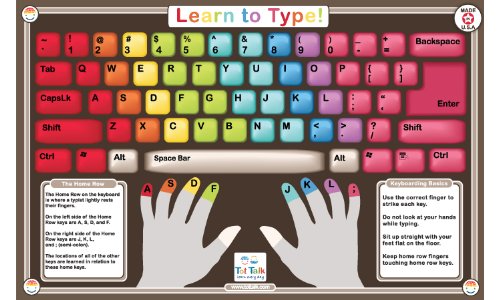 I discovered this Tot Talk Learn to Type Placemat on Amazon and fell in love!
How cool is this? Read some of the other reviews on them and see how well they have really worked for kids of all ages… even adults!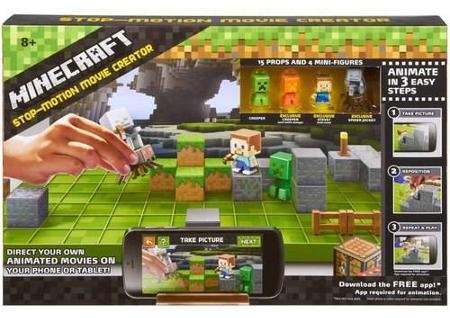 Inspire the young filmmaker with this cool Minecraft stop motion kit! You can either download the app and let your child borrow your smart phone, or do what we did… We searched for a Cheap Smartphone on Amazon. We found lots of Android devices that were brand new for around $30. You can buy a locked or unlocked version. You may have to do a quick youtube search on how to unlock it or take it into a cellular provider's store and ask them to help – but you basically end up with a cheap ipod. We DISABLED THE WIFI on our kid's phones, after installing games and apps. They basically use them for music, games and picture/video taking, WITHOUT paying for the phone service. The good/bad thing is that they CAN still call 911 – this is good for an emergency if you talk with your kids about the seriousness of it and trust they wont abuse it.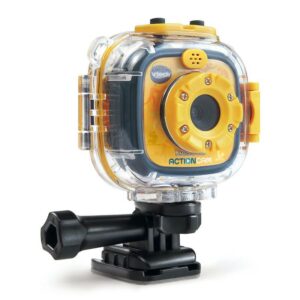 While you're at it, you might as well look into one of these Action Cameras! It's basically a kid's Go-Pro, but less expensive and built to withstand a kid!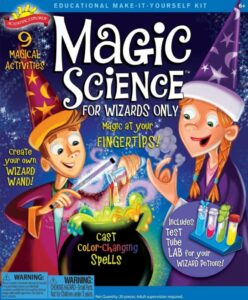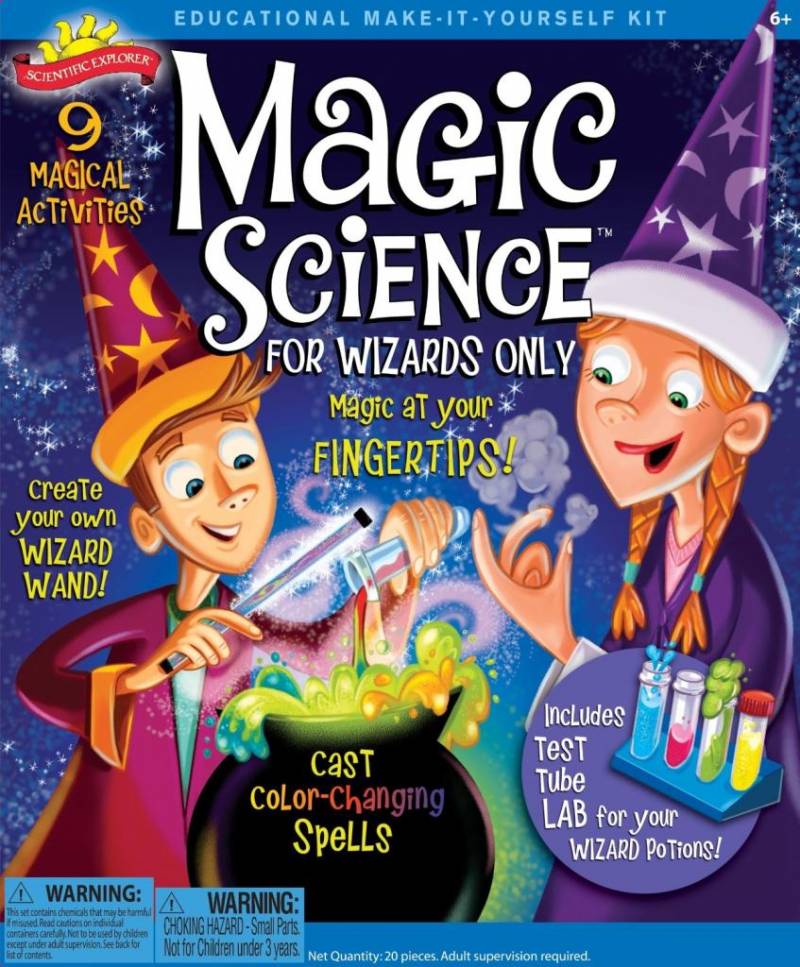 Encourage young scientists with this fun mix of "magic tricks" that are actually science experiments!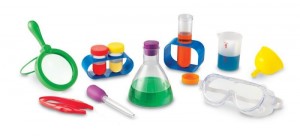 This Learning Resources Primary Science Lab Set is a great way to introduce your young child to chemistry without the risk of burning your house down.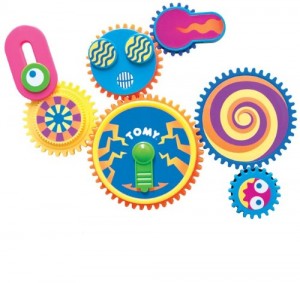 I love toys that connect to the refrigerator! These TOMY Gearation Refrigerator Magnets can stay up on your fridge and entertain your toddler while you're working in the kitchen.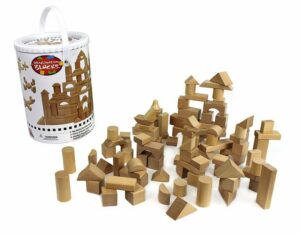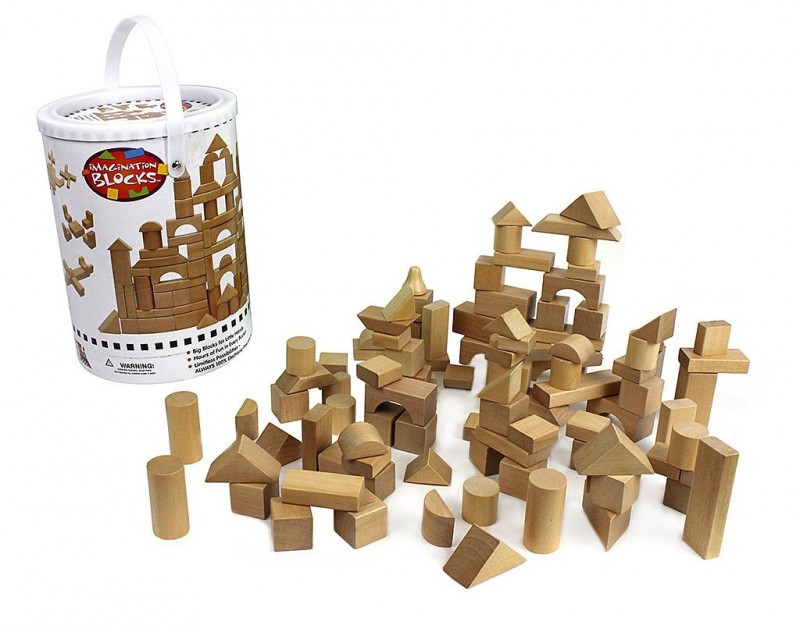 This may seem like a no-brainer (pun intended) but classic wooden blocks like these are one of my favorite active brain toys! They seem simple, but break these out and all three of my kids will sit and build away for hours.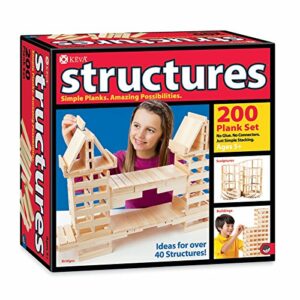 Here's a step up from the classic wooden block. This advanced structure building set will inspire young engineers!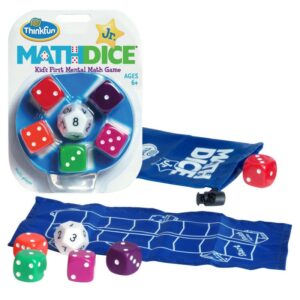 Here is a fun game that strengthens math skills! This Jr. version of Math Dice is good for kids as young as 5!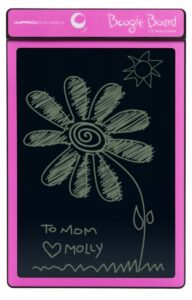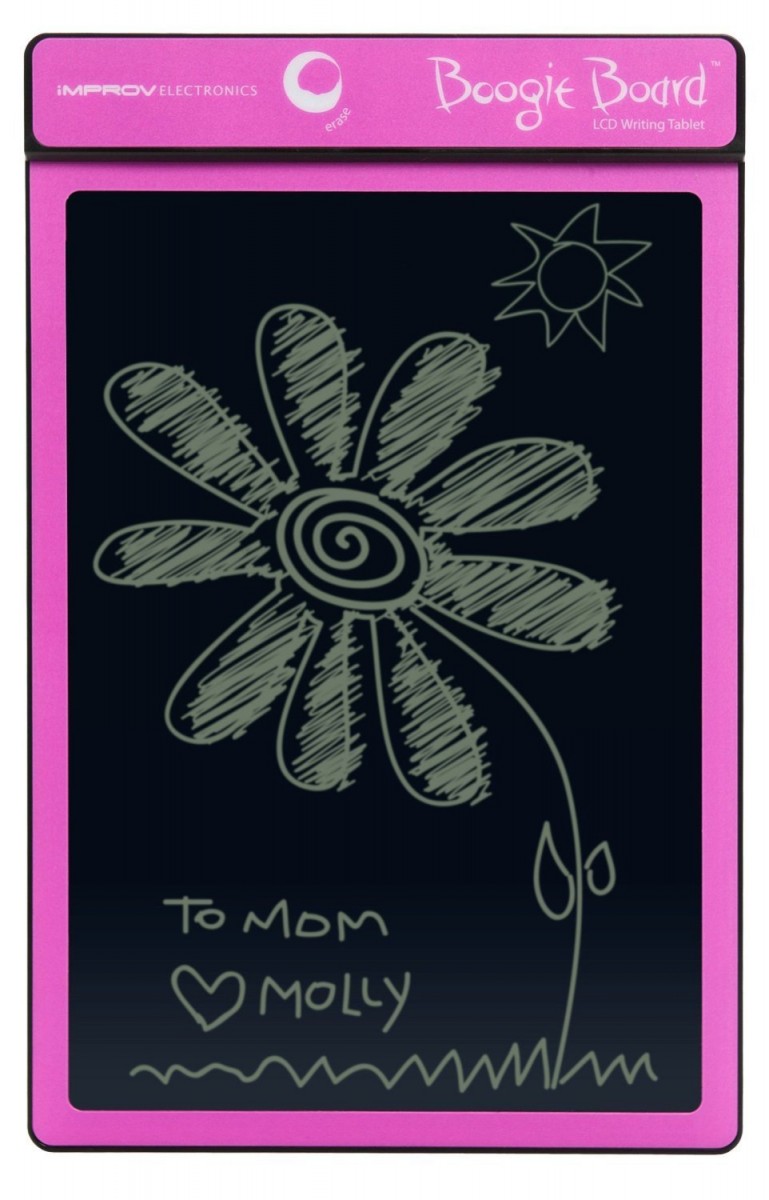 I love these Boogie Boards. They come in several colors and are a fun alternative to an electronic tablet, more like a high tech etch-a-sketch!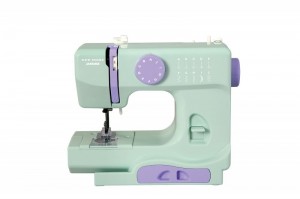 Start your young girls and boys out on their own sewing machine! This simple, slightly smaller model is great for beginners. Start young, teaching this great life skill! Bonus: comes in several color options!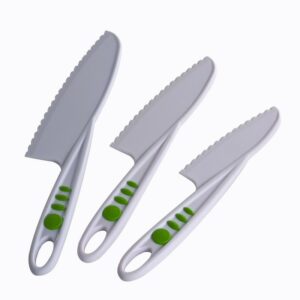 I love these safety knives. They're great to have on hand in the kitchen for the young chef you don't quite trust with a real knife… but you want to encourage their love of cooking!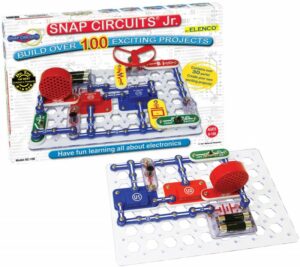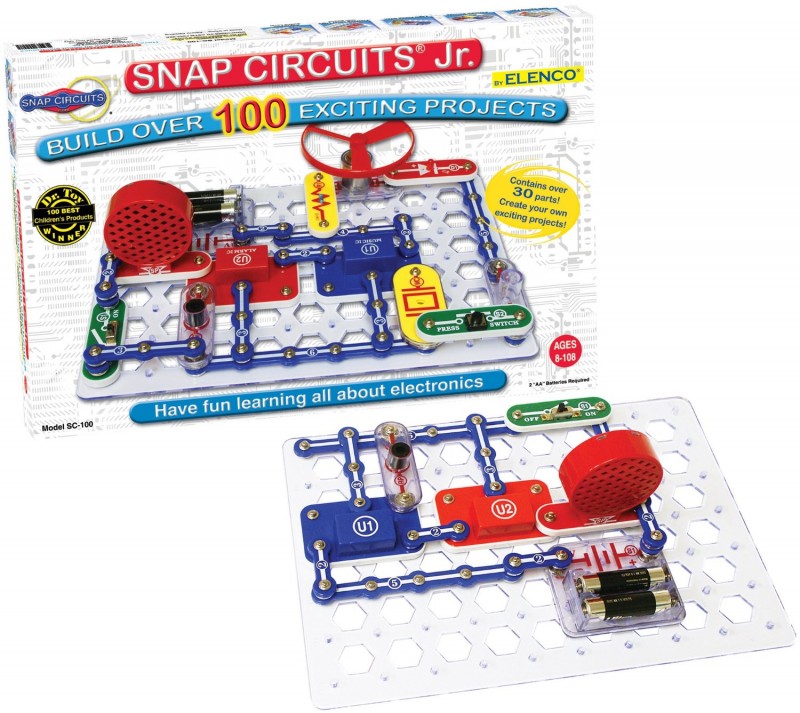 Inspire your young Edison with this kids circuit board!! How cool is this? And at around $20 it's really reasonably priced.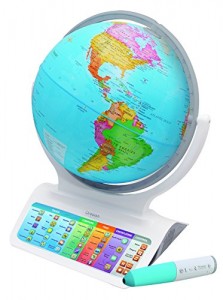 Our family splurged this year on a smart globe. We love it! It's even way cooler than I thought it would be. Click on any country or state and then choose fun facts, population, national anthem, even current world events! There are games and endless possibilities that we've only begun to discover.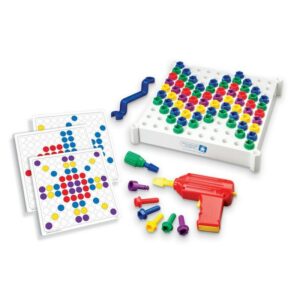 This design and drill set is a great way to strengthen hand eye coordination and pattern recognition. Can you say "coding for kids?"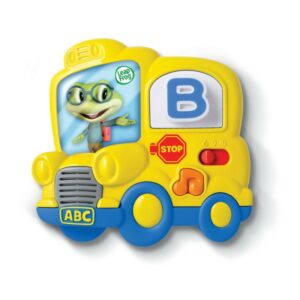 This is a classic, but I couldn't leave it out. We've had one of this fridge phonics magnet hanging on our fridge since my oldest was born, 8 years ago. It's a fun way to teach letter sounds from a very young age.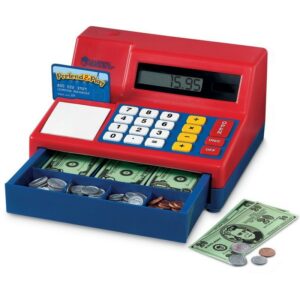 Play cash registers sure have come along way! A cool, high tech play register like this is a great way to encourage money management and math.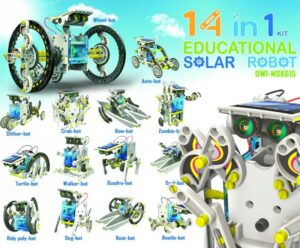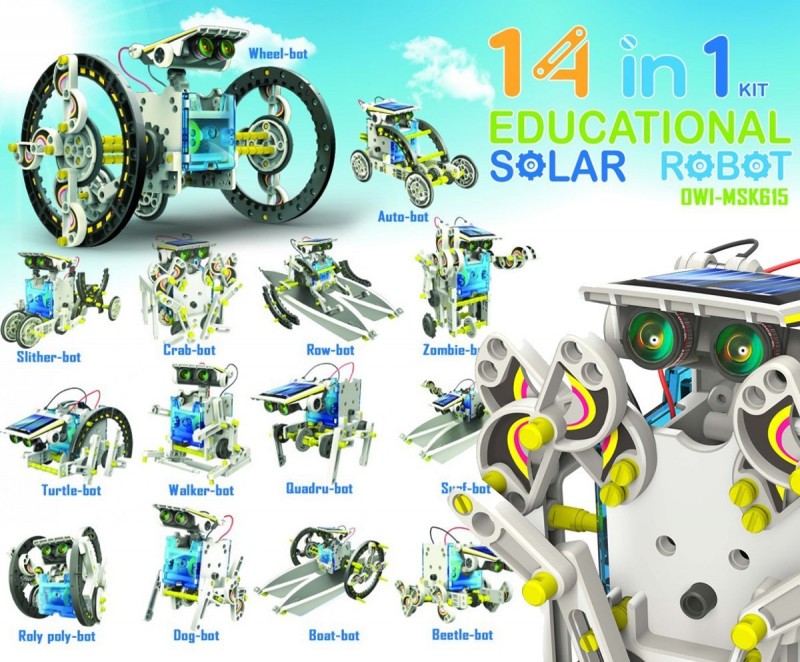 This solar robot kit is so cool! Introduce your kids to the world of robotics that they can build and really move!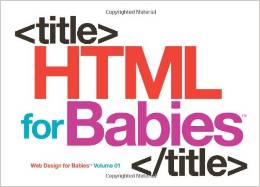 Yes, this really is a babies first book of HTML! Need to say more?
I realize this is not a toy, but a fun bedtime storybook to read with your kids. It includes math mind benders and story problems geared for each individual age group. On each page, there is a question for young kids, older and advanced ages.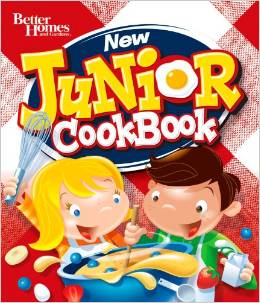 Encourage your young kids to cook! Have them watch Top Chef Jr. then give them this book. Before long, they will be cooking for you on a daily basis… wouldn't that be wonderful??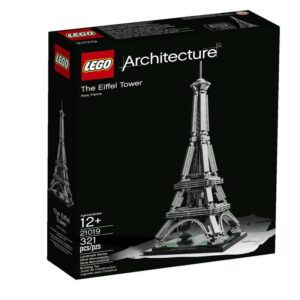 How could I create a round-up like this without including the ultimate building toy, the Lego!!? There are so many options out there today to inspire every kid. There are princess, pink lego friends for girls, mincraft and superhero legos for boys, beginner duplo sets and advanced architectural sets like this one!
I've teamed up with 8 other bloggers to bring you the Ultimate Gift Guide Round Up! Click on image to get more details. Let the shopping begin!