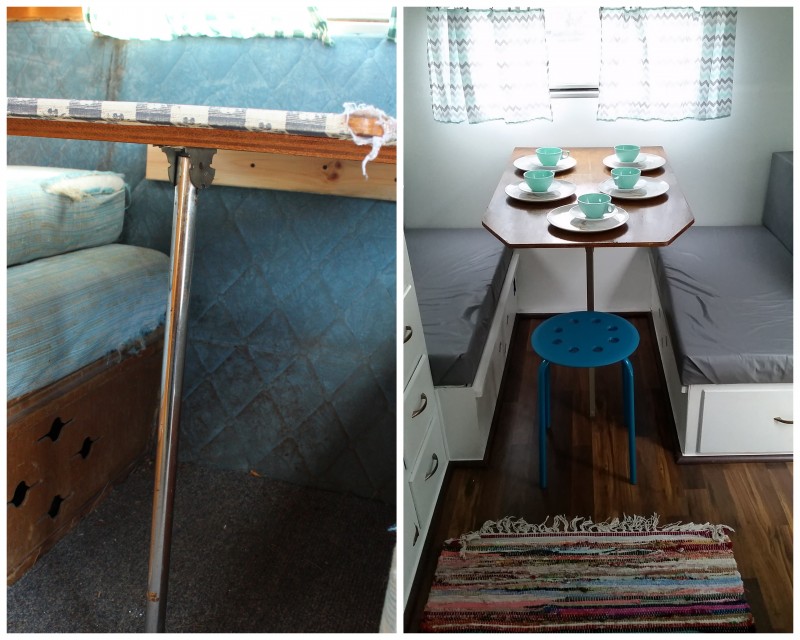 Hey everyone! I wanted to do a post, highlighting the frame repair and welding work we had to have done on the trailer. Oh, and I threw in a couple other fun before and after pictures too.
So, to start, this was a really big deal.
A really, really big deal.
Like, we almost abandoned this whole project and settled for Gidget becoming a play house in the backyard. When we bought Gidget, she was a mess. We knew we were in for a big project. We also knew just by getting down on our hands and knees that the frame was in pretty bad shape.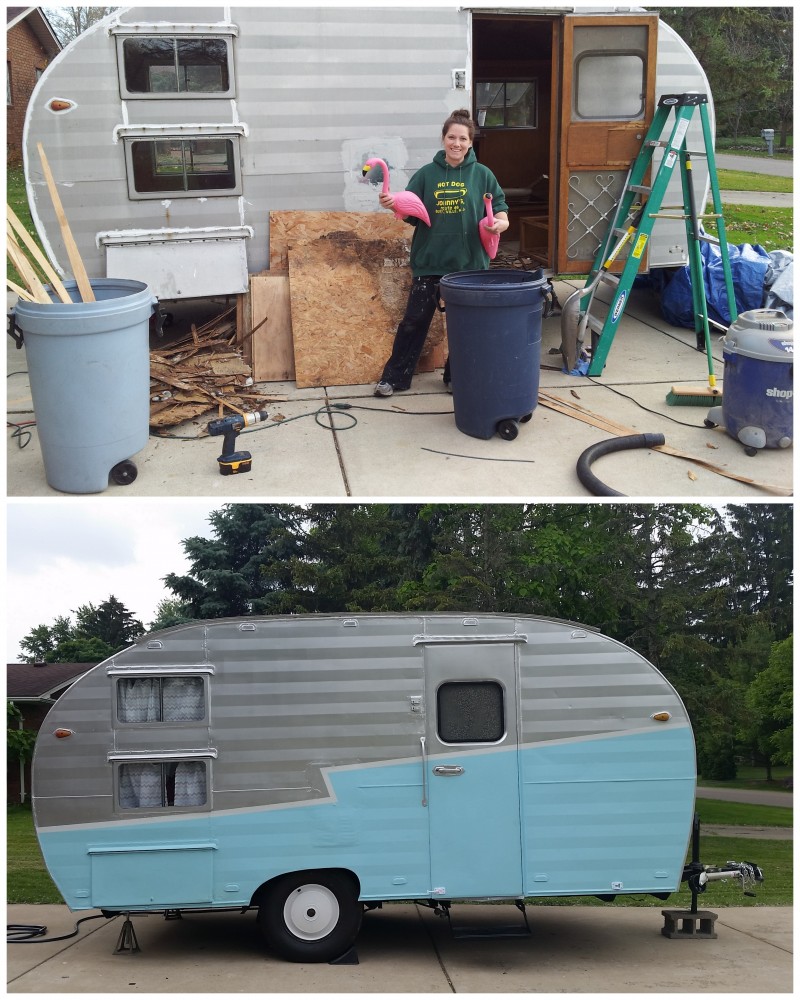 Well, fast forward a couple months, multiple people told us how dire the shape of the frame was really in. One guy said it was so bad, it should have shattered on the road like glass. One friend thought we could get a couple years out of it, with the plan to eventually replace the whole thing or do serious repair. Two friends with welding experience, offered their help, with various degrees of hurdles to jump through. Here were our options:
Give up on traveling with Gidget and park her in the backyard for a guest house or play house.
Find a new frame that was the correct size, unbolt Gidget from her original frame, remove flooring and lift her off onto the new frame.
Take her to the local Coast Guard base where a friend works, to have her welded after hours. However, per Coast Guard fire codes, remove all the flooring first.
Pay $500 just to have her assessed by a vintage trailer restoring business an hour away, then pay $300 an hour to have her fixed up.
Drive her 3 hours away to a friend's pole barn to have repairs done (mind you, at this point we weren't even sure she'd make it 3 minutes down the road).
Resell to the highest bidder.
Cry.
Find a kind soul that would be willing to take her on and pay him any amount necessary just to be done with it.
Now, at this point in the journey, I had already sealed up the outside, gutted the inside, replaced walls and floor boards, stripped out old electrical, cleaned up dead mice, filled holes and replaced windows. To say I was slightly emotionally invested was an under statement.
I am so incredibly grateful for our friends that gave me hope. I had talked with a few guys that made the situation sound hopeless. What I later came to understand, was that they just didn't want to do the work. The welding work would not cost a lot in supplies, it was just going to be a tedious job that required a well rounded skill set. Someone who could look at the big picture and utilize a number of different abilities.
I was grateful for the offers from friends to help with the work, but ultimately felt bad inconveniencing anyone and really just wanted to pay someone to taker her away and finish the job without me having to rip out any flooring or do any more prep work.
I called at least 20 different local RV and trailer dealers, manufacturers, machine shops, auto mechanics, and steal fabricators. Every one of them, when they heard I was talking about a vintage trailer, told me they didn't deal with that kind of thing. I was given several different numbers each time and I just continued to follow the trail which seemed to grow colder and colder with every person I spoke with.
Finally, I was given the number to a guy named Remo. I called Remo at Elite Automotive Repair and he says "Sure! I could do that." Apparently Remo is the guy that takes on all the jobs no one else wants to do. And he stays pretty busy because of it! Remo looked the trailer over and quoted us around $1000 to do everything. When all was said and done, he extended the tongue (so we could open the trunk while hitched up), replaced the coupler, cut away several sections of the frame and welded new pieces in, welded in a wheel and new chains, banged out a few dents, repacked the bearings, got new tires and sealed stuff up with tar and paint.
Remo went around the frame and banged it with a hammer. Anywhere the frame fell apart from the hammer, he cut away and replaced it.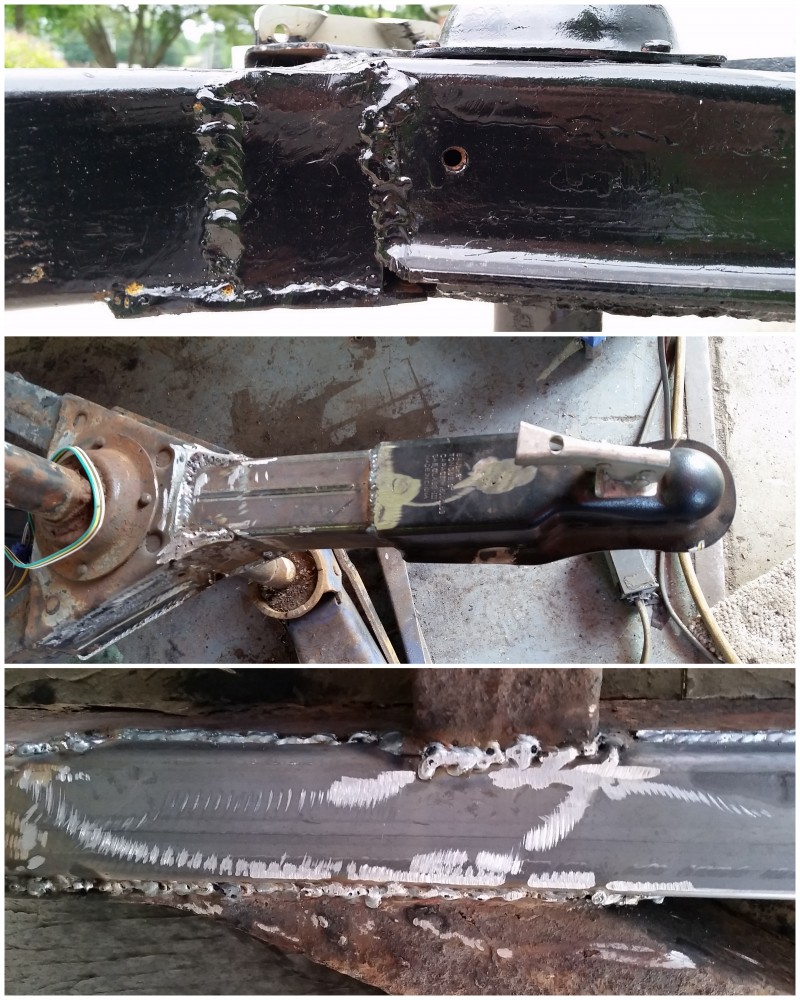 Here's a nice before and after shot of the tongue!
We ended up spending about $1200 in repairs, which I was totally fine with. Add that to the $1700 we originally spent on her, and it's still much cheaper than buying a new trailer! Plus… she's vintage. So there is that.
Gidget's previous owners used her for hunting, deep in the woods of the Michigan's UP. We think it's safe to say they stored her in their yard and she sat through any number of harsh, Northern Winters before coming to us. Who knows, she could have sat there every winter since 1956. We have learned that any vehicle or trailer sitting over grass for any length of time will suffer damage. The moisture will eventually eat away at the undersides of your trailer. We plan on storing Gidget on our driveway, or over a tarp perhaps.
After the repairs were done, I spent some time rolling around underneath to seal up the remaining cracks and holes. There were a few spots that had caught fire while the welding was taking place. There was paint touch ups to be done because of this and a piece of wood to replace in front, along the floor. Here are a few of the supplies I used, along with some spray foam insulation: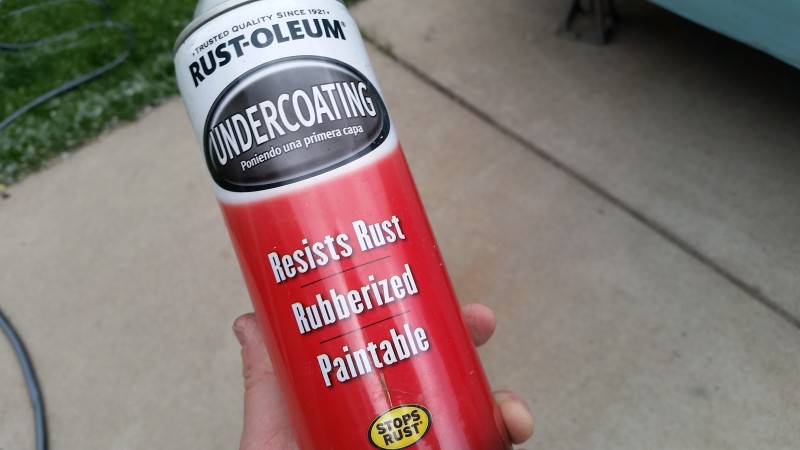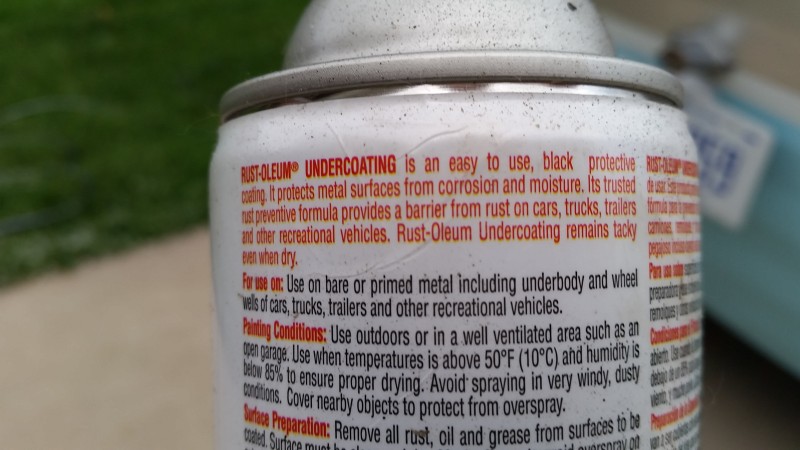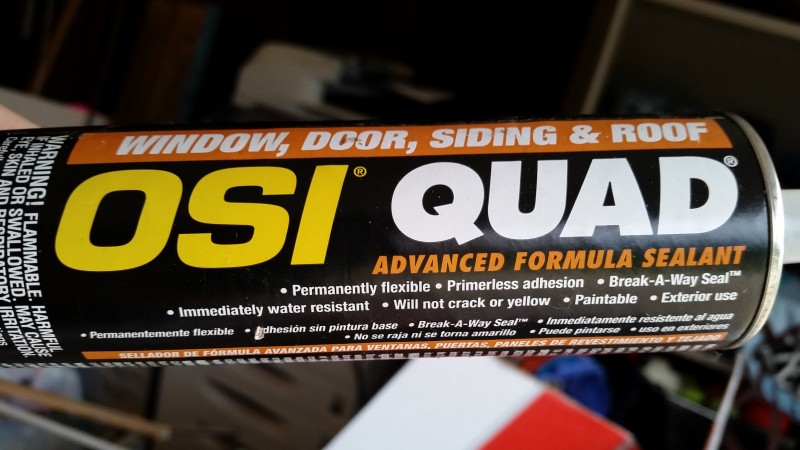 Here's the finish shot of the underside. Still not the prettiest thing to look at, but she's sealed up from moisture, bugs and further rust corrosion. And hopefully, strong enough to enjoy many years of family fun and memory making.