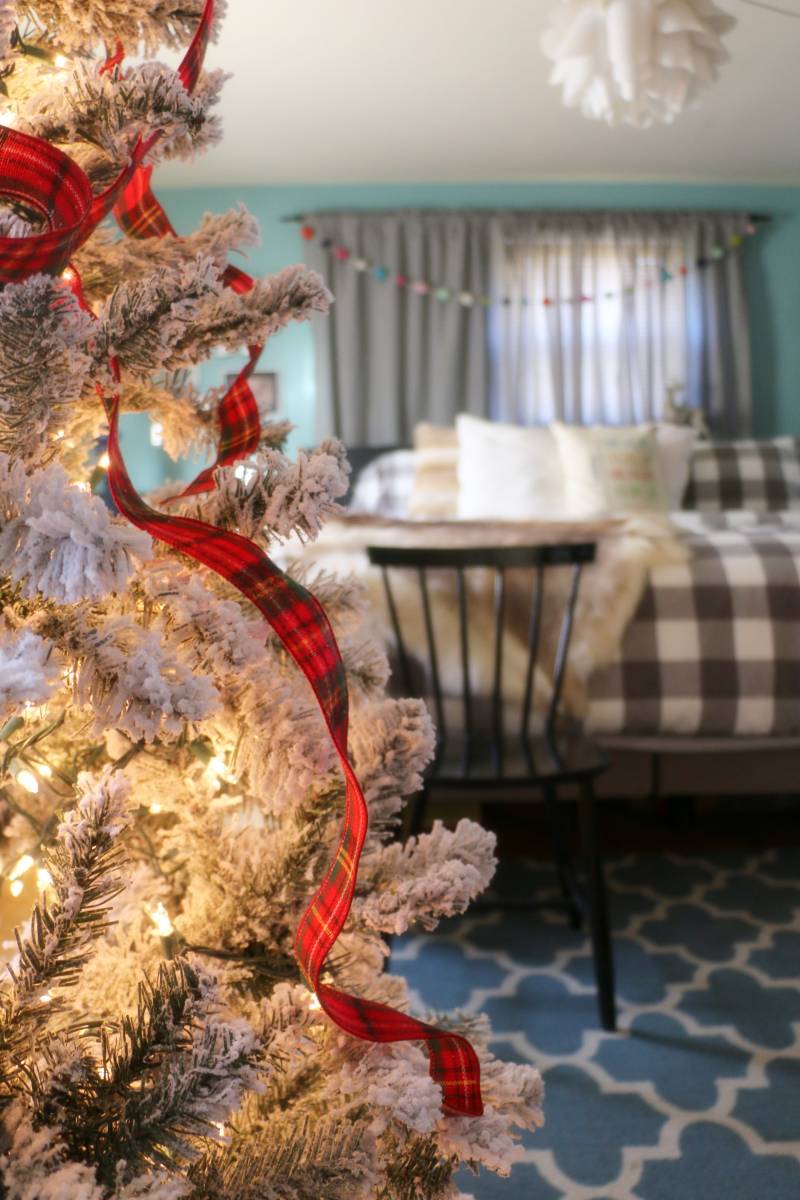 Welcome to part 2 of my Christmas home tour!
You can find the rest of my home from part 1 here: 2015 Christmas Home Tour
I'm kind of excited about sharing these 2 rooms with you because they're the first ones to get left out of most home tours and the last ones to get cleaned on a regular basis.
First up, our master bedroom!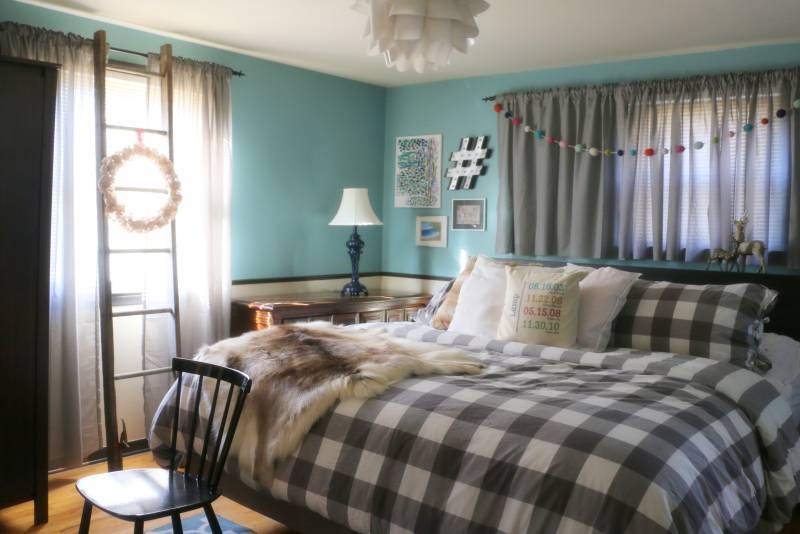 I had to share, because after almost 10 years of living in this house (and upgrading to a King size bed) I've never been in love with this room. We've had the bed awkwardly placed in this room for years because I couldn't figure out any other way of arranging it. There are windows everywhere and limited wall space for placing furniture.
See that window above the bed? It's really a small awkward window that sits higher on the wall from the other two and is off centered. I finally just broke down and tried the whole, optical illusion thing with curtains.
It totally works, ya'll!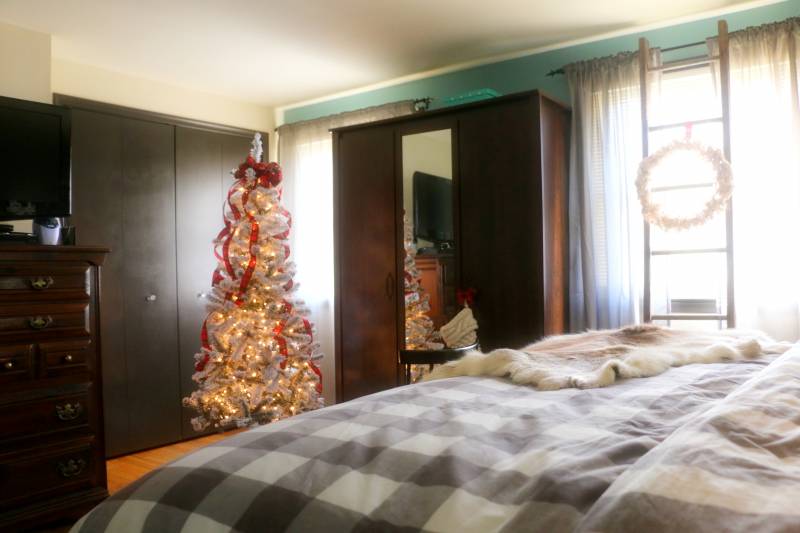 Also, I have to say it has been a life-long dream to have a full size Christmas tree in my bedroom. Since rearranging everything… my dream came true! There is room for a tree! We snagged this beautiful, 6′ flocked tree from Walmart for $30.
We now have 4 full size trees up at our house. FOUR. Plus each of the kids have a tiny one!
Ahem.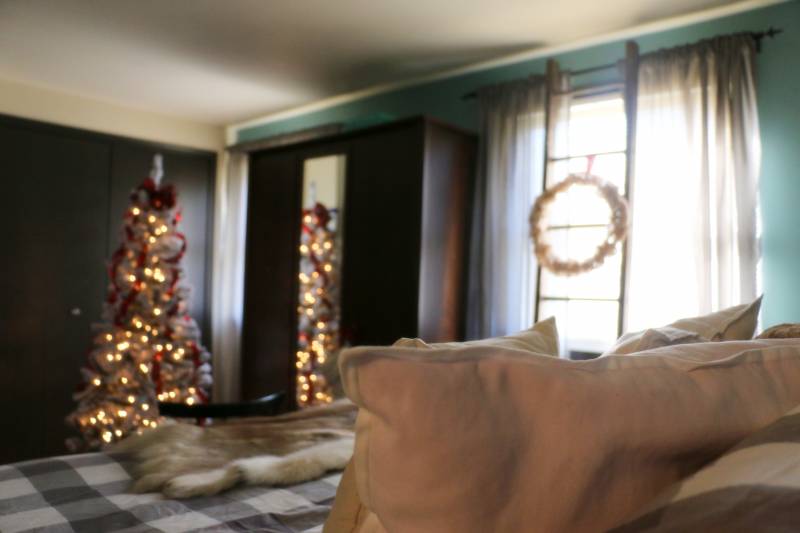 Might I remind you, as I fist disclosed in this post: Something's Gotta Give
Our bedroom is usually the last stop or final dumping grounds for all the crap I've rounded up from the rest of the house.
This room is NEVER clean.
The bed and floors are permanently littered with laundry baskets and all kinds of other random bags of bills, junk mail, books and boxes of what not. And ya know what? I think the reason I was OK with trashing it was because I just didn't like it.
I think we've finally made our peace, this room and I. For the first time ever I really, for real, like it.
I WISH I had taken a gross before picture… but I didn't. Oops.
The other big thing I did while rearranging the room was this DIY sliding closet door. Read about it here: DIY Modern Sliding Barn Door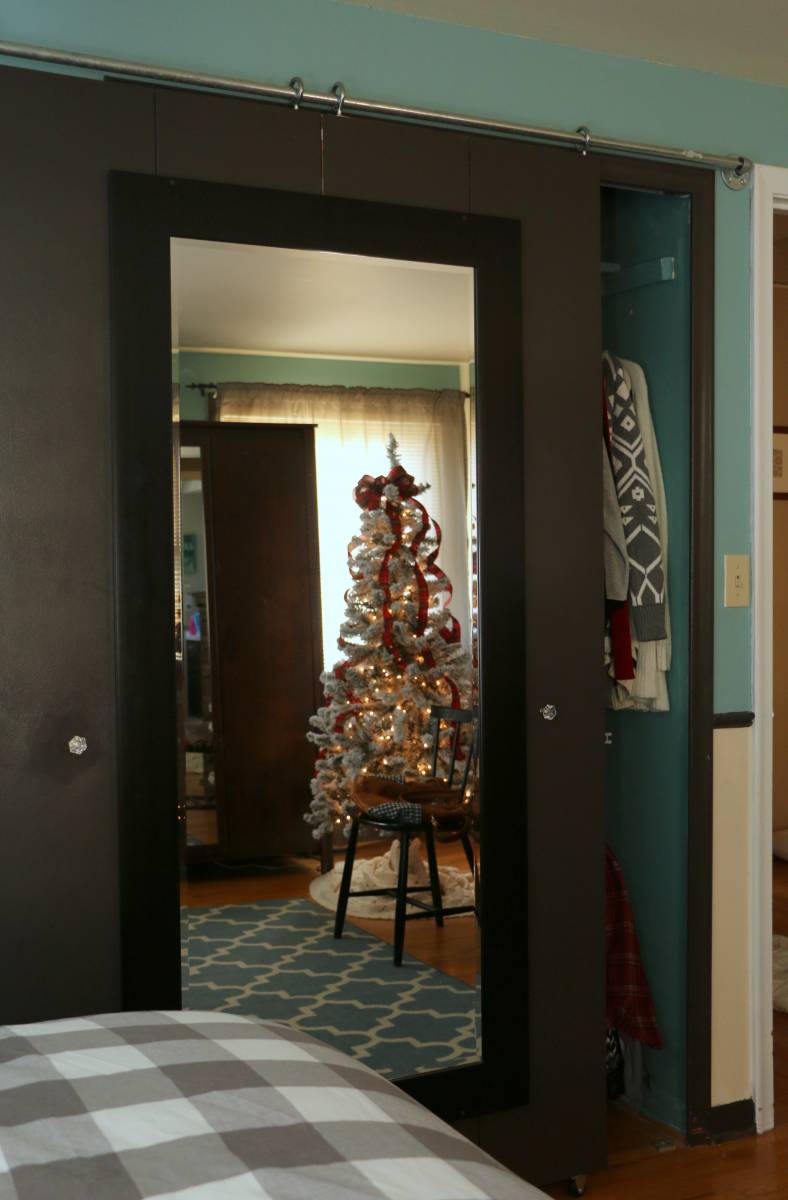 The next stop on my list of most often forgotten rooms is the basement! This area was fun to decorate this year because we just spent some time fixing it up a little more. Because of our plumbing situation, we will never feel fully confident that it wont flood down there. Because of that, we are limited on the amount of money we want to put into fixing it up and the things we're willing to use.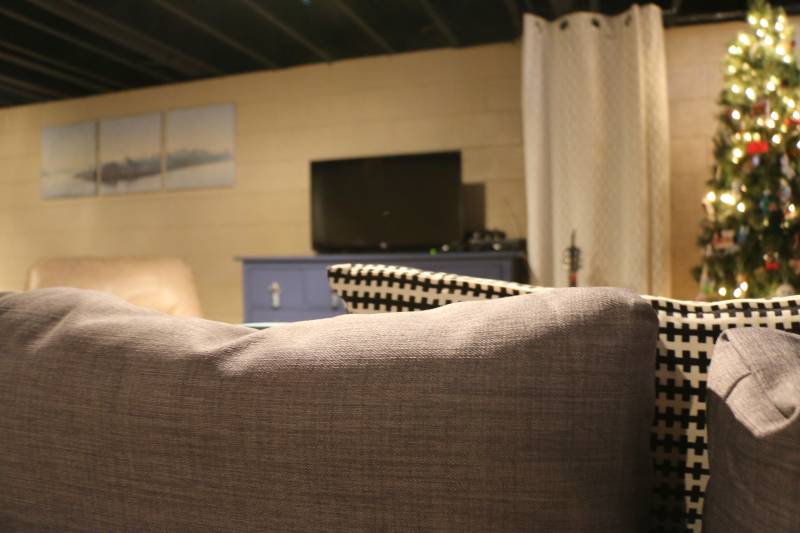 What we've done:
Paint walls, floor and ceiling
Installed new lights
Hung curtain panels on wire line to create the illusion of bigger windows and to hide ugly pipes or electrical boxes
Dry walled around the sump pump and under stairs
Bought cheap carpet remnants for area rugs
Hung artwork on walls
Bought cheap furniture from IKEA – including a TV stand that is raised off the ground to cover the sewage access pipe!
We would love to add a bathroom in the future, but for now this space has really been nice!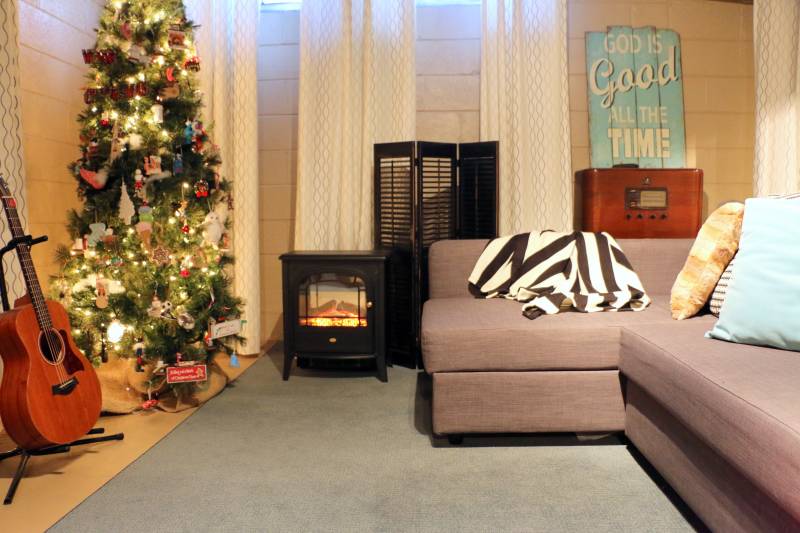 Here is a before picture to help put things in perspective:
Thanks for dropping in! Be sure to move on to part 1 if you haven't already: Home Tour Part 1