Today I am sharing how to avoid seasickness on a cruise. What to take that works and what doesn't work from personal expeirence.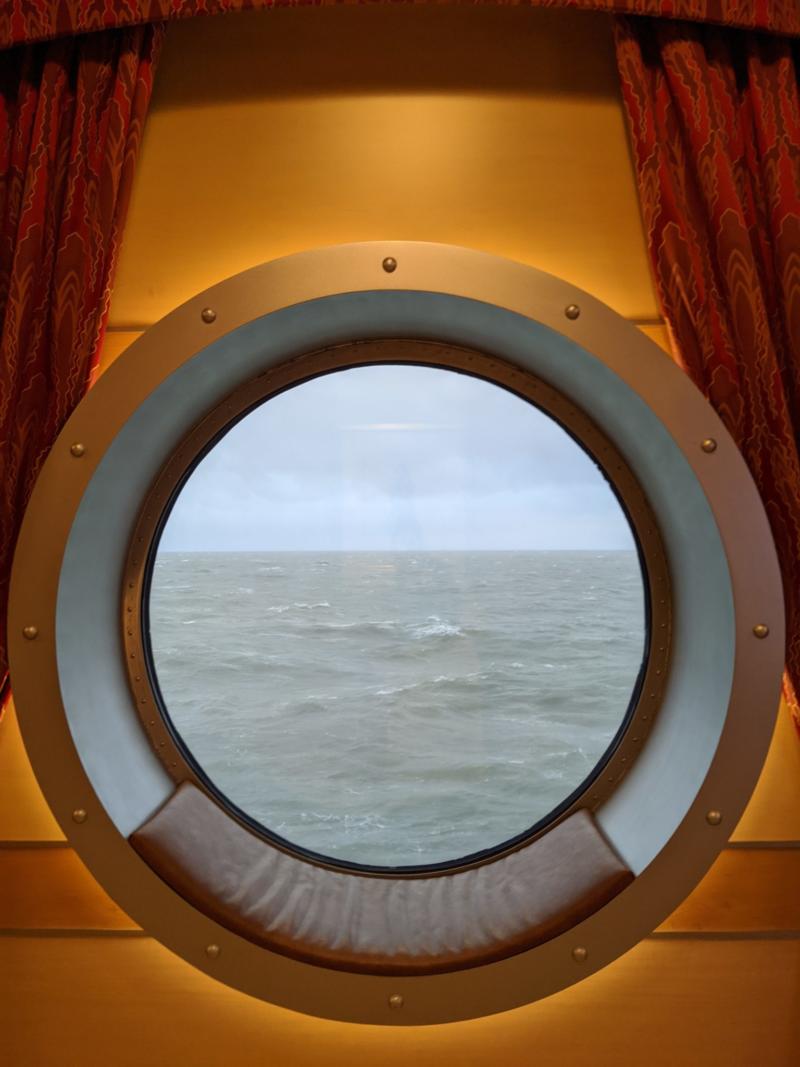 How to Avoid Seasickness on a Cruise
Our family just got back from our first cruise! While it was a wonderful experience and we can totally see why so many people fall in love with cruising, we had a rough first couple days. My husband is prone to motion-sickness and cannot do most rides, gets sick on almost every flight and has to be the driver in the car or he gets sick. I am occasionally prone to motion-sickness, and have to be cautious about reading in the car or going on rides that spin.
Because of this, my husband has been anxiously awaiting our cruise experience. He had researched the ins and outs of seasickness and surveyed numerous people about their experiences. We researched different types of medication, natural remedies, where to be on the ship and what to look at if you feel sick.
In the end, he was prepared and got ahead of the sickness, I did not. So, what did he do that I didn't do? I'll share everything we learned from this experience and what we would do differently to avoid seasickness on a cruise the next time, if there is a next time.
Staying Ahead of the Sickness
We went prepared with everything we could think to take, just in case! We had talked with a lot of people ahead of time that had been on multiple Disney cruises, and most people say you can't even tell you're on a boat. Unfortunately, our first night out to sea was really rough. We experienced unusually rough water and high winds. The ship was rocking so much, many people had a hard time walking without bumping into the walls! A lot of people were saying they had never experienced anything like that before, which was good news! We were glad to hear it was not the norm.
Fortunately for Jay, he had planned ahead and taken all his medication before getting on the ship. I on the other hand, was overly confident that I would be fine, but ended up getting sick. We did not make it through dinner on our first night before booking it back to our room where I spent the remainder of the evening running between the bed and the bathroom.
Once I took the motion sickness medications and the storm passed, I was better, but still a little shaky. Jay felt a little queasy, but never got full-on sick. As bad of an experience that was, we're still willing to try it again and go more prepared next time. The cruise was so fun, we decided a day of sickness was actually worth it.
What to Do to Prevent Sickness
So, what did Jay do that kept him ahead of the sickness? Here are my top tips:
Get ahead of the sickness – This is something we heard many times before leaving for our trip. People said that if you got sick, you'd have a hard time bouncing back. Better to take precautions ahead of time so you never get sick. This is what Jay did and it worked well! He put on a patch on, wore his wrist bands, and took Bonine the morning we left.
Seabands – We bought a bulk supply to pass out to all the kids, in case they felt sick. I'm still not totally sure these do anything, but many people swear by them!
Scopolamine Patch – This is a prescription you get ahead of time from your doctor. Jay uses these every time he flies and they are the best! It can be worn for up to 3 days and doesn't make you nearly as drowsy as other medications.
Dramamine – An over the counter medication. Can be used for kids as well but does make you drowsy.
Bonine – An over the counter medication that tends to be less drowsy.
EmeTerm Electrode Stimulator – Similar concept to the seaband, but this actually runs on batteries and has a slight electrical charge to it! Jay really believes this made a difference! It is a little pricey, but we decided it would be worth the price if it worked! Find the one we bought HERE
Stay in the center of the ship – We had read that the center of the ship is the best place to be when you feel sick. Likewise, the back of the ship is the worst! We felt the worst when we were eating dinner in the restaurants located toward the back of the ship.
Immerse yourself in water – Jay and read that if you get in the pool and go under water, it would help regulate your equilibrium. He tried it just to see if it would help. It might have a little bit.
Get a room with a balcony – This was a huge lifesaver for us. Being able to step outside for fresh air and watching the line of the horizon really helped.
Natural remedies – There are several natural things that people say help keep sickness away, and can also provide relief from symptoms once you feel them. These include ginger in any form (ginger ale, ginger flavored hard candy, etc.) and green apples!

Below is a very real picture that my husband snapped!
This is me, in bed sick, while Asher enjoys a room service meal!

What to Do if You Get Sick
What happens if you don't plan ahead and end up getting sick? What happens if you've taken everything you can take and you still get sick? When I got sick, the only place I could handle being was in bed. Having a room with a balcony was helpful because at times, the fresh air felt good. I took all the motion sickness meds, plus Benadryl in hopes of knocking myself out so I could sleep it off. I'm not going to sugar coat it, it's not fun. There were times I felt like I was going to roll off the bed, and the room never stopped moving.
Because it was our first night and we weren't really aware of all the options, we chose to order room service for everyone. Bad idea. The room service was the only thing about our experience that stunk. The food was very basic and not great. Had we known better, we should have sent someone up to the Cabanas buffet to pick us up something more tasty (not that I ate anything that night).
The good news is, there is an end in site. The ship travels through the night and once it reaches it's next port, you could spend an entire day on land if you want to. We set sail at dinner time on our first night and reached the Bahamas by breakfast the next morning. I felt sick all night, but I woke up the next morning to calm seas and a sunny sky. We got off the ship for a few hours to walk around and spent the rest of the day on the ship. At that point, I was starting to adjust, plus all the meds were doing their job. I was a little shaky for the rest of our trip but felt good enough to enjoy everything.

When You Get Home
Here's a little tip that nobody warned us about – you might still feel like you're on a ship, up to a week later! That's right, while sitting at home or laying down, my husband and I both felt like we were being physically pulled in one direction and then the other! It literally felt like we were still on a ship, rolling back and fourth by the waves. We also experienced a little bit of ongoing dizziness that week.

Would We Go On Another Cruise?
After experiencing the worst case scenario, would we do it again? Surprisingly, yes! My husband and I both agreed that there were still so many amazing things about the cruise, we would be up for trying it again. On one hand, a three night cruise felt way too short, but it was actually a nice way to try it out. We also think a longer cruise might be too risky for us, due to sickness. With such a short cruise, if you do get sick, the end is in sight. If I were to have gotten sick on a longer cruise, it might have been more discouraging.
Pin-it for Later!