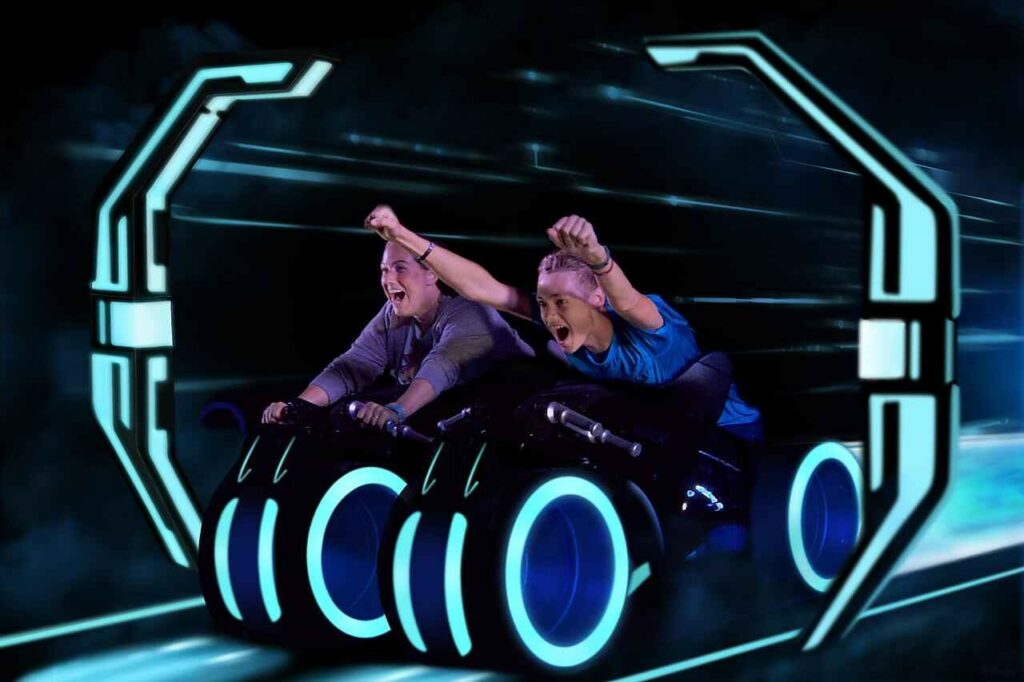 Tron Lightcycle / Run
The long-awaited TRON roller coaster is finally open at Walt Disney World's Magic Kingdom! This high-speed, futuristic coaster is an immersive experience and worth trying once. If you are hoping to ride Disney World's TRON: Lightcycle Run, there is some important information you should know to make sure you can reserve spots to ride. There are two ways you can ride: with a free virtual queue or a paid individual Lightning Lane.
Step 1
Purchase a park ticket and make a park reservation for the Magic Kingdom. You must have a park reservation for the Magic Kingdom on the day you plan to ride Disney World's Tron.
Step 2
Next, download the My Disney Experience app to join the virtual queue or buy Lightning Lane Passes for TRON: Lightcycle Run. Tap the three-lined icon in your My Disney Experience app and go to "Virtual queues." The Magic Kingdom queues will have an option for TRON; This is where you will go to reserve spots at exactly 7:00 am. Lightning Lane passes will be available when the park opens or at 7:00 am for those staying at a Disney World resort. Lightning Lane passes are available to purchase on the My Disney Experience app and will go fast, so be quick!
TIPS FOR JOINING A VIRTUAL QUEUE: Securing a virtual queue for Tron is just like getting one for Cosmic Rewind. You can do it from anywhere, you don't have to be on Disney property. I highly suggest logging in ahead of time and confirming your group. Make sure all the members of your party are listed and linked to your account. Next, open a digital clock on your computer or phone that counts down the seconds. Use your fastest data connection (wifi or data depending on which one is faster). If you are on Disney property, do not use the Disney wifi. You may also want to use the quickest device available or have multiple people trying on multiple devices. If you wait until 7:00, you will be too late! Watch the seconds counting down and start hitting the refresh button over and over again as soon as the time reaches 6:59:58. We have had a 100% success rate using this method! If you do not get a queue at 7:00, you can try again at 1:00 pm from inside the park using these same steps.
Step 3
Once you secure a spot in the queue, watch your device for when your party number starts to board TRON. You will be given an estimated arrival time, but keep an eye on it as it will update throughout the day. Once your group has been called, you will have one hour to return. Do not be late! Unlike other virtual queues, the Tron queue is pretty strict and will not let you in if you are late.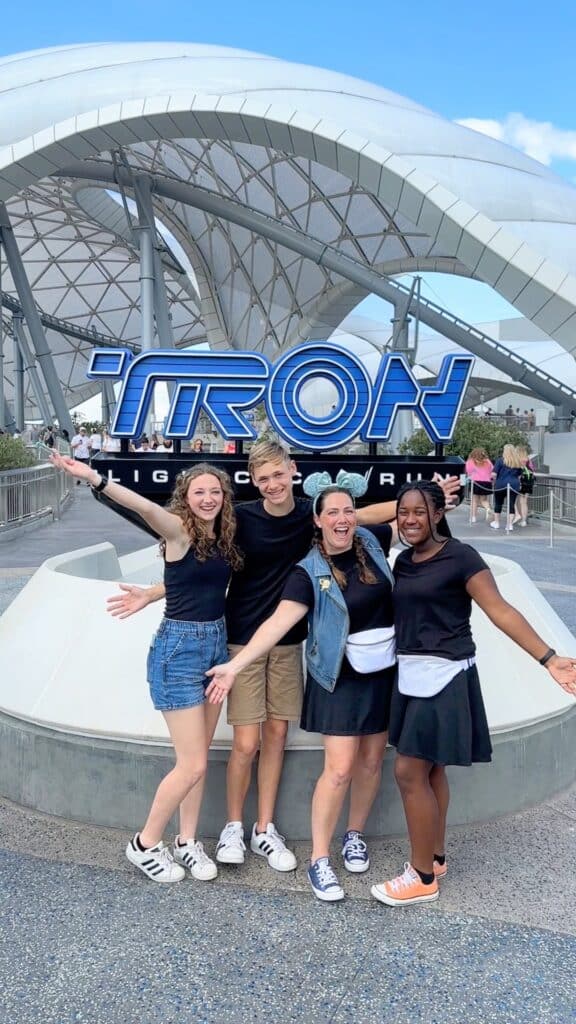 Step 4
When you reach the first entrance to TRON, you will need to scan your reservation or Lightning Lane Pass on your phone or Magic Band before entering the main queue. You will need to hang on to your passes on your phone or magic band to scan one more time at the main entrance. You will then enter the Grid shortly afterward and prepare to race in the games!
Step 5
Once you enter the Grid, you need your phone or magic band to scan a locker. You will place everything into the locker except for the phone, ticket card, or magic band you used to scan it with. It's super important that you keep your phone or Magic Band with you to get back into your locker after you come off the ride.
Step 6
Remember your locker number, stay with your party, and follow the arrow guidelines for how to enter the vehicles.
Step 7
As soon as you slide into your bike, place your small loose articles securely in the little compartment in front of you, and make sure to be in a safe and comfortable position for the ride.
You can visit the Walt Disney World website for more information on Disney World's TRON: Lightcycle and virtual queues.
Now you are ready to enter the games! Good luck, users!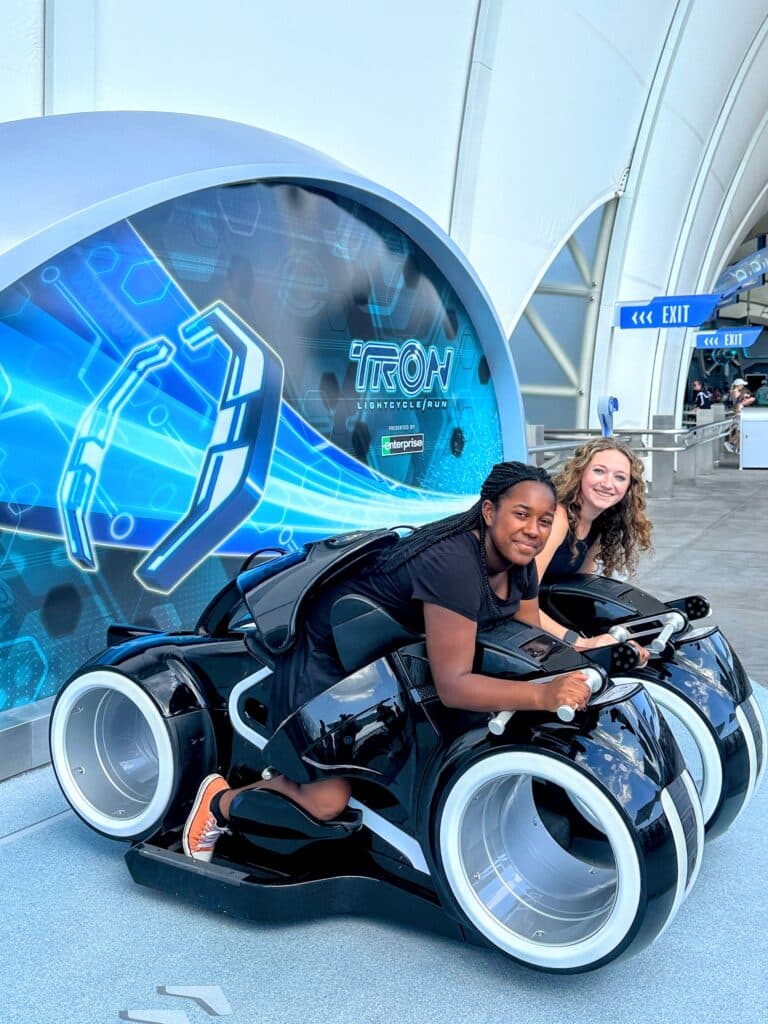 Frequently Asked Questions
Q: Is there a photo taken on Tron?
A: Yes, there is.

Q: Where is the photo taken on Tron?
A: At the very beginning, during the launch. Be sure to have a Magic Band on or have the My Disney Experience app open on your phone to link your photo.

Q: My photo never showed up; how do I get it?
A: The Disney PhotoPass team is fantastic at retrieving lost photos. Visit the main PhotoPass location at the front of the park and let them know what time you road Tron. They should be able to find it for you and link it to your account!

Q: Are GoPros allowed on Tron?
A: Yes, but only if strapped to your chest. Wrist straps are not allowed.

Q: Are lockers free at Tron?
A: Yes, the lockers are free for all riders!

Q: How big are the lockers for Tron?
A: We were able to fit a small Loungefly bag, a waist bag, a phone, and a hat in one locker! I believe a standard popcorn bucket would fit if empty and with the lid taken off.

Q: What if I forget my locker number?
A: There is a screen available where you can scan your band or card, and it will tell you your locker number.

Q: What if I do not fit or am uncomfortable on the Tron bike?
A: There is a standard rollercoaster-style seat at the back of most trains. Just tell a Cast Member you would like an accessible seat, and they will direct you where you need to go. Note: there is a test bike available out front that you can try before entering the Grid.

Q: Is there Rider Switch available for Tron?
A: Yes, all rides at Disney with a minimum height requirement offer Rider Switch service. You will let the cast member know before joining the line, and they will scan the app, card or band of the two people that will be going through a second time. For the second time around, you will use the Lightning Lane entrance.

Q: What is the minimum height requirement for Tron?
A: 48″

Q: Can I get both a virtual queue and an individual Lighting Lane for Tron on the same day?
A: Yes, this is definitely possible!

Q: How can I ride Tron more than once on the same day?
A: Theoretically, you can get a virtual queue and an individual Lightning Lane pass on the same day. Depending on crowd levels, you may even be able to get a second virtual queue at 1:00 pm and pay for additional Lighting Lane times as well. Another way to ride multiple times is to utilize the Rider Switch option if visiting with a young child.