I'm sharing my experience, attending a FLOCK Presents event at Walt Disney World. Is it worth the price? What do you gain from attending a blogging conference? What is FLOCK? Should you go? I'll answer all these questions and more. Find out about the next event at Walt Disney World: HERE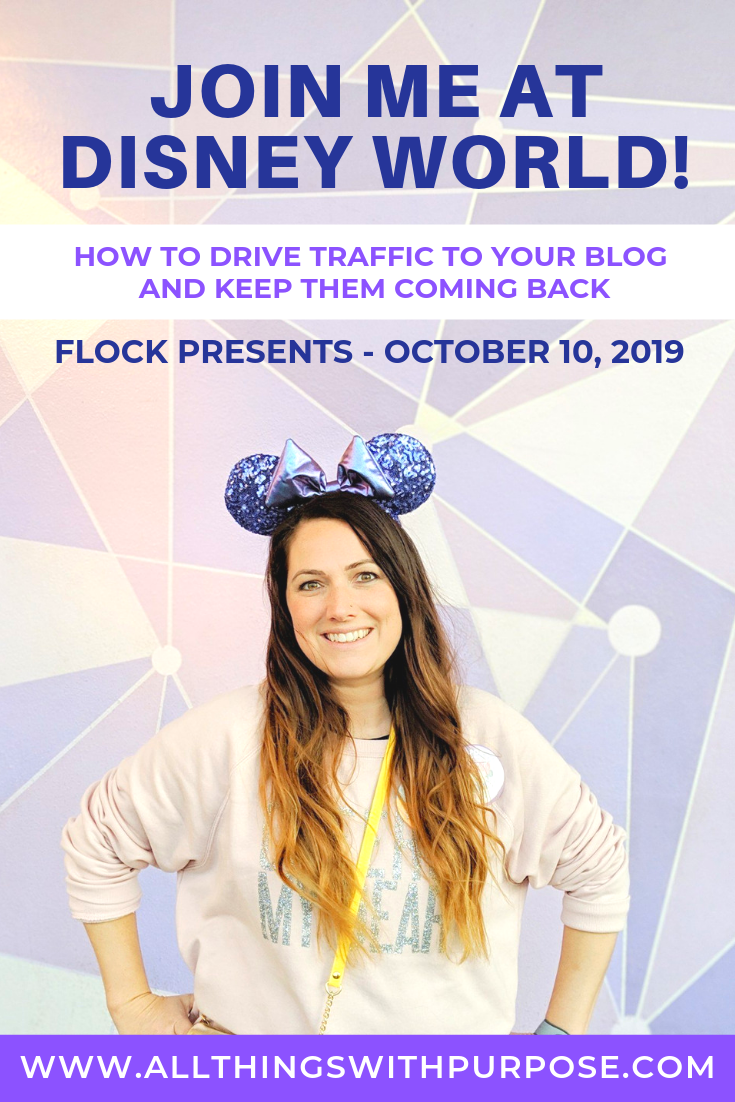 FLOCK Events
I'm finally sharing a recap of my time at the FLOCK event: Beyond the Likes, Retweets, and Filters which I attended with my husband at Disney World this past January. But first, you may be asking yourself; "what is FLOCK?"
To put it in their words:
FLOCK hosts small-scale, single-topic conferences, intensives, and workshops that push you to your best. Gather with like-minded individuals. Gain knowledge and confidence around a specific topic. Grow your brand and your business.
FLOCK is an amazing community of online influencers and bloggers, gathering in small settings at awesome locations across the United States.
I'm a full-time mom to 5 kids with a blogging business that I have poured my heart and soul into for the past 7 years. I'm always seeking to grow my business and network with other influencers and brand reps, but oh yea, I have 5 kids. It's not always easy to get away for a lengthy conference and it's even harder when it's on the other side of the country from you. So, when I heard about this awesome ONE DAY conference at DISNEY WORLD, I was like "take my money!"
Past Events
Check out just a few of these awesome events that FLOCK hosted this past year:
More Than Just a Pretty Picture (San Antonio)
The Places You'll Go (Nashville)
Beyond the Likes, Retweets, and Filters (Disney World)
Very Pinteresting: All About Pinterest (Disneyland)
Upcoming Events
June 24: Creating Value in All Directions (Charleston)
Aug 24: Beyond the Likes, Retweets, and Filters (Memphis)
Sep 21: More Than Just a Pretty Picture (Disneyland)

Recap
Ok, onto the recap of our time at Disney World! I signed up for this event on a whim. I heard it was happening through another blogger on facebook, and I quickly decided that I needed to be there. I tried finding other blogging friends to go with, and it just didn't work out. Instead, I took my Instagram husband along! It was the BEST decision ever. It had been a long time since Jay and I had gone anywhere overnight, without the kids. We had such a great time, exploring Disney World kid-free. I never would have guessed in a million years that I would enjoy it and not feel guilty about leaving the kids. Because we enjoyed it so much, we decided to make it a more regular thing and immediately signed up for the Disney event in October!
Not only was it a great little get-away for my husband and I, it was great for him to experience what I do as a blogger! Once he got over the fact that he was the only guy in the room, he really did enjoy himself! It was a great opportunity for him to see everything that goes into an online business and he left with a greater appreciation for what I do.
What we loved about FLOCK
Here are a few things that FLOCK did an amazing job at to make this a worthwhile conference to attend:
Awesome speakers who share practical, useful information
Small setting for networking with other bloggers, meeting speakers, asking questions
Meeting brand reps (hello, Disney rep!)
The food! FLOCK did an awesome job at providing unlimited coffee and ice water, a continental breakfast, a fabulous 3 course lunch, and snacks!!
Great swag bags
Helpful Facebook groups for networking before and after the conference
The price is very reasonable for everything you get packed into the day!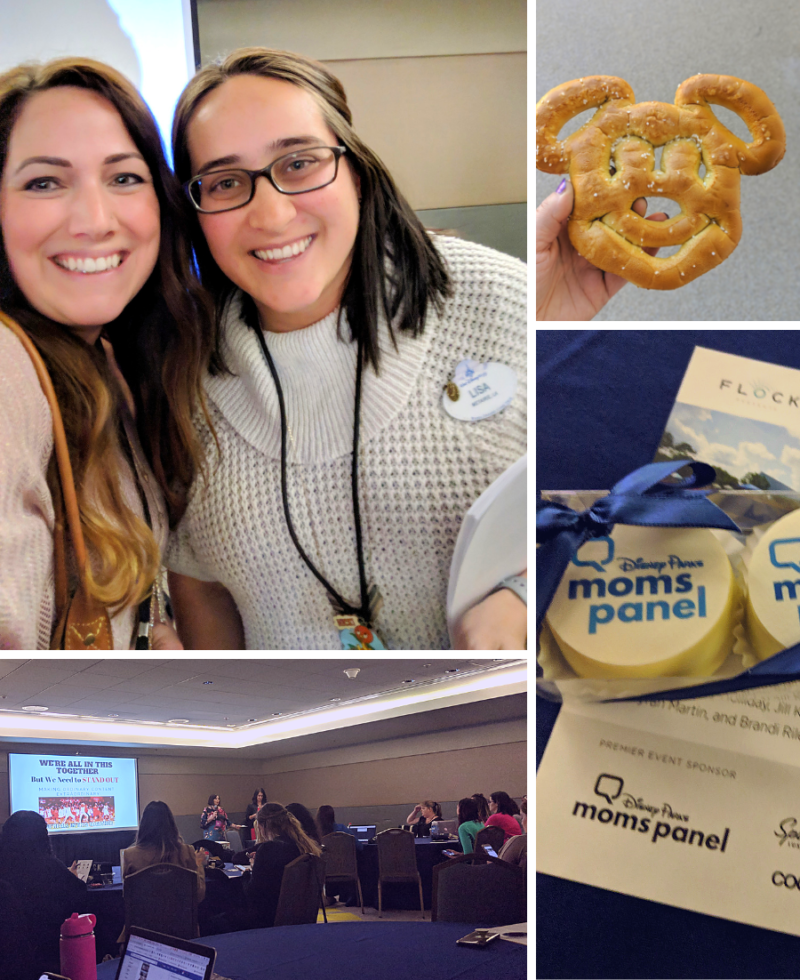 "Beyond the Likes, Retweets, and Filters"
The single-day, social media micro-conference I attended at Walt Disney World in Orlando, Florida had an awesome list of speakers! I'm going to be honest, some of these names were new to me, but I'm so glad I had the chance to hear them speak and meet them in person: Carly Anderson of Lipgloss and Crayons (#justwearthesuit), Patty Holliday, Jill Krause, Tania Lamb, Amiyrah Martin, and Brandi Riley. Look them up if you're not following them on social media!
Here's how the event organizers described this event:
As bloggers, content creators, influencers, and entrepreneurs, it's easy to look online and see the success of others and wonder how they got there. What are they doing differently that sets them apart? How can you create a similar presence and voice that keeps people coming back?

Our speakers for this event have created large communities of discussion. Each of them take ordinary content and make it extraordinary, start campaigns that unite women across the world, and get us doing things we normally wouldn't do. They share their lowest lows and highest highs. They make us belly laugh until we cry. But most importantly, they keep us engaged for years and they're now part of our daily lives. These story-based content creators have rich and valuable experience and thoughts to share.

Each speaker will share how they got where they are. What brands are looking for when working with them. What they do to keep up with the changing social trends. Where they see social media going. And most importantly, how to tell a great, original, authentic story that will keep your followers engaged and your social space growing.
Some of the things that were covered:
* What makes engaging, authentic story-based sharable content.
* Advice on what types of content works, and when you should be posting it.
* Trends on different social channels.
* Ways of building your social numbers organically.
* Using Live features effectively on Facebook and Instagram.
* Why you should pitch brands even if your numbers seem low.
* What tools are available for social sharing and what could work best for you.
* How to schedule content for each social channel.
* Why your phone can be your best ally and what apps are best for photo editing.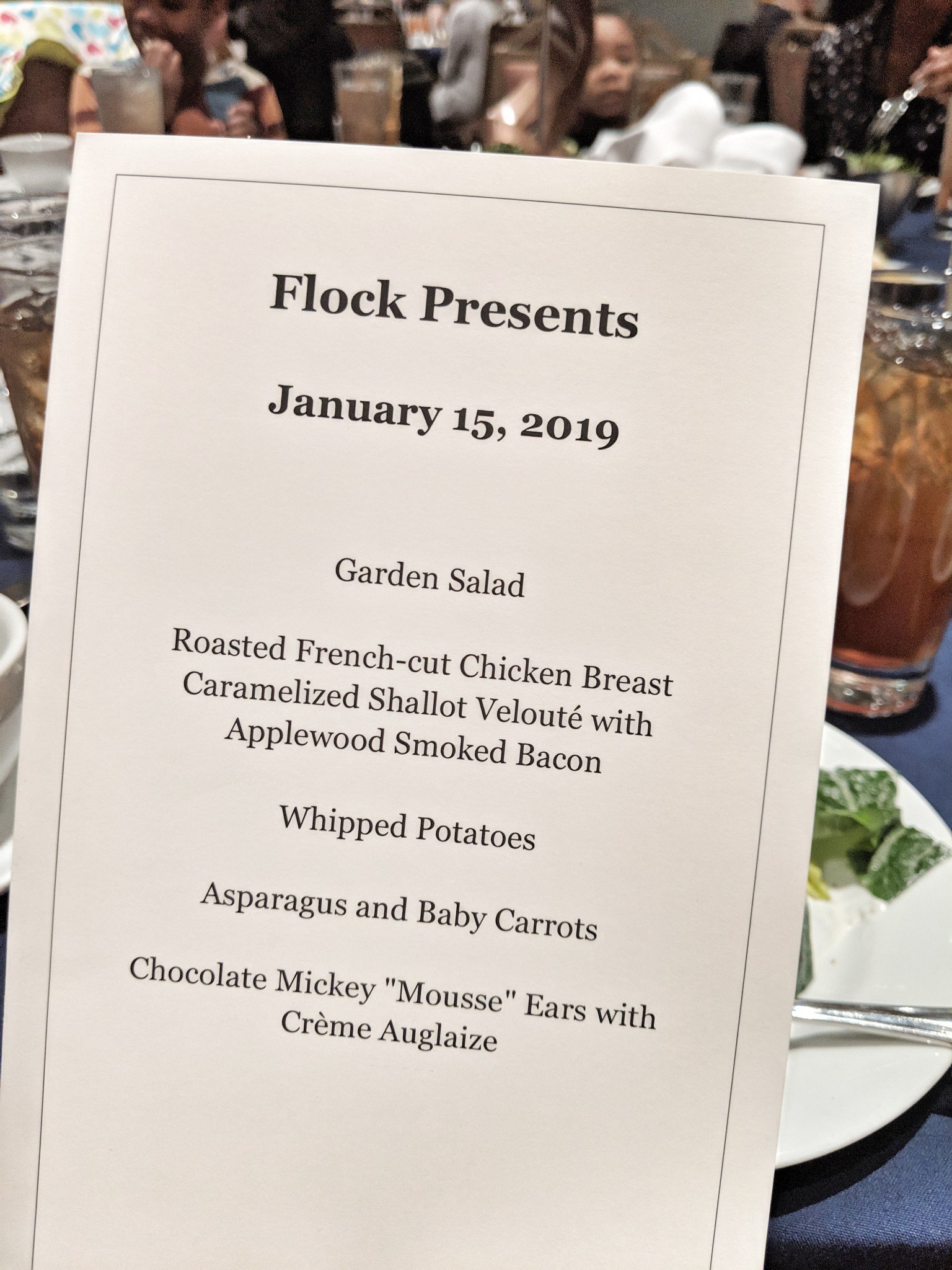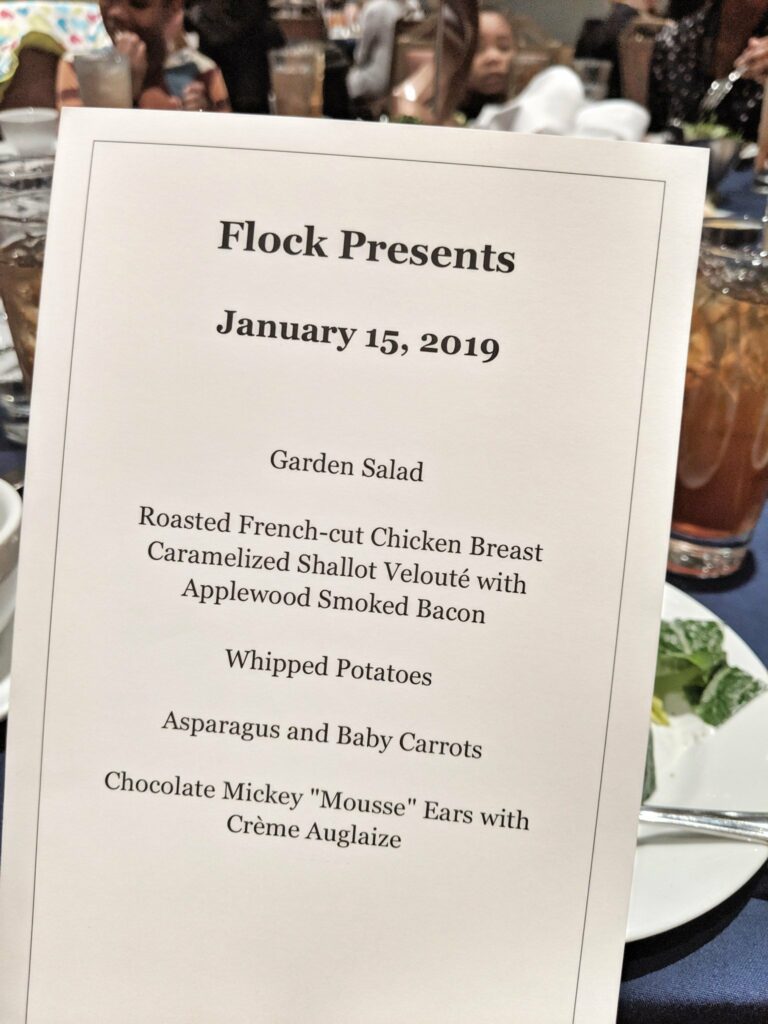 What we loved specifically about a conference at Disney World
Every FLOCK event is held at a different location (that are all equally amazing), but we specifically loved attending this event at Disney World for a number of reasons. Here are a few of them!
Disney World service – everything was exactly how you would think a conference would be at Disney World, down to every little detail
Disney themed food and snacks – Every meal was Disney themed! From the Micky shaped chocolate dessert at lunch, to the Mickey pretzels and ice cream bars for the afternoon snack!
Did you know that when you attend a conference, hosted by Disney, you get EXCLUSIVE access to Disney park tickets that aren't normally available at any other time, to anyone else? That's right!! We loved the fact that as a conference attendee, we were able to purchase partial day tickets at a fraction of the normal park price. That means, if you're attending the conference during the day, you can still enjoy time at a park all night!
Meet and greet with Disney reps – Because of the event actually being at Disney World, there are lots of opportunities to speak with actual Disney employees and reps. At the event we attended, a Disney rep gave a brief presentation on upcoming Disney promotions and news. She gave the inside scoop on things that Disney would be focusing on that year and what key words to use if you want to get noticed by Disney (hashtags to use, etc.)
Disney resort room discounts – there is always a room block set up where the conference is located, at a special promotional price. This can be a great way to experience a Disney resort you wouldn't normally get to stay at!
Going without kids gave us a great opportunity to enjoy aspects of Disney we have never experienced. It also gave me more time to take pictures and sample food (you know, work stuff).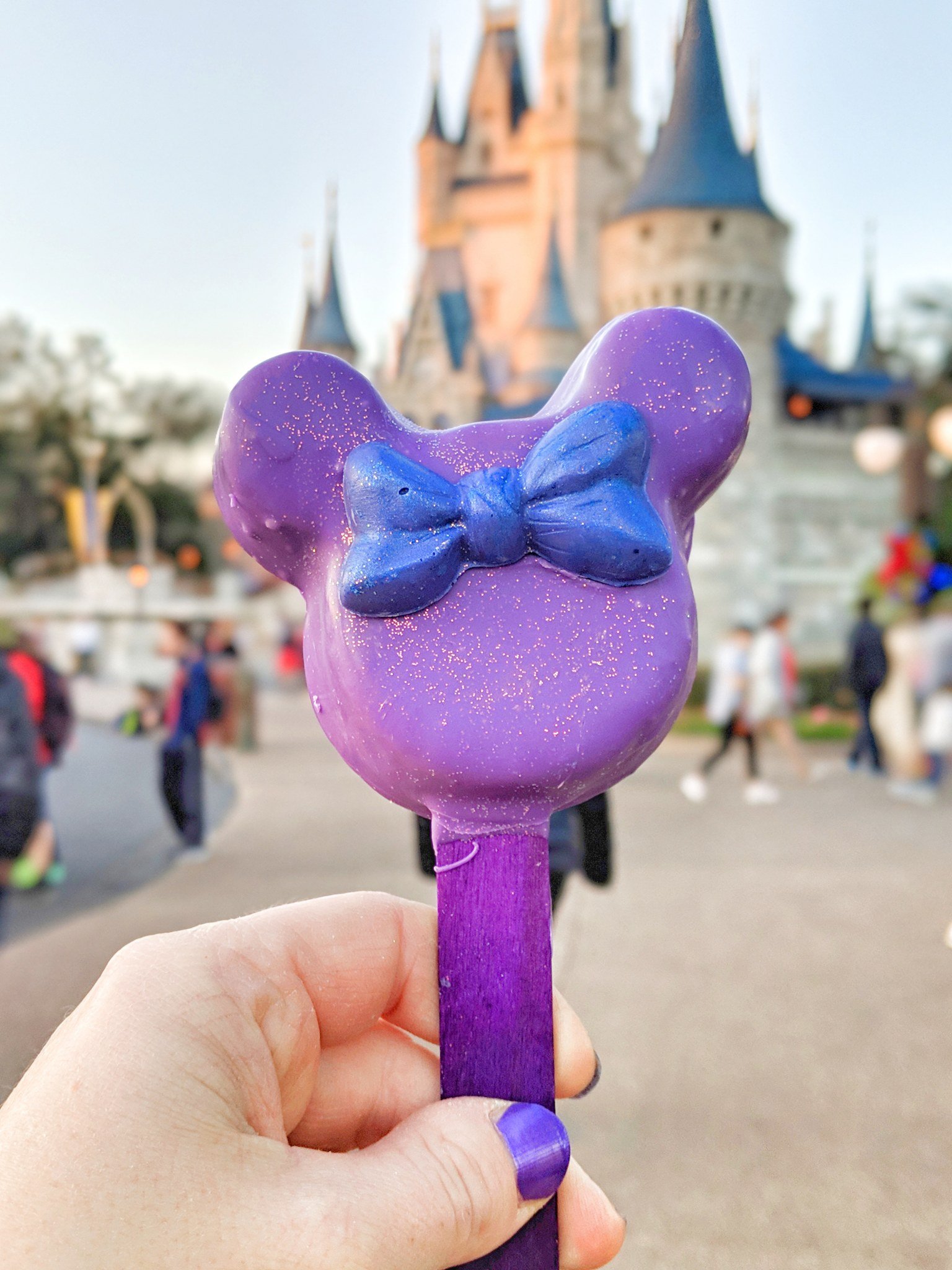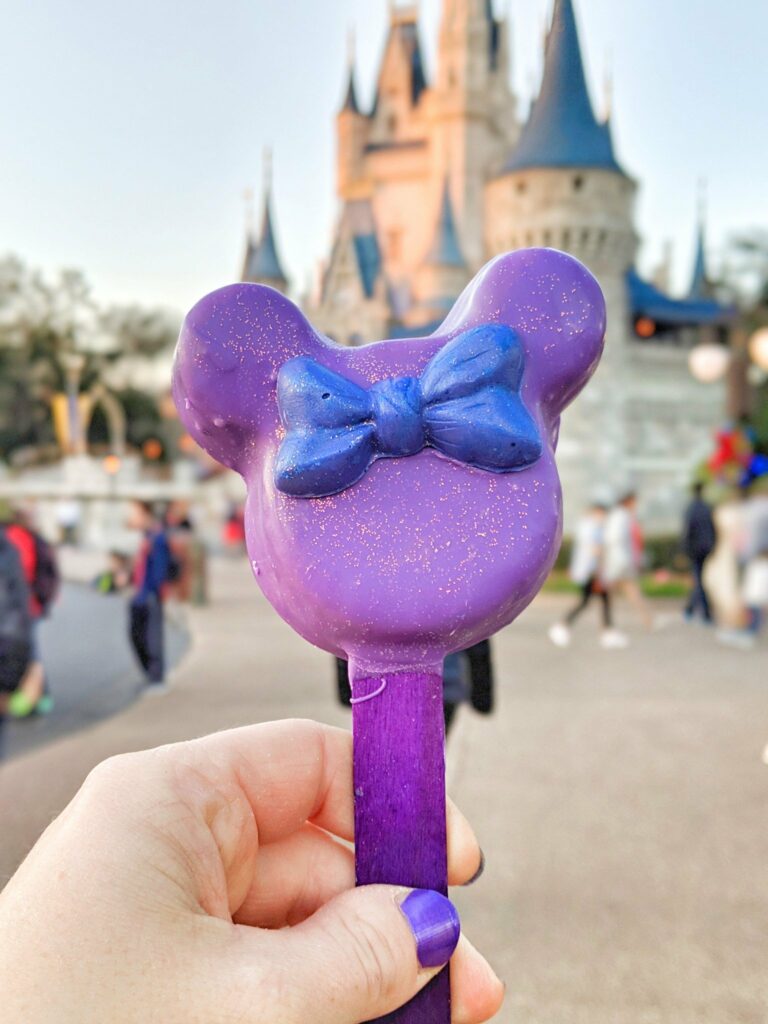 October 10: How to Drive Traffic to Your Blog And Keep Them Coming Back
A single-day intensive on traffic and analytics at Walt Disney World in Orlando, Florida with Melissa Culbertson, Leslie Harvey, Kuleen Lashley, Audrey McClelland, and Vera Sweeney.
Content creators, bloggers, and influencers must all adapt and adjust to our ever-changing industry and new ways to find growth. Whether it be social media or your blog, you need to know how to analyze your traffic and make constant adjustments to keep your audience coming back.

Wondering about the importance of SEO, how to understand your analytics, or how to find your best content? This event is for you. Our speakers have found ways to best utilize social media, and create content to target their vast audiences as they continue to drive traffic to their platforms.

Join us at Walt Disney World for an entire day focused on driving traffic to your blog. Discover how these professionals have learned to reach audiences of epic proportions just by following best practices, keeping content relevant, and understanding how to analyze their business needs. After you spend a day with these women, you'll understand the secrets to their successes.
WHAT YOU CAN EXPECT
• Learn about your analytics to understand where your traffic is coming from.
• Get an hands on workshop about SEO and Google Search Console.
• Discuss the latest trends in social media.
• Review best practices for specific social channels and implement them.
• Hear about collaborating with bloggers and brands for lasting partnerships.
• Advance your skills in storytelling to stand out among your peers.
• Understand how to optimize Pinterest to drive even more traffic to your site.
• Know what your audience is seeking and how to keep them coming back.
• Learn how to channel traffic from undiscovered resources.
Go Here: Disney World Event
Use code: PURPOSEBLOG
For $25 off your ticket to the Walt Disney World event!!

Who Should Go?
If you are new to blogging or online marketing and have a desire to learn more and connect with other people in your same field, this is the place for you! If you have been blogging for years and have a large, successful online business… this is the place for you! The table I sat at, during the Disney World event last January, had women from all different ends of the blogging spectrum. There were people there who had officially made blogging their full-time job, people who were working their blogging business on the side while working full-time outside the home, people who were blogging as a hobby and people who were making six figure incomes on their blogging business alone.
Join me There!
If you're like me, and love the idea of a one-day conference packed with information, then FLOCK is for you! It's doable, it's informative and it's motivational. If you're ready to take your business to the next level, or you're craving community and encouragement to keep going, I'd love to see you there!

Find out More
To find out more about FLOCK and the events happening this year, connect with them here:
Use code: PURPOSEBLOG
For $25 off your ticket to the Walt Disney World event!!
Pin-it!