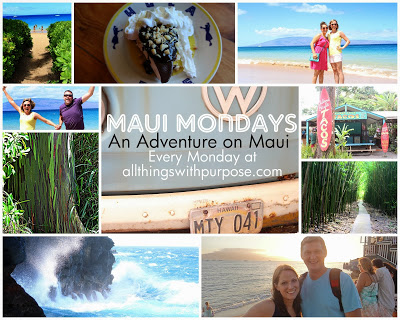 Remember back in August when Julia and I went to Hawaii?? Well, we took a LOT of pictures. In an attempt not to overload you with the beauty of Hawaii, I've tried breaking them up into small doses. We'll be doing a series called Maui Mondays, every Monday until I run out of pictures to share!

Consider this a taste of the tropics as the
weather is getting cold and turning dreary.
One of the things at the top of my MUST  SEE list, was the bamboo forest. I searched Pinterest and discovered the location you will see below. I fell in love. I had to walk the trail through this magical looking place. We woke up very early one morning and left our condo on Kaanapali beach to travel the "road to Hana." Our last stop for the day was Haleakala National Park. We paid a small fee to park, then parted ways with Julia and Nick. They decided to try snorkeling and swimming in the "Seven Sacred Pools" also located at the National Park.
This was by far one of the highlights of the trip for us both. Walking through those towering bamboo is such a beautiful, eerie feeling. It was also so unique to anything we had ever seen in person. It was also fun to push ourselves and do something physically challenging. We were hot and exhausted when we got back, but we felt like we'd accomplished something amazing!
Check out our other Maui Monday posts here: MAUI MONDAYS