Our family was invited to meet Mermaids at the SEA LIFE aquarium in Auburn Hills, Michigan! Now through September 1st, mermaids will perform underwater next to sharks, sea turtles and thousands of tropical fish. I'm sharing everything you need to know, plus a chance to WIN tickets!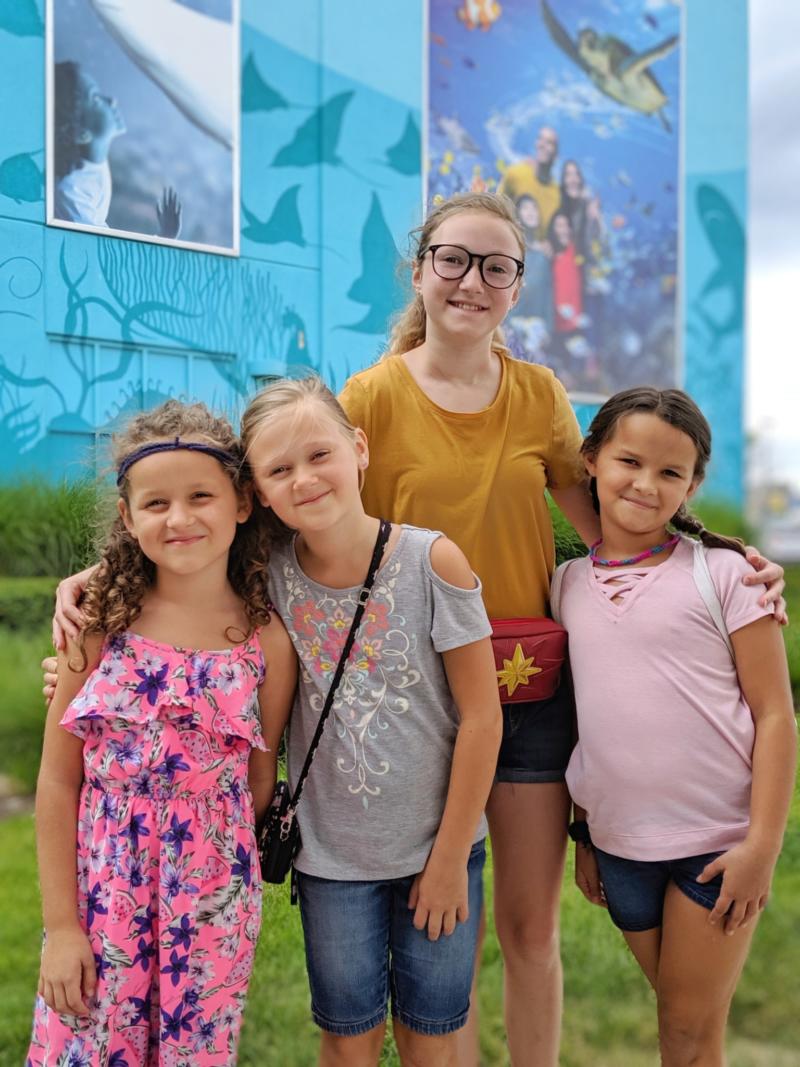 Meet a Real Mermaid at SEA LIFE Aquarium
The mermaids have arrived at Great Lakes Crossing Mall in Auburn Hills, Michigan! Real life mermaids are making limited time appearances at Sealife Aquariums across the country. Dive shows, meet and greets, picture ops and mermaid makeovers are all some of the special experiences going on now through September 1st at Great Lakes Crossing. I took my daughters and nieces yesterday for a sneak peek, and it was over the top cute! Here are all the details you need to know, PLUS a chance to WIN 4 FREE TICKETS!!
Meet Mermaids for the first time ever at SEA LIFE Michigan Aquarium! From August 15th to September 1st, mermaids will perform underwater next to sharks, sea turtles and thousands of tropical fish to amaze visitors of all ages. Then, meet a mermaid "face to fin" at a magical photo op! Mermaid Dive Shows and Meet & Greets are included with your ticket during the event period.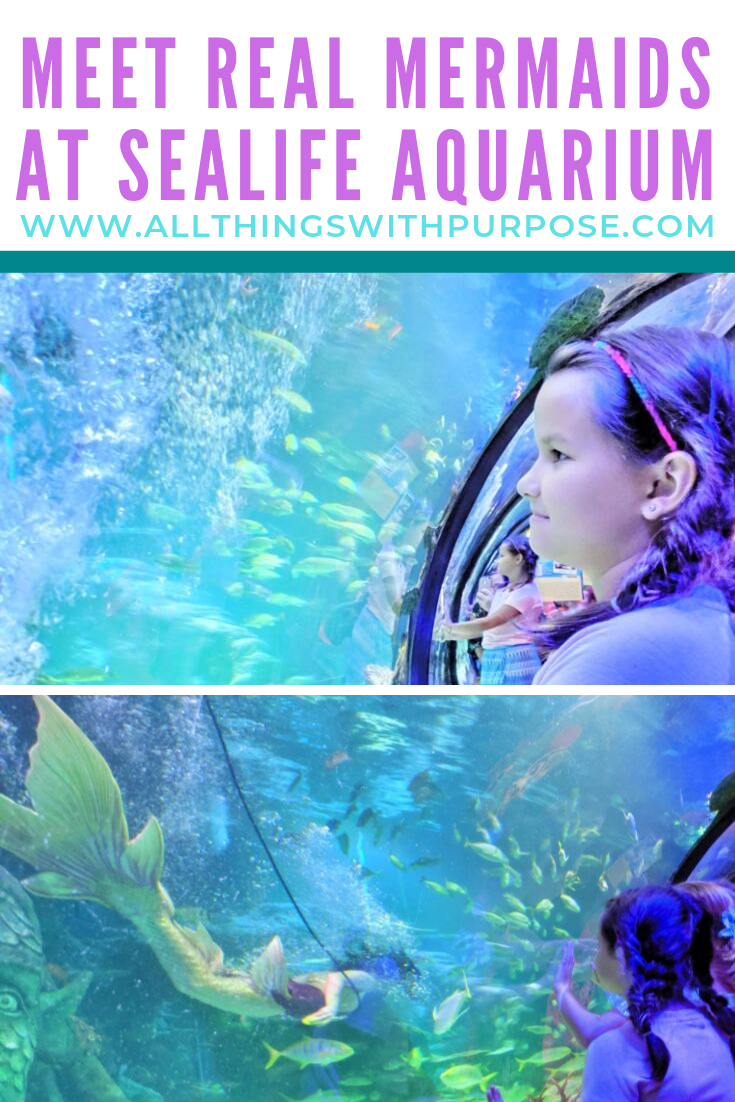 What You Need Know
There are no extra tickets needed and no additional fees to see the mermaids during this special event! Purchase tickets to the SEA LIFE Aquarium here: SEA LIFE Michigan
Reservations are not required, but they are encouraged to guarantee your spot. There is sure to be extra crowds during this time, so locking into a specific date will guarantee entry and eliminate the risk of disappointing your little ones if they were to fill up on the day you visit. Because of the higher crowd volume, bringing strollers into the aquarium is discouraged during this special event.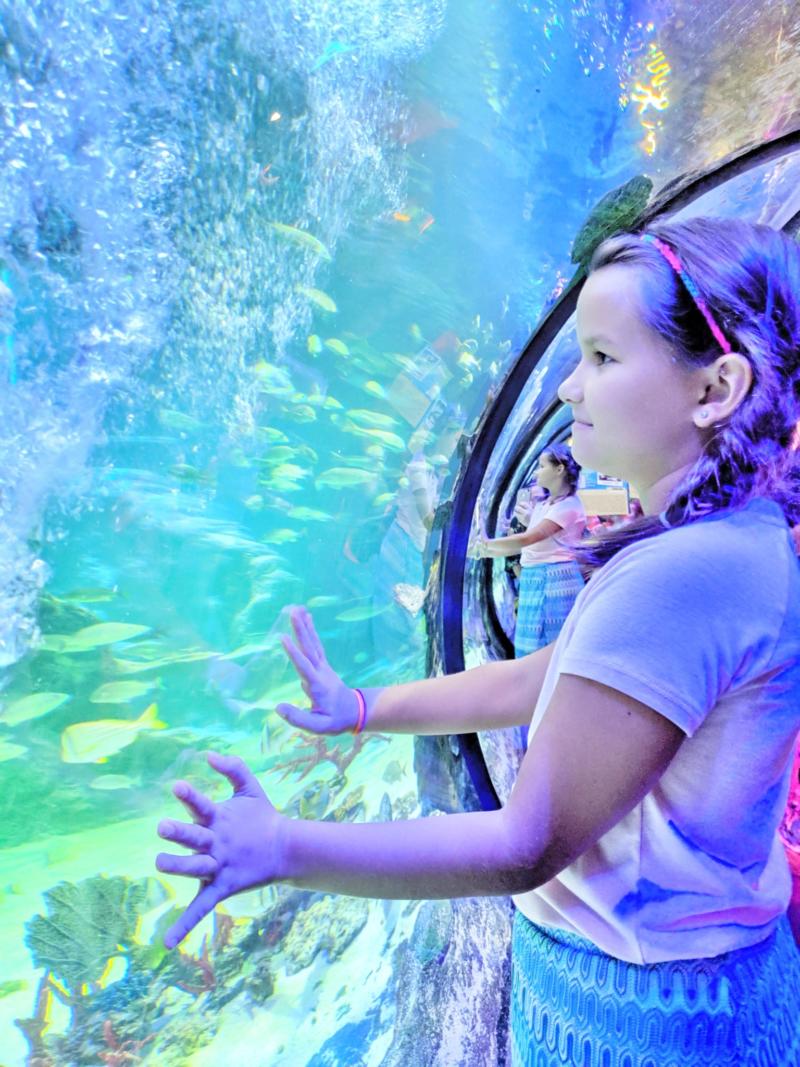 Times
When you visit the aquarium, be aware that there are specific days that the mermaids will be present and specific times for shows. Mermaids are NOT at the aquarium on Mondays, Tuesdays or Wednesdays. Come early to enjoy the rest of the aquarium and then make your way to the mermaid dive area and get in line at least 1/2 an hour early.
Mermaid Dive Show Times:
Thursdays – Saturdays 10:30 AM to 12:30 PM and 2:30 PM to 4:30 PM
Sundays from 11:30 AM to 1:30 PM and 3:00 PM to 4:30 PM
Mermaid Meet & Greets Times:
Thursdays – Saturdays 10:30 AM to 12:30 PM and 2:30 PM to 4:30 PM
Sundays from 11:30 AM to 1:30 PM and 3:00 PM to 4:30 PM
Mermaid Makeover Experience
Children are welcome to come dressed in their mermaid attire, or book a special mermaid makeover experience!
Each Mermaid Makeover experience is 30 minutes in length and includes: make-up applied by a professional make-up artist, 1 child mermaid tail, 1 commemorative photo with a mermaid and 1 goody bag. One accompanying adult per child limit.
This experience must be purchased with admission tickets into the aquarium for both the child and an accompanying adult. You must pre-book online in advance as spots are limited. Mermaid Makeover experience only available for children ages 3-12.
Meet and Greet
After you watch the mermaid dive show, make your way into the line for an up close and personal experience with a mermaid on land! Snap a selfie, use your own camera, or purchase a photo package in the gift shop.
What to Expect
Be sure to visit on a day when you have plenty of time to enjoy the rest of the aquarium! The Mermaid experience is just a small part of the fun, and if you haven't visited SEA LIFE Michigan yet, now is the time!
The mermaid dive-show at SEA LIFE was different from other mermaid shows we have seen. For one, it is a much smaller area, so don't think of it as a stage show. It's more like a backstage pass or a private meet and greet. You wait in line for your own private time in front of the glass, where you will be able to blow kisses, wave, interact with and snap selfies with a real life mermaid. They will be giving each party approximately 30 seconds of alone time with the mermaid before moving you on. If the line is small, feel free to circle back around and wait for a second show.
There will always be one mermaid present who is able to stay in the water for about a 1/2 an hour before another mermaid will come and take her place. Each mermaid rotates through the same basic moves (blowing bubbles, swimming with the fish, making a heart shape with her hands, waving, etc.). Be aware, the mermaids are able to stay for such a long time because they keep an oxygen tube handy. This might take away from the realism factor, but they did a pretty good job of incorporating it into the show and using it to make extra fun bubbles!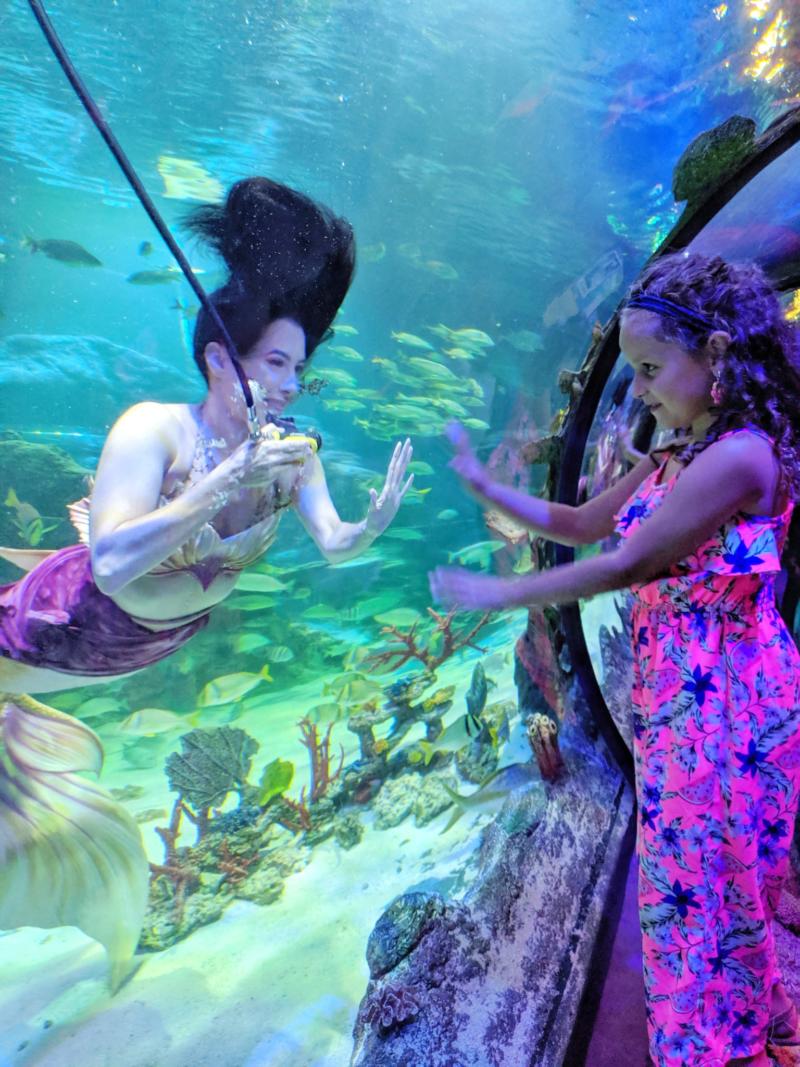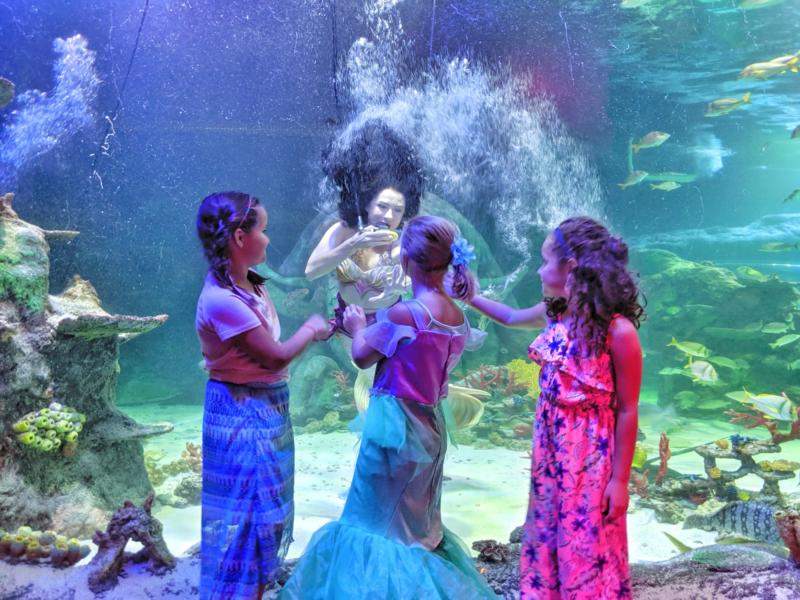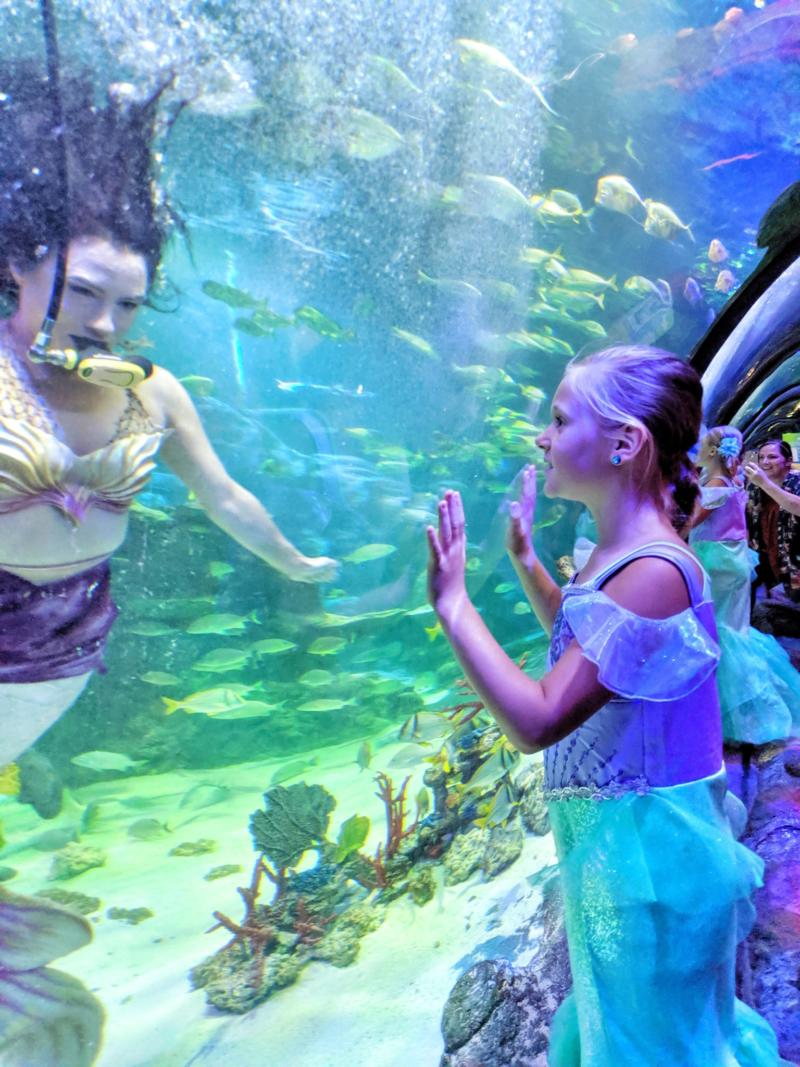 Ticket Giveaway
We had such a fun time meeting the mermaids at SEA LIFE, I'm excited for you to experience it as well! I'm also excited to be giving away 4 FREE TICKETS (to the SEA LIFE Michigan location) over on my Facebook page! Head over there now to find out how you can win: SEA LIFE TICKET GIVEAWAY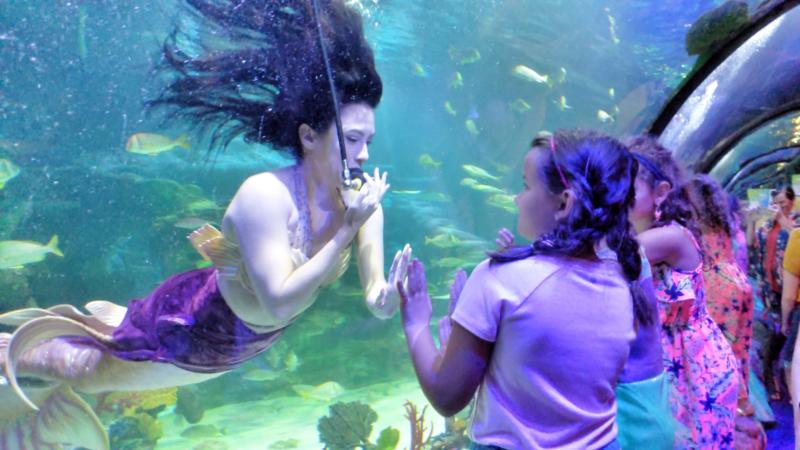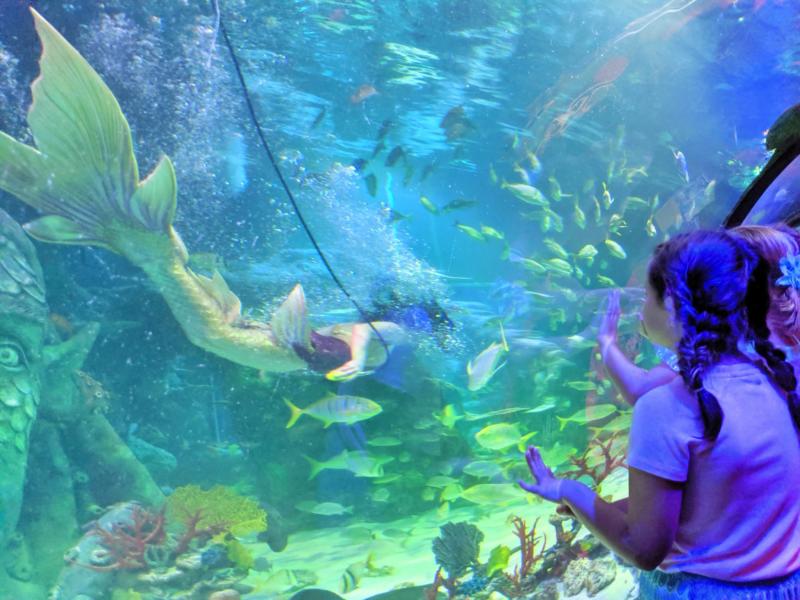 Pin-It!