Hello friends! I am Bree and I blog over at bumblebreeblog. This last month, I have been sharing some upcycled projects. Using thrift store items and things that I already had. I have created lots of fun home decor items, accessories, and party hosting supplies. The project that I have for you today is another wonderful home decor item using some materials that bumblebreeblog husband and I used for our wedding.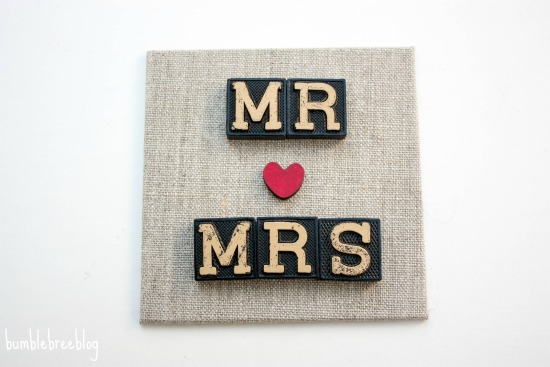 Our wedding was California rustic themed and the reception was held at a wonderful rustic southern California winery. I created and found many of the vintage items that we used as decorations and center pieces. My favorite find was some antique scrabble pieces that spelled out "Mr" and "Mrs". They looked wonderful on an old wine barrel at the entrance to our reception. After our wedding I kept the scrabble pieces but didn't know what I was going to do with them. Now 1.5 years after our wedding I have finally created a Mr and Mrs Canvas using those wonderful pieces.

Mr and Mrs Canvas
Materials:
4 x 4 canvas
Scrabble Tiles
Wooden heart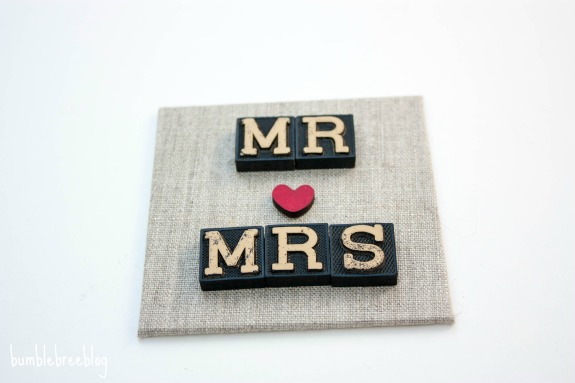 Step 1
At my local craft store there was a wonderful display of denim and flower sack products. They had everything: bows, flowers, dyes, canvas, and so much more. When I saw this little 4 x 4 canvas I knew it would be perfect for my scrabble tiles. Its not the bright white of a typical canvas and works much better for rustic and industrial decor. The small canvas is also perfect for the tiles and makes it very versatile in home decorating.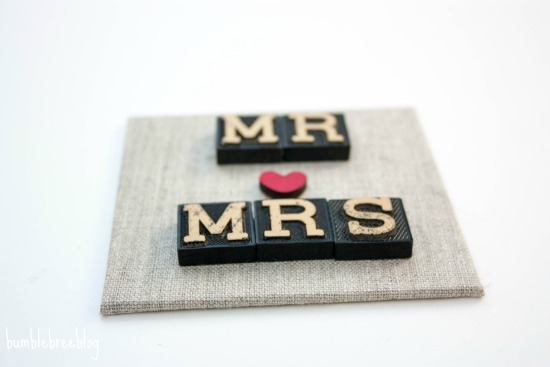 Step 2
After purchasing my canvas I started prepping my materials. I had some wood hearts in my stash so I painted the top of one using a red acrylic paint. I set that aside to dry and turned on my hot glue gun.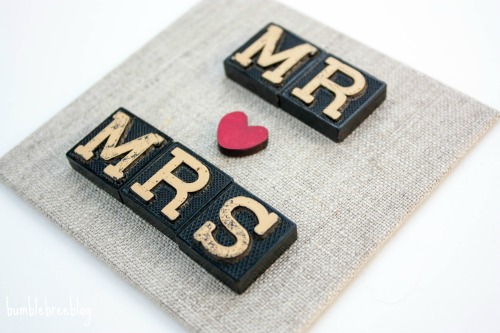 Step 3
After my heart was dried I used my hot glue gun to glue my scrabble pieces and heart onto the canvas.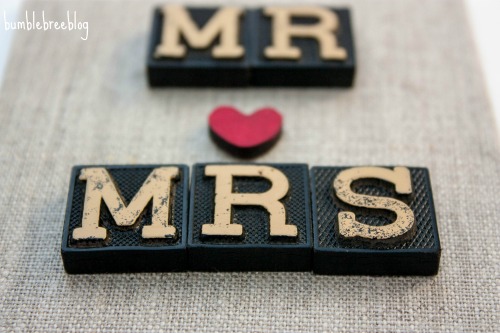 That is it! A super easy and quick way to create a special canvas art to use in your home decor, wedding, or even as a gift for a loved one.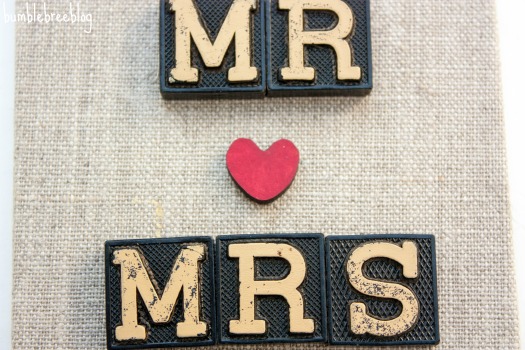 These wonderful 4 x 4 canvases would be perfect for creating 4 canvas displays and can be customized.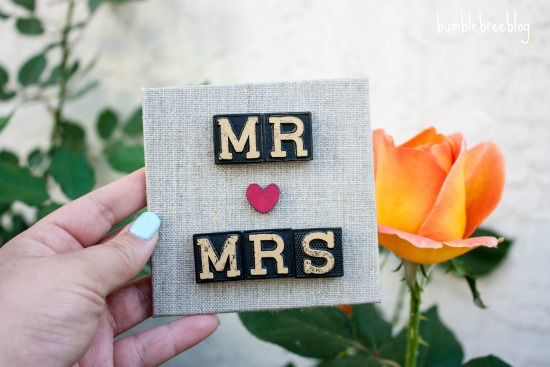 Thanks for stopping by and checking out my new project. How would you use a cute canvas art like the one I created? Let me know in the comment section.
If you want to learn more about our California Rustic Wedding you can check out more details: here. If you are interested on more canvas ideas check out my Gold Canvas Art. Finally, just want to say hi? Head over to bumblebreeblog and leave me some love. Thanks!