This is a sponsored post written by me on behalf of BUBBA burger for IZEA Worldwide. All opinions are 100% mine.

Camping Meal Hacks
What are your favorite camping meal hacks? I love hearing tips from other RVers, especially those that are cooking large meals to feed a crew like I am. In order to keep the camping experience fun and stress-free, meals need to be no-fuss.
One of the things I try and do before heading out on any camping trip is prep my meals ahead of time. I generally cook up a bunch of meat before a trip and freeze it. I also go with a lot of quick and easy meals that will dirty the fewest dishes possible. I like to cook outside, since my tiny vintage trailer has a very small kitchen and it can get pretty hot in there. I utilize my grill and electric skillet the most because they can both be used outside. Whether your RV has a built-in outdoor kitchen, I highly recommend doing your cooking outside.
TIP: Cook outside as much as possible!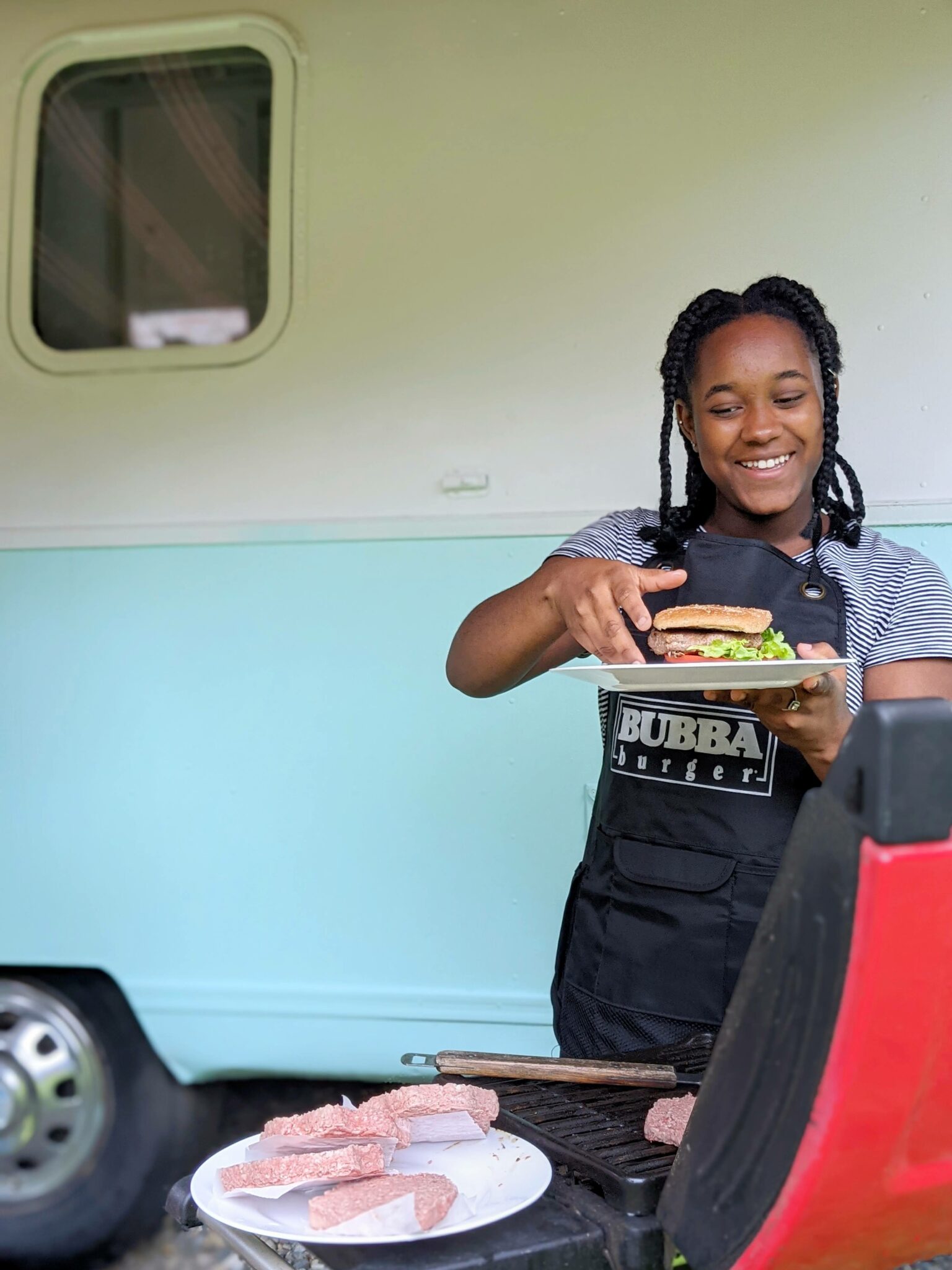 TIP: Pack easy to prepare meals for your camping trip!
I love using BUBBA burgers while camping because they come so conveniently packaged and ready to pop on the grill straight out of my tiny RV freezer! No prep and no mess. Fresh ingredients, like tomato and onion can be purchased locally if need be, but it's great keeping BUBBA burgers on hand. One of the things I try to do is have an easy, nutritious meal ready for our first stop on a trip. If we've been traveling all day and arguing while setting up our camp site (more likely due to being hangry), I know a quick meal that is high in protein will make a world of difference.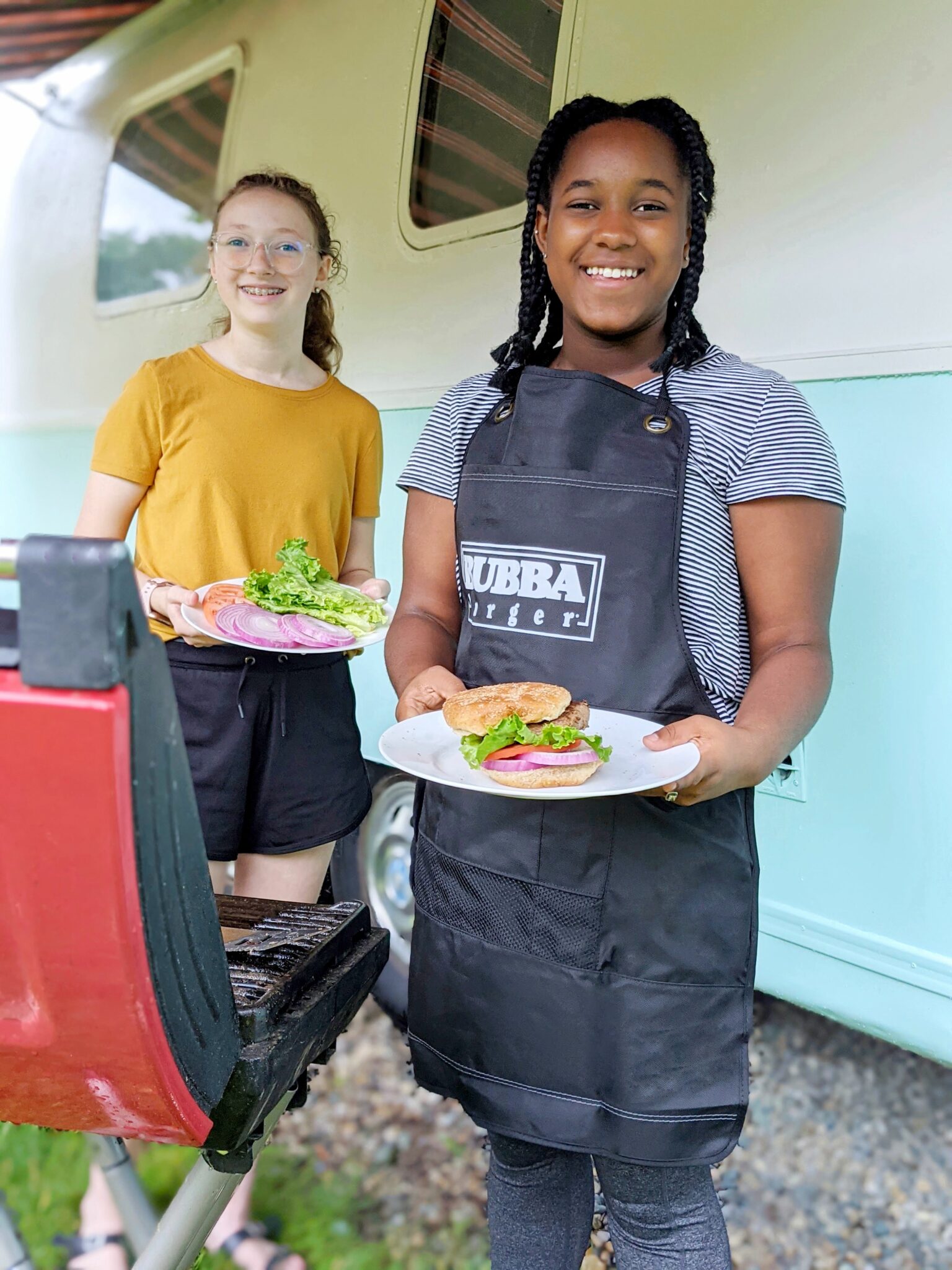 Tip: Teach your kids to cook at an early age so when they are teenagers they can take over!!
What Makes BUBBA burger so Great?
I love that BUBBA burgers are high quality and only use ONE ingredient (choice beef chuck), so you know they're not full of fillers and as a bonus, they're gluten free! My aspiring vegetarian daughter also loves that they offer a veggie burger option. They are available in 2lb boxes of 6 burgers each. Each box fits perfectly in my RV freezer and is meant to remain frozen until you need to prepare it in a skillet or on the grill.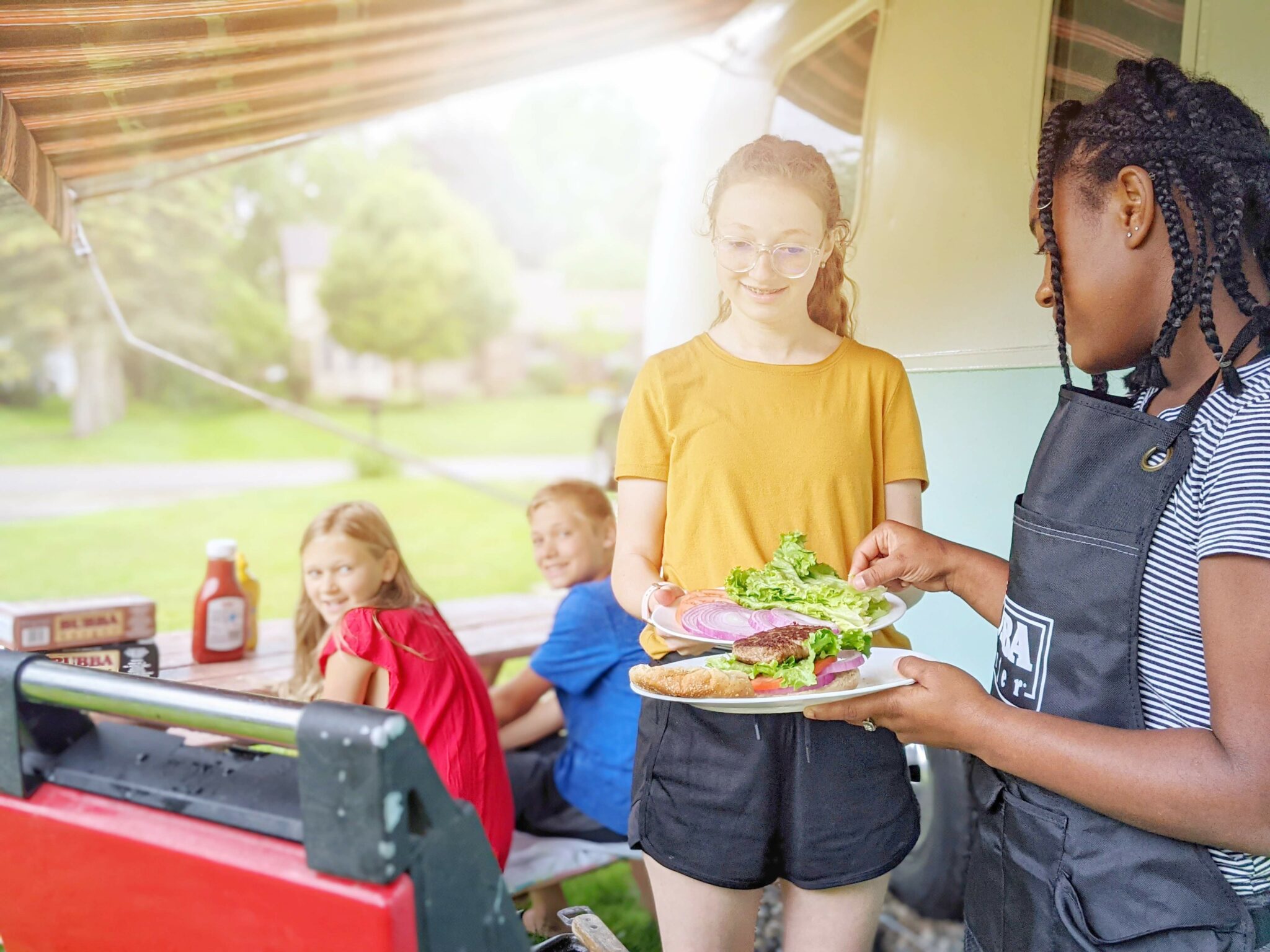 Where to Buy
Here in Metro Detroit, I was able to find BUBBA burger at several local grocery stores (Meijer, Buschs, Target and Walmart). You can head to their website to enter your address and find a grocery store near you that carries BUBBA burger. You will find them in the freezer section. At my store, they were in their own special section of the freezer area. If you can't find them, ask an employee for help! I asked someone to show me where they were and he knew right where to find them.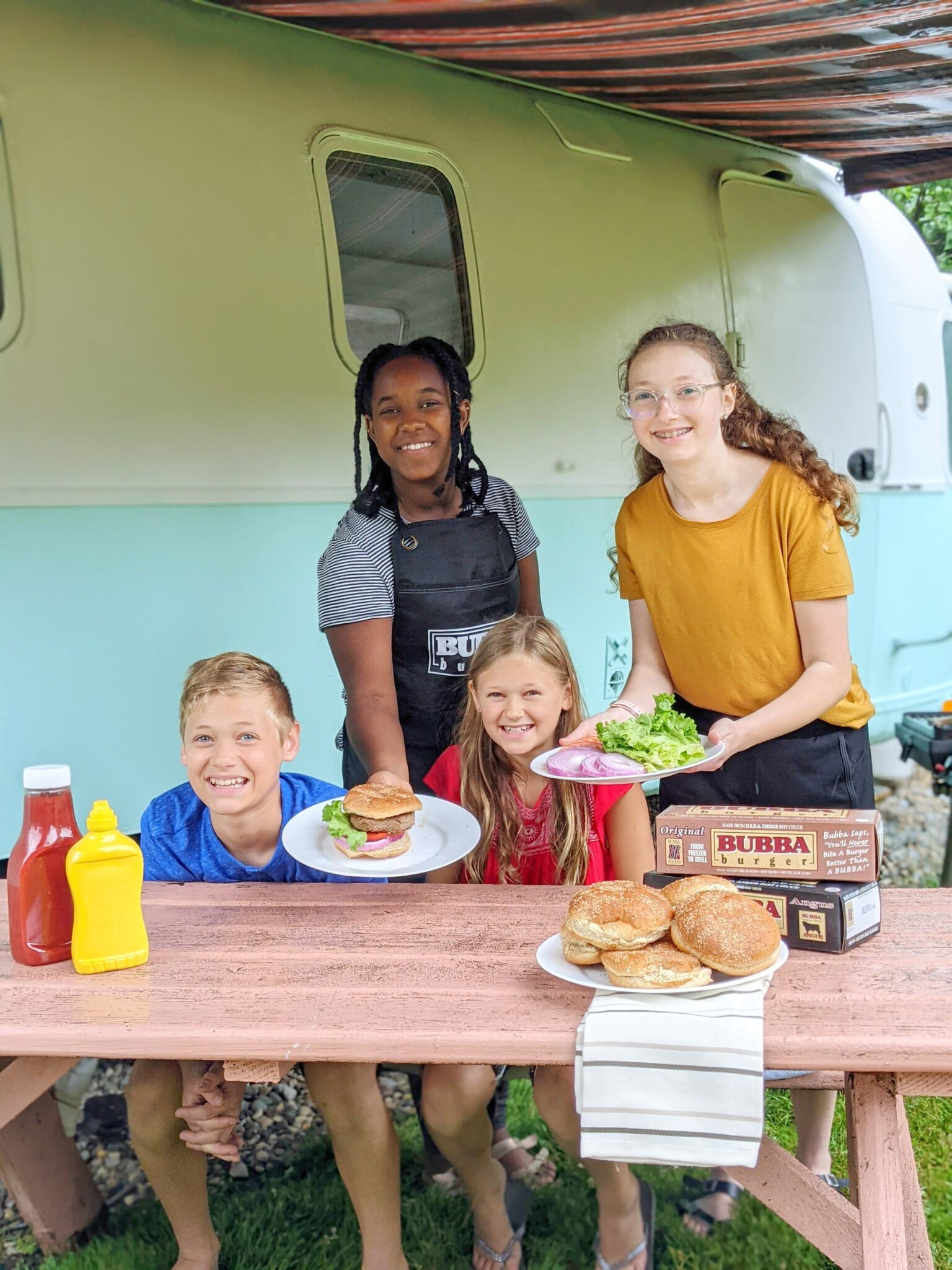 Where to Find More Information
BUBBA burger offers a lot of great tips and recipes on their website. There are video demonstrations for cooking the perfect burger and tips from other BUBBA burger enthusiasts. Click here: Find more inspiration here!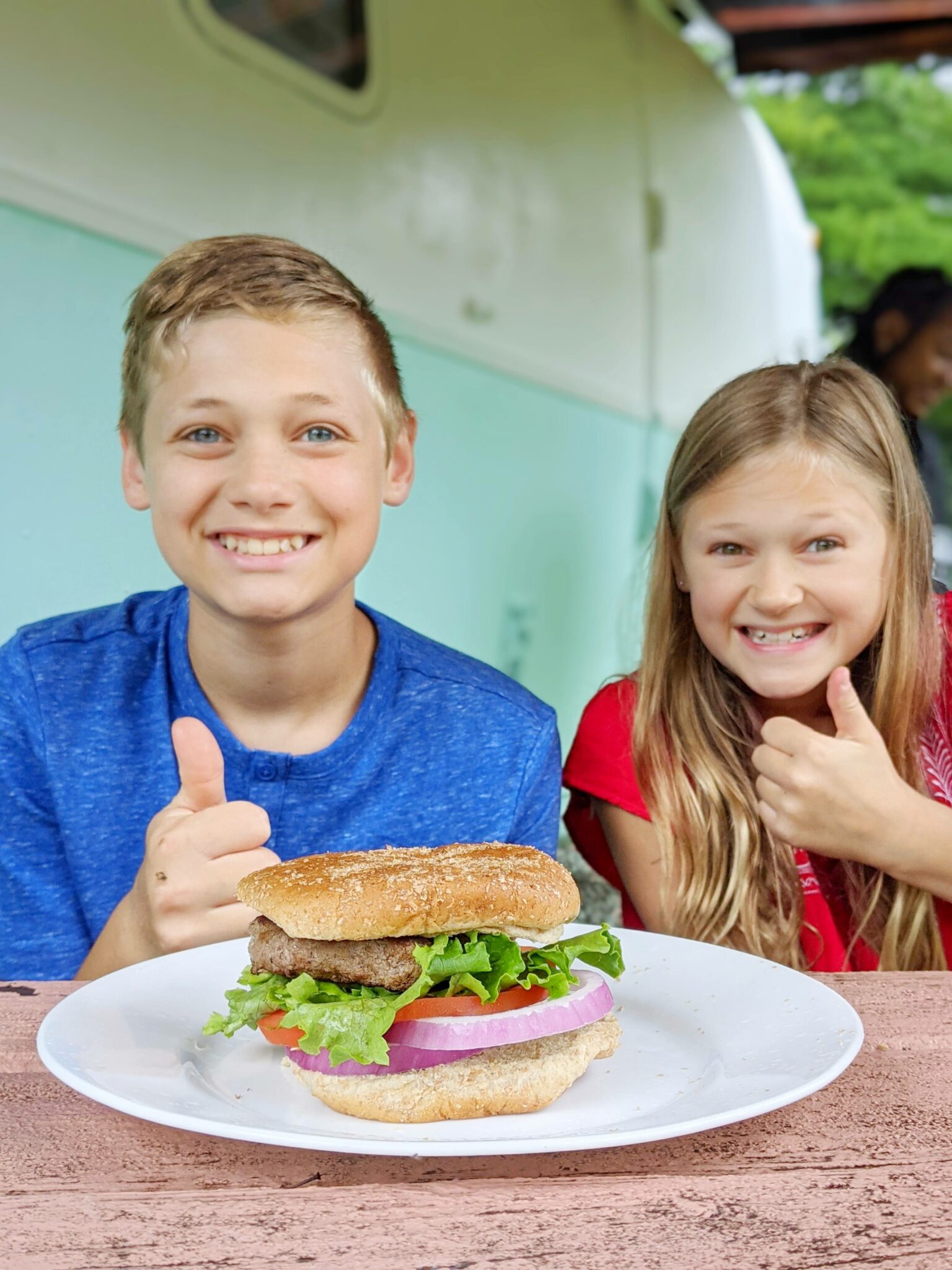 Pin-It for Later!