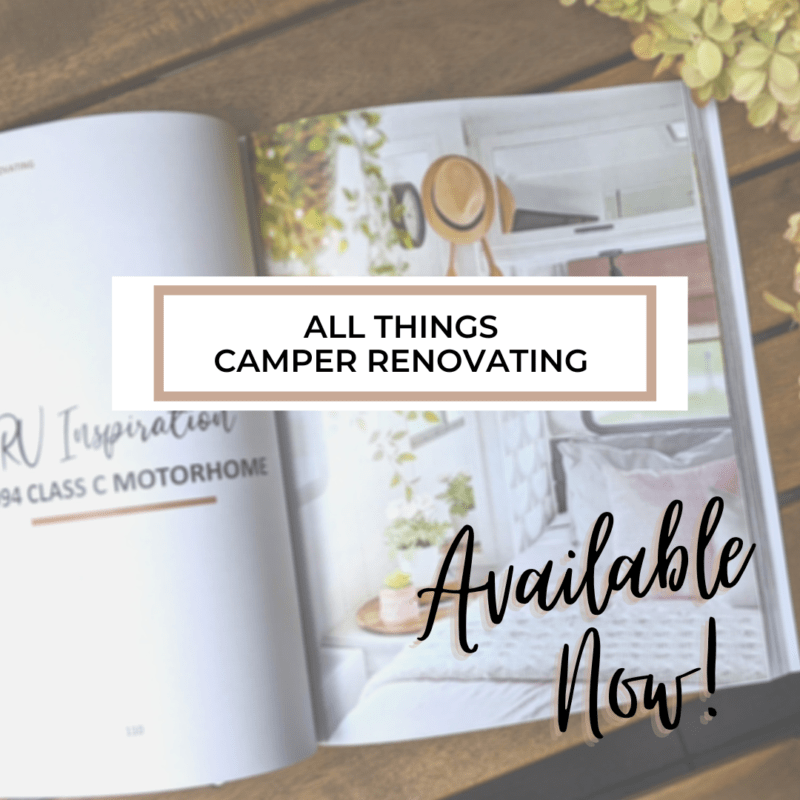 All Things Camper Renovating
I am so excited to share about the release of my new RV renovating book, All Things Camper Renovating.
In this book you will find over 200 pages of inspiration and instruction that will motivate you to start your own RV renovating adventure! Full-color before and after images, planner pages, practical knowledge and tips from all your favorite renovators.
Written by Sarah – Featuring 12 Other Renovators
In addition to me, this book includes of a collection of tips and advice from 12 other renovators:

What to Expect
This RV renovating book will inspire and equip you to start your own DIY adventure! I have renovated everything from a vintage canned ham, to a 1990's Class C motorhome, to a brand new travel trailer. This book will include a culmination of everything I've learned along the way, as well as full color images of RV renovations that will blow your mind.
What you'll find inside:
Full-Color Pages of Beautiful RV Renovations
Buyer's Check-List
Our Renovation Story
Where to Start Your Renovation
Renovation Planner Sheets
RV Basics and Terminology
RV Specific Design Challenges
Buying Used Vs New Pros and Cons
Titling and Insurance for Your RV
Flipping an RV for Profit
Painting RV Interior Walls
Painting Cabinets
Painting the Exterior of an RV
Lighting Basics in Your RV
Upgrading RV Flooring
Dealing with Water Damage
Replacing Furniture in an RV
Recovering Cushions in an RV
Upgrade RV light fixtures
PLUS: RV Inspiration and Designer Spotlights Featuring Some of Your Favorite RV Renovators on Instagram!

Where to Buy It
This book is available here on my site in the shop –> Go There Now
Use code: PURPOSEBLOG for 10% off at checkout!
Here on my site, you can purchase the PDF eBook version of the book, as well as a signed copy of the paperback version. The paperback is really a beautiful book! I love flipping through the pages of this book and seeing all the full-color before and after images.
You can also find this book on Amazon!
On Amazon you can purchase the Kindle version for your Kindle reader, or paperback. This is the best option for my international readers as my shop page is not set up for international purchases from anyone outside the continent of the United States. The Amazon paperback copy will not be a signed copy, but it will probably ship faster and you will receive it faster than from my site.
Where Do I Want You to Buy It?
I've been promoting the purchase of my book and directing most people to buy it here on my site. I actually see a larger percentage of the sale here on my site, because Amazon takes a larger cut on their site. However, if you are international, you will need to purchase it on Amazon. It's important to note that while I see a larger profit on my site, I also don't want to neglect Amazon sales! I hope it will do well, long term, on Amazon! The audience purchasing my book on Amazon are most likely new followers or people that have never heard of me before! Because of this, I hope that the book gains enough momentum on Amazon for people outside my circle of influence to be reached and to purchase. So, the moral of the story is, I'll be happy no matter where you choose to buy my book!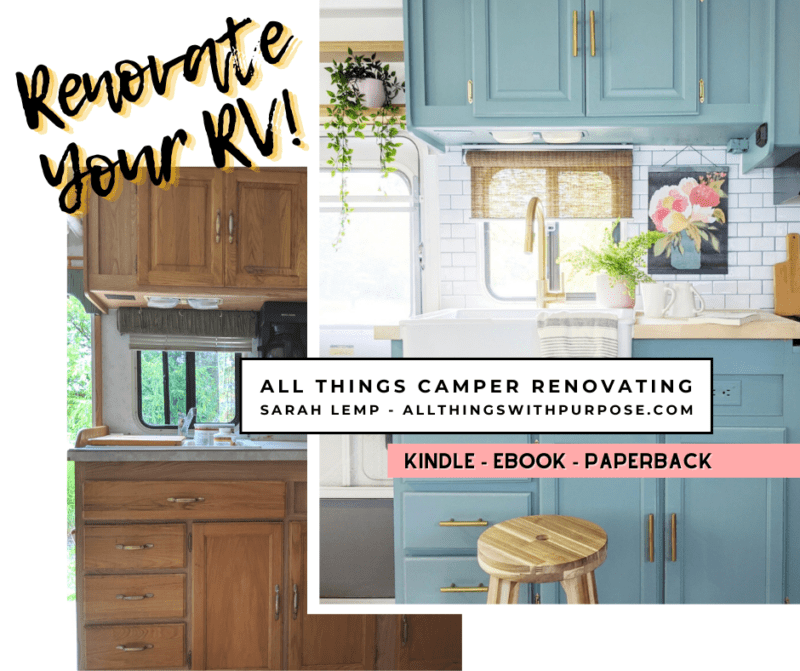 The Story
This is a project that has been in the works for quite a while, but I had been really struggling to catch a vision for what it would look like. I spent a long time trying to figure out what kind of book to write that people would want to read. I knew that it made the most sense to write about RV renovating, but with so many talented renovators out there, I didn't want to do it entirely alone.
RV renovating is such a huge topic, with so many different challenges, and so many different opinions on how it should be done. I didn't want this book to be a collection of just my opinions, I wanted it to be a unified collection of various opinions! Everyone has their own unique style, experiences and ideas for how to fix a camper. The renovators in this book specialize in everything from tent campers to fifth wheelers, vintage to new. There are some things we all do exactly the same, and other things we do totally different (hello, exterior paint jobs!). I wanted my readers to have a positive experience with the RV renovating community and to see how we all support each other despite all our differences. There is not one way to renovate an RV! There are lots of different ways, you just need to find the one that works for you!