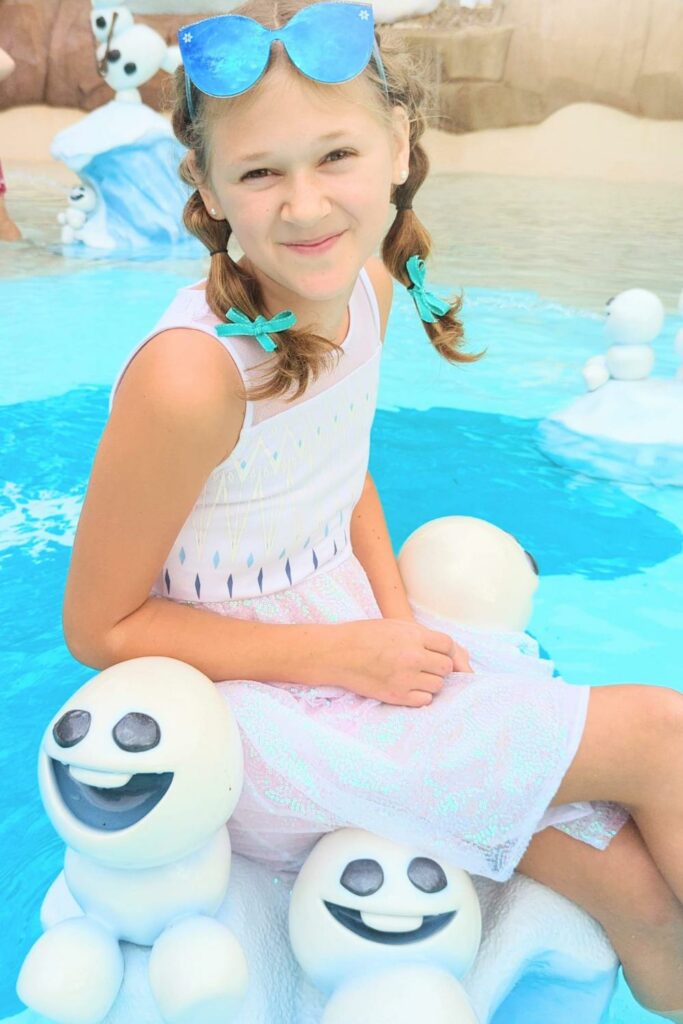 Blizzard Beach is Now Open
For the first time in forever (or at least since January), Disney's Blizzard Beach Water Park is open! We were invited by Disney to experience the newly rethemed Tikes Peak play area and extra special holiday fun. The beautifully refurbished children's area now features Frozen characters! Our favorite Frozen pals make a great addition to Disney's Blizzard Beach!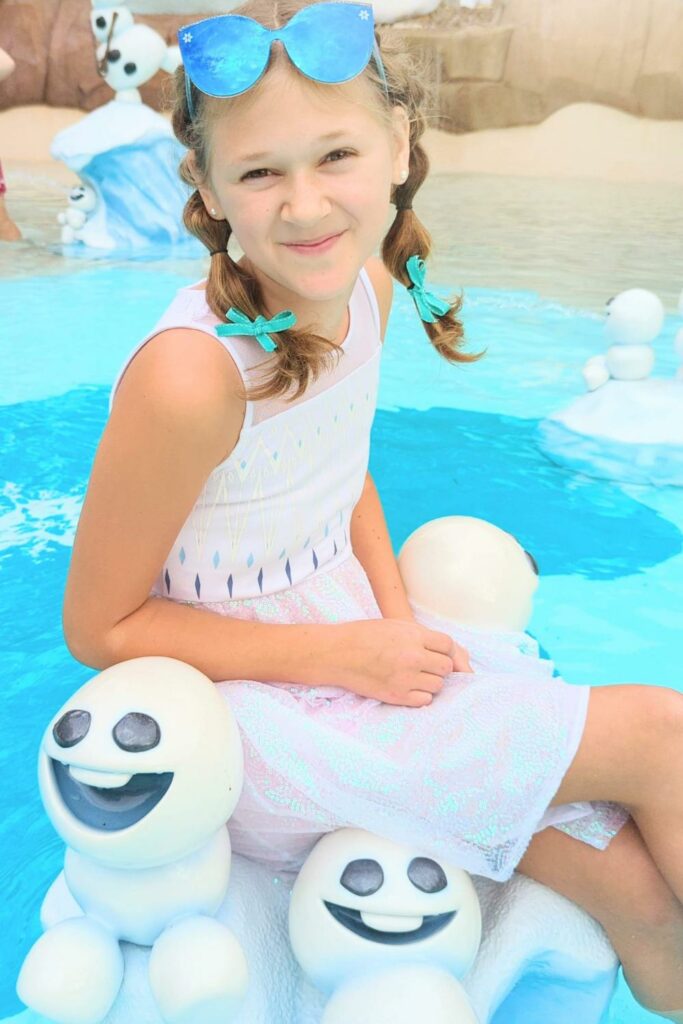 New Frozen Friends at Tikes Peak
The Tikes Peak play area that once featured Ice Gator, has been rethemed to include all our favorite Frozen characters and music. Disney Imagineers created a super immersive, adorable Frozen themed water attraction for children under 48″ tall. This new Frozen themed area for children features Olaf and his "Snowgie" friends, as well as Anna and Elsa. There is a wading pool, spraying water features, small slides and a lazy river. This area includes plenty of shade cover, lounge chairs, and a sandy beach.
Know Before You Go
Blizzard Beach is absolutely huge! You will have no trouble spending an entire day here to take it all in. With 9 different water slides, a giant wave pool, a lazy river, obstacle course, a dedicated area for small children, working chairlift, 11 food and beverage spots, and 2 gift shops, you will be overwhelmed in the best way.
This park is super fun and a great way to experience Disney magic. If you forget to bring anything, Disney does a great job of providing options to make your day relaxing. Check the weather ahead of time and know that if lighting is detected in the area, all guests will be asked to seek shelter and water activities will be temporarily closed down. While most slides will remain open during rain, the chairlift will not run if conditions are unsafe.
Tickets
Day tickets are valid at both Disney's Typhoon Lagoon and Disney Blizzard Beach water parks. Advanced ticket purchases are recommended, however a park reservation is not required at this time. The price online is the same as in-person. I recommend reserving online to streamline the process and add tickets to your My Disney Experience app so your magic band will get you in. If you purchase in person, you will be given a physical ticket. Prices are currently $58 to $63 for children ages 3 to 9 and $64 to $69 for adults. The cheaper ticket option has blackout dates and is not available May 28 to October 2, 2022 and May 27 to October 1, 2023. There is also a discount for annual passholders. Passholder prices are $43 for children age 3 to 9 and $49 for adults.
Park Hopper Plus tickets include a few more perks than the standard day ticket. If you have a ticket package that includes park tickets with the Park Hopper option, consider adding a Park Hopper Plus for even more fun! Park Hopper Plus tickets include admission to the following:
Disney's Blizzard Beach water park
Disney's Typhoon Lagoon water park – Currently Unavailable
ESPN Wide World of Sports Complex – Currently Unavailable
Disney's Oak Trail Golf Course
FootGolf at Disney's Oak Trail
Disney's Fantasia Gardens Miniature Golf Course (one round; prior to 4:00 PM)
Disney's Winter Summerland Miniature Golf Course (one round; prior to 4:00 PM)
To read more, visit my new site, Motor City Mouse for all the details!!
Blizzard Beach: Everything You Need to Know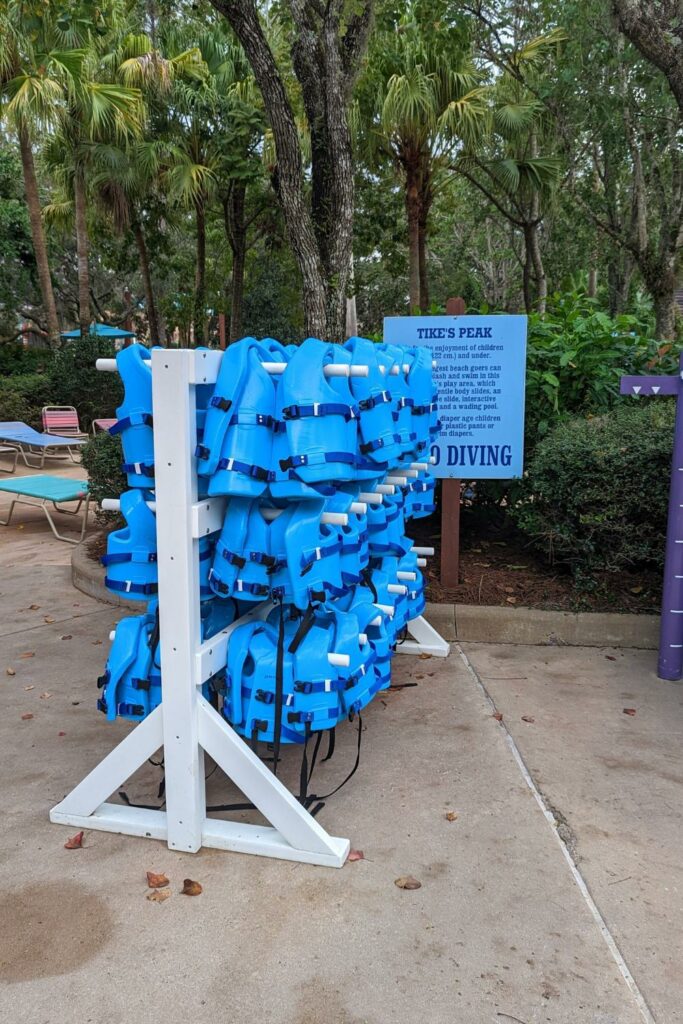 Height Restrictions
You may want to check your child's height before visiting and take note of any height restrictions on specific rides and attractions. Here is a breakdown of the attractions throughout the park with height restrictions:
Tikes Peak: Frozen wading area with small water slides and lazy river – must be under 48″ tall to enjoy
Chairlift – Ride to the top of Mount Gushmore instead of climbing the stairs! Must be at least 32″ to ride.
Teamboat Springs – Tube ride for up to 6 people of any height. Infants not allowed.
Runoff Rapids – 3 different innertube rides that are open to any height!
Toboggan Racers – 8 lane racing slide with mats for any height!
Snow Stormers – Weaving mat slide for any height!
Cross Country Creek – Lazy river open to any height!
Melt-Away Bay – Wave pool open to any height!
Ski Patrol Training Camp – Obstacle coarse open to any height!
Slush Gusher: Large body slide – must be at least 48″ tall
Summit Plummet: Large free-fall slide – must be at least 48″ tall
Downhill Double Dipper – Racing tube slide. Must be at least 48″ to ride.
To read more, visit my new site, Motor City Mouse for all the details!!
Blizzard Beach: Everything You Need to Know
Thank you for Pinning!