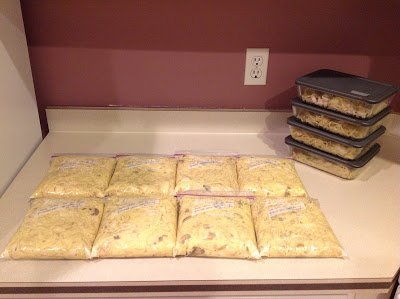 This Chicken Tetrazini recipe produced 12 meals $29.20/12 = $2.43 per meal. This was one of the more expensive meals we did because of all of the soups and sour cream.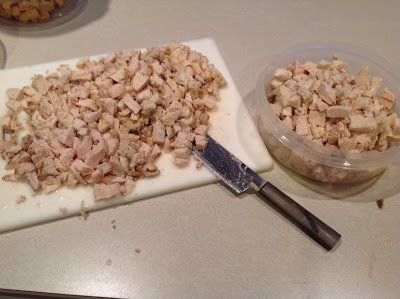 Cook and Cube the Chicken. I used a crock pot.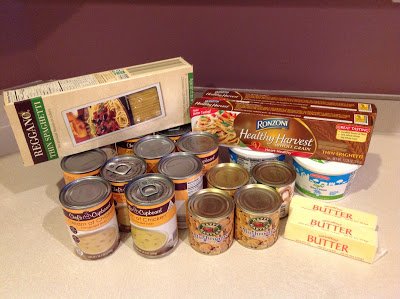 The rest of the ingredients.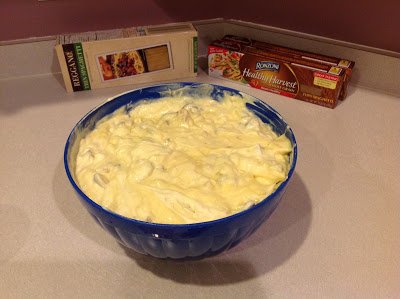 All of the ingredients except the pasta mixed together. The first time I did this I made the mistake of not having those ready to go before my pasta was cooked. I became frantic trying to open cans, etc, while my spaghetti was waiting. I had to use oil to keep it from sticking. When the wet ingredients are ready, I just combine as soon as the pasta is done.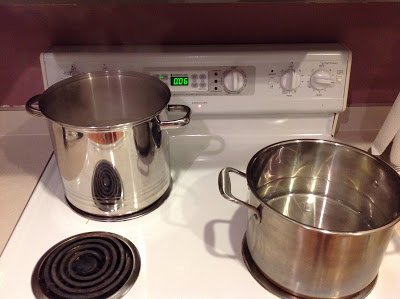 Cook the pasta. Do not cook all of it in one batch. It is much more difficult to have it all cook well when you try to do too much in one pot. I split it in half. I also cooked half whole wheat and half regular.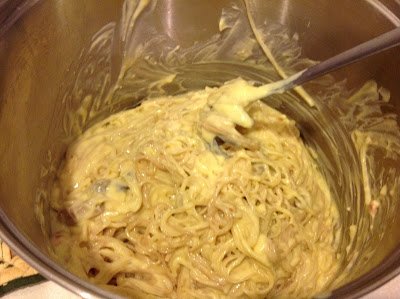 Start mixing. Another benefit to keeping the batch separated in 1/2 makes it much easier to stir well.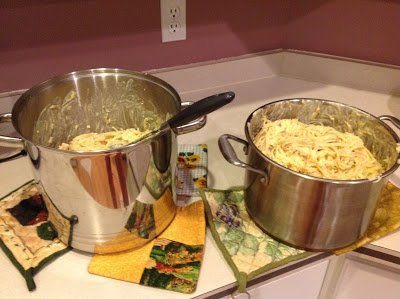 I keep the two types of pasta separate until I bag. Then I put 1/2 of each in a pyrex 4 cup measuring cup before I bag it in quart size freezer bags. You can see a more specific tutorial at this
link on Once A Month Cooking Bird's Nest Pie
(easy spaghetti).
Chicken Tetrazzini
4 Chicken Breasts (or turkey) cooked and cubed
1 Large can of mushrooms or 8 oz fresh
2 Cans Cream of Chicken Soup
1 Cup Sour Cream
1/2 Pound thin spaghetti, cooked
I multiplied this recipe by four. The recipe called for the mushrooms to be sautéed, but since I used canned I did not end up using butter or sautéing the mushrooms. ~Julia
Linked Up Here
A Bowl Full Of Lemons
Frugal Follies